Overview
Do you enjoy working with people?
Are you an excellent communicator?
Then a career in Education and Training could be the right career for you!
Working in Education and Training Sector is an extremely rewarding experience giving professionals the chance to see individuals grow, develop and achieve their full potentials.
Exciting Job roles in this sector range from School Teachers and Teaching Assistants to University Lecturers and Work-based Training Instructors.
This sector provides the opportunity to become specialised in a particular area of work and ultimately decide who they would like to teach (students), manage (staff) or work (professionals) with.
Specific areas of work
The popular job roles within this sector can divided into three key roles:
1) Becoming a Teacher
A Teacher can work with students from Primary school all the way up to Sixth Form or College. The main aim of a Teacher is to support students throughout their time in education, encourage them to achieve their highest academic potential and to ensure that they receive the best guidance and education before they progress into higher education or employment.
A Teacher's role can include a number of tasks including producing lesson plans, writing mock exam papers and preparing them for life after school. A Teacher is somebody who is extremely dedicated to their job and strives to offer the best support they can to their students.
2) Becoming a Personal Tutor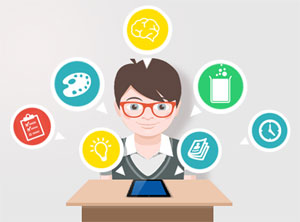 Similar to Teachers, Personal Tutors often work with children or students who are working towards sitting specific exams and therefore tend to specialise in a particular area such as Maths, English or Science.
Personal Tutors may also specialise in working with students with specific learning disabilities including Dyslexia.
Professionals will be expected to put together student-specific lesson plans, goals, and study routines based on what the student needs to achieve.
Personal Tutors will often be self-employed, may also work for an agency which will supply them with the work if and when available; or they may sign short-term contracts with educational institutions.
3) Becoming a Development Trainer
Unlike Teachers and Personal Tutors, Development Trainers are often based within a corporate environment and work with managers or senior members of staff.
The main aim is to increase the productivity of a company by working with its members of staff and offering training in specific technical, management or other development areas.
Many professionals are brought in by companies to offer training and support to its staff; therefore it can be very popular for professionals to be self-employed. Working for the same large company can also be an attractive route for many professionals.
Education and qualifications
Depending on what area of this sector an individual will wish to work in will ultimately depend on what qualifications are needed.
A breakdown of the relevant qualifications is as follows:
Teacher: An individual must have a degree which is a classified Bachelor of Education or a BSc/BA with qualifying teacher status. An individual can also gain a qualifying teacher status by carrying out a postgraduate course known as Professional Graduate Diploma in Education (PGDE) or carry out a Teach First qualification which will allow the candidate to work for two years in a school whilst working towards a Postgraduate Certificate in Secondary Education PGCE.
Personal Tutor: There is no official accreditation for a private tutor within the UK; however they are often expected to have obtained a degree or A-levels in the areas in which they offer support. Many tutors are chosen by the experience they have or their grading at university. It is however extremely important that if an individual chooses to work with children they must also have an up-to-date DBS check.
Development Trainer: Employers will often look for a degree of a minimum of a 2:2. Although not a requirement; a degree in Business, Business Management, Economics or International Business will support a strong application. Given the nature of the job some employers may also request relevant work experience.
Skills and personal attributes
Communication skills: As this role is primarily centred on working and communicating with different types of people, it is extremely important that a professional is able to communicate with everybody in a calm and clear way.
Written skills: Professionals are expected to produce reports on their students' progress as well as mark their work and therefore they must be able to write in a clear and concise way as well as being able to highlight any grammatical or spelling errors in their students' work.
IT skills: The majority of companies, organisations and schools utilise digital systems to monitor students' progress and therefore it is vital that as an educators in this sector can use these IT systems effectively in addition to having good knowledge of Microsoft Office.
Organisational skills: Given the amount of preparation and 'behind the scenes' work of this job, organisational skills are extremely important to ensure that individuals are ready for sessions with their students or customers.
Listening skills: It is vital for a professional tutor or teacher to listen to their students or customers to ensure they are providing the best possible opportunity for them and also to ensure that they are taking in and understanding the information they are presented with.
Presentation skills: It is the role of the professional of this environment to present the relevant information to their students and as such it is vital for them to keep them interested as well adapting different theories, depending on their students learning style.

Pay and benefits

Depending on which area the individual will work in will ultimately determine their salary.

The breakdown below highlights the salary differences:
Teacher: The starting salary for a newly qualified teacher can vary between £22,000 and £32,000. The salary may increase or decrease based on the employer and the location.
Personal Tutor: Personal tutor tend to charge by the hour, on average an individual will charge anywhere between £15 and £30 per hour. This may increase based on the experience of the tutor or the level in which they are teaching, e.g. High School, University etc.
Development Trainer: Starting salary can be between £22,000 and £30,000 with experience. A more senior trainer can expect to earn anything up to and in excess of £65,000.
Figures are intended as a guideline only.
Likes and advantages
Rewarding: This role can be extremely rewarding and many individuals will work in this sector just to see the achievements of their students or customers. It can be a real treat to see people excel and achieve their full potential because of your guidance and support. It's seeing real results and experiencing real change.
Possibility to be become self-employed: Many professionals who work in the training area of this sector often have the chance to become self-employed and control their own working hours and ultimately decide on the fees they charge for their services.
Holiday: One of the main benefits of becoming a teacher is the significant amount of holiday that they are granted including half-term and summer holidays.
Hands on role: This role is very much a hands-on role, giving professionals the opportunity to spend the majority of their time away from the desk and working face-to-face with their students or clients.
Opportunity to work in different areas: There are a huge number of different subjects that one can teach in a variety of different areas such as in schools, charities, companies and in training and community centres.
Challenges
Long Hours: Depending on what area of this sector an individual chooses to work in will ultimately depend on their official contracted hours, however, many will also have to work outside their contracted hours to ensure that their job is done properly.
Paperwork: Professionals working in this sector will often be expected to put together teaching plans and timetables as well as producing reports monitoring their students' progress. Therefore, even though the roles are very much vocational, there is still a significant amount of paperwork involved with these jobs.
Prospects
Education is the third largest sector in the UK and there is a real demand for graduates filling roles in teaching, with shortages in the subject areas of maths, English and science.
Due to this shortage, there is also a significant amount of funding available for people looking to work in this sector, particularly for people who want to become qualified teachers and need to gain formal qualifications such as a Postgraduate Certificate in Education (PGCE). This provides great opportunity for those aspiring to become qualified professionals within this sector.