Overview
Are you interested in working with all things food?
Do you want to work in a fast-paced working environment?
Then a career in Hospitality and Catering could be the right choice for you!
This sector is a food & drink centred industry where the priority is to deliver excellent customer service. It covers all the general areas of providing accommodation, cookery, food safety and serving in venues outside of the home.
It is a thriving sector which employs more than 2 million people across the UK.
Professionals working in this sector range from professional Chefs preparing delicious meals in Michelin Star restaurants to Bakers baking the best bread and cakes at your local bakery.
Specific areas of work
This sector can be broken down into four key areas:
1) Accommodation
This aspect of the industry concerns with welcoming customers and providing them with accommodation in hotels, motels, bed and breakfast places (B&Bs) and other venues.
Popular job roles in this part of the sector include caretaker, hotel receptionist, hotel manager and housekeeper.
2) Management
Professionals with a managerial position within this sector are often in charge of a large group of staff and are overall responsible for the success of the business.
Their tasks may include any of the following:
Managing food, drink and staff;
Working with in house chefs to plan menus for events;
Recruiting members of staff throughout the organisation;
Tracking financial records and highlighting any issues or causes for concern;
Maximising sales as much as possible and meeting profit and sales expectations.
3) Food preparation staff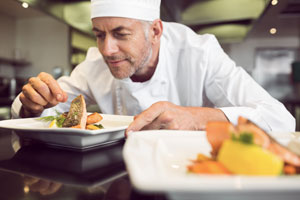 Within this sector a Chef or a Cook is often part of a large team working within the kitchen to cook and prepare the food and dishes for the customers.
Chefs generally have different ranks within the kitchen, such as Assistant Chef and Head Chef, and some will be specialised in certain areas such as breakfast, afternoon tea or dinner.
It is one of the main responsibilities of the chef to ensure that all food which enters and leaves the kitchen is up to a high standard and matches the policies and outlook of the organisation in which they work.
4) Food serving
Waitress and bar staff are responsible for welcoming customers and serving food and drinks. Their primary objective is to ensure that the customers are happy with the service that they receive and that everything is delivered to them on time and at a high standard.
This is often a popular job with students and many work on a causal basis.
Education and qualifications
The qualification requirements for this sector are quite low and entry-positions tend to only require a Level 2 vocational qualification or 5 GCSEs at grades A-C.
Having relevant work experience tend to be more important for most of the roles.
There may, however, be some specific requirements for the chef or managerial positions:
Management: Even though an employer may not ask for a specific degree, a degree in Business, Management or Economics with some relevant work experience would support a strong application.
Chef: Any formal qualifications such as a diploma in Professional Cookery or Hospitality and Catering principles with some relevant work experience would support a strong application.
Skills and personal attributes
Communication skills: This sector is extremely customer-focused and therefore communication skills are vital in order to ensure the job is done correctly and up to a high standard. Miscommunication can lead to loss of customers which can subsequently lead to loss in revenue.
Drive: This is a very high pressured and fast-paced working environment and as such it is vital that the professionals working in it are driven to achieve the best possible results and ultimately the best customer service.
People skills: This sector is centred on working with people and delivering the best customer service and for this reason professionals are expected to have excellent people skills to ensure they can work with everybody in a joyful and professional manner.
Organisational skills: As this sector is very fast-paced it is very important that an individual has excellent organisational skills to ensure that everything runs smoothly and nothing is forgotten or missed out during hectic or peak times.
Flexible: Many jobs in this sector are far from the standard 9-to-5 jobs and individuals will be expected to work late nights and weekends and therefore all individuals must be professional and flexible with their timings.
Pay and benefits
Depending on which area of this sector a professional works in will ultimately determine their salary. In general, professionals working in this industry tend to earn an average salary which may increase by experience or should they chose to become self-employed.
Waitress / Bar staff: Individuals with these roles will earn minimum wage.
Chef: An entry-level chef will earn around £19,000 per year which can later increase to around £29,000 with relevant experience.
Management: As a trainee an individual can expect to earn around £15,000 to £21,000 per year which can later increase to £40,000 with relevant experience.
Figures are intended as a guideline only.
Likes and advantages
Active: This is far from a desk job as this sector is extremely fast-paced and professionals working within it tend to be actively involved in kitchens, hotels and restaurants with little time spend at a desk.
Rewarding: This can be a very rewarding sector with the opportunity to see how your hard work has paid off with the ending of a successful event or excellent customer service. Getting a compliment for the food you have cooked, or the service you have provided can increase your self-esteem, put a smile on your face and make the rest of your day!
Job progression: Large restaurant or hotel chains tend to be very supportive of getting their staff the right training and moving them up the careers ladder to more senior positions within the organisation.
Experience-based: This sector doesn't simply look at what qualifications you have but employers tend to be more interested in relevant experience and what a candidate has achieved as an individual.
Enjoyment: Whilst working in this sector is hard work, there are also other little moments that one can enjoy such as eating mouth-watering dishes that you have freshly prepared or munching away on delicious cakes after an event has finished.
Self-employed: Many professionals within this sector gain enough experience to become self-employed from opening their own restaurant or catering business to working in events. With the right knowledge and experience an individual can become the boss of their own thriving business.
Challenges
Unsociable Hours: The busiest times within the hospitality and catering sector are the hours when everybody else isn't working and therefore professionals must prepare themselves for the long days, weekend shifts and working on holidays.
Stressful: Working in many roles in this industry can be very stressful and so individuals wishing to work must ensure that they are capable of working under stressful circumstances. Not being able to prepare the food on time or to a high standard can have negative consequences not only for the Chef but for the whole team because everyone is dependent upon each other.
Prospects
The Hospitality industry is considered to be the 4th largest industry which employed than 2.9 million jobs in 2014, equivalent to 9 per cent of total UK employment.
According to a recent Oxford Economics report; this industry contributed an estimated £57 billion to UK GDP in 2014. It saw a stronger-than-expected growth in 2010-2014 and the trend of growth is likely to continue in the years ahead.