Overview
Do you feel passionate about justice?
Are you interested in Law?
Then a career in Legal Services could be the right option for you!
The law affects everyone in society whether that is in a transport, social or business context; it has a powerful presence in our daily lives. Every person will have an encounter, or a need, for the law at some point in their lives. Every business, school, hospital and corporation also requires legal services to secure their establishment's legal standing and help in solving any legal situations they might run into from time to time.
The legal industry is a highly specialist environment and in some cases requires a significant amount of qualifications and training to work in and succeed. Professionals working in this field offer support and guidance to those who are facing a legal issue or need to make decisions within the law. They often focus on one particular area of law to specialise in; these range from Crown Prosecutors and Barristers to Solicitors and Trademark Attorneys.
It's important to note that just because an individual is working in the Legal Services doesn't mean that they have to be a highly qualified barrister or solicitor! This is a common misunderstanding about this sector, but in fact this sector covers many roles: including the running of the courts, paralegals and assistants. These employees are also required to have fundamental knowledge of the law.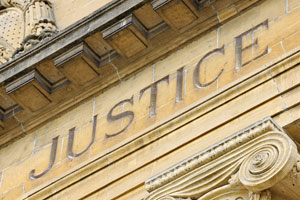 Specific areas of work
This sector is divided in the following four key areas:
1) Barrister
A Barrister often deals with cases which are presented in the Crown Court. Individuals can choose to either defend or prosecute, based on their personal preferences. Often a prosecution barrister will work for the Crown, whereas a defence will be privately employed. This may sometimes lead to a difference in salaries.
Their main role is to give specialist legal advice to solicitors and other professionals within the industry, as well as representing clients in court. A Barrister can specialise in any area of law, from criminal to family and contract law. The ultimate aim is to build a case in favour of their client and to then present it to the judge and often a jury.
2) Solicitor
Even though the role of a Solicitor is very similar to that of a Barrister, their role is often to advise clients of their legal rights and to act accordingly. A huge chunk of a solicitor's work is performed outside of the courts, drafting legal documents and meeting with various clients; it is very much a desk job. Their occasional work inside courts to represent their clients is at a much lower level than barristers.
A solicitor is likely to deal with cases which enter the magistrates court and similar to a Barrister who will either defend or prosecute, depending on their personal preference. The main difference between the two roles is a solicitor will often work on smaller cases and offer advice, whereas should a client need specialist advice they will call upon the support of a barrister.
With the rising of the 'where there is a blame; there is a claim' approach, solicitors and barrister won't be short of work.
3) Paralegal
It is important to acknowledge that a Paralegal is not a qualified Solicitor; even though they may complete similar tasks they have not undertaken the formal training to gain the Solicitor Status. A Paralegal will specialise in one particular area of Law and may offer advice in that area of law only.
The role of Paralegal will vary depending upon the firm they work for and their tasks may include legal secretarial tasks to research and working with clients.
4) Miscellaneous
Many areas of a general day are influenced by law in one way or another, therefore many roles within the legal services included administrative work from Barrister's assistants to court room clerks. These roles do not particularly require a high-level of formal qualifications; however their roles are extremely important in the smooth and successful running of the legal services.
Education and qualifications
Depending on which area of the legal services an individual chooses to work in will ultimately depend on what type of qualifications they require; as some roles require extremely specific qualifications.
There are three formal stages of training to become a Barrister:
Academic: A qualifying law degree, or an undergraduate degree in a different discipline followed by a GDL (Graduate Diploma in Law), given the competition to step up to the Bar a degree at 2:1 is practically essential.
Vocational: Completion of the Bar Professional Training Course, one year full-time, two-years part time.
Pupillage: A year of practical training spent under the supervision of an experienced Barrister.
There are two formal stages of training to become a Solicitor:
Academic: A qualifying law degree, or an undergraduate degree in a different discipline followed by a GDL (Graduate Diploma in Law).
Vocational: Completion of a Legal Practice Course, during this course a candidate will also be expected to complete a Professional Skills Course in order to complete their training.
Should an individual wish to work as a Paralegal or the miscellaneous services they will require GCSEs A-C, and even though a formal law degree is not required a candidate will be expected to have at least a basic understanding of the law. Some employers may even request a BTEC related to Law.
Skills and personal attributes
Communication skills: A candidate must have excellent communication skills and be able to speak well in public since this role is very much based around effectively getting an individual's point across.
Written skills: The need for excellent written skills is vital to this sector, especially to those wanting to work as a paralegal or in miscellaneous services because candidates will often be asked to produce letters or carry out research and therefore their documents must be clear, concise and grammatically correct.
Initiative: Candidates often have to act on their own initiative; based on the information presented to them they have to make the decision on how to act. Therefore an individual wishing to work in this environment must be able to make decisions quickly and effectively.
Close attention to detail: One of the key duties in this field of work involves analysing information that is presented and therefore a professional must be able to pay close attention to detail to ensure that they do not miss anything which could affect the case.
Working well under pressure: Court cases can be extremely fast-paced and a professional may be expected to appear in court the next day or even the same day, so a candidate must be able to work extremely well under pressure ensuring they still keep their work to a high standard.
Confidence: Working within the legal sector means that one will be required to present and argue cases and therefore a professional in this area must be very confident and believe in themselves and what they stand for.
Pay and benefits
The pay which a professional will receive will depend on which area they choose to work for; a breakdown of the pay grades are as follows:
Barrister: During the final stages of Bar Training an individual can expect to earn no less than £12,000 per year which may change depending on their employer. Once they have become qualified, a Barrister can earn anything between £25,000 and £300,000 depending on their experience. Top lawyers with excellent track record can earn up to and excess of £1,000,000.
Solicitor: A trainee solicitor can expect to receive national minimum wage, however once an individual has become qualified they can expect to earn anything from £25,000 to £75,000 depending on experience, location and employer.
Paralegal and miscellaneous service: Starting salary of £13,000 increasing for £18,000 with experience. In some cases an individual can earn up to £30,000 however this is based on experience, location and employer.
Figures are intended as a guideline only.
Likes and advantages
Rewarding: This sector is a very rewarding sector to be a part of because at the end of every trial or court hearing one can see the results of their work. As some say; justice is sweet!
Challenging: Every case is different and every client is trying to achieve something different so working in this sector really pushes its professionals to look at things from a diverse perspective and to succeed. With cases coming from varying areas looking at different parts of the legal system, no two days are the same!
Travel Opportunities: Professionals who choose to work for large firms often get the opportunity to travel around the UK working for different branches; one day you could be in London and the next in Edinburgh!
Pay: Even though one should not be solely driven by how much a sector pays; this sector exceedingly pays well! Professionals working within this sector often receive an above average salary once they have qualified and a salary which only increases with experience!
Specialisation: In this sector an individual can chose to practice or work within one area of law, meaning you can work on numerous cases but in the area of law you love the most. Do you remember seeing on TV the famous footballers signing their contracts? You never know; that could be you drawing up the next contract!
Challenges
Paperwork: Given the style of this role a professional will be expected to deal with a lot of paperwork; this is the case for Barristers, Solicitors and people working within the support team. Many cases are presented in paper format and it is the role of professionals within this sector to analyse and format the relevant information, in some cases this is expected to be done in a very short period of time with short notice.
Long Hours: Even though a professional within in this sector is contracted to standard working hours, should a big case arise they will be expected to work long hours during the week and maybe even weekends to ensure that everything is ready and prepared.
Stressful: Given that this is such a high pressured job, stress is something which comes naturally to the role. The professionals working in this environment are often subject to high profile cases and as such are often exposed to stressful environments either by their peers or clients.
Prospects
The legal services industry in the UK employs more than 300 thousand people and contributes more than £20 billion to the UK Economy. London is currently one of the largest, if not the largest, centre for commercial and legal services in the world.
The sector has experienced growth in the past few years and it's expected to continue with this trend as the wider economy and financial markets recover.