Overview
Do you enjoy designing and creating things?
Are you fascinated with buildings and structures?
Then a career in Property and Construction could be the perfect choice for you!
This sector offers a huge variety of opportunities for people working in design, building and management fields. Professionals working in this sector range from Builders and Construction Managers to Architects and Building surveyors.
Specific areas of work
The following is an overview of key jobs in this sector:
1) Builder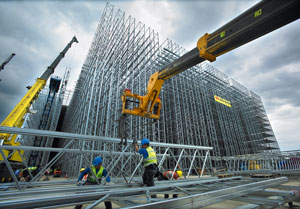 This role is primarily based on building and constructing houses, apartment blocks, shopping centres and numerous other buildings. In addition, maintenance and development of roads, pathways, canals, and the environment may also be part of the job description.
Being able to multi-task is important because one is often expected juggle many different tasks at the same time to ensure smooth progress of the project. Working well as part of a team is essential too.
Builders also spend long hours on their feet, bending and kneeling and habitually carrying heavy loads of equipment and tools. This is undoubtedly a very hands-on, fast-paced manual role which requires fitness, good health and physical endurance.
2) Architect
Dissimilar to the role of a builder, an architect is primarily working on the designing rather than building of new buildings including schools, homes and hospitals. Architects may also be asked to work on extension of current buildings or restorations.
An architect must crucially have exceptional creative talent and flair in their designs, but you also require excellent mathematical ability to work out formulas and ensure all your measurements and dimensions are accurate. A logistical, methodical approach is very necessary because it can be easy to get so carried away in the grand scale of your project—to the point that you get confused and begin muddling measurements, thus turning your design defective and unworkable when the time comes to bring your creation to life.
Due to the increasingly digitalised nature of all sectors, an architect must also now possess fluent Computer Aided Design (CAD) skills to carve out a successful career in Architecture. Most employers would require CAD skills from you because this style of designing is more speedy, efficient and much more user-friendly than previous traditional hand-drawn methods. You can produce polished, sleek 3D designs full of rich colour and different perspectives, and produce walk-throughs to show off to your clients. Hand-made designs are less multi-functional and instil less confidence within clients. However, hand-made sketches are still often used in the original stages of design so this hasn't been completely discarded.
3) Structural Engineering
Structural Engineers often work extremely closely with both builders and architects and their role is to ensure that during the designing and building process everything goes according to plan and to ensure that the building will remain standing should it be put under stress or pressure.
Structural engineers are, above everything else, problem solvers. They are responsible for choosing the best materials to build with (e.g. concrete, metal, wood), calculating all the pressures which can come on a structure (and each individual segment of the structure) from external factors such as the weather, environment and humans; and advising building contractors on how to overcome difficulties and practicality issues during the course of a building project.
This is a vital role to this sector and the demand is high for professionals working in this field.
Similar to an architect this is a very qualified position and often requires years of studying and dedication. Many professionals will work for large companies and tend to be more office-based.
4) Estate Agent
Unlike the roles of the builder, architect or structural engineer, an estate agent is not directly involved in the building or the developing of the buildings but is concerned with selling the property that has already been built. This role requires tremendous persuasion and negotiation skills, as well as a friendly personality and a polished personal image. You are effectively a salesperson, and thus all the skill-set needed in sales is also needed as an estate agent.
Professionals tend to specialise in a certain area of property including residential housing, rural properties or commercial office space.
This is a desk-job but does involve regular visits to properties, so it's not as monotonous as a 9-5 office job. Selling properties involves lots of liaising with other sectors (such as banks, solicitors and mortgage brokers) so a professional telephone manner is vital.
It is also important to remember that an estate agent's role is to sell the property from start to finish; from valuing the property and learning all the relevant information about it and its surrounding areas, to organising photos to be taken of the property, arranging viewings and representing your clients to potential buyers; and finally, drawing up contracts to complete the sale.
Since an estate agent is involved in so many processes on each project they undertake, the ability to multi-task is essential.
Education and qualifications
Depending on which area of this sector an individual would want to work in will ultimately depend on what qualifications they require. A breakdown of this information is as follows:
Builder: This role doesn't require any formal qualifications and is primarily based upon gaining relevant work experience within the sector. There are often internships and apprenticeships based in this field for school leavers or college graduates.
Architect: A candidate can become an architect through two different routes; academic and practical. The Academic route includes obtaining a qualifying degree in architecture followed by master's degree in architecture. The Practical route includes 24 months of supervised and recorded experience. Following this, both practical and academic routes require the completion of an examination in professional practice and management.
Structural Engineer: A candidate is often required to have a degree in civil or structural engineering. Individuals with a degree in engineering-related subjects may also be considered.
Estate Agent: There isn't a formal qualification to become an Estate Agent and experience is vital to this sector. Having the opportunity to shadow somebody within this sector would support a strong application in the future.
Skills and personal attributes
Communication skills: Professionals in this sector often have to work in large groups with people from different areas. It is therefore vital that individuals are able to communicate effectively to ensure everything is done properly and to a high standard.
Attention to detail: Being able to pay close attention to detail is extremely important in all aspects of this sector whether that is in the designing, building, managing or selling process.
Passion, determination and drive: This can be a very demanding sector and therefore individuals must have the passion and determination to carry on and complete the tasks required.
Organisational skills: Professionals in this sector are often required to work to strict deadlines and therefore organisational skills are extremely important.

Pay and benefits

Depending on what area of this sector an individual wishes to work in will determine their salary.

On average, professionals in this sector receive a good to above average salary.

A breakdown of this information is as follows:

Builder: On average a qualified builder earns around £16,000 however this can vary depending on the employer or experience.
Architect: Starting salary of £16,000 – £20,000 (after completion of degree), increasing to £20,000 – £26,000 (following the completion of a postgraduate course). Following the completion of the final examination salaries can vary between £26,000 and £35,000 increasing to and in excess of £80,000 with experience.
Structural Engineer: Starting salary of £23,000 to £30,000 increasing to and in excess of £70,000 with experience.
Estate Agent: Starting salary of £14,000, increasing to around £30,000 with experience.

Figures are intended as a guideline only.

Likes and advantages
Different projects: As this sector affects so many areas of life; it really is possible to work on so many different projects from designing or building homes, offices or even sky scrapers!
Rewarding: This sector gives individuals the chance to physically see the fruits of their work; there aren't many sectors where you can stand in front of an impressive building and say; I designed, built or sold that!
Fast-Paced Environment: When the market is right, property development can be one of the fastest moving sectors with properties selling faster than ever and with a huge demand for new housing.
Self-employed: This sector can give many professionals working within it the opportunity to become self–employed and ultimately giving them the chance to control everything from their working hours to accepting projects of their choice.
Practical Skills: Working in this sector means that you will be developing some practical and hands-on skills that you can utilise in other jobs or in your personal life (DIY).
Challenges
Demand: The demand for work within this sector can change very quickly based upon a number of issues such as the economy, government policy or even the weather.
Measurements: A lot of the job roles in this sector require one to have excellent drawing and measuring with a high degree of accuracy. This can be quite a challenging requirement, especially during busy times and when working on tight deadlines.
Prospects
The construction industry was badly hit by the 2008 financial crises and experienced ups and downs from 2009 to 2013 where the industry partially recovered.
According to the Office of National Statistics (ONS), in February 2016 all work within this sector increased by 0.3% compared with February 2015.
This sector is still one of the largest sectors which contributes more than £100 billion to the UK economy per year and employs more than 2 million people.