Overview
Do you like travelling?
Are you fascinated by logistics?
Then a career in Transport and Logistics could be the right option for you!
This sector is at the heart of our every-day lives and is concerned with the organising and moving around of people, materials, products and goods.
The duties of the professionals working in these areas range from flying aircraft or driving trucks to organising bus routes and managing busy warehouses.
Specific areas of work
Working in this sector can be extremely varied just by looking at the numerous forms of transport that are available to people around the world.
This sector can ultimately be broken down into two areas;
1) Those that operate the mode transport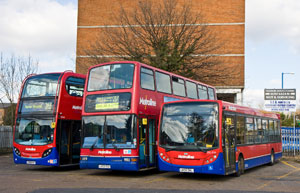 As the title suggests these are the qualified professionals who are in control or operate the mode of transport; be it an aircraft flying from London to Sydney, a ship from Portsmouth to the South of France or the driver of your local bus.
These individuals are at the heart of the transport industry and without them doing their job skilfully we wouldn't be able to travel to the extent that we can today.
2) Those that support the running of the transport
The people who work in the logistics area of this sector are primarily based in headquarters, airports or ports and their main responsibility is to make sure that there is a system in place so that passengers, goods and products reach their destinations safely and on time.
Even though we need the people who operate the transport to take us places, a lot of the hard work is also done behind the scenes by these supportive professionals.
Education and qualifications
Depending on which area of this sector an individual wishes to work in will ultimately depend on what qualifications they require, a breakdown of this information is as follows:
Those that operate the transport: They will require a license in their particular mode of transport, some of which can take months or even years to obtain. It is also important to acknowledge that some job roles do require candidate to have a certain level of education and experience before they are considered for the job.
Those that support the running of transport: These professionals fall into the logistic section of the sector a degree in; maths, engineering, economics, geography or social sciences would support a strong application. More senior roles may require a Master's degree in addition to relevant work experience.
Skills and personal attributes
Communication skills: People within this sector are required to work in large teams, be it organisational teams or liaising with drivers/pilots and as such they must have excellent communication skills to ensure everything runs smoothly.
Organisational skills: A large part of this sector is based around managing one's own time and schedules to ensure that passengers or goods get to the place they are supposed to get at the specific time they are supposed to be there.
Dedication to the role: Working in this industry means that your job might be far from a 9-5 job because professionals are often asked to work long hours including late night and weekends and as such, they must have a true passion and dedication to the role.
Flexibility: Professionals in this environment are expected to be flexible as there are a huge number of varied tasks that they can be allocated. Furthermore, due to recent developments in this sector an individual could be working in airport logistics one month and land transport the next.
Pay and benefits
The salary is depending on the area of work and the specific job role. On average, professionals in this sector will earn a good to above average salary:
Those who operate the transport: This is a very broad area but a starting salary of around £19,000 can be expected for general transport which can increase to an excess of £140,000 for more specialist roles such as senior airplane pilots.
Those who support the running of transport: Starting salary of around £18,000 to £30,000 increasing to and in excess of £80,000 with relevant experience and seniority.
Figures are intended as a guideline only.
Likes and advantages
Fast-pace environment: Everything is moving in this sector, so it really is a fast-paced work environment! Professionals in this environment are required to be constantly switched on and ready to deal with a situation whenever they arise.
Travel: Working in a sector like this gives professionals the chance to experience all sorts of things that people dream of such as travelling around the country or the world, meeting new people and visiting new places.
Challenging: With so many contributing factors to this sector, it really can push professionals to the limits of their abilities but with such significant outcomes and achievements, this can be one of the most challenging yet exciting sectors.
Training: The Logistics Employer Skills Survey 2013 shows that nearly 4 in 5 companies (78 per cent) in the logistics sector have provided or arranged on-the-job training for employees, and nearly three-quarters (73 per cent) off the-job training.
Challenges
Long hours: People are constantly travelling and as such professionals in the sector are often expected to work long hours including nights, weekends and holidays.
Stressful: This sector can be an extremely stressful environment, especially when things do not go to plan and consequently professionals can be put in very compromising positions. Individuals working in this environment must be capable of dealing with issues professionally in a calm and effective manner.
Prospects
According to PwC, the UK's Logistics & Posts Sector alone employs more than 1.7m people and is worth approximately £55bn to the economy and comprises 5% of the UK GDP.
With the global trade increasing on a yearly basis, there is more and more demand for professionals working in the logistics industry in order to facilitate the organisation and delivery of products and goods.
Despite some challenges, things are looking promising for the future of this industry. It states in Barclay's The UK Logistics Confidence Index H1 2015 that "overall, confidence remains high in the logistics sector."