Sobhan Mohmand, Career Expert

28 Jan 2020
WITH EXPERIENCE
Tom Reid
18 Perry Street
Northampton
NS7 0PN
14 October 2017
Modus Creations
82 Woodlands Street
Portland
PF42 5BS
Dear Sir/Madam,
Re: Digital Marketing Assistant (Job Ref #928L)
With great interest, I am writing in response to your advertisement posted on Indeed.com for the role of 'Digital Marketing Assistant'. Having carefully read the job description and researched Modus Creations, I strongly believe that I have the necessary skills to become a valuable asset for your organisation.
As you can see from the enclosed CV, I achieved a first-class Honours degree in Marketing at the University of Birmingham. Following on from this, I gained two years of experience in Social Media Marketing with Sky Blue Media Ltd. I skilfully used my technical knowledge of coding, graphic design and Search Engine Optimisation (SEO) to emerge Social Media platforms in order to promote various clients and external companies. I believe this presents me as a well-suited candidate for this job role, and I would appreciate the opportunity to combine my interests with the progression and development of your company.
I consider myself to be hardworking and patient, with a passion for research and broadening my skills in technology and online marketing. Having understood the general role and training I will undertake, I am of the impression that you could greatly assist me in becoming more experienced with the use of databases and HTML5 – which is something I have always aspired to learn. This, combined with my previous knowledge of Social Media and Microsoft Office, will enable me to become a successful Digital Marketing Assistant who could immensely benefit the company's bottom line.
Please find attached my CV inclusive of all necessary contact information. Thank you for your time and consideration, and I look forward to the opportunity to personally meet you and discuss the application further!
Yours faithfully,
~ Signature goes here ~
Tom Reid.
Preview: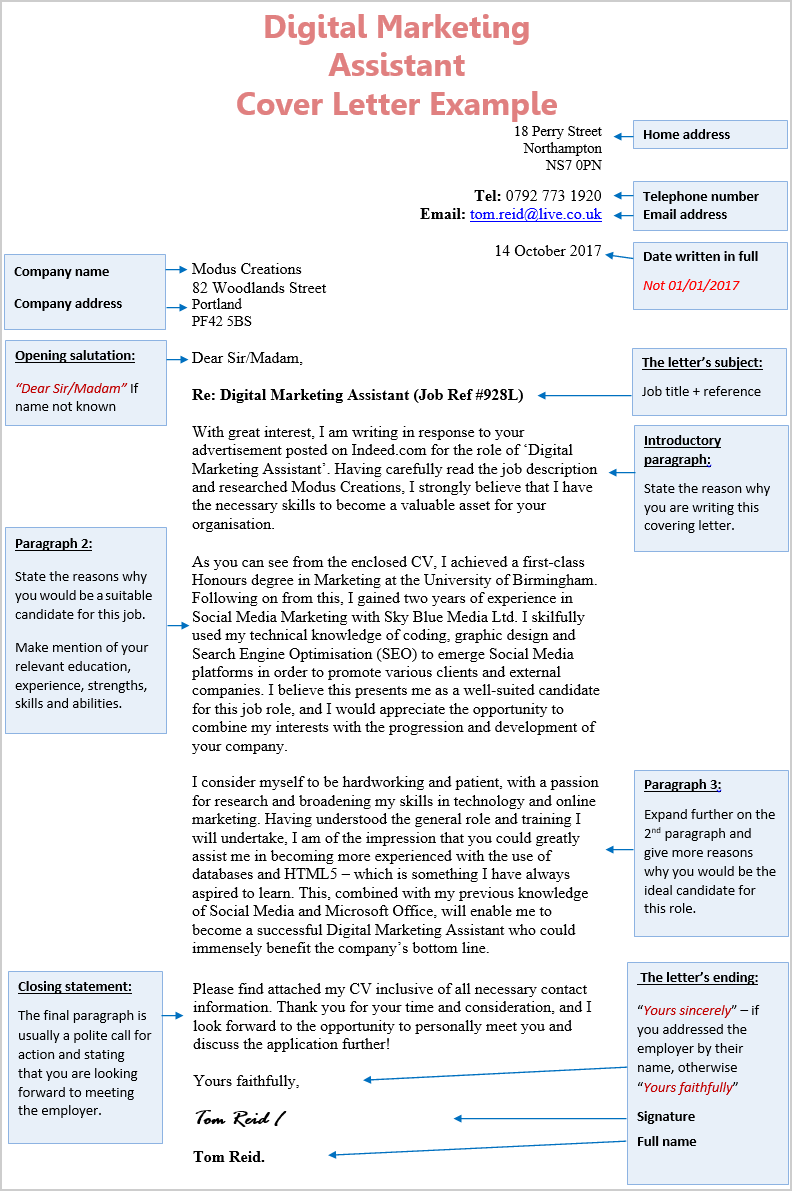 WITHOUT EXPERIENCE
Andrea Willingham
29 Summerfield Lane
Courtney
CJK2 1PS
28 December 2017
Mr Kevin Wilson
Director
Eden Reed Ltd.
99 Milk Road
Suffolk
SK9 1CC
Dear Mr Wilson,
Re: Digital Marketing Assistant
I am very interested in your recent vacancy for a Digital Marketing Assistant that was recommended to me by my university tutor.
I feel I would be the perfect candidate for this role as I have strong analytical skills and very up-to-date knowledge about digital marketing. My previous part-time job has strengthened my verbal communication skills and allowed me to develop my creativity, as I was in charge of organising and decorating the store for seasonal occasions, such as Halloween. I am an organised, polite and motivated individual who is quick at picking up new skills and learning new IT systems. My role as president of the Tennis Society has enhanced my confidence levels and shown me the importance of always working as a part of a team to achieve a common goal.
I am particularly interested in working at Eden Reed because of your business success over the past decade and because I feel that your company can further develop me as a competent marketing professional. I am familiar with all your previous marketing strategies, and I strongly believe that I could help to expand these in the future as the company progresses.
Please find attached my CV, and I hope to hear back from you soon.
Yours sincerely,
~ Signature goes here ~
Andrea Willingham.
Preview: