Sobhan Mohmand, Career Expert

24 Sept 2020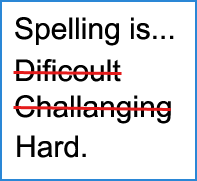 Pretend to be a recruiter; what goes through your mind when you see a single insignificant spelling mistake on a CV of an excellent applicant?
For most people, it would be things in the following lines…
It can happen to anyone
This applicant is also only human (believe it or not)
No big deal, he has excellent education and work experience!
Well, guess what a real recruiter thinks when he/she comes across an 'insignificant' spelling mistake on a CV…
If he couldn't be bothered to take some time out to write two pages, I can't be bothered to take time out to read this!
He doesn't have an eye for detail
He doesn't care
He lacks writing skills
He doesn't strive for perfection
Spelling on your CV can make or break your chances of getting an interview. Guaranteed.
Whenever a recruiter spots a spelling mistake, typo or a silly sentence structure your chances of getting an interview go down by 101%. It is vital that you hand in a CV which doesn't contain any spelling or grammar mistakes.
How to avoid spelling mistakes on a CV
Write a CV
Make a second draft
Print it out and re-read it (on paper, not on the screen)
Re-read it several times, on different days
Let at least two other people read your CV carefully and give you feedback
Re-read it again (yeah, I am afraid you have to!)
Create a final draft
Announce a price for anyone finding a spelling/grammar mistake on your CV!
Funny spelling mistakes on CVs
Dear Sir/Madman
I am excellent at multi-tasting
I enjoy cooking Chinese and Italians
Left previous job because of maturity leave
Seeking a party-time position as a Consultant
I also speak German and Spinach
Written by Sobhan Mohmand
Sobhan is a qualified Careers Advisor and Professional CV Writer with over 10 years of experience in helping job seekers get a job. He is a Member of the Careers Development Institute (CDI) and is listed on the official UK Register of Career Development Professionals. He holds a Level 6 Diploma in Career Guidance and Development (QCF).