Sobhan Mohmand, Career Expert

17 Jul 2019
Education vs. Experience is an age-old debate which has been going on for the past few decades and will most likely continue to be discussed for some time to come.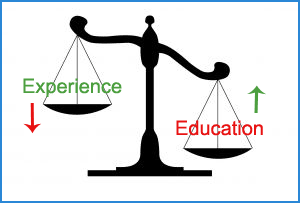 We are often asked the question…
"what shall I give more preference on my CV: Education or Experience?"
Before anyone can attempt to address this question, the following factors need to be considered:
The type of job applied for
The age of the applicant
Education and qualifications achieved (to date)
Work experience acquired (to date)
The balance or imbalance between Education and Work Experience
Once you have a clear picture of the above-mentioned factors, you should be able to easily weigh in the importance of your education and work experience on your CV.
Jobs that do not require a degree
For example, it is usually the case that in order to do the jobs of a builder, cleaner, plumber, secretary, clerk or security guard you do not necessarily need a University Degree. In such cases, your experience will be deemed as much more important.
Jobs that will require a degree
On the other hand, job positions such as architect, doctor, manager or teacher will require a high standard of academic qualifications and training. In fact, you will not be able to build up much experience in these jobs if you haven't been educated in these areas beforehand!
Age factor
The other factor we mentioned is age; employers understand that a college leaver or a recent graduate may not have had the time to build up a lot of work experience. In this scenario, academic results can be very important so they have to be up to scratch!
'So… which of the two is more important?'
Ideally, you do not want to educate yourself to a PhD level and only include one line of text in your Work Experience section! At the other end of the spectrum, you equally do not want to finish your studies in secondary school while building up experience in one particular job (this will cause problems later on when you want to change careers). Try your best to keep a healthy balance; education and work experience go hand-in-hand.
But to answer the question directly – based on our experience and research – the majority of jobs do not require a high level of formal education consequently experience in such jobs will allow you to have the upper hand and is invaluable.
Tip: Carefully analyse the job you are applying for and decide for yourself whether your CV has to place more emphasis on your education or your work experience.