I am a qualified, reliable and adaptable Environmental Consultant with a broad knowledge of delivering environmental projects in biological experiments, environmental management systems, sustainability, harmful emission, waste and other environmental matters. I have exceptional oral and written skills, along with the ability to collect and interpret data using specialist computer software.
| | | | |
| --- | --- | --- | --- |
| 2011 – 2014 | BSc (Hons) Environmental Science | Keele University | Grade achieved: [1:1] |
Relevant Modules:
Earth and ecological systems
Environment protection and governance
Methods and skills in environmental science
River processes, deposits and environments
Adaptation to changing environments
Ecological concepts and plant sciences
Environmental science field course
2009 – 2011
Results: Biology: A Chemistry: A Physics: B
A Levels
Five Ways Sixth Form
| | |
| --- | --- |
| Dec 2015 – Present | Environmental Consultant ACCON UK |
Main duties performed:
Providing advice, support and consultancy services to government officials
Investigating the negative environmental impacts of human activities
Managing environmental projects across various sites
Collecting data on air, water quality and organisms
Collecting samples of soil, chemicals and biological specimen
Performing laboratory analysis on the samples collected
Writing environmental reports and presenting them to the relevant people
Writing an in-depth review on air and water quality and its impact on organisms
Assisting the research team when making a policy decision regarding any health risks or hazards before collecting data on the field
Providing assistance to colleagues when conducting environmental scans during the assessment of ecosystems and their structure
Conducting site appraisals and ecological surveys
Managing staff and external sub-contractors to support surveys
Providing safety and technical support to colleagues/projects
Creating maps of polluted sites and presenting the findings to officials
Ensuring Health & Safety regulations are adhered to at all times
Mar 2014 – Nov 2015
Environmental Enforcement Officer Waltham Forest
Main duties performed:
Providing support and advice to government officials regarding the environment
Monitoring the Borough of Waltham Forest for any breaching of regulations under the Environmental Protection Act 1990
Clearing all litter and waste from the area, including the provisions of the Dogs (Fouling of Land) Act 1996
Issuing fixed penalty notices for offences, including littering
Accurately recording of case progression with the use of computer software
General admin duties including photocopying and filing
Qualifications
Level 5 in Leadership and Management – ILM
1-week training in Environmental Acts and Legislation
Health Impact Assessment training
Skills
I have knowledge and practical experience of environmental surveys, Environmental Impact Assessments (EIA) and both internal and external audits
Accurately planning and conducting research and carrying out experimental and practical work in a methodical manner and according to appropriate scientific methods
Excellent ability to present, in both written and verbal forms, the results of research and experimentation with groups and individuals
I have up-to-date knowledge of UK's environmental legislation and European regulations affecting the environment
I am IT proficient, especially in using Microsoft Office suite (Word, Excel and PowerPoint) and analytical software (SPSS).
Hobbies and interests
In my spare time, I enjoy visiting botanical gardens around the country and learning more about this beautiful planet we live on. I also enjoy spending most of my evenings and weekends socialising with my family and friends.
References
Mrs Kayleigh Potts
Senior Consultant, ACCON UK
Address:
11 Milk Rd, Cumbria, C10 7JE
Tel:
0723 5832 1235
Email:
[email protected]
Mr William Harding
Manager, Waltham Forest
Address:
9 Newport Road, Kent, KC1 3FY
Tel:
0780 3456 6794
Email:
[email protected]
Please note: the above CV Example is presented in the UK format and layout.
Preview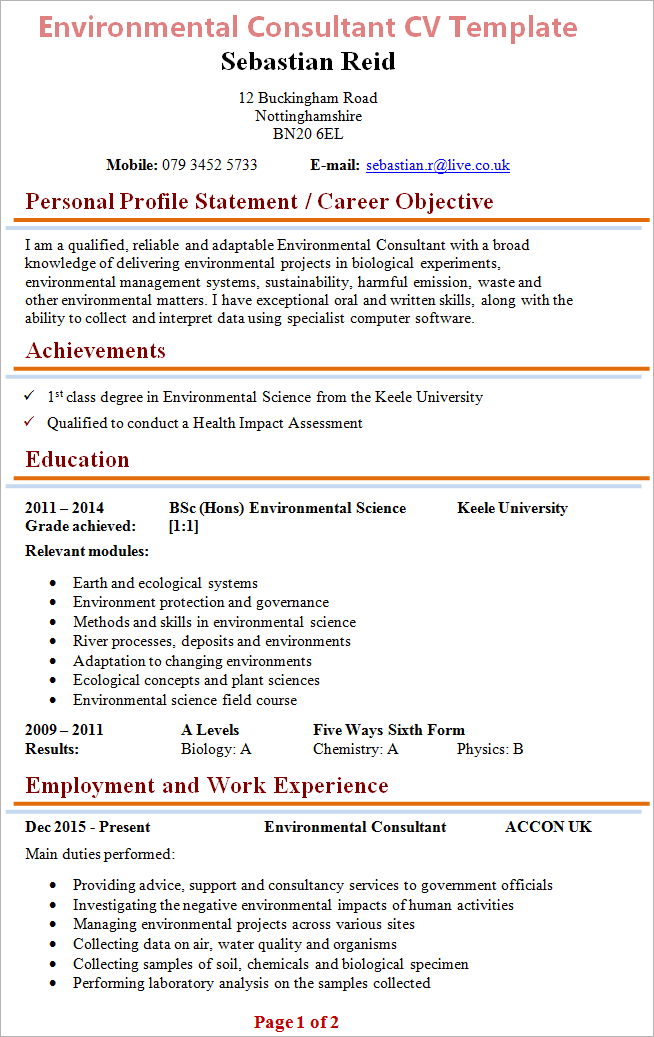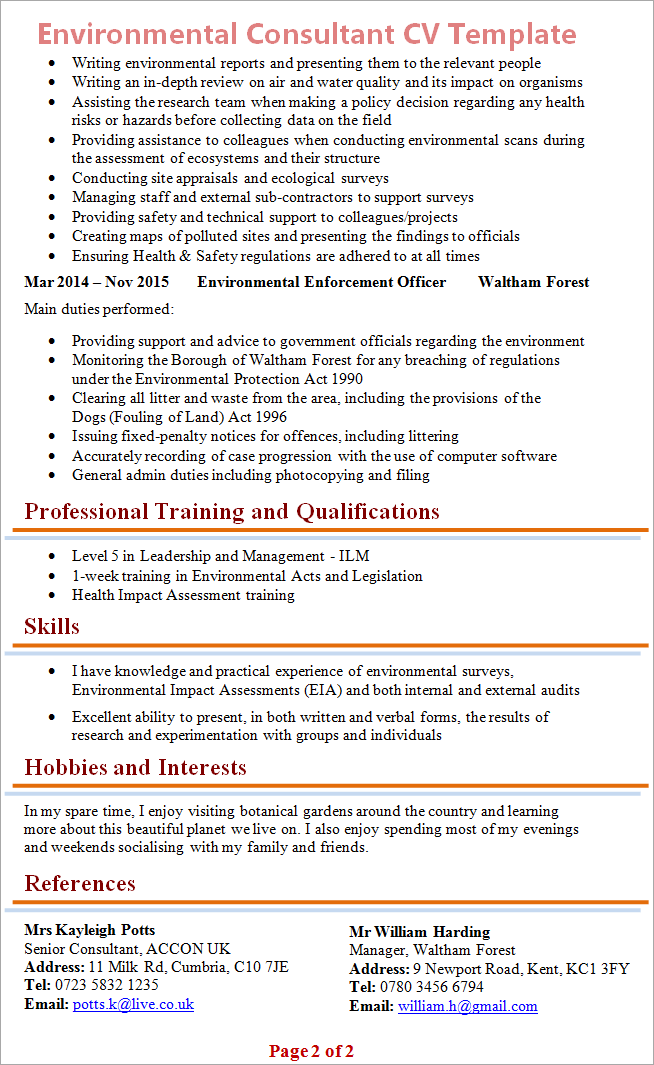 Download
Click here to download the above CV Sample (blank).
COLLECTION: You may also want to browse through our collection of Free CV Templates and download any of the editable CVs to create your own (available in Microsoft Word format and convertible to PDF).
Tips
CV length: It is generally recommended to limit the length of your CV to 2 A4 pages. For certain senior-level jobs, including the Environmental Consultant position, it is acceptable to go into 3 pages whenever absolutely required. However, short and concise CVs are still favourable; "I didn't have time to write you a short letter, so I wrote you a long one instead."
Good Luck!
Written by Sobhan Mohmand
Sobhan is a qualified Careers Advisor and Professional CV Writer with over 10 years of experience in helping job seekers get a job. He is a Member of the Careers Development Institute (CDI) and is listed on the official UK Register of Career Development Professionals. He holds a Level 6 Diploma in Career Guidance and Development (QCF).
OVERVIEW
SALARY RANGE
£25.000 – £45.000

ENTRY
Degree and Relevant Work Experience

WORKING HOURS
37+ hours per week
Competencies
Foresight
Having a strong foresight for the direction in which things are going

Communication Skills
Ability to effectively communicate complex ideas and concepts

Writing Skills
Excellent writing skills to write clear and concise environmental reports

Observation Skills
Paying close attention to every aspect of the task or project and ensuring that no "small details" are overlooked

Specialist Knowledge
Possessing sound and specialist knowledge of environmental regulations

Problem Solving
Excellent problem-solving skills to deal with issues or emergencies when required
Related Resources