Sobhan Mohmand, Career Expert

1 Mar 2020
Including a photograph of yourself on your CV tells a prospective employer:
'I want to be judged on my appearance rather than on my relevant experience and qualifications.'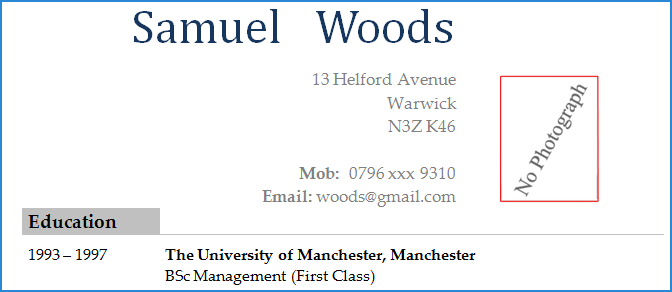 Do not include a photograph of yourself on your CV unless …
You're applying for a position where it is a common requirement to present a photo; such as for jobs in acting, presenting or modelling
You're explicitly asked to provide your photograph
Photograph on CV: Reasons why you shouldn't!
The reasons why you shouldn't include a photograph with your CV are simple:
People form opinions about you very quickly from your appearance and what you look like; prejudice and discrimination are two realities of life (taxes being the third).
As humans we can be extremely judgement-oriented, in a matter of seconds we have already decided whether we like, dislike or hate something.
Studies have shown that many recruiters have a preconceived image of the jobholder and if the applicant's image contradicts this image, then their CV will go straight into the rejected pile merely based on their appearance.
However, there might be cases in which you will need to include your photo on your CV…
Guidelines for including photographs on CVs
If you are asked to provide your photo on your CV, make sure that you follow the next advice very carefully:
Do not use recycled photos: This is not the best time to look through your '2011 Spain Holiday' photo album and choose the coolest picture you can find (with sunglasses, of course!)
Let a professional take your photograph: A photo booth at your local train station will not do the job, I am afraid. As a rule of thumb; the size and quality of your photograph should at least match the size and quality of a passport photo.
Make sure you look professional: Dress appropriately and presentable, look positive and fresh
Smile: Having a half-smile on your photograph makes you look friendlier and confident to other people; on the other hand, open mouthed grins are generally not very well received by prospective employers – to say the least.
Small is the number of people who see with their eyes and think with their minds. ~ Albert Einstein
Written by Sobhan Mohmand
Sobhan is a qualified Careers Advisor and Professional CV Writer with over 10 years of experience in helping job seekers get a job. He is a Member of the Careers Development Institute (CDI) and is listed on the official UK Register of Career Development Professionals. He holds a Level 6 Diploma in Career Guidance and Development (QCF).