We have already discussed what a Cover Letter is and its importance and now it is time to finally gets hands-on and write a cover letter – in no time.
Write a Cover Letter using a template
Writing any business or career letters require some guidelines and cannot be written completely free of these guidelines. For your convenience, we have outlined these guidelines in our Cover Letter template which is freely available for download and personal use.
The following is a preview of the Cover Letter template: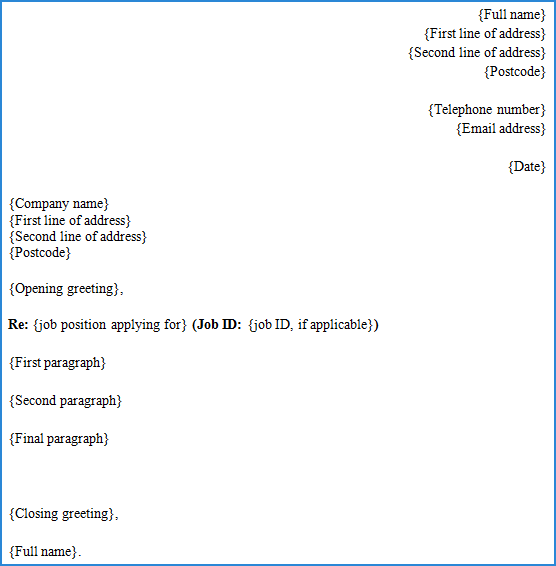 Most of the details are pretty straight forward:
Name
Address
Contact details
Date
Company name
Company address
Opening greeting/salution
Subject of the cover letter (job position applying for)
But then comes the 'hardest' part of a cover letter: THE CONTENT!
Many applicants' minds at this stage go either blank or drift away completely.
Common thoughts at this stage of a Cover Letter are…
'Oh NO…'
'Now what…?!'
'How shall I START the letter?'
'Hmmmmm, I wonder what's on TV tonight?'
'I give up, let's go to the fridge and get something to eat!'
This is a sad fact. But it shouldn't be this way.
The only reason why many applicants struggle with the cover letter is because they aren't exactly sure of the guidelines of writing the content or body of a cover letter.
Cover letter: paragraph by paragraph:
Paragraph 1: This paragraph is the introductory paragraph of your letter. It should state the reason why you are writing this letter . For example, the first paragraph usually starts off with:
'I was really excited when I saw your IT Admin vacancy on our University's Career website…'
'It was a real pleasure to have met you today regarding….'
'I was recently made aware by one of your colleagues, Dr. James Clacks, that the position….' etc.
Paragraph 2: This paragraph is the part of the cover letter that should convince the reader that you are a viable candidate for the job. Make mention of your relevant strengths, skills and abilities that can be useful for the job.
Paragraph 3: The third paragraph should further state a little bit about yourself and, more importantly, why you are interested in working with this particular company.
Final paragraph: The final paragraph is your closing statement and is usually a polite call for action and that you are looking forward meeting the employer.
'Please find attached my CV. Should you have any questions please do not hesitate to contact me. I'm looking forward to meeting you!'
The completed cover letter
You should by now – I hope – have a pretty good idea of how to write a cover letter.
In order to assist you in writing your perfect cover letter, CvPlaza also provides Cover Letter examples which are a valuable source in giving a good idea of how a Cover Letter should be.
The following is a preview of how an excellent Cover Letter should look like: