Sobhan Mohmand, Career Expert

11 July 2023

The good news is that your university studies make you highly employable – the magic word employers use to describe someone that they want to employ. It is an indication of your intelligence, self-discipline and determination to succeed in life.
A question you are probably wondering is,
"How should I write my degree on my CV?"
To do justice to all your years of intense studying, it is essential that you effectively showcase your degree on your CV to capture the attention of potential employers.
In this guide, we will explore the best practices and strategies for representing your degree on your CV for maximum impact. From formatting to highlighting relevant achievements, we will provide you with the insights and tips you need to confidently communicate the value of your degree to prospective employers.
By mastering the art of writing your degree on your CV, you can effectively convey your academic accomplishments and secure more job interviews.
Let's get started!
Table of contents
---
If you're in your 20s or early 30s, your degree will probably form the most important part of your achievements. It represents years of hard work, dedication and academic growth.
Research has shown that graduates have higher employment rates, higher salaries and work in more high-skilled jobs than non-graduates.
Given the importance of your degree, it's essential that it is properly and effectively highlighted on your CV to make it stand out from the crowd and impress employers.
---
Not all degrees are awarded with equal significance.
The weighting of the UK undergraduate degrees is derived from the following classifications:
First class (1st)
Second class upper division (2:1)
Second class lower division (2:2)
Third class (3rd)
Ordinary degree (Pass)
Undergraduate degrees may be awarded with "Honours" (abbreviated in brackets (Hons)). Some, however, may be without honours; these are then referred to as "Ordinary" or "Pass" degrees. A degree with Honours indicates the successful completion of all (or most) of the modules.
If you have been awarded a good degree (1st, 2:1 or even a 2:2 in some cases) with Honours, it is highly recommended to use it as a selling point of your academic achievements by clearly stating your degree classification in full on your CV.
---
You must list the complete details of your degree in the "Education" section of your CV, which contains an overview of your academic history to date.
Ensure that your most important or most recent qualification is listed first and work your way backwards to the oldest. This format is known as the reverse chronological order.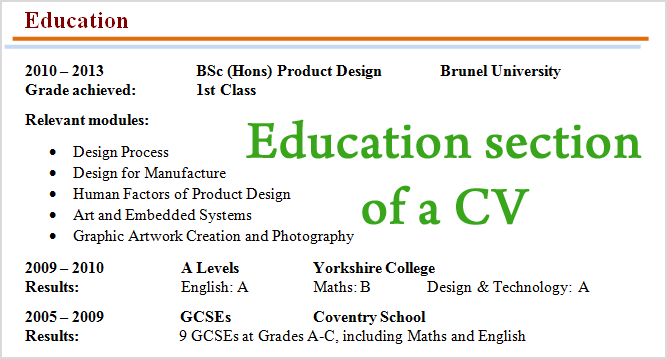 You can also make a brief reference to your degree in the personal profile statement of your CV. For example, "Mechanical engineering graduate with a passion for designing innovative solutions and a drive to contribute to technological advancements."
---
When listing your degree on your CV, you need to provide the following details:
The type of qualification awarded (e.g. BSc (undergraduate), MEng or PhD (postgraduate));
The subject of the qualification (e.g. Business Management, Law, etc.);
The name of educational institute that awarded the qualification (e.g. Cambridge University);
The start and end dates of the studies (e.g. Sept 2017 – June 2020) and;
The degree classification achieved (e.g. 2:1).
Example:
2008 – 2012:
BA Business and Management (Hons)
Cardiff University
Classification: 2:1
This is the minimum information required but it doesn't tell the employer much about what you studied and learned.
To make your degree entry more meaningful and impactful, you should elaborate on your studies by listing all the relevant and/or significant modules studied, projects undertaken and research interests.
James Reed, Chairman of one of Britain's biggest recruitment brands Reed, states in The 7-second CV: How to Land the Interview (pg.41): "Including individual modules isn't necessary but could increase your chances if they relate to the role you're applying for – this is a good way to demonstrate your skills and ability to do the job if you don't have a lot of work history."
Example:
2016 – 2019:
BA Business and Management (Hons)
Cardiff University
Classification: 2:1
Modules included:
Entrepreneurial Theory and Practice
Applied Business Intelligence
Client Acquisition Theory
Enterprise Computing Strategies
Professional Aspects of Computing
Business Management Principles
Final Year Project (Dissertation):
Management Information System to Support Business: Designed a first-class Management Information System to support the day-to-day operations of a local Accounting firm. The system has been deployed and is currently in use to give the firm a strategic competitive advantage.
---
If you have achieved a first-class degree, you should be proud of yourself! It is the highest honours degree you can achieve and only about 30% of university students are awarded first-class degrees.
There are several ways in which you can write down this degree classification on your CV:
1st class degree
First-class honours degree (recommended for the personal profile statement)
1:1 (recommended in the Education section of your CV)
Personal profile example:
"Results-driven business graduate with a first-class honours degree, equipped with a strong academic foundation and a passion for driving success in the corporate world…"
Education section of a CV example: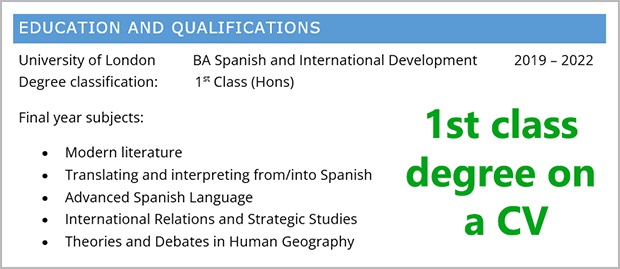 ---
A 2:1 degree is also known as the Upper Second-Class Honours. As its name suggests, it is the second-highest honours degree you can achieve so it is a great achievement. You should simply write "2:1" to refer to this degree classification on your CV, there is no need to spell out the official name.
Example:
| | | |
| --- | --- | --- |
| 2017 – 2020 | Oxford University | Recently completed a BA Honours degree in Marketing & Business (2:1) |
Key course content:
Marketing Essentials
Intro to Business Ethics and Sustainability
Marketing Communications
Branding Strategies
Strategic Marketing Consulting
---
A third-class honours degree: known as a 'third' or 3rd, is the lowest honours degree achievable. A level lower than this is an ordinary degree (pass) which isn't issued with honours.
As these degree classifications are below average, they may harm your chances of securing job interviews. In this case, it is recommended to omit the degree classification when listing it on your CV; simply state the name of your degree without further details.
Similarly, if you graduated with a 2:2 degree, you should consider omitting the degree classification on your CV as many employers only consider candidates with a 2:1 or higher.
Example:
| | | |
| --- | --- | --- |
| University of Warwick | BSc Psychology | 2010 to 2013 |
Key course content:
Social and Cognitive Development
Cognitive Psychology
Introduction to Social and Differential Psychology
Sleep and Memory
Remember, the goal of your CV is to present a compelling case for why you are the right candidate for the position. Tailor your CV to highlight your strengths and accomplishments and emphasise your value as a potential employee. The fact that you graduated is a strong enough selling point on its own.
---
It may be that you have not completed your studies yet and still wish to include your degree details on your CV when applying for part-time, casual or summer jobs.
James Reed offers the following advice to university students who are still completing their undergraduate studies: "Include any predicted grades and completion dates and expand on the modules you have covered so far if they're directly related to the role." (The 7-second CV: How to Land the Interview (pg.41))
Example 1:
Sept 2012 – Present
LLB Law
University of Leicester
Year 2 Performance: 68% overall
Year 1 Performance: 66% overall
Example 2:

---
You would be surprised to know that a large percentage of undergraduate students drop out of their studies before qualifying.
Should they include their unfinished degree on their CVs? The short answer is, only if the course is relevant to the job that they are applying for.
Applicant applying for an IT job (example):
| | | |
| --- | --- | --- |
| BSc Computer Science (Completed 1 year of 3-year course) | University of Leeds | 2020 – 2021 |
Modules completed in year 1 included:
Artificial Intelligence
Security and Networks
Programming Language
Human-Computer Interaction
There could be many reasons why someone might have dropped out of university before graduating but they don't need to explain this on their CV. If this applies to you, just have a good answer ready in case you're asked about it in the interview.
---
If you have gained postgraduate qualifications such as a master's degree, postgraduate diploma and certificate or PhD, you need to place it at the top of the "Education" section of your CV and provide details of your dissertation, thesis and research interests.
Example:
| | | |
| --- | --- | --- |
| 2017-2018 | Kings College London, Geography Department | MSc Climate Change: Merit. |
Research interests: Ocean Circulation and Climate Change, Biological Indicators of Environmental Change, Models in Environmental Science and Climate Modelling.
Dissertation: "Climate Change and Urban Resilience: Exploring Strategies for Climate-Responsive Cities".
---
As a current student or recent graduate, you probably don't have much relevant work experience. That is why you should make the most of your degree by mentioning modules you studied, summarising projects and focusing on your achievements at university.
If you have a degree, you don't need to list your GCSEs unless you know that certain GCSEs such as English and Maths are required. You should write your school-level education in a short sentence such as; 10 GCSEs including Maths and English at grades A–C.
List all your qualifications in reverse chronological order (newest to oldest). This will ensure that the most important/relevant qualification is seen first by employers when they review your CV.
Don't list outdated, irrelevant and obsolete degrees from decades ago; your CV will draw attention to what you were doing twenty years ago whereas the employer is much more interested in what you have to offer now. Showcase your most up-to-date qualifications, training, skills and experience.
---
Effectively representing your degree on a CV can significantly enhance your chances of standing out and impressing potential employers. Your degree serves as a testament to your knowledge, expertise and determination to succeed, making it a valuable asset in today's competitive job market.
By correctly highlighting your degree, you give yourself a competitive edge over candidates who do not possess such high-level qualifications or those that cannot correctly list their hard-earned degrees as strong selling points on their CVs.
---
Good luck with your job search!