Sobhan Mohmand, Career Expert

24 Apr 2021
On this page, you can find more than 100+ CV examples from 18 different job sectors. Each CV example is accompanied by a free CV template that you can download and use, relevant tips related to the specific job and a right-hand column outlining key facts about the job; entry requirements, salary, working hours and skills/competencies.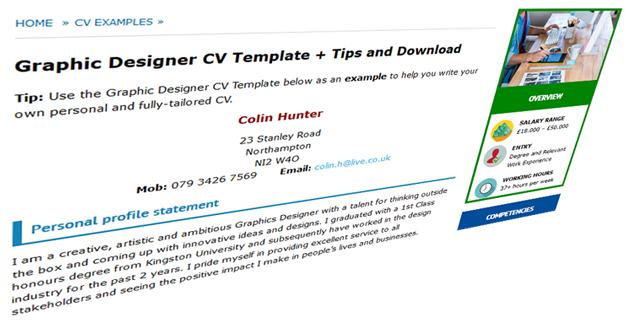 Tips and suggestions:
It is recommended to tailor your CV to the particular job you are applying for, for instance, by using the same terms, terminologies and jargon that are specific to the job or the field you want to work in.
You can use these CV examples to help write or improve your own CV; do not simply copy/paste parts which are not applicable to you or the job you are applying for.
Example
Personal Details
Sarah Bloom
233 Hollywood Avanue, Suffolk, SJ1 3KQ
Mobile:
07838824922
E-mail:
[email protected]
Comments
This is an excellent example of how the top part of your CV should look like; the candidate's name is written in a

big font (20 points)

, emphasised (bold) and centred on the page.
The heading is not cluttered by other irrelevant information such as marital status, gender, nationality, date of birth, number of children, etc.
Personal Profile Statement
I am a friendly and outgoing Customer Service Officer with a passion for retail and business. My studies and my previous work experience have all been in these areas, and I am currently looking to progress my career in a more challenging role. I have excellent communications skills which have enabled me to build strong relationships with customers, colleagues and external suppliers. I have previously managed a number of projects to a successful outcome, and I have the excellent ability to supervise, manage and motivate other team members.
It is evident that the candidate wishes to progress to a managerial role and rightly mentions project management and leading a team as their strengths.
The candidate is very clear on their experiences and abilities and gives appropriate examples to illustrate them.
The length of the statement is just about right; four short sentences.
Achievements
• More than two years of relevant work experience
• Project Manager on various occasions at College and University
The candidate has smartly included the option "Achievements" section on their CV to highlight a couple of their main accomplishments. This is particularly a good idea since prospective employers tend to scan rather than intensively read a CV.
Education
Sept 2013 – Jun 2016
BA Business Studies
Bournemouth University
Grade achieved: 2:1
• Introduction to Organisational Behaviour & Ethics
• Consumer Behaviour & Market Research
• Operations Management
• Marketing
Aug 2011 – Aug 2013 A-Levels Newbury College
Grade achieved: Maths: B English Language: B Psychology: A

The education section is nicely presented for maximum impact;
The candidate lists a few of the main modules/units that they have studied as part of their degree
The results/grades are mentioned
All entries are accompanied by dates
No irrelevant/outdated information is listed
Employment
July 2016 – Present Customer Service Officer Elite Retail Ltd.
Main duties performed:
• Dealing with customers face-to-face, over the phone and via email
• Assisting customers with finding suitable products or services
• Handling payments and processing returns, refunds and exchanges
• Dealing with customer feedback, concerns and complaints
• Dealing with stressful situations and emergencies in a professional manner, and ensuring that customer's concerns are promptly addressed
• Liaising with suppliers and external companies on a regular basis
• Assisting the Store Manager with their day-to-day activities
• Ensuring that the store is in a clean and tidy state at all times
• Training and supervising new members of staff
• Entering and maintaining data into databases and information systems
• Coordinating and organising sales and promotions events
• Ensuring Health & Safety procedures are adhered to at all times
• Performing general administrative tasks such as filing and photocopying
April 2015 – June 2016 Sales Assistant Matalan
Main duties performed:
• Welcoming and greeting customers to the store
• Ensuring that all the clothes and items are neatly presented in the store
• Assisting the customers with finding what they are looking for
• Handling cash and processing payments
• Ordering and restocking items when required
• Ensuring that the store is neat and presentable at all times
• Liaising with other Matalan stores to enquire about stock availabilities
• Providing the best customer service at all times and in all situations
The content is nicely presented for both scanning and reading
The most recent job is mentioned first
Dates include months, which give the prospective employer a much better idea of the duration of each employment rather than just mentioning the year.
The candidate clearly mentions the tasks, duties and responsibilities of the jobs that they held
No irrelevant/outdated jobs are mentioned
Qualifications
• Level 3 NVQ Diploma in Customer Service
• First Aid at Work – HSE
The "Qualifications" section is another optional part of a CV that can be utilised to mention some qualifications or training courses that are relevant to the job.
Skills
• Excellent interpersonal skills, demonstrated in the ability to effectively serve customers and develop strong working relationships with staff
• Expert knowledge of the selling process and effective sales techniques
• Professional and confident with excellent diplomacy and negotiation and persuasion skills
• Dealing with stressful situations in a calm and professional manner
The purpose of the skills section of a CV is for candidates to mention some key skills that will assist them in doing their jobs properly.
It can be seen from this example that the candidate has really thought about some of the skills that are required for the job that they are applying for and has mentioned them. They have not simply listed "excellent communication skills" or similar vague and generic phrases.
Hobbies and interests
I enjoy socialising with my friends and family and taking part in dance classes twice a week. Joining my local dance club has not only helped me to reach my fitness goals, but it has also allowed me to meet new people and develop my communication skills outside of my normal working environment.
The hobbies and interests section is a good place to mention some of your hobbies that are related or relevant to the job. In this instance, the candidate has clearly mentioned that their participation in extracurricular activities further develops their skills which they can then utilise in their career.
References
Joshua Hunter
Customer Service Manager, Elite Retail Ltd.
Address:
7 Westfield Rd, Kingston, KO3 9CJ
Tel:
0124 823 8140
Email:
[email protected]
Diane Lewis
Area Manager, Matalan
Address: 76 Island St, Sheffield, SH6 1XN
Tel: 07827738492
Email:[email protected]
There are two ways to present the References section of a CV:
1) List down one or two Referees with their job title, company name and contact details.
2) Do not include any Referees and simply state; "References are available upon request."
In this instance, the candidate has chosen the first option and has nicely presented all the relevant details that are required.
Preview – Page 1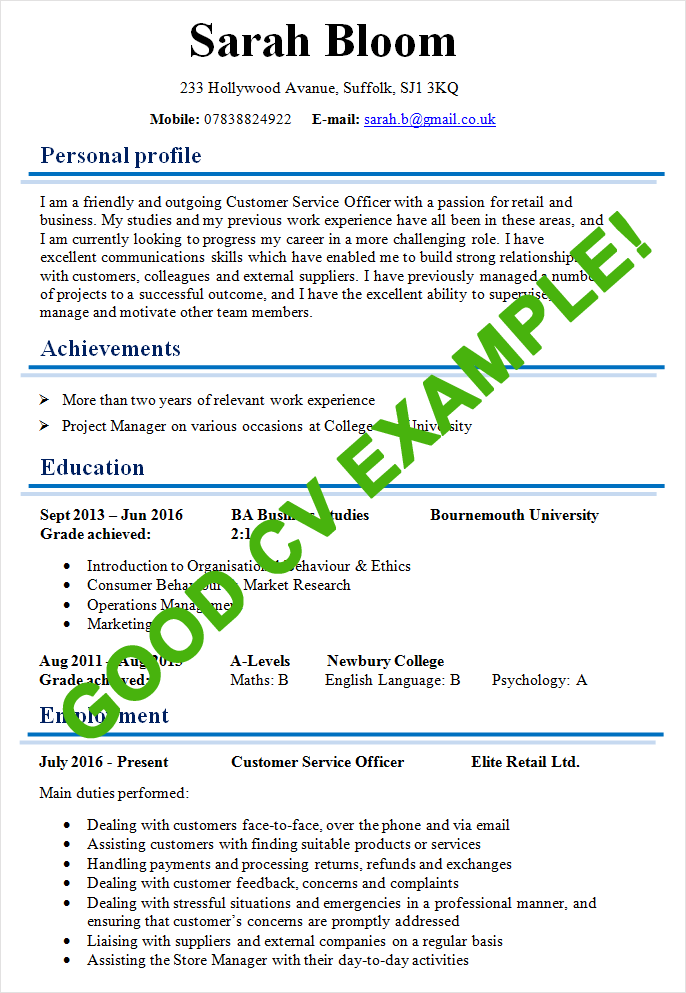 Preview – Page 2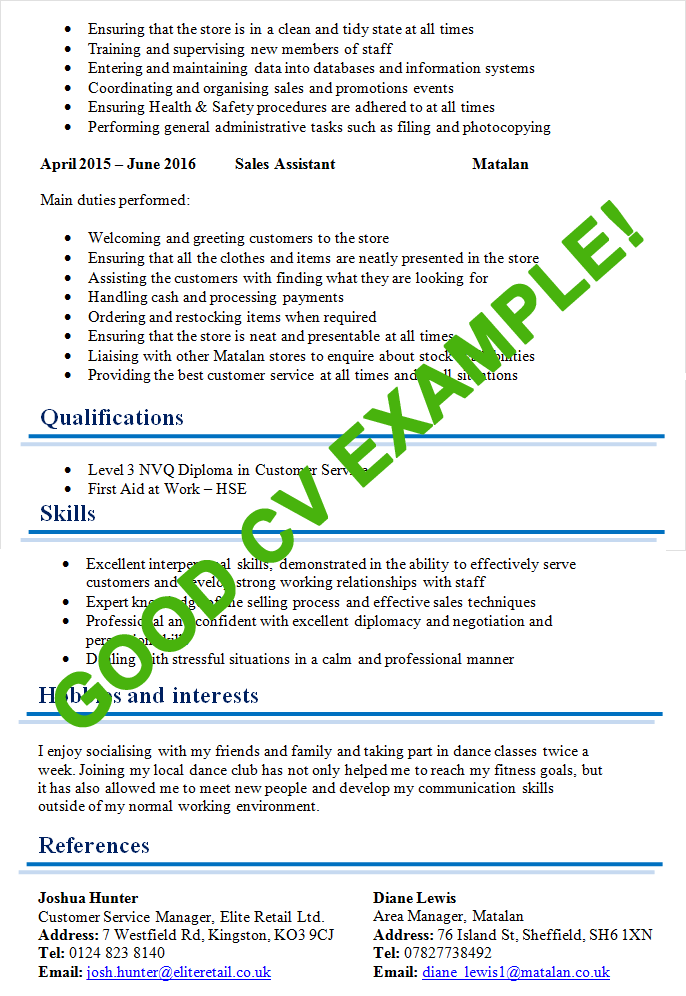 SEARCH TIP: Press CTRL + F or F3 on your keyboard to find a specific word on this page.
Marketing, Selling, PR and Advertising CVs
---
Business, Management, Recruitment and HR CVs
---
Engineering and Manufacturing CVs
---
Education and Training CVs
---
IT and Technology CVs
---
Health and Social Care CVs
---
Arts, Crafts and Design CVs
---
Hospitality and Catering CVs
---
Information and Data Analysis CVs
---
Economics, Finance and Banking CVs
---
Legal Services CVs
---
Transport and Logistics CVs
---
Science and Research CVs
---
Media, Journalism and Publishing CVs
---
Property and Construction CVs
---
Leisure, Sport and Tourism CVs
---
Wildlife, Energy and Environment CVs
---
Public Sector, Politics and Development CVs
---
Example
Personal Details
CURRICULUM VITAE
Kevin Clarkson
ADDRESS: 27 Summerfield Road, HS1 JU4, Kent, United Kingdom
MOB: 07983328492 E-MAIL:
[email protected]
DOB: 22/03/1990 GENDER: Male NATIONALITY: British
Comments
It is unnecessary to have "Curriculum Vitae" or "CV" as the header of a CV; it is quite obvious what the document is. Instead, the heading of a CV should be the candidate's name in a

big font (20 points)

, emphasised (bold) and centred on the page.
It is highly recommended to omit date of birth, gender and nationality from the CV as these things are optional and may even harm your chances of being invited for an interview.
The prefix "ADDRESS" is not required, and other prefixes such as "MOB" and "E-MAIL" should not be capitalised for presentational purposes and because IT GIVES THE IMPRESSION THAT ONE IS SHOUTING.
The email address "

[email protected]

" is unprofessional
Personal Profile Statement
I am hardworking Administrative Officer with excellent communication skills. I can work in team and on my own. I enjoy challenges and strive to achieve the best results. I have excellent organisational skills and I'm good with people. I believe that I can help your company to run better if you employ me.
The start of the sentence should be; "I am a hardworking Administrative Assistant…" (incorrect grammar)
The personal statement contains too many clichés and lacks any force or power behind the words because it doesn't give any concrete examples of these skills being utilised in the real world.
The aim of the personal profile is to be bold and sell yourself as a viable candidate for the job. The closing statement, "I believe that I can help your company to run better…", is vague, boring and weak. How can you help the business run better? Which aspects of the business? In what way?
Education
2013 – 2015 BTEC NATIONAL DIPLOMA IN BUSINESS Kent College
• Achieved a MMP
2006 – 2013 GCSES East Villa Secondary School
1999 – 2006 School Holy Street Primary School
The candidate doesn't list down the relevant modules or units that they completed during their studies. It is unrealistic to expect the prospective employers to be aware of all courses/qualifications and their respective modules.
Instead of mentioning irrelevant information such as primary school details, the candidate can better utilise the space by specifying the relevant modules that they have studied and their specific grades/results.
The course name should not be capitalised
Employment
2016 – Present Admin Assistant Villa College
2014 – 2014 Sales Assistant (2 week work experience) NEXT
Once again, the candidate doesn't properly utilise this part of their CV to fully sell themselves. In the employment section, it is highly recommended to mention the tasks, duties and responsibilities of the jobs that one held.
No months are mentioned in the dates so it will be very difficult for a hiring manager to judge whether this candidate started work as an Admin Assistant in January, December or any other month of 2016!
Skills
• Excellent communication skills
• Excellent organisational skills
• Able to work in a team and on my own initiative
• Playing the Violin
The purpose of the skills section of a CV is for candidates to mention some key skills that will assist them in doing their jobs properly. Although playing the Violin is a definitely a skill; how will the ability to play this musical instrument aid someone to be a better officer worker?
The skills that are listed are very generic and are not accompanied by any real-world examples
Hobbies and interests
In my spare time, I enjoy socialising with my friends and family. I regularly take Violin classess which I enjoy very much.
The candidate doesn't mention any particular hobbies or interests that may be relevant to the job that they are applying for. The dreaded Violin is back and, once again, it doesn't really add any additional value to the CV. General rule of thumb: when in doubt, leave it out.
"classess" is wrongly spelt
References
Mrs Kelly Clarkson
Mob: 0797 7282 7283
Address: 27 Summerfield Road, HS1 JU4, Kent, United Kingdom
Judging from the referee's surname and address; we can safely conclude that the referee is, in fact, the candidate's mother. Having family members as your references introduces a 'conflict of interest' (bias) into the situation and is consequently not very well received by the recruiters.
There is no mention of the referee's company or job position.
Preview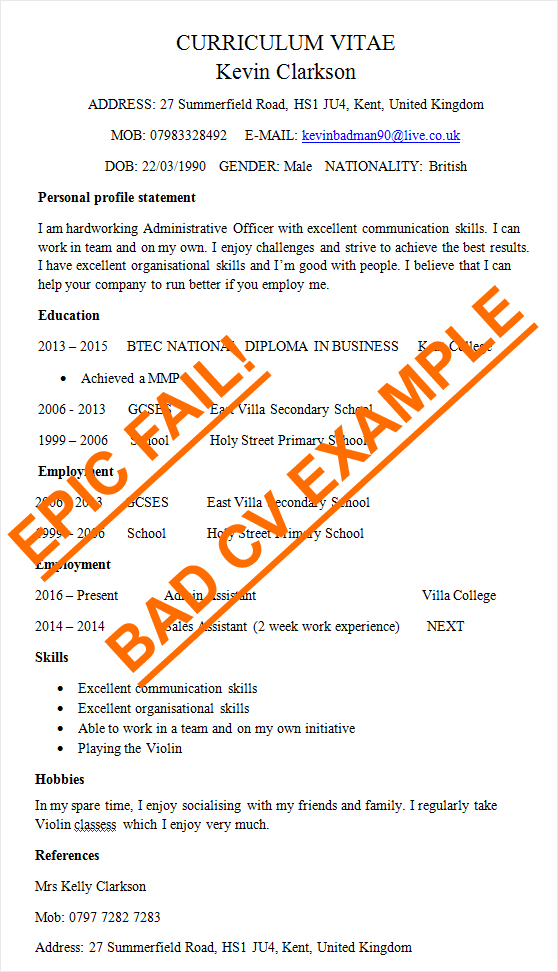 FINAL TIP: The key to writing a successful CV is to fully tailor your CV to the job that you are applying for. Get inspiration from other CV examples listed above; use the same terminologies, mention the same skills that are required for the job and don't forget to send a covering letter with your application.
Good luck!