What is a personal profile statement?
A personal profile statement is a vital part of your CV, and it is a short statement outlining your personal characteristics. It tells the reader what kind of a person you are, the attributes and qualities that you possess and the experience you have.
Be bold, be confident and talk about yourself in a positive way.
Your personal profile is not the place to be humble; it is your chance to be noticed and tell the potential employer exactly who you 'really' are and what you can do for them.
But please, do not make the mistake of going 'over the top' and give the impression to the prospective employer that you're either arrogant or simply too good to be true!
An excellent personal profile statement must be:
Relevant
Short and to the point!
Only contain positive information
Personal Profile Statement: position on a CV
Based on experience and recent research, it doesn't really matter where this statement is located as long as the statement is present somewhere on the CV in a logical way.
Ideally, it should be placed just below your personal details: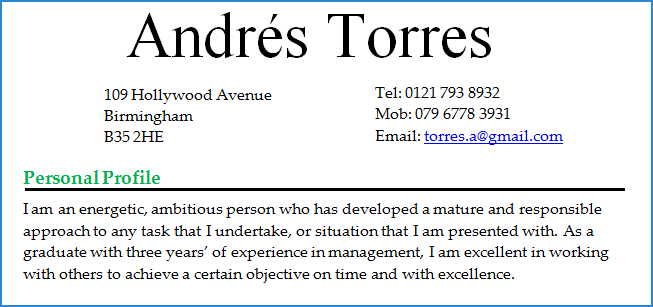 What are some things that I can include in my Personal Profile?
You can mention anything from the following categories when writing a Personal Profile:
Personal Qualities
Self-motivated
Creative
Adaptable
An eye for detail
Skills
Management skills
Communication skills
Problem-solving skills
Design skills
Experience
10 years in management…
Excellent track record…
Extensive background…
Wide experience in…
How long should a Personal Profile Statement be?
There are no set rules about the length of a Personal Profile, but we would suggest you keep it within the 40/70-words boundary; that means no longer than five lines.
8 Personal Profile statement examples
Personal profile example 1 – Business management
I have a clear, logical mind with a practical approach to problem solving and a drive to see things through to completion. I have a great eye for detail. I am eager to learn, I enjoy overcoming challenges, and I have a genuine interest in Business Management.
Personal profile example 2 – IT
I am an open-minded individual with a proven track record in designing websites and creating databases. I have strong technical skills as well as excellent interpersonal skills. I am eager to be challenged in order to grow and improve my communication and professional IT skills gained through previous experiences in the IT sector.
Personal profile example 3 – Fashion
I am a responsible, intelligent and experienced retail professional with an extensive background in fashion and children's' wear both in large departments and small boutiques. I am a creative, adaptable and bright individual with an excellent eye for detail and design.
Personal profile example 4 – Project Manager
I am an energetic, ambitious person who has developed a mature and responsible approach to any task that I undertake, or situation that I am presented with. As a graduate with three years' of experience in management, I am excellent in working with others to achieve a certain objective on time and with excellence.
Personal profile example 5 – Project Leader
I am an open-minded, friendly and resourceful project leader with a sound and optimistic outlook on all things in life. I possess an excellent ability to motivate others, coupled with the ability to communicate comfortably at all levels, therefore ensuring an excellent working environment for all members of the team to perform at their bests.
Personal profile example 6 – Article Writer
I am an articulate, confident person who relishes challenges and working under pressure. My greatest strengths are my research, communication and writing skills. I have an excellent ability to write good quality content since more than 200 of my articles have been published by leading newspapers and magazines.
Personal profile example 7 – Sales Person
I am a mature, positive and hardworking individual, who always strives to achieve the highest standard possible, at any given task. I possess excellent communication skills, and I have the ability and experience to relate to a wide range of people. I enjoy learning new things, I can work very well under pressure and I have the sales experience to handle customer complaints and solving problematic situations.
Personal profile example 8 – Primary School Teacher
I am a loyal, talented and caring person who loves making a difference into the lives of young children. I am open-minded, patient and supportive towards other people, especially towards children or those who suffer from disabilities. I have an excellent ability to remain good-humoured and unflappable under pressure.