Sobhan Mohmand, Career Expert

21 May 2021
Let's face it, some CVs are great, some are good, and others are outright dreadful. If you're looking for an example of a good CV for inspiration to help you write your perfect CV, you have come to the right place!
Below you will find two different types of CVs:
Excellent CV example: Professionally-written to impress employers and secure job interview invitations.


Bad CV example: An unimpressive and poorly-written CV with no chance of impressing the employer or securing job interviews.

Make sure yours doesn't look like this one!
We shall present a section-by-section breakdown of each of these CVs to give you tips on some of the best CV writing practices to follow, common mistakes to avoid and how to write an impressive CV that will secure job interviews.
Sounds amazing, right? Let's get started!
Example of an excellent CV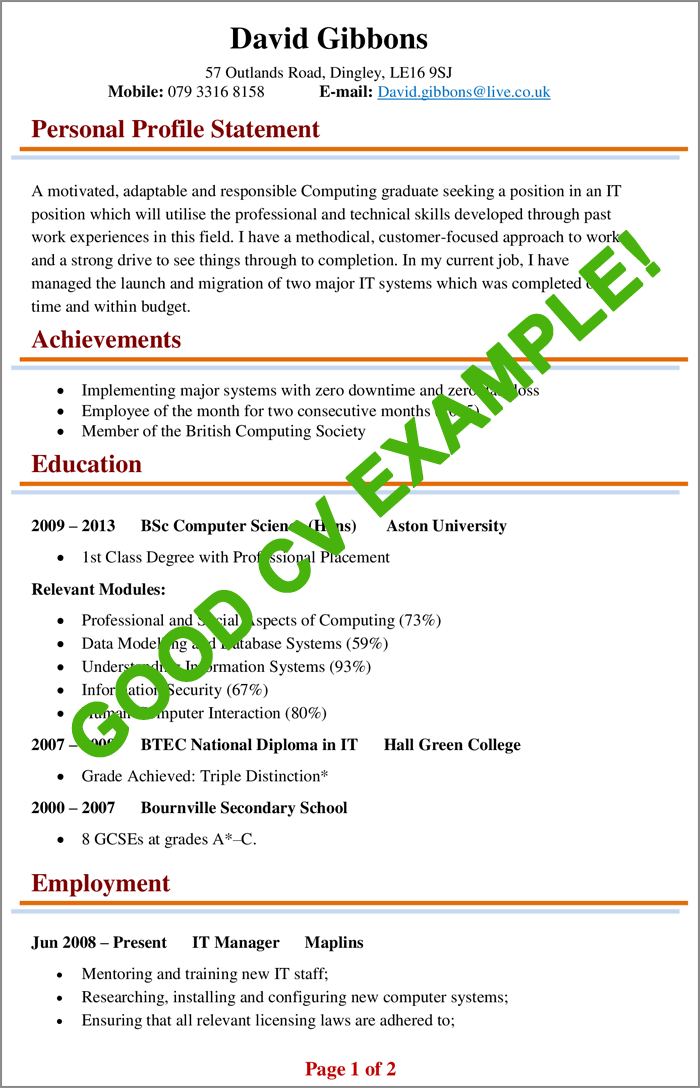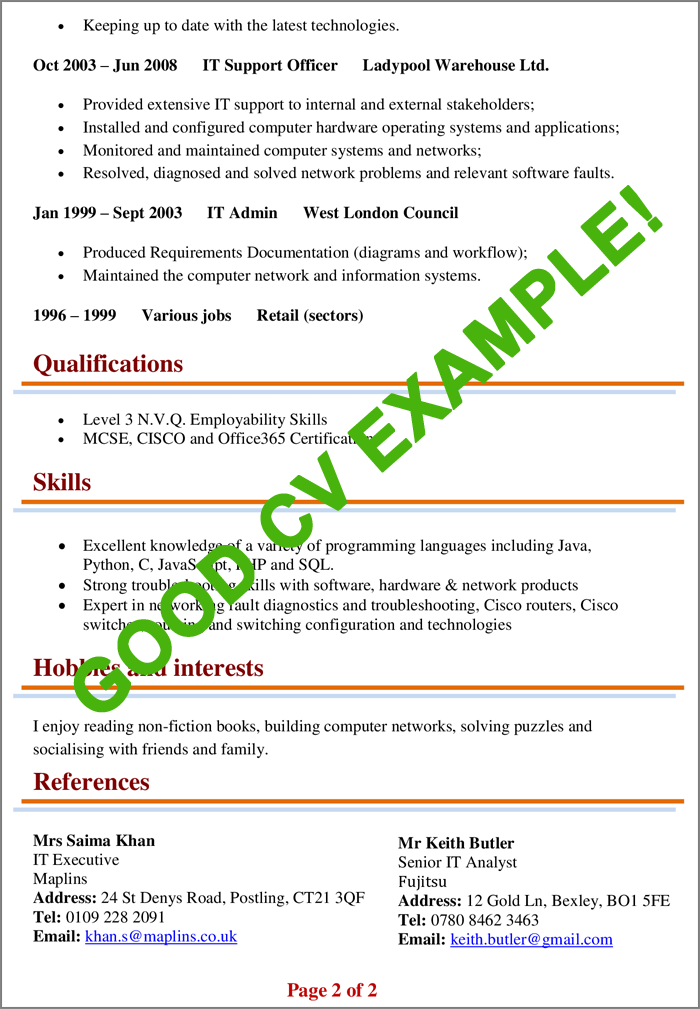 What makes this CV effective?
It has a great format and layout, making it easier to read.
Bullet points and short sentences and appropriately used.
The CV is fully tailored to the job the candidate is applying for.
A minimal amount of colour and design is used to improve the CV's presentation and visual appeal.
It includes all the information a standard CV should contain.
The same format for dates is used throughout the sections.
Example of a bad CV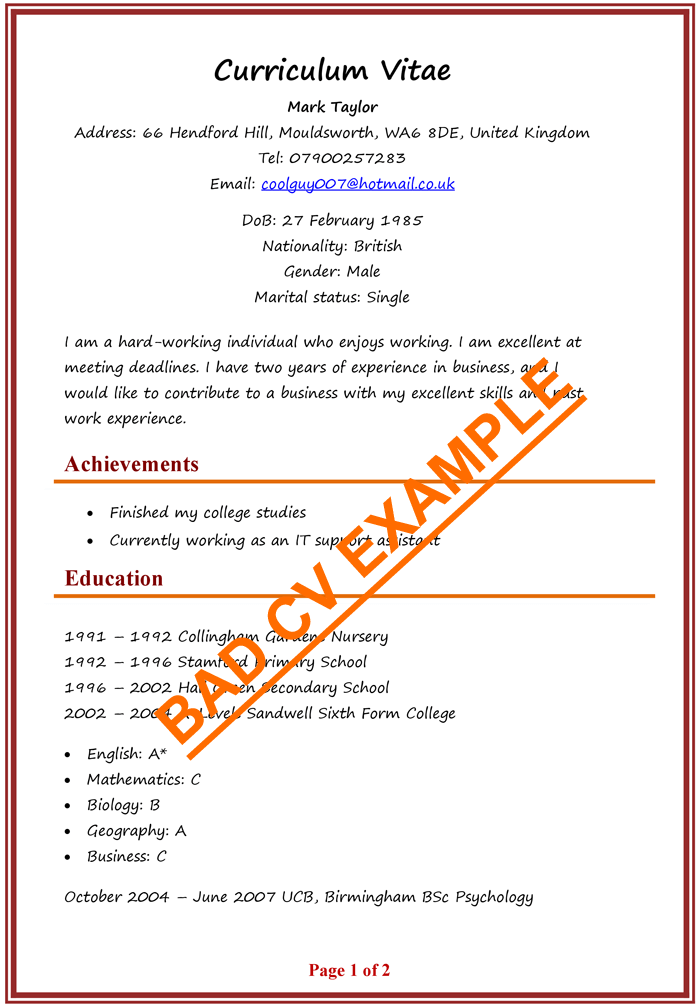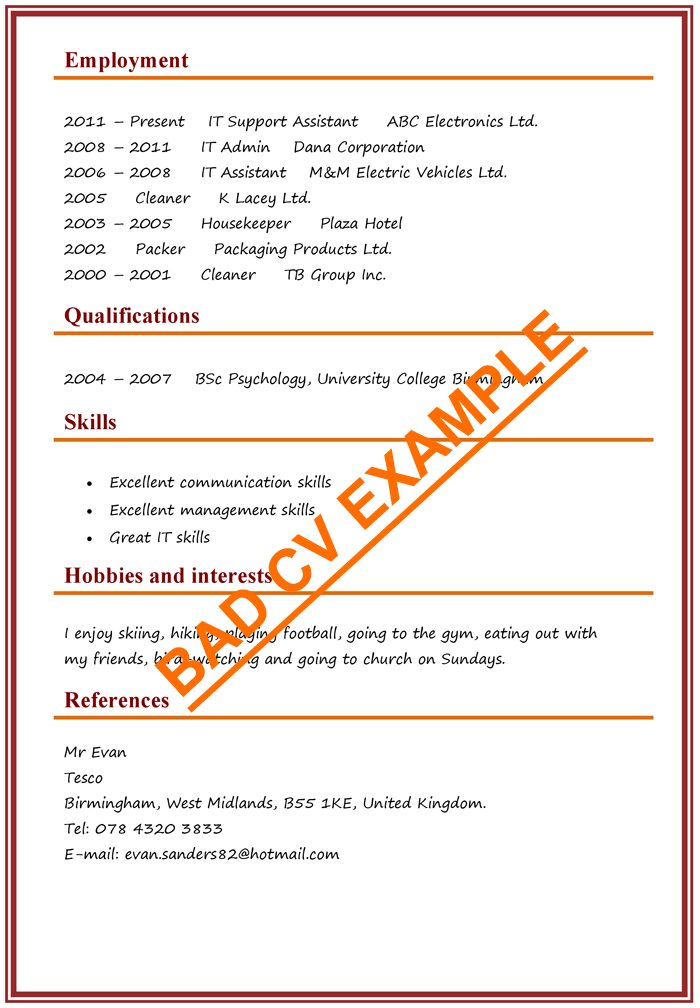 What makes this CV ineffective?
At first glance, this CV example looks very generic, dull and boring.
It is poorly written and badly structured.
The CV contains vague statements which are not supported by real-world examples.
The CV contains too much irrelevant and/or outdated information.
The layout and presentation of information are unsatisfactory.
The font is inappropriate and difficult to read.
Section-by-section breakdown of the good and bad CVs
1. Personal details
The personal details section is located right at the top of your CV, and it is the first thing that a prospective employer will see.
Bad example:
Curriculum Vitae
Mark Taylor
Address: 66 Hendford Hill, Mouldsworth, WA6 8DE, United Kingdom
Tel: 07900257283
Email: [email protected]
DoB: 27 February 1985
Nationality: British
Gender: Male
Marital status: Single
Comments & tips for improvement:       
Heading: The heading of A CV should be the candidate's full name written in large, bold letters and centred on the page (not Curriculum Vitae or CV).


Email: The email address should be professional (e.g. first and last name), definitely not something like [email protected]!


Address: No need to use the 'Address' prefix before the actual address and the address should be written as concisely as possible to save valuable space for more important information.


Nationality, date of birth, gender and marital status are optional details which are best left out of a CV unless there is a particular benefit for their inclusion.
Good example:
David Gibbons
57 Outlands Road, Dingley, LE16 9SJ
Mob: 079 3316 8158
Email: [email protected]
That's much better, right?
2. Personal Profile Statement
A personal profile is a short statement that tells the employer about your personal skills, qualities, experiences and career ambitions.
Bad example:
I am a hard-working individual who enjoys working. I am excellent at meeting deadlines. I have two years of experience in business, and I would like to contribute to a business with my excellent skills and past work experience.
Comments & tips for improvement:     
The personal profile needs to be punchy and should outline the candidate's personal qualities as they relate to the role they are applying for.
The candidate should avoid using vague statements that are not specific enough to carry any weight or meaning. "Two years of experience in business"… what kind of experience? What did you do? "my excellent skills"… which skills? Try to be as specific as possible and include real-world examples in your personal profile statement!
All sections of a CV, excluding the personal details, should be appropriately labelled.
Good example:
Personal Profile Statement
A motivated, adaptable and responsible Computing graduate seeking a position in an IT position which will utilise the professional and technical skills developed through past work experiences in this field. I have a methodical, customer-focused approach to work and a strong drive to see things through to completion. In my current job, I have managed the launch and migration of two major IT systems which was completed on time and within budget.
3. Achievements
The achievements section, as the name suggests, contains a short list of impressive achievements or accomplishments that are a testimony of your skills, abilities, determination and desire to be successful.
Bad example:
Finished my college studies
Currently working as an IT support assistant
Comments & tips for improvement:       
The statement "finished my college studies" is very vague, and it doesn't tell the employer anything about the candidate's academic performance or grades achieved. The point of this section is to impress the employer with key facts or figures, not ambiguous statements!
The candidate is not clear on why working as an IT support assistant is an achievement that they are particularly proud of.
Good example:
Achievements
Implementing major systems with zero downtime and zero data loss
Employee of the month for two consecutive months (2015)
Member of the British Computing Society
Very impressive!
4. Education
The education section contains brief information about your education and qualifications background. Together with the employment and work experience section, it forms the bulk of your CV.
Bad example:
1991 – 1992 Collingham Gardens Nursery
1992 – 1996 Stamford Primary School
1996 – 2002 Hall Green Secondary School
2002 – 2004 A-Levels Sandwell Sixth Form College
English: A*
Mathematics: C
Biology: B
Geography: A
Business: C
October 2004 – June 2007 UCB, Birmingham BSc Psychology
Comments & tips for improvement:       
The entries in this section need to be in chronological order (i.e. most recent first).
An undergraduate degree is one of the most important academic achievements of one's career and is an excellent selling point! The candidate should put much more focus on this qualification by mentioning grades and listing down relevant modules.
The degree classification/grade is missing.
This section contains too much irrelevant and outdated education! What is the point for a graduate to mention their nursery and primary school on their CV? As a rule of thumb, anything that does not strengthen or add value to one's application should be omitted.
Good example:
Education and Training
2009 – 2013      BSc Computer Science (Hons)       Aston University
1st Class Degree with Professional Placement
Relevant Modules:
Professional and Social Aspects of Computing (73%)
Data Modelling and Database Systems (59%)
Understanding Information Systems (93%)
Information Security (67%)
Human-Computer Interaction (80%)
2007 – 2009      BTEC National Diploma in IT      Hall Green College
Grade Achieved: Triple Distinction*
2000 – 2007      Bournville Secondary School
That's much better!
5. Employment and work history
The employment and work experience section of your CV contains information on your previous jobs and work history. Employers are particularly interested in this section because relevant work experience is highly valued and usually an essential requirement for many jobs.
Bad example:
2011 – Present    IT Support Assistant     ABC Electronics Ltd.
2008 – 2011     IT Admin    Tesco
2006 – 2008     IT Assistant    M&M Electric Vehicles Ltd.
2005     Cleaner     K Lacey Ltd.
2003 – 2005     Housekeeper     Plaza Hotel
2002     Packer     Packaging Products Ltd.
2000 – 2001     Cleaner     TB Group Inc.
Comments & tips for improvement:       
The following four details are required for each entry: name of the company worked in, start and end dates (month/year format), job title, and main duties performed. In the above CV example, the main responsibilities or duties performed are missing so the employer will have no idea about what the candidate was doing in those roles!
The candidate should omit irrelevant or otherwise insignificant work experience. Having worked as a cleaner in 2000 will not make the candidate a better IT professional in 2019!
The entries are poorly formatted and aligned. The presentation of the information (i.e. layout and structure) is equally important as the content!
Good example:
Employment history
Jun 2008 – Present      IT Manager      Maplins
Mentoring and training new IT staff;
Researching, installing and configuring new computer systems;
Ensuring that all relevant licensing laws are adhered to;
Keeping up to date with the latest technologies.
Oct 2003 – Jun 2008      IT Support Officer      Ladypool Warehouse Ltd.
Provided extensive IT support to internal and external stakeholders;
Installed and configured computer hardware operating systems and applications;
Monitored and maintained computer systems and networks;
Resolved, diagnosed and solved network problems and relevant software faults.
Jan 1999 – Sept 2003      IT Admin      West London Council
Produced Requirements Documentation (diagrams and workflow);
Maintained the computer network and information systems.
1996 – 1999      Various jobs      Retail (sectors)
Perfect!
6. Qualifications
The qualifications section is an optional part of your CV and should contain a list of your professional training, courses and/or qualifications.
Bad example:
2004 – 2007    BSc Psychology, University College Birmingham
Comments & tips for improvement:       
The undergraduate degree is already mentioned in the education section, so there is no need to mention it here again.
This section should be removed from one's CV if the candidate does not have any other additional qualifications to list here.
Good example:
Level 3 N.V.Q. Employability Skills
MCSE, CISCO and Office365 Certifications
7. Skills
In the skills section, you should include a list of your key skills and abilities that will enable you to do the advertised job well. Remember, only include skills that are relevant, transferable and add value to your application.  
Bad example:
Excellent communication skills
Excellent management skills
Great IT skills
Comments & tips for improvement:    
The items on the list are too vague and are not backed up by examples from real-life situations! It gives the impression that the candidate has just listed a bunch of skills just for the sake of listing them, without actually possessing these skills.
It is recommended to make entries in this section specific and descriptive
Good example:
Excellent knowledge of a variety of programming languages including Java, Python, C, JavaScript, PHP and SQL.
Strong troubleshooting skills with software, hardware & network products
Expert in networking fault diagnostics and troubleshooting, Cisco routers, Cisco switches, routeing and switching configuration and technologies
Looking at this skills list will give any employer the impression that this candidate knows exactly what they are talking about!
8. Hobbies and interests
You should use the hobbies and interests section of your CV to demonstrate that you're a well-rounded person who is engaged in extracurricular activities and the community.
Bad example:
I enjoy skiing, hiking, playing football, going to the gym, eating out with my friends, bird-watching and going to church on Sundays.
Comments & tips for improvement:        
Do not mention any irrelevant hobbies on your CV that do not add additional value to your application.
Do not disclose political or religious affiliations.
Avoid listing too many hobbies.
Good example:
Hobbies and interests
I enjoy reading non-fiction books, building computer networks, solving puzzles and socialising with friends and family.
9. References
The references section is the final part of your CV containing the contact details of two people who know you well, have worked with you before and who can vouch for you to the employer.
If you decide not to include references on your CV, you can simply write "references available upon request."
Bad example:
Mr Evan
Tesco
Birmingham, West Midlands, B55 1KE, United Kingdom.
Tel: 078 4320 3833
E-mail: [email protected]
Comments & tips for improvement:       
The referee's name needs to be written in full.
The referee's job title/position is missing
The address is not complete
Good example:
Mrs Saima Khan
IT Executive
Maplins
Address: 24 St Denys Road, Postling, CT21 3QF
Tel: 0109 228 2091
Email: [email protected]
Congratulations! You should now have a pretty good idea about how to write your perfect CV by following standard CV writing conventions and avoiding some common mistakes.
More CV examples
Check out the templates below for more CV samples:
Sales CV example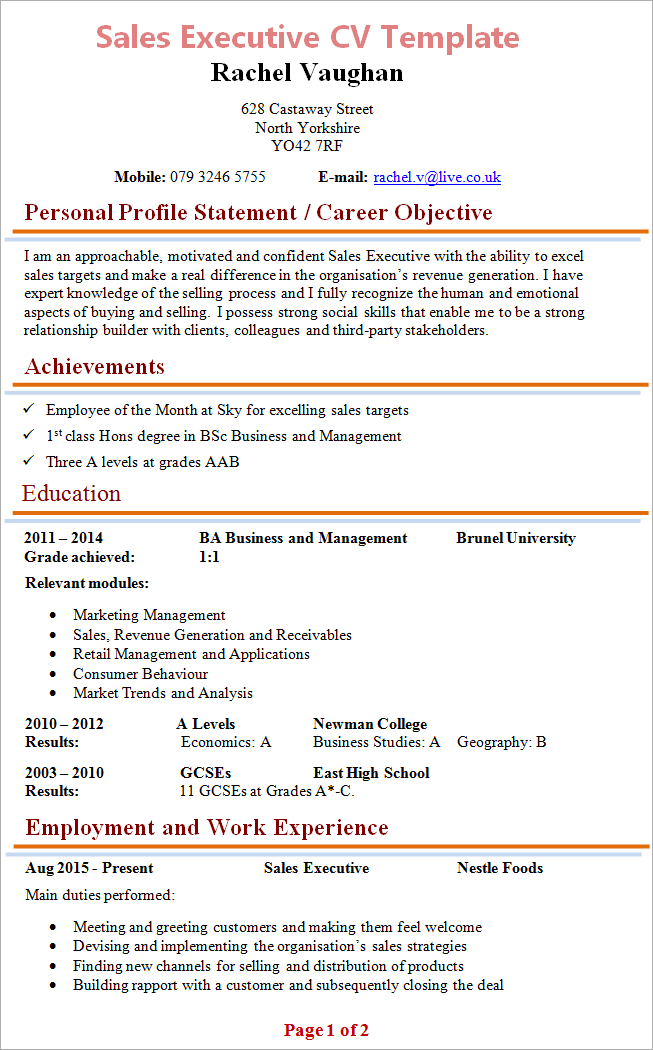 (Download: sales CV template)
Engineering CV example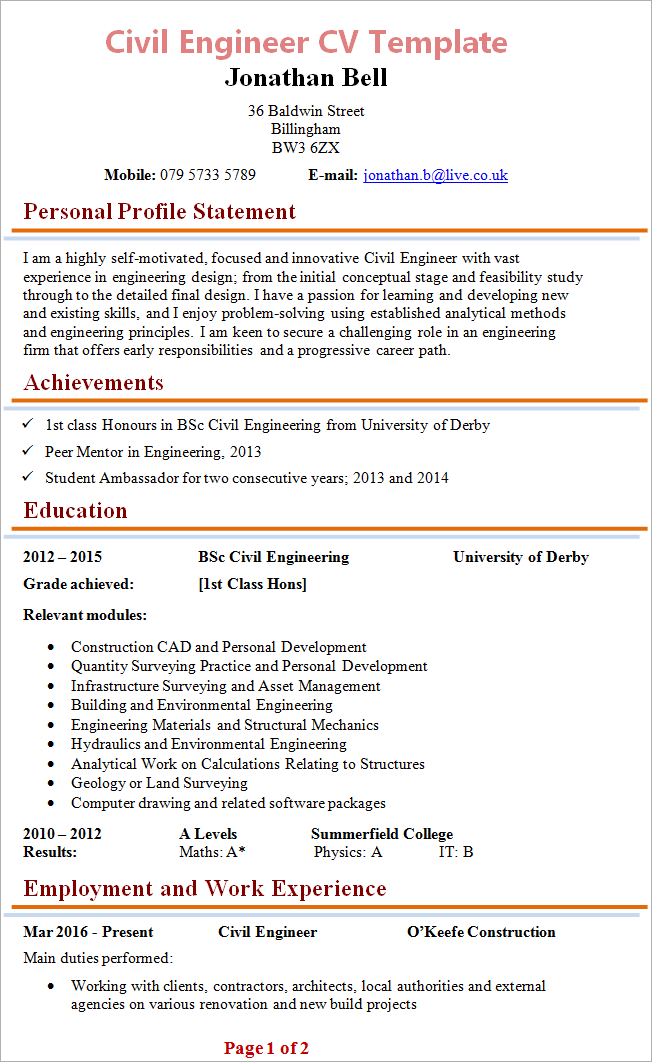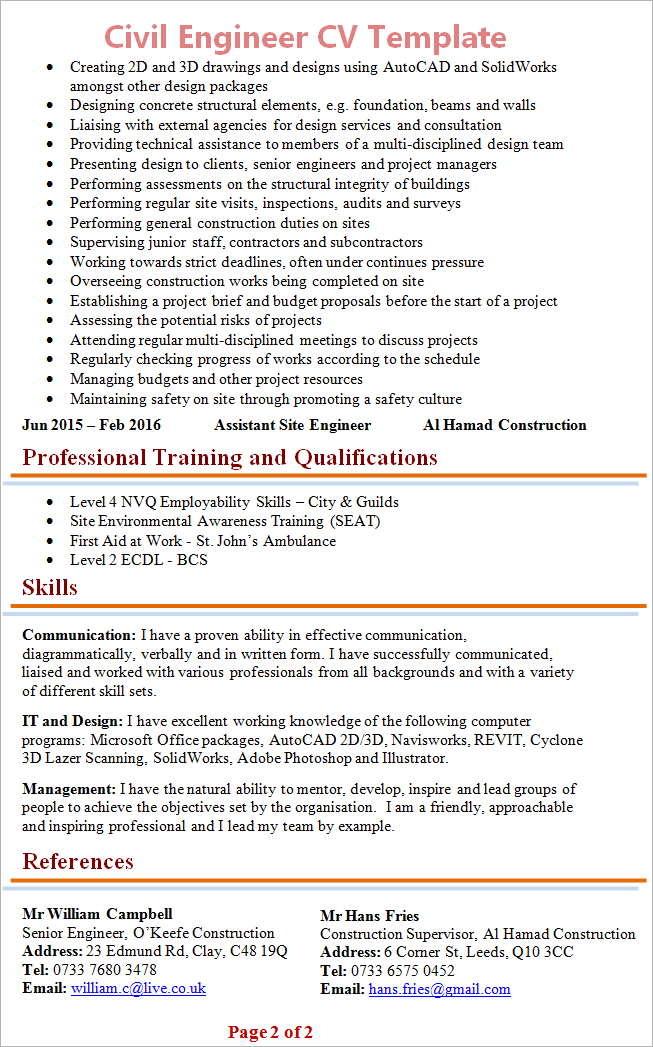 (Download: engineering CV template)
Finance CV example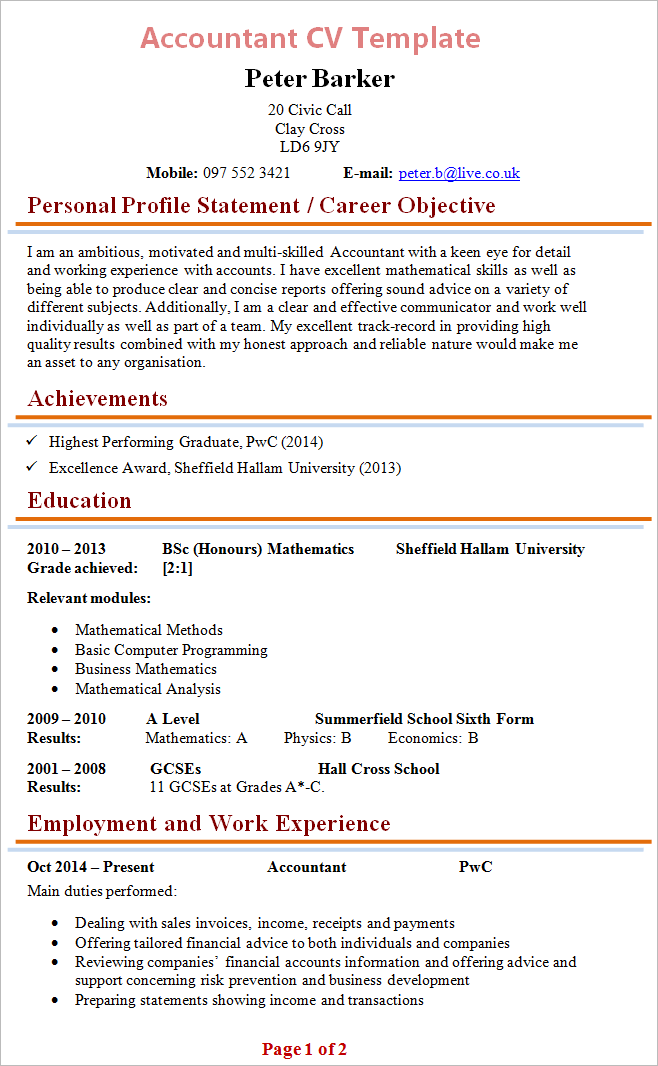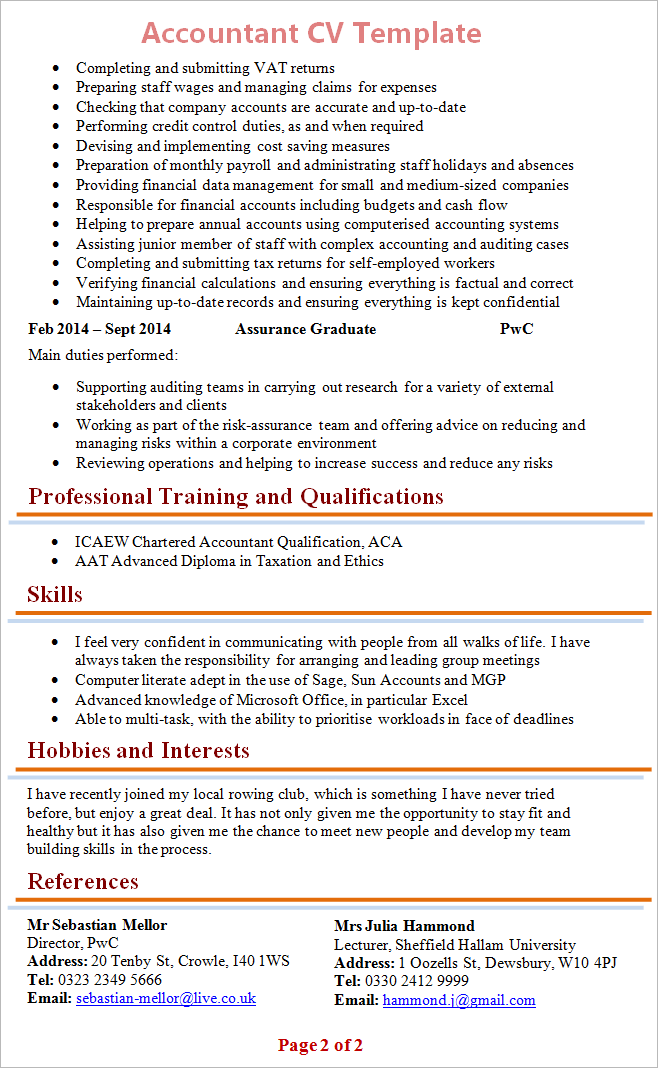 (Download: finance CV example)
Education CV example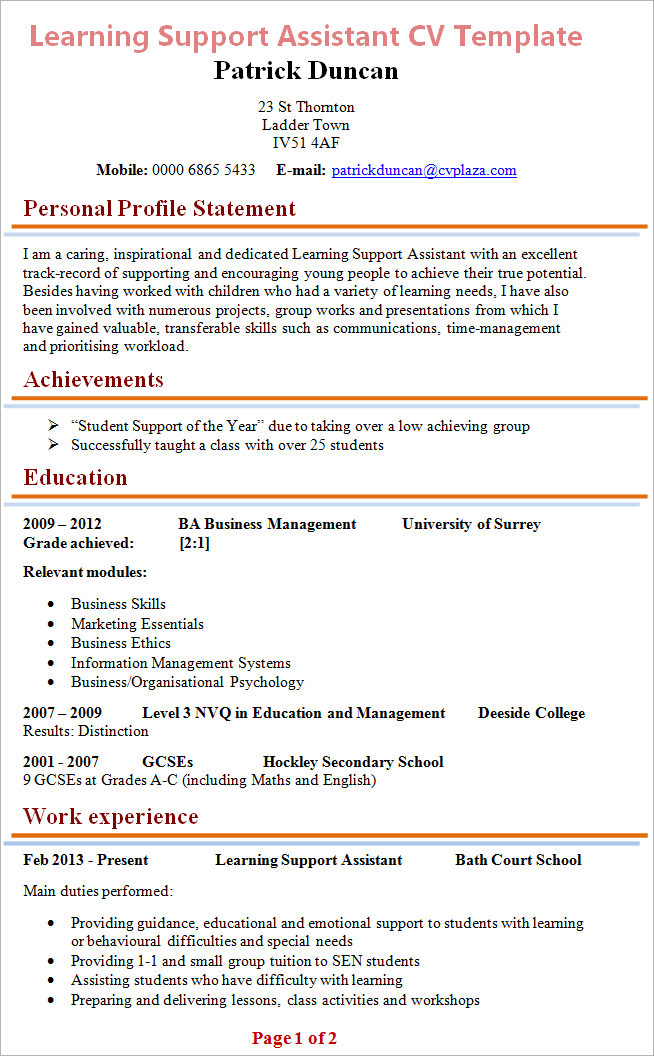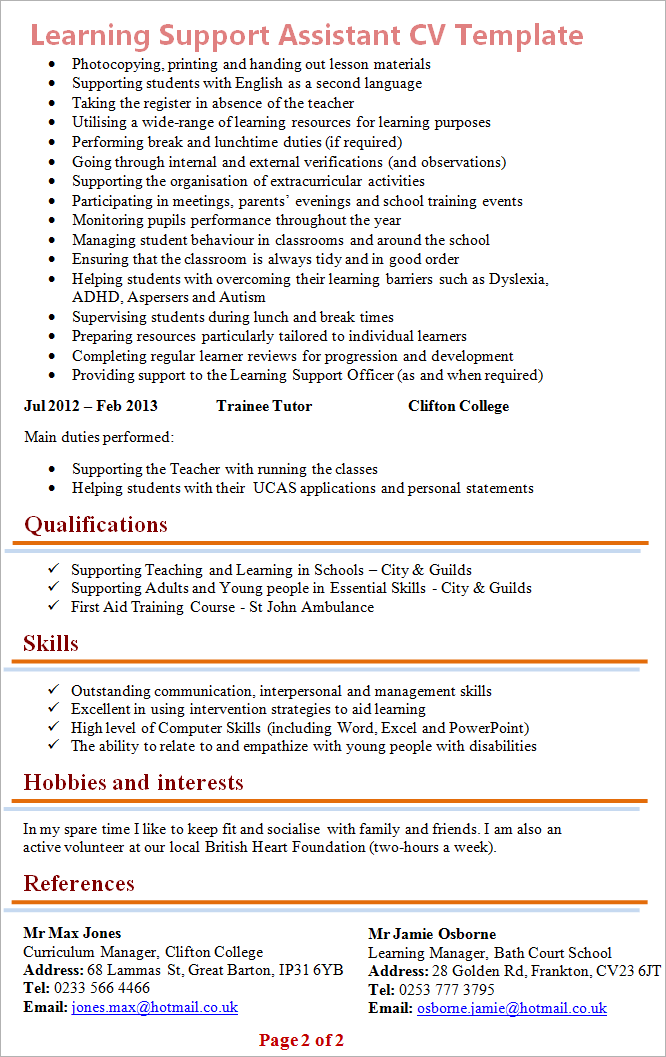 (Download: education CV template)
Not found what you were looking for? Check out these great CV examples of more than 100+ jobs from 18 different job sectors!
Different types of CVs – which format is appropriate for you?
School leaver CV
A school leaver CV is an ideal format for young people who have just finished school or college and have little or no work experience. This CV template is also recommended for those just entering the world of work.
The ideal length of this CV should be 1 A4 page long.
The candidate should place a lot of emphasis on transferable skills, qualities and abilities rather than on work experience or qualifications.
Graduate CV
A graduate CV is an ideal format for university students, graduates and young professionals who possess at least an undergraduate degree and some work experience. This CV template is also the recommended format for most people.
The ideal length of this CV should be 2 A4 pages long.
Candidates should put a lot of focus on relevant qualifications, work experience or professional training.
Skills-based CV
A skills-based CV, also known as a functional CV, is an ideal format for candidates that do not have the relevant qualifications or work experience but do have transferable skills that could help them do the job well.
A lot of emphases should be put on skills, abilities and personal qualities that would be useful for the advertised role.
Each skill or quality needs to be backed up by real-world examples (i.e. how and where these skills were used in real-life situations).
Academic CV
An academic CV, as the name suggests, is a CV format that is used by teachers, researchers and academics. Academic CVs are used to apply for teaching or research positions and focus highly on academic merit and qualifications.
Unlike conventional CVs, they also have several additional sections dedicated to research interests, publications, conference presentations, teaching activities, awards and professional memberships.
There is no ideal length for this CV format because it largely depends on the candidate's level of experience, education, seniority, etc. Typically, they are between 3-5 pages long.
BONUS: CV writing tips
1. Use short sentences and bullet points
It is important to remember that recruiters tend to scan CVs rather than read them in detail. Using short sentences and bullet points will improve the legibility and impact of your CV.
2. Select an appropriate font
The most common recommended fonts for writing a CV are Times New Romans (12 pt), Arial (11 pt), Verdana (11 pt) and Helvetica (12 pt).
3. Tailor your CV to the particular job
Each CV should be carefully amended and tailored to the job for which you are applying. Only include relevant information on your CV and use the same key phrases and terms as the job advertisement.
4. Use CV templates and examples
Some applicants make the mistake of writing their CV from scratch. You don't have to reinvent the wheel! Be more time-efficient by using CV templates and CV examples for guidance and inspiration.
5. Get expert help & advice
Writing a perfect CV is an art! It is a good idea to have your CV checked out by careers professionals who are specialised in job applications.
Good luck!