Sobhan Mohmand, Career Expert

17 Oct 2019
CV definition
Curriculum Vitae (commonly abbreviated, of course, to CV) is the Latin expression for "the course of one's life"; but this can seem a bit misleading since no employer is interested in knowing every single detail of your life so far. It's not an autobiography, after all.
The Oxford Dictionary defines Curriculum Vitae as "a brief account of a person's education, qualifications, and previous occupations, typically sent with a job application."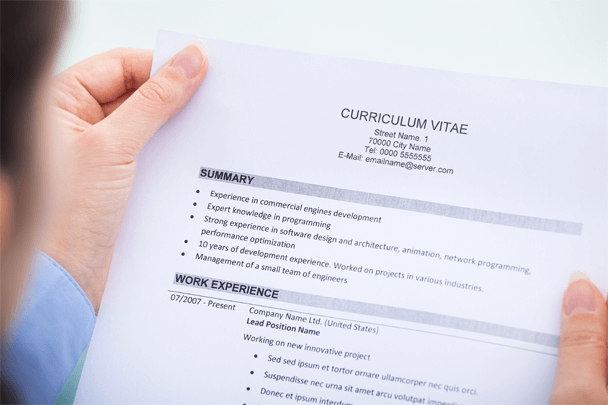 What should a CV include?
Your CV usually contains – in brief – the following information about you:
Personal details (name, address, telephone number and email address)
Achievements
Education, training and professional qualifications
Work experience
Skills
Hobbies and Interests
References
A CV is your personal marketing tool
The best way to look at a CV is to see it as a "marketing tool" or a "sales brochure" where you sell your skills, qualities, expertise and potential to a prospective employer.
Your CV will be the first thing that a prospective employer will see about you.
First impressions matter, right?
It is also the only part of the selection process that you have full control over. You decide what you write or do not write in your CV. No one can force you to add or remove anything.
Bright & Earl in their book Brilliant CV (2001, pg.1) state:
"Getting a job today can involve several steps, starting with a CV, followed by psychological tests and interviews. The CV is the only step where you have control over the information that you present. In every other step, the employer decides what questions to ask, what information to collect. The CV is your vital opportunity to present yourself at your best. CVs are important."
Types of CVs
The following are the three main types of CVs:
The chronological CV: This type of CV lists down the candidate's information in chronological order (i.e. starting with the most recent). This is the chosen format for applicants who have a number of years of work experience; do not have any employment gaps or who wish to present their career progression to date.
The functional or skills-based CV: This type of CV focuses more on the candidate's skills, abilities and personal qualities rather than employment. This type of CV is suitable for students, graduates and young professionals with little or no work experience. It is also the most popular CV format.
The hybrid CV: This type of CV is more or less a combination of the chronological and functional CV.
Example of a standard CV
The following is a good example of how a CV should look like:
Please note: CVs vary in length.
When do I need a CV?
It is a common myth that you don't need a CV to apply for many jobs.
In reality, you will need to send a CV in the following circumstances:
When applying for jobs that are advertised
When making speculative job applications (i.e. sending your CV and cover letter to an employer and enquiring whether they have any job opportunities available at their organisation).
What is the purpose of a CV?
Some people mistakenly think that the purpose of their CV is to get them a Job. This is not exactly accurate.
No employer in their right mind will call you up the next day saying;
"Hi, I just had a look through your Curriculum Vitae and based on what I have read … you're hired! When can you start?!"
Unfortunately, it just does not work like that in the real world.
Rather, the key purpose of your CV is purely to convince a prospective employer of your employability and to arrange an interview or a meeting with you.
A CV is primarily a gateway to an interview.
This concept has been nicely illustrated in the following diagram related to the job application process: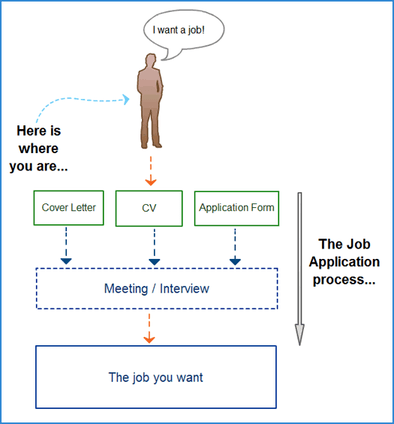 Martin Yate, a best-selling careers author, states in his book The Ultimate CV Book (Pg.3):
"Your CV must speak loudly and clearly of your value as a potential employee. And the value must be spoken in a few brief seconds, because, in the business world, that's all the attention a CV will get. The CV takes you only the first few paces toward that new job. It gets your foot in the door, and because you can't be there to answer questions, it has to stand on its own."
While it is true that it is during the interview stage that you have the opportunity to fully convince a prospective employer of your suitability for the job, it would be wrong to conclude from this that the expiry date of the CV is just until the job interview stage. In fact, once all the short-listed candidates have been interviewed the recruiters will then go through all the notes, application forms, cover letters and CVs to make a final decision.
Hence, your CV will be your companion until you have secured the job that you seek and its importance cannot be overstated.
CV writing tips
Keep it short and sweet; no more than 2 A4 pages long
Use bullet points and short sentences rather than big paragraphs
Only include relevant, positive and important information
Let someone else double check your CV for spelling and grammar mistakes
Accompany your CV with a well-written cover letter
Conclusion
A CV, or curriculum vitae, is your personal marketing tool containing information about your education, employment, personal qualities and skills. You will need a CV to apply for jobs. There are a number of different types of CV formats that one can adopt, depending on the candidate.
The purpose of a CV is to convince the prospective employer of your employability and to invite you for a job interview.
Good luck!