How to write a CV in 9 SIMPLE steps
Whether you are writing your first CV or improving the CV that you have already written: Below you will find 9 easy-to-follow steps for writing a perfect CV, covering everything from personal details to the final references section.
Each section contains writing guidelines, a completed example + useful tips.
Key points:
Curriculum Vitae (commonly abbreviated, of course, to CV) is the Latin expression for "the course of one's life"
The best way to look at a CV is to see it as a 'marketing tool' or a 'sales brochure' where you sell your skills, qualities, expertise and potential to a prospective employer
As a general rule, the length of a CV should be no longer than 2 A4 pages
Getting started…
Guidelines:
The personal details section is located right at the top of your CV and it is the first thing that a prospective employer will see.
This section must contain the following information in chronological order:
Your name: written in big bold letters and centred on the page
Your contact details: address, mobile number and e-mail address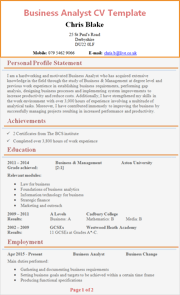 Good example:
Tips:
Do not write "Curriculum Vitae" at the top of your CV
Avoid unprofessional e-mail addresses (e.g. darknight007@live.com)
Do not include the prefix "address:" before the actual address
Avoid including optional details such as your date of birth, gender, marital status, nationality, etc. unless there is a benefit of including such information
Guidelines:
A personal profile statement is the second part of your CV, and it is a short statement that tells the prospective employer about the personal skills and qualities that you possess, the experiences that you have, and your career goals and ambitions.
When writing your personal profile, ensure it is:
Short (no more than 5 lines);
Relevant to the job you are applying for, and;
Contains some real-world examples.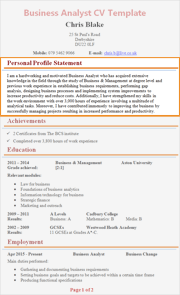 Good example:
I am a creative, imaginative and resilient Copywriter with a talent for developing effective written materials including, but not limited to, corporate web content, emails, press releases, newsletter articles, blog posts and social-networking site posts. My 1st Class Hons Degree in Advertising and my extensive experience in this field is a testament to the passion and drive I have to succeed in this competitive industry.
Tips:
Your personal statement needs to be punchy and should outline your personal characteristics as they relate to the role you are applying for
Don't be humble, be confident and write only positive things about yourself
Do not mention any vague clichés such as "excellent communication skills" or "I can work well in a team and on my own initiative" WITHOUT giving real-world examples of these skills and abilities
Guidelines:
Including a list of achievements on your CV is an excellent way of making your CV stand out from the crowd. Research has shown that the applicants with achievement-focused CVs are
three times more likely to be shortlisted
for an interview compared to candidates with duties-focused CVs!
What types of achievements should you include in this section? Well, any accomplishments that portray you in a positive light are worth considering, including:
Awards won
Promotions
Trained or educated others
Completed important projects on time and within budget
Increased sales figures (by such-and-such %)
Saved time by coming up with efficient methods and tools
Qualifications gained
Good results in examinations and tests
Leader/captain/manager in some club or organisation
Anticipated in the organisation of fun fairs, open days, etc.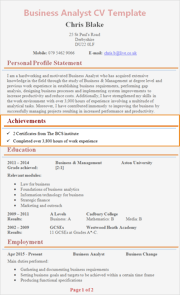 Good example:
Over two years of relevant work experience in the field
2:1 degree in Business Management from the University of London
Student Ambassador (2 Open Days), Bexley College
Tips:
Only include relevant accomplishments in this section
Do not include more than three items under this section
Only use bullet points and short sentences, not long paragraphs
This section is optional; if you feel that you haven't got something useful to include here you can simply omit it and go straight to the education and training section
Guidelines:
This section should contain a summary of your educational background, and it is one of the most important parts of your CV. It informs the reader, in brief, the education you have received to date, starting with the most recent.
Courses that you can list here:
Undergraduate and postgraduate degrees
A-Levels, BTECs and other college-level courses
GCSEs
It is also perfectly fine to list down any additional training/qualifications that you have received. In our example, however, we have included a separate "Qualifications" section below to separate the education from the professional training.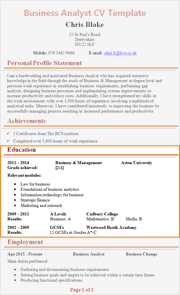 Good example:
2013 – 2016 BSc Computer Science Northampton University
Grade achieved: [1st Class Hons]
Relevant modules:
Programming Languages: Java, PHP and C++
Human-Computer Interaction
System Security and Encryption
Contemporary Trends in Computer Science
2012 – 2013 A-Levels East London College
Results: ICT: B Media: A English Literature: B
2005 – 2012 GCSEs Ada Secondary School
Results: 11 GCSEs at Grades A*-C, including Maths and English.
Tips:
Only include relevant and up-to-date information that will add value to your CV. For example, if you have a PhD in Molecular Biology, it won't make any sense to dedicate a big chunk of your CV to your primary, secondary and college education!
Always accompany any entries of this section by grades and dates (from – to)
Expand on important education (e.g. degree) and list some of the relevant modules that you have completed as part of the course
Guidelines:
The employment and work experience section of a CV is another
crucial
part of your CV which is dedicated to the work experience that you have to date.
The following are some of the jobs that you can include under this section:
Permanent and temporary jobs
Full-time and part-time jobs
Weekend and summer jobs
Voluntary positions
Industrial placements and internships
Each entry should be accompanied by the following information:
The name of the company you have worked in
The start and end dates (from-to)
Your job title
Your primary duties and responsibilities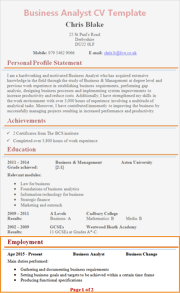 Good example:
Oct 2014 – Present Customer Service Officer Mobile Land
Main duties performed:
Providing relevant information and recommendations to customers with regards to products, services and offers available
Directing customer calls to the correct department when required
Dealing with any complaints, suggestions and feedback on a daily basis and ensuring that they are processed and dealt with correctly
Offering relevant support to customers on a need-by-need basis
Processing orders and taking payments
Dealing with cancellations, refunds and replacements of products and services
Liaising with the Sales department regarding payment-related issues
Ensuring product information are accurate and up to date;
Calming down tense situations by offering reasonable solutions, advice and information to the customers in a professional and courteous manner
Mar 2013 – Sept 2014 Sales and Marketing Assistant Primark
Main duties performed:
Acting as the first point of contact for the shop's existing and new customers
Till operation, serving customers and directing them around the shop
Handling customer queries and complaints on a day to day basis.
Giving expert advice on product selection to customers
Arranging window displays (and special promotions)
General cleaning and maintenance of the shop.
Tips:
Do highlight your achievements in the roles (e.g. exceeded sales targets, managed a project or a team, entrusted with higher responsibilities, etc.)
Do not include your previous employers' contact information here (you can mention that in the "References" section below)
Do not mention any outdated, irrelevant or insignificant work experiences
Avoid excessively using jargon and technical terms which many readers may not be familiar with
Guidelines:
The qualifications section of a CV is usually combined with the Education section, but on this occasion, we have separated the two for readability and presentational purposes.
In this section, you can list down the names of the qualifications that you have achieved accompanied by the following information:
The issuer/training provider
The level of the qualification (if applicable)
The validity/expiry date of the certificate (if applicable)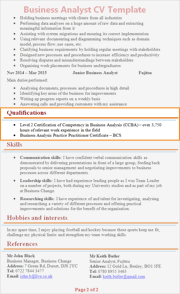 Good example:
Level 3 NVQ Diploma in Customer Service – The Open University
Level 2 ECDL (European Computer Driving Licence) – BCS
First Aid at Work – HSE
Tips:
Mention the most important qualification first
Try to limit the number of your qualifications to a maximum of 5
Including dates are optional so it is generally recommended to leave it out
Guidelines:
The skills section of a CV is an optional part where you can mention some of the skills and abilities that you possess which will assist you in the job you are applying for.
There are a broad range of skills that you can mention, such as:
IT Skills – being able to use the computer to accomplish tasks
Communication – being able to listen/talk to people in a constructive manner
Interpersonal – The way you relate and interact with others
Numerical – being able to handle numbers, maths, estimations, etc.
Analytical – being able to give meaning to data, analyse information
Problem-solving – being able to offer solutions to problems
Teamwork – being able to work with other people to achieve a common goal
Leadership – being able to take responsibility, lead/mentor others, etc.
Organisation – being able to meet deadlines, plan and schedule tasks, etc.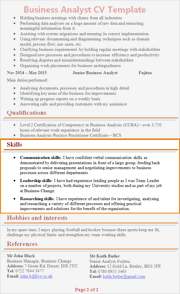 Good example:
Excellent communication skills and telephone manners, with the ability to speak in a clear, audible and courteous manner
Computer literate, with a typing speed of 70wpm (words per minute) and the ability to respond to emails and letters in a time-efficient manner
Full, clean UK driving license with my own transport
Tips:
Always try to include real-world examples with the skills that you mention
Only include relevant skills that will assist you in the job
Guidelines:
You can use the hobbies and interests section of your CV to demonstrate that you're well-rounded person who is engaged in extracurricular activities and in the community.
The following are some of the benefits of this having hobbies on your CV:
It will give the recruiter a fuller and more complete picture of you
Sporting interests indicate that you are fit and healthy
Involvement in the community indicates good interpersonal skills
Outside interests tell the employer that you can have a good time as well
They form a great basis for discussion at the interview stage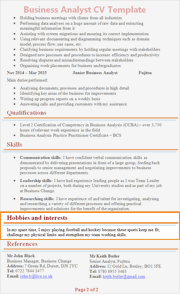 Good example:
In my free time, I like to focus on my photography hobby, visiting national galleries and meeting new people. I am also very passionate about food, and I enjoy going out to restaurants with my friends and family on a regular basis.
– When applying for a catering job
Tips:
Mention one or two hobbies that are relevant to the job. In the example above, the person is applying for a catering position and mentions that they are passionate about food and enjoy going out to restaurants.
Do not include any hobbies that do not add value to your application
Always bear in mind that the priorities of your CV are some of the other major sections of your CV such as the education and employment sections. Do not fill up half a page with your hobbies and neglect the most important sections!
Guidelines:
The references section on your CV is the final part which cannot be entirely omitted. Your references should be two people who know you well and have worked with you in one way or another and who can vouch for you to the prospective employer.
One of your references should be your current or former employer, and the second referee can be any person who knows you well.
For each of your referees include the following details:
Full name
Title/position
(Work) Address
Telephone number
Email address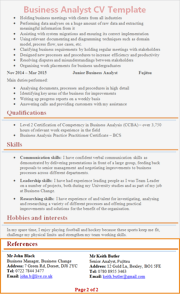 Good example:
Mr Jack Adams
Store Manager, Exclusive Luxury
Address: 5 Summerland Rd, Oxford, OX8 3QP
Tel: 0533 433 907
Email: jack.adams1@gmail.co.uk

Mrs Angela Willingham
Direct, 360 Vision Ltd.
Address: 72 Casper St, Bexley, BP2 7CL
Tel: 0783 796 7830
Email: angela.willingham@360vision.co.uk
Tips:
Always give the job title of the referees; otherwise, they can just be your mates for all we know!
Always ask permission of your references before you write them on your CV
If you decide not to include references on your CV you can simply write "references available upon request."
Final Tips:
Use appropriate presentational techniques to make your CV easy to scan and read
Fit your CV's content into 2 A4 pages (remove information when necessary)
Don't forget to proofread your CV for spelling and grammar mistakes
Tailor your CV for each individual job that you are applying for
Congratulations! You have now written a killer CV which will dramatically increase your chances of securing a job interview. Good luck!