Sobhan Mohmand, Career Expert

6 May 2021
Overview
Recruiters do not hire people because of their looks, to help them earn a living, or because of their great sense of humour. The only reason recruiters hire people is because of the skills, abilities and talents they bring to the organisation.
That is it!
The best way to demonstrate your key skills and abilities to the recruiter is by putting them on your CV. Your CV skills will tell the prospective employer that you have the relevant expertise, abilities and know-how to do your job well.
Example of a skills section of a CV (IT professional):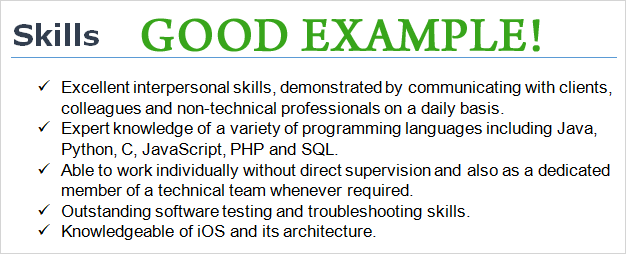 In this article you will find out:
What skills are and its different types
Examples of skills that you can put on your CV (from all industries)
How to write your CV's skills section and supercharge it for winning interviews!
The 2 different types of skills
Before we dig a lot deeper, let us get to grips with the basics.
Skills can generally be divided into two parts:
Soft skills: Personal qualities, attributes, characteristics, abilities or traits that enable one to interact and work with others. Examples of soft skills include leadership and interpersonal skills, professional attitude, work ethic and flexibility. Skills that fall under this category are intangible and difficult to quantify, but still very much sought after by employers.
Hard skills: Specific, quantifiable and teachable skills that enable one to do their job to a good standard. Examples of hard skills include the ability to code, service a car or do complex math calculations. Job-related skills generally fall under this category.
TIP: Include in your CV a mixture of examples from both these categories. It is equally important to demonstrate that you possess the technical and professional expertise to do the job, as well as having the ability to work well with others. This will make you come across as an all-rounder.
The importance of putting skills in your CV
Some candidates only list down their qualifications and job responsibilities without mentioning any competencies that they possess.
Big mistake!
As previously stated, the only reason employers are interested in you is because of your abilities that add value to their business or organisation.
Your CV is your personal marketing brochure and its aim is to convince the employer that can make a valuable contribution to their organisation. How will you be able to convince the employer of this if you do not include your core skills in your CV?
Your CV is supposed to "sell" you to the employer!
It becomes glaringly clear that if you want to impress the employer your CV should be packed with examples of your skills and abilities that will add value to their organisation. This is the only way of securing a job interview.
Examples of skills to put on your CV
Below you will find lists of key skills that you can write in your CV.
These examples of skills include job-related skills (which are specific to the job), as well as transferable skills (which are applicable to multiple jobs).
List of business and management skills
| Skill or competency | Description |
| --- | --- |
| Communication | The ability to communicate effectively with clients, colleagues and external stakeholders. |
| Leadership | Having a long-term vision and leading a team of other professionals. |
| Teamwork | Working effectively within a team to accomplish key objectives. |
| Delegating | The ability to appropriately delegate or assign work and tasks to others. |
| Management | Managing other people according to the key principles of leadership and management. |
| Supervising | Supervising junior staff members. |
| Customer service | Providing outstanding customer service at all times and to all customers, including dealing with customer queries and complaints. |
| Organisational skills | Managing workload, meeting deadlines and being organised at all times. |
| Professionalism | Dealing with others in a courteous and professional manner. |
| Diplomacy | Using appropriate techniques to move others to action or to gain agreements. |
List of admin skills
| Skill or competency | Description |
| --- | --- |
| Writing | The ability to write clear and concise reports, documents, emails and letters. |
| Typing | Typing with great speed and high accuracy. |
| Data entry | Ability to type-up large amounts of data into electronic systems without mistakes. |
| Organisational skills | Being able to organise folders, documentation, projects, tasks and business activities. |
| Telephone manners | Having the ability to make phone calls by speaking clearly and slowly in a professional manner. |
| General administrative duties | Photocopying, scanning, organising folders, answering customer queries, etc. |
| Attention to detail | Ensuring that no "small details" are overlooked during tasks, activities and projects. |
List of sales and marketing skills
| Skill or competency | Description |
| --- | --- |
| Persuasion | Using appropriate persuasion techniques to make customers and clients purchase the organisation's products or services. |
| Customer service | Ensuring that the needs of the customers are always put first and that they are provided with excellent customer service at all times. Living by the motto, "The customer is king." |
| Time management | Managing one's time effectively, especially when working on multiple projects or with various clients at the same time. |
| Interpersonal skills | Having the ability to communicate and interact well with others around you. |
| Creativity | Thinking outside the box and coming up with valuable and innovative ideas. |
| Selling | Having excellent knowledge of the selling process and having the ability to sell products and services to prospective clients. |
| Public speaking | The ability to speak comfortably in front of a group of people. |
| Negotiation | Negotiating effectively with clients or suppliers. |
| Numeracy skills | Working with numbers and figures. |
| SEO | Using Search Engine Optimisation (SEO) to improve a website's ranking in the search engines. |
| Campaign management | Devising and managing marketing campaigns. |
List of finance skills
| Skill or competency | Description |
| --- | --- |
| Numeracy skills | Dealing with numbers, figures and calculations in a financial context and keeping records of all the financial affairs of the business. |
| Commercial awareness | Having a sound commercial awareness and knowledge of business conventions, practices and strategies. |
| Analytical skills | The ability to analyse business finances, market information, accounts and investment opportunities and risks. |
| Investigation | Doing investigations into the wider economy, job sectors, individual companies or market trends. |
| Attention to detail | Ensuring that no "small details" are overlooked when performing financial analysis. |
| Computing | Having excellent knowledge of information technology (IT), including Microsoft Office and financial software & systems. |
| Problem-solving | Solving key business or finance issues for both companies and individuals. |
| Budgeting | Producing detailed financial statements related to the organisation's income and expenditure for a given period in the future. |
| Writing | Producing detailed financial reports, statements, audits and presentations. |
List of IT skills (including media)
| Skill or competency | Description |
| --- | --- |
| Computing | Having in-depth knowledge and experience of computers, IT systems and networks. |
| Troubleshooting | The ability to identify and solve hardware or software problems as a matter of urgency. |
| Technical knowledge | Expert knowledge in the technical aspects of the job and being able to communicate it effectively to both technical and non-technical audiences. |
| Hands-on | Working with cables, extensions, devices, projectors and other IT or audiovisual (AV) equipment on a daily basis. |
| Programming/coding | Being able to code in multiple programming languages including C, Java and PHP. |
| Database management | Creating and managing databases using appropriate data management techniques. |
| Software testing | The ability to test software to determine its correctness, completeness and functionality. |
| Networking | The ability to set-up, upgrade, maintain and manage IT networks. |
| Media skills | Possessing sound knowledge of media production and having the ability to work with media equipment including AV devices, recording equipment, lighting, studio sets, etc. |
List of design skills
| Skill or competency | Description |
| --- | --- |
| Creativity | Having the ability to "think outside the box" and come up with novel ideas, concepts or designs. |
| Design skills | Using design software such as Photoshop, Illustrator and AutoCAD programs to produce excellent designs that meet user requirements. |
| Precision | Being able to identify and specify a measurement, lines and borders with precision and working with it accordingly. |
| Teamwork | Working with people of diverse skill sets and professional backgrounds to achieve a common goal. |
List of education and training skills
| Skill or competency | Description |
| --- | --- |
| Public speaking | Having the ability to speak in front of a large audience (i.e. students, parents or clients) in a clear and audible fashion. |
| Caring | Caring about the needs of the students and ensuring that they receive the best possible education to thrive, grow and reach their full potentials. |
| Communication | Excellent communication skills to interact with students, parents, staff and other professionals. |
| Listening | Having the ability to listen to the needs, questions, concerns and ideas of students or clients. |
| Writing | Producing written handouts, PowerPoint presentations and class activities that are free from spelling and grammar mistakes. |
| Reading | Having the ability to read selectively and with focus. |
| Planning | Planning lessons, class exercises, outdoor trips, events and other activities. |
| Time management | Allocating one's own time in a systematic manner to complete work efficiently. |
| Observation | Observing students or clients during their examinations or class/training activities. |
| Reviewing | Reviewing and marking exams, homework and class activities. |
| Motivating | Having the ability to lead, support and inspire students or clients to reach their full potentials. |
List of science and research skills
| Skill or competency | Description |
| --- | --- |
| Scientific method | Possessing strong knowledge of science and scientific methods. |
| Investigation | The ability to use scientific methodologies and procedures to investigate problems and propose meaningful and practical solutions. |
| Analytical skills | Analysing and processing a great variety of scientific data, statistics and information. |
| Research | The ability to conduct scientific research into a variety of subjects and issues. |
List of building and construction skills
| Skill or competency | Description |
| --- | --- |
| Physical strength | Lifting and handling heavy goods, equipment and building materials. |
| Planning | Methodically planning different projects and meeting deadlines ahead of schedule. |
| Observation | Keeping a close eye on the projects, materials, workers and third-party contractors while also ensuring that no "small details" are overlooked when working on construction projects. |
| Multitasking | The flexibility to handle different jobs, tasks and projects when required. |
| Project management | Managing building and construction projects, sites and workers. |
| Heavy labour | Bricklaying, digging trenches and ditches, fixing steel sheets, bending and fixing metal bars and laying kerbs. |
List of other key skills that will boost your CV
| Skill or competency | Description |
| --- | --- |
| Foreign languages | The ability to speak a foreign language. Particularly useful when working in large international organisations, politics or in the public sector. It demonstrates to the employer that you are a learner and that you can easily deal with people from different backgrounds and cultures. |
| Driving | Driving shows that you are skilful and that you won't have any problems with work-related travels (if and when required). |
How to select the best skills to put in your CV
Decision time!
The best way to determine which key skills to include in your CV is to read the job's specification or description and identify the competencies that the job requires.
Below is a typical job vacancy with the professional skills identified and highlighted: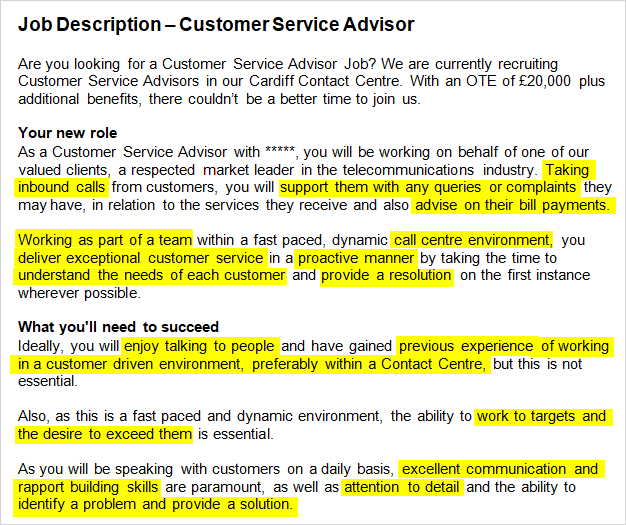 A job description is an absolute goldmine of information about the key skills, competencies and abilities that are required for the job!
Once you have identified them, you can now start to write your CV skills section by matching your own abilities with the competencies required for the job.
How to write the skills section of your CV
What not to do.
Some candidates wrongly list down their abilities as follows:
Excellent communication skills
Excellent eye for detail
I can work independently as well as in a team
This is kind of vague and boring, right?
There is a far better more effective way of doing it!
Each entry of your CV skills section should ideally:
Be constructed in meaningful and descriptive sentences
Contain facts such as numbers, figures and statistics (if possible)
Contain real-world examples
Examples of how to write your professional skills on your CV
IT skills: Experienced in using Microsoft Office, Outlook and Lotus Notes. Having worked with IT organisations before, I am familiar with the latest trends in the industry.
Sales: I am an excellent sales professional, demonstrated in my previous role as a Sales Representative where I exceeded my sales targets by at least 25% for six consecutive months.
Advanced communication skills: Reflected in my ability to explain complex design systems to colleagues and clients, and liaising effectively with a range of departments.
Attention to detail: Adept at dealing with multitudes of information and data, some nearly identical, without any mistakes or omissions.
That is better much better!
Tip: Do not include more than 3-5 entries in your CV skills section as you need to dedicate the largest chunk of your CV to your education, work experience and qualifications.
Where in your CV do you include your key skills and competencies?
Location on a CV + examples
There are two places in your CV where you should add your skills and abilities:
1) In the skills section
This is a dedicated section on the second page of your CV: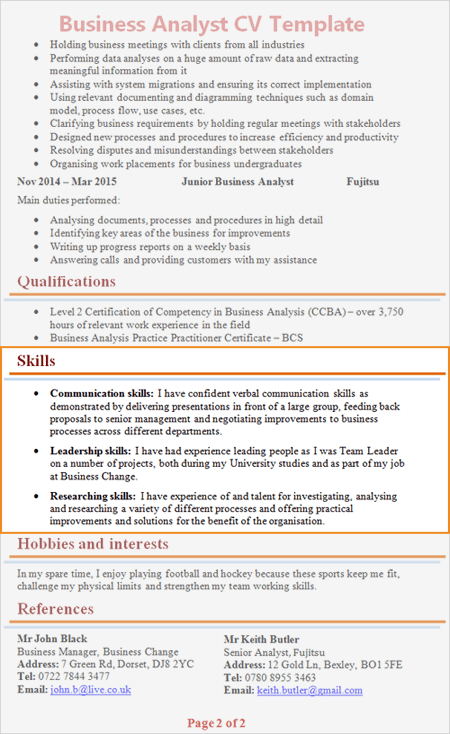 This is the CV format and location that we recommend because it makes it easier for the employer to find your competencies without having to read every single sentence of your CV, line-by-line, to search for it.
In fact, research has shown that employers tend to skim or scan the candidate's CVs rather than thoroughly read them.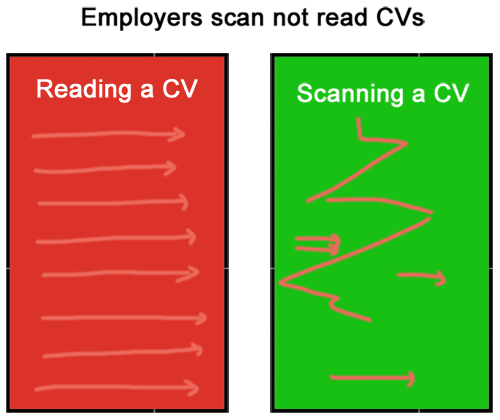 2) In the personal profile statement
Another popular place where you should mention your key skills is in the personal profile section of your CV:
I am a committed, determined and self-motivated Geneticist with experience of studying genes, diagnosing genetic diseases and assisting with the development of new drugs. My core skills include experimental design, field work, statistical data analysis and a wide array of laboratory techniques. I have an analytical and investigative approach to my work which has enabled me to achieve a 1st class honours degree in this field. I have demonstrated an ability to manage a laboratory project and communicate with a wide variety of scientific colleagues through my previous work experience. I have the capability to work efficiently as part of a team but can also work individually and on my own initiative. I consistently strive to work to the best of my ability and deliver professional standards at all times and in all circumstances. [
Geneticist CV example
]
The personal profile statement is at the top of your CV (on the first page). This makes it prominent and will less likely be overlooked by recruiters.
Conclusion
Prospective employers are only interested in the skills, talents and abilities that you bring to the table.
An effective way to drastically improve the impact of your CV is to include your key skills on it.
Only include those professional skills that match the competencies on the job description of the job that you are applying for.
There are two locations where you can do this; in the personal profile section and in the CV skills section. Both these parts should complement (not repeat) each other.
Ideally, you should aim to write all your skills and competencies in descriptive sentences, backed by facts, figures and real-world examples.
Good luck!