Sobhan Mohmand, Career Expert

27 April 2023
It used to be the case that candidates and professional CV writers would automatically include the names of two referees on CVs. This practice has become less common over the years, with most career experts now recommending not to include references on a CV, and simply state, 'References available on request'.
However, there are some exceptions to this rule:
If the employer has specifically requested this information
If you're a student, a recent graduate or applying for your first job
To impress the employer with the fame or status of your referees
To save the employer time by providing your references beforehand
To fill up the blank space at the end of your CV
Use the guide and examples below to find out more about CV references and how to write them on your CV – let's begin!
Table of contents
---
Your references are people, called referees, who know you well, have worked with you before and can vouch for you to the prospective employer. They can testify about your character, personal qualities, skills and abilities to prospective employers.
You could consider your referees as your personal advocates or ambassadors.
As part of the recruitment process, it is standard practice for the employer to contact your referees, either by phone or in writing, to get more information about you before they make you a formal job offer.
Example of a CV references section:

Why do employers require references?
Employers don't just take your word for it, they want someone independent to provide an unbiased opinion on your work, skills, attitude, commitment and disposition.
For example, you may have said on your CV that you have 'excellent communication skills' or 'willing to take responsibility', so the employer would like to check the credibility of these claims by getting your referees' perspectives on these matters.
What will employers ask my referees?
Standard questions that employers may ask your referees are:
How long have you known 'x' and in what capacity?
How well did he/she do his/her work/job/assignment?
Is this person organised, punctual and able to meet deadlines?
What were their major contributions to the organisation/department?
Can this person get along with people?
Can they work unsupervised?
Is this person employable?
Will they be a good fit for this job role and our organisation?
Should we consider hiring them?
Anything we need to know before we consider offering this person the job?
Now that you know the type of questions your referees will likely get asked, you can address some of these things in your conversations with your references to refresh their memory and recall your good points and strengths. For example, you could say "You remember when I did 'x' and you said it was good because…" etc.
When will employers contact my references?
Normally an employer will only approach your referees after the job interview when they are about the offer you the job, not before it.
Employers receive hundreds of applications per vacancy and shortlist around a dozen or more for job interviews; so it doesn't make sense for them to take up references of candidates who are not going to get a job offer anyway.
How many references do I need to provide?
You are required to provide two references; one being your current or former employer (if you have one) and the other someone who knows you well such as your former teacher. The number of references may vary, however, depending on the circumstances of the applicant. For example, it's fine for school leavers to only include one reference, and for college students without work experience to include two academic staff (teacher, tutor or lecturer) instead of one academic and one professional reference.
No, you are not required to write your references on your CV. In most cases, it is a waste of valuable space as employers typically don't require your references until the later stages of the requirement process, i.e. after the job interview. You can simply write "References are available on request" at the end of your CV.
Furthermore, research conducted by John Lees, one of the UK's best-known career coaches and authors, showed that less than a third of employers prefer to see references on a CV. The remaining 70% of recruiters either didn't mind the inclusion of it or didn't want candidates to waste valuable space of their CVs with this information. (Why You? CV Messages To Win Jobs, pg. 21).
---
In some cases, it could be required or beneficial to add references on your CV; for example, when specifically requested by the employer, to impress the recruiter with the fame/status of your referees, to speed things up with your application, to give your CV a bit more credibility and to fill up blank space at the end of the CV.
1. When requested by the employer
Some employers may request that you provide your references, supporting documents and/or recommendation letters as part of the first stages of the job application process (i.e. before being invited for a job interview). They usually do this to ensure that only the most suitable candidates are shortlisted for an interview.
If this is the case, you must provide your references to the employer, either through their job application form or by including them on your CV.
Most employers, however, will not ask for this information until the later stages of the selection process. Check the job advertisement for any instructions. If references are not requested, it is commonly accepted practice to note on your CV, 'References are available on request.'
2. To impress the recruiter
Your referee may be a respectable or well-known person or dignitary whose fame and status in society may impress the employer; for example, a local MP, dean of a university, director of a famous company, police commissioner, councillor or someone who has received an honorary award (e.g. MBE).
Note: This strategy may not always work. Impressive referees usually don't know the candidate too well so their responses are usually very brief and vague – not helping the cause of the candidate!
3. To speed things up with your application
Including references on your CV could speed up your application and also make life easier for employers who may want to speak to your references before the interview stage or just after the interview.
By providing this information beforehand, they can instantly 'check you out' at any stage of the selection process without any delays. Remember, recruiters are under no obligation only to contact your referees after the job interview stage.
4. To gives your CV more credibility
Psychologically speaking, adding references gives your CV a little more 'weight' and credibility because it demonstrates that you are confident of your own track record and that you have people who will vouch for your suitability for the job whenever required.
Not all applicants can provide credible references.
It also gives the impression that you have nothing to hide; for example, a bad track record, having no referees at all or having been fired from your previous job.
If you are a student or lack relevant work experience, employers usually would like to see the name and contact details of a lecturer/tutor/teacher on your CV – it could give your CV that little bit more credibility.
5. To fill up the blank space at the end of your CV
After including all the essential information on your CV, you may end up with some blank space at the end of it, especially if you are a school leaver, college student, recent graduate or someone without any work experience.
A CV should be presented in full pages, with no space left at the end of the page.
Given the aforementioned benefits of adding references on your CV, and to improve the overall presentation of your CV, you could include references on your CV to fill up the blank space and make your CV look "complete."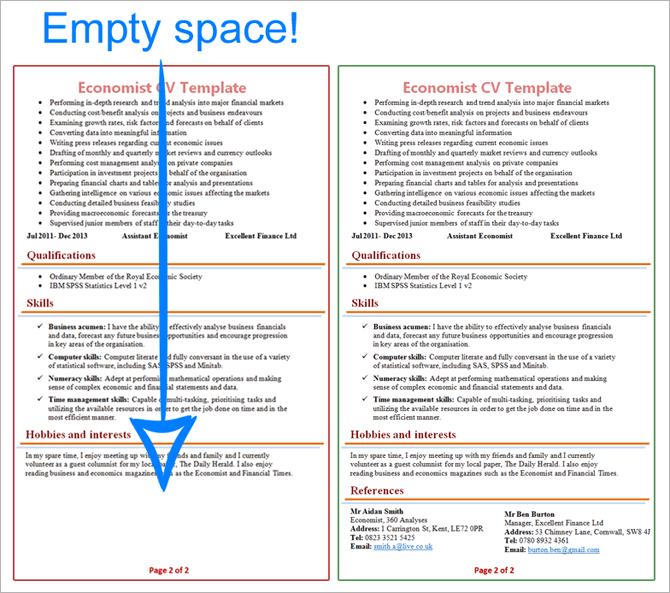 Note: If you have more valuable information by which you can fill up the blank space, for example, additional qualifications or work experience, that takes priority!
Related: Length of a CV.
---
The general rule is not to include references on a CV, especially for candidates with a lot of relevant work experience and such as senior officers, managers and executives.
Rachel Bishop-Firth, an experienced recruiter and personnel manager, writes in The Ultimate CV (pg.97): "Don't use up valuable space on your CV with details of your references, as the employer doesn't need this information until the final stages of the selection process. Simply state, 'References available on request'."

Reasons you shouldn't put your references on your CV
References are not required at the early stages of the recruitment process. Most employers will only take up your references after the job interview and before the formal job offer. Before that stage, this information is not required and shouldn't be included in a CV.
It takes up valuable space. Including references on a CV takes up valuable space (almost half a dozen lines!) which can be better utilised for more important information such as your work experience, skills and achievements. Some applicants even exceed the 2-page length limit of their CVs by including references, which is obviously a very bad idea!
It could raise red flags. Adding references to your CV and not listing your current or previous employer could raise serious suspicions in the mind of the recruiter, something which will negatively impact the credibility of your CV. An employer will wonder, 'Did they get fired?' or 'Was there a conflict?'
It could expose your next career steps. Recruiters expect you to include your current employer/manager as one of your referees. It may be the case that you do not want your current employer to know that you're looking to leave, so it makes sense to retain control of your references until you have passed the interview stage and are about to be offered the job.
You can better brief your referees. The advantage of giving your references after the interview is that it gives you a great deal of intelligence about the job. Armed with these insights, you can then decide on which referees would be the most suitable to speak about these matters and brief them on all the details you have about the job and the ideal candidate. You can remind them of how you would be a suitable candidate for the role by mentioning your relevant work experience and transferable skills. This fine-tuning can be highly effective.
References can be provided on request. As mentioned previously, most employers do not need your references until the very end of the recruitment process. If employers require this information before that, they can request it from you, hence, it is sufficient to write, "Available upon request."
It could annoy your referees. Some employers may contact your referees before the job interview or formal job offer, bombarding them with many reference requests that could take up a lot of their time and not even result in a job interview or formal job offer!
---
It is recommended to provide two references on your CV; one professional and one personal. The professional reference should come from your current or former employer, while the personal reference could come from any person who knows you well and can vouch for you, such as your personal tutor, teacher or supervisor.
People you can list as references on a CV
Current or former employer, line manager or supervisor
School or college teacher, personal tutor or mentor
University lecturer or project supervisor
Sports coach or personal trainer
Co-worker/colleague
Long-standing customer
Supplier or contractor
Faith leader (church, mosque, etc.)
Member of trade associations
Choose your references wisely
You have to be very careful with who you put down as your references because not everyone who knows you well or who would like to vouch for you may be able to do so effectively and professionally.
Your referees should be:
Clear and well-spoken;
Friendly and engaging;
Authoritative and professional.
Only select referees who will aid and not hamper your chances of securing a job.
How long do you have to know someone for a reference?
Employers want to get an independent opinion on your character, abilities and experience from your reference, something which can only be provided by someone who knows you well. Ideally, your referees should know you for at least a year before you list them on your CV – the longer the more credible.
---
The answer is: no, you can't use a friend or family member as a reference.
The purpose of providing references is for the employer to get a professional and unbiased opinion about you and your abilities. Having friends or family members as your references creates a "conflict of interest" (bias) and defeat the whole purpose of trying to get an honest and unbiased view from an independent source.
Warning: Employers always try to establish first who the referee is before they take up a reference. Don't be tempted to ask a friend to take on a fictitious role and speak highly of you to the employer; you will get caught!
People who can't be a reference:
Family members
Friends
Neighbours (even if they have known you for twenty years!)
People you don't know
People who don't know you well
Exception: This rule does not apply if you're working in a family-owned business and your boss just happens to be a family member, in which case it's fine to list them as a reference.
---
Employers expect your professional reference to be your current or former manager/employer. If this is not possible, for whatever reason, you may use another person in the same organisation with a similar level of seniority such as a co-worker, colleague or even a longstanding client who knows you well.
The way you approach a potential referee depends on the relationship that you have with them and whether they are aware that you are applying for a job or not.
If your line manager sits next to you and you chat regularly together, an informal verbal request will be fine. If the common communication method between you is via email, however, you should send an email instead with a copy of your CV attached.
To ask a co-worker, say something like:
"John, I'm currently looking for a job. Do you feel you know me well enough to be my reference to comment on my skills and abilities?"
Most people will be happy to help you.
---
Yes, you should always ask permission before using someone as your reference and never assume that they can/will provide you with a reference. The last thing you would want to have is a referee who is unhappy with you for not asking their permission before sharing their personal details with random employers!
Imagine what would happen to your chances of a job offer if an employer phones them up and they give any of the following responses…
"He gave MY name as a reference?"
"I haven't spoken to him for years…"
"(long pause followed by) Oh yes, I do remember her."
That's why it's essential that you ask permission before putting people down as your references and also brief them on your current career ambitions so that they are aware and can give appropriate – and positive – responses about you.
---
Use the template below to fill in the details of your referees on your CV:
[Mr/Ms/Dr, etc.][Referee first name and surname]
[Job title], [company or organisation name]
Address: [full address including postcode]
Tel: [work/mobile telephone number]
Email: [email address]
(Optional) Relationship: [State how/from where you know the referee]
Note: You can use various headings to label this section; 'References', 'Referees', 'Supporting references' or 'Professional references' are all acceptable.
Example of references on CV:
Ms Sarah Goodwill
Sales Manager, JD Sports
Address:
3 Sutton Road, Kent, K24 1QP
Tel:
01982 4152 9102
Email:
[email protected]
Relationship:
Current line manager
Mr William Smith
Branch Manager, Next
Address:
64 Milk St., Essex, ES1 8CL
Tel:
0318 8892 1927
Email:
[email protected]
Relationship:
Former employer
---
Guidelines for listing references on a CV:
Identify two people who know you well and can vouch for you to the employer. One of them has to be your current or former employer. If you're applying for your first job, you can list your tutor from school, college or university.
Ask your referees' permission before sharing their personal details; it's courteous and will also make them aware that they might receive a phone call about you.
Start by writing the referee's prefix (Mr, Ms, Dr, etc.)
Write their name (first name and surname are sufficient, no middle names).
Mention their official job title or position, such as "Managing Director".
State the company or organisation they work for.
Write their full address including postcode.
List their contact telephone number. Do not disclose their personal telephone number; mention their work telephone number instead.
Include their email address (double-check it's valid and up-to-date).
State your relationship to them (optional).
Is it necessary to write 'references available upon request'?

Strictly speaking, even this is not necessary because it is implied that you have references available when you apply for a job. Sinead English, a career consultant and author, writes in CV & Interview 101: How to apply and interview for jobs (pg.43): "There is no need to put "referees available on request" on the CV. It is a waste of space – employers know they can get them from you if they want them."
However, it is usually preferred to include this phrase as it only takes up one line, is common practice and rounds off your CV nicely.
Just remember to never take out or remove something important or fundamental for the inclusion of adding "references are available upon request" to your CV!
What about testimonial letters?
Never attach written testimonials or reference letters – 'To whom it may concern' – to your CV. Employers often view them to be either fake, composed by the candidates themselves or close friends or consist of disingenuous praise by the referee. A referee is not likely to give the candidate a critical testimonial letter to pass on to employers!
It will also make you seem desperate (which is never a good thing in recruitment).
---
Your references section can be written in several different formats.
Below you will find two good examples of how to present your CV references section and one bad example to illustrate some mistakes to avoid.
Good CV references section – Example 1

What makes this example good?
It contains all the necessary information that employers need.
It's formatted correctly and presented nicely in column format.
The referees' details are listed side-by-side to save space.
---
Good CV references section – Example 2

What makes this example good?
It contains all the necessary information about the candidate's referees.
It's presented in a compact format; taking up only a few lines on the CV. This format is recommended if you're restricted on space.
---
Bad CV references section example

What makes this example bad?
The applicant hasn't included all the required details of the referee so it's not clear exactly who the referee is or what they do!
They haven't stated the referee's full name or job title.
The address is long-winded and badly presented.
This section contains the details of just one reference instead of two.
---
Stay in touch – Keep your references up to date with your career progress, achievements, aspirations and plans. Many applicants have reportedly lost out on job offers because their referees were unaware of the applicant's complete employment history. Don't lose the chance of getting a job on lack of communication with your referees! A word of warning: Don't become a pest and constantly bother your referee, occasional conversations are fine when absolutely necessary. Occasionally send them an up-to-date copy of your CV.
Always be prepared to give references – Have the details of your references ready at all times. You may not want to include them on your CV but you must ensure that you have the details of your two referees that you can call at short notice to provide references for you. Employers will not wait for you to find two suitable people who can vouch for you. You need to have their up-to-date details ready at all times once you have started applying for jobs.
Double-check your referees' details – Make sure your referees' details are correct and up to date, especially their telephone numbers and email addresses. Employers will choose one or both of these methods to contact your referees. Most references are taken up over the phone and given off the record.
Manage your references – Create a second document alongside your CV with the names and contact details of all your potential references. Make sure they are up to date and only use relevant contacts to be your reference depending on the type of job you're applying for, etc.
Thank your referees – When your job hunt is finished, it is courteous to contact your referees and thank them for your helping you. Furthermore, you never know when you may need them again!

---

References are people who know you well and who can talk about your work experience, skills, work habits and characteristics to prospective employers when applying for a job. Employers use this information to determine your overall employability prospects and suitability for the job.

Opinion is divided on whether to include references on a CV or not.

Most career experts consider it now a waste of valuable space that could be utilised for more important information, such as your qualifications, experience and skills. Most employers do not take up references until after the job interview, anyway.

You should only include references on your CV if the employer explicitly requests this information, if you are a student applying for your first job or if you have a blank space at the end of your CV that needs to be filled up to make your CV 'complete'.

If you decide not to write your references on your CV, you should add a simple statement at the end of your CV saying "References are available on request."

How to write references on a CV

Find two people, such as your employer and former teacher, who would be happy to provide a reference for you. Ask for their permission before sharing their personal details with prospective employers.
Write their names, job titles, organisation/company names and up-to-date contact details (including telephone numbers and email addresses).
Write the references section in a compact format, the shorted the better.

---

Good luck with your job search!