Sobhan Mohmand, Career Expert

24 May 2021
A conventional CV consists of several important parts, including the references section at the end of the CV. It has been a widespread practice to include at least one or two referees who know you well, have worked with you in one way or another and who can vouch for you to the prospective employer.
Example of a CV references section:

1. What are references in a CV?
Your references are people, called referees, who can testify about your character, skills and abilities to prospective employers. You could consider your referees as your personal advocates or ambassadors. The employer might call them or request in writing some information about you.
Some questions that employers might ask your referees include:
In what capacity do you know this person?
What can you tell me about their skills, abilities, work ethics, punctuality, personal character, and conduct with other people?
Is this person employable?
Will they be a good fit for this job role and our organisation?
Should we consider hiring them?
You have to be very careful with who you put down as your references. Read this article till the end to find out how to select the right persons who will aid and not hamper your chances of securing a job.
2. Do I need to include references on my CV?
The answer is both yes and no, depending on the circumstances.
Sometimes it may be necessary to include references on your CV, for example when requested by the employer, and other times it may be best to leave it out as references may not be required at this early stage in the job selection process.
When should I include references on my CV?
1. When requested by the employer
Some employers may request your cover letter, CV, references and/or recommendation letters as part of the first stages of the job application process (i.e. before being invited for a job interview).
If this is the case, you must provide your references to the employer, either through their job application form or by including it on your CV. Most employers, however, will not ask for this information until the later stages of the selection process.
2. To impress the recruiter
Your reference may be a respectable and well-known person who would impress the reader; an MP, dean of a university, director of a famous company or a person who has received an honorary award (e.g. MBE).
3. To make things easy for the recruiter
Including your referees on your CV makes life easier for some employers who may want to speak to your references before the interview stage.
By providing this information beforehand, they can instantly 'check you out' at any stage of the selection process. Remember, recruiters are under no obligation only to contact your referees after the job interview stage.
4. To gives your CV more credibility
Psychologically-speaking, adding references gives your CV a little more 'weight' and credibility because it demonstrates that you are confident of your own track-record and that you have people who will vouch for your suitability for the job whenever required.
It also gives the impression that you have nothing to hide (e.g. a bad track-record, having no referees at all or having been fired from your previous job).
5. To fill up blank space
The length of some applicants' CVs, particularly school leavers, college students or those without work experience will be shorter than the full 2 A4 pages length and result in a large blank space at the end of their CVs.
Given the afore-mentioned benefits of adding references on your CV, and to improve the presentation of your CV, you may decide to include the references section to fill up the blank space and make your CV look "complete."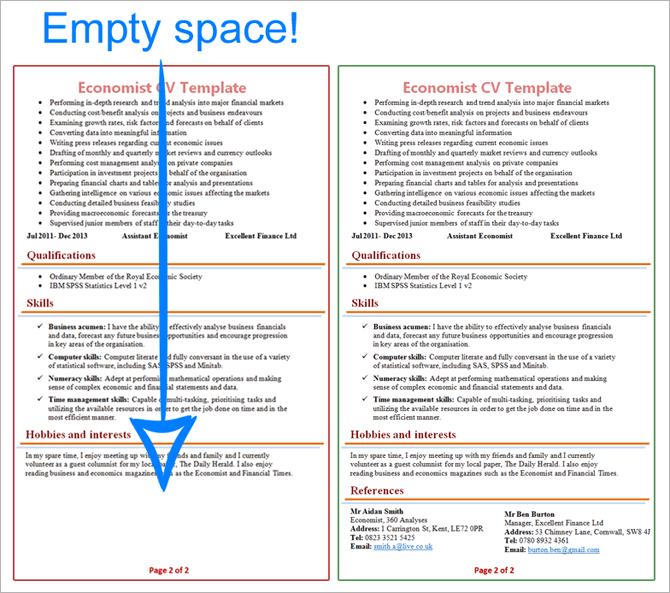 Note: If you have more valuable information by which you can fill the empty space (e.g. additional qualifications or work experience), you should do so!
When shouldn't I include references on a CV?
Since the inception of CVs, it has become a common practice for job seekers to include their references on their CVs. In fact, some careers advisors have gone so far to declare that including references on a CV is highly recommended!
In reality, references on a CV are not a necessity; it's entirely optional, and in some cases, it is best to omit them from your CV.

Let's explore the disadvantages of adding references on your CV:
References at this early stage of the application process are not required and completely irrelevant.
It takes up valuable space which can be better utilised by adding more important information to one's CV.
It could raise more questions or suspicions if a candidate cannot or does not include their current/previous employer.
References can be provided upon request; hence, it is sufficient to write, "Available upon request."
It can take up a lot of time to find two suitable referees, ask their personal details and ask their permission to be used as references. Why not spend this valuable time in looking and applying for jobs?
These are all valid arguments. Therefore, the following candidates shouldn't write references on their CVs:
Applicants who need additional space on their CVs to include all their important information such as education and employment history. Skipping the references can free up valuable space to be utilised for this information which can strengthen the job application.
Applicants who have been fired, dismissed, or made redundant by their most recent employer.
Applicants who do not have two very good referees (who are eloquent, well-spoken and professional).
Those candidates that do not wish to add references to their CVs should write: "References are available upon request."
Read on if you'd like to know how to write your references on your CV!
3. Who should be references on a CV?
It is recommended to provide two references on your CV. One of your referees should be your current or former employer, and the second referee can be any person who knows you well, including:
Current employer
Previous employer
Manager
Supervisor
Teacher
Colleague
Coach
Trainer
You have to be very careful with who you choose as your references. Not everyone who knows you well or who would like to vouch for you may be able to do so effectively and professionally.
Your referees should be:
Clear and well-spoken;
Friendly and engaging;
Authoritative and professional.
4. Can I use a friend or family member as a reference?
We are often asked:
"My friend knows me really well, can they be my referee?"
The answer is: no. The purpose of providing references is for the employer to get a professional and unbiased opinion about you and your abilities. Having friends or family members as your references creates a "conflict of interest" (bias) and defeats the whole purpose of trying to get an honest and unbiased view from an independent source.
The following are categories of people you can't use as your references:
Family members;
Friends;
People you don't know;
People who don't know you well.
5. How many references to provide on a CV
In general, you need to provide two references; one being your former employer (if you have one) and the other someone who knows you well. The number of references may vary, however, depending on the circumstances of the applicant. For example, it's fine for school leavers only to include one referee, and for college students to include two academic staff (teacher, lecturer or tutor) instead of one academic staff and one employer.
6. How to write references on a CV
Important guidelines to follow when writing your CV references:
Your references must include the following details about each of your referees: full name, job title, address, telephone number and email address.
Ask permission of your referees before you give their details to recruiters. This will also make them aware that they might receive a phone call about you.
State the job title of your references. Without it, they could be just your mates or any Tom, Dick and Harry!
Do not disclose personal telephone numbers but instead, use your referee's work telephone number (where possible).
Use your most recent employer as a reference, as is common practice. Otherwise, an employer may wonder; "Why didn't he/she include his/her most recent employer as a reference? What has this person got to hide?"
7. Where to put references on a CV
The references section should be located at the bottom of your CV. If you decide to include your references on your CV, you should provide the personal details of your two referees here. If, on the other hand, you do not wish to include references on your CV, you can simply write: "References are available upon request."
8. Examples of good and bad CV references
Your references section can be written in many different formats.
The following are some good formats to follow:
Column format (long):

Sentence format (shorter):

Available upon request (shortest):

Bad example:

Mistakes:
The applicant didn't state the full name or job title of the referee.
The referee's personal telephone number and email address are given (assuming it was done without permission)!
The address is long-winded and badly presented.
Conclusion
The references section of your CV is important and should not be omitted entirely. Depending on your circumstances and personal preference, you should either include the full details of your two referees in this section or simply write; "References are available upon request."
Good luck!