Check out the job specification and look for clues.

For example, if the job holder "must have excellent people skills", you could mention your volunteering, team sports or socialising activities – all of which develop your communication, interpersonal and people skills. Don't mention playing chess or jogging as that would be irrelevant.

If, on the other hand, the job specification states that the person "must possess outstanding technical skills", you would mention playing chess, building computers and upgrading computer networks – things that indicate that you are technically-competent and analytical minded. Don't mention socialising events because that would be less relevant.

Researching the company's culture.

Many companies have a 'culture' in the way they operated and how employees of that organisation behave. Google, for instance, is now famously known for allowing employees to play games, take a walk or do sports in order to relieve stress or become more productive during working hours. When applying for a job at a company like Google, there is no harm in showing a little bit of your fun, playful and human side because that fits in nicely with their company culture.

Make a list of your skills and abilities

It is always a good idea to write down the list of skills and abilities that you possess and see which of these would add value if you include it in your CV. Skills and abilities are closely related to your hobbies and interest; therefore, you may include them in this section too.
5. How to write hobbies on a CV
Now, let's get down to writing it.
There are thousands of hobbies and interests that people include in their CVs. Selecting the correct hobbies to include will depend on a number of factors, including the job sector and the job role/specifications.
Choose hobbies that are relevant to the job
1-2 related personal interests would be ideal
Choose a variety of hobbies to show that you are an all-rounded person
Some additional guidelines for writing your CV interests section:
6. What are some good hobbies to put on a CV? [Examples]
Let's get down to the specifics!
Martin Yate, a best-selling careers author, outlines three broad categories of leisure activities to include on your CV in his book The Ultimate CV Book (Pg.35):
Team sports (football, cricket, basketball, etc.)
Determination activities (running, swimming, cycling, climbing, etc.)
Brain activities (chess, reading, etc.)
However, not every one of the above categories may be suitable for your situation and the job that you are applying for. Only select the hobbies and interests that are relevant to the job and add value to your application.
Below you will find lists of good hobbies/interests to put on your CV:
10 Examples of good interests for a CV
Involved in local clubs, classes and groups
Organising events in the community
Being involved with charities
Volunteering at local companies, clubs and organisations
Attending events, shows and exhibitions
Participating in fundraising events
Maintaining a personal blog
Being a member of social, environmental or animal rights groups
Participating in campaigns
Preparing food for events
These interests enhance your CV because they inform the employer that you possess excellent interpersonal, organisational and communication skills which enables you to undertake these activities. It also confirms that you are motivated and determined about the things you are passionate about.
27 Examples of excellent hobbies to put on a CV
Following business and financial news
Reading business and financial magazines
Being a member of a professional body
Playing chess and puzzle games
Playing individual sports (running, swimming, cycling, etc.)
Playing team sports (football, cricket, basketball, tennis, etc.)
Mentoring or coaching
Building and fixing computers
Designing and development websites
Setting-up computer networks
Playing chess and puzzle games
Keeping up with the latest developments in technology
Designing art
Drawing, sketching, painting, etc. by hand
Using computer programs to design
Completing DIY projects
Photography
Playing music
Cooking and baking
Going out and eating at restaurants
Creating new dishes
Watching Food Channel or other food-related TV programmes (e.g. MasterChef)
Reading (fiction and non-fiction books, magazines, etc.)
Writing (blog posts, articles, poems, books, etc.)
Learning a new skill
Fishing
Travelling
7. 5 Great examples of interests section of a CV
Example 1 – Economist
In my spare time, I enjoy meeting up with my friends and family, and I currently volunteer as a guest columnist for my local paper, The Daily Herald. I also enjoy reading business and economics magazines such as the Economist and Financial Times.
[Economist CV template]
Example 2 – Teaching Assistant
Note: The example below is a bit long because the candidate had empty space in their CV and utilised it accordingly.

Example 3 – Civil Engineer
Due to my enduring passion for engineering, I enjoy building upon my knowledge of various computer programs that I can utilise to further my career in the industry. I also enjoy playing a number of sports, including tennis and indoor hockey. [
Civil engineer CV template
]
Example 4 – Credit Controller

Example 5 – Journalist
In my spare time, I enjoy going to the gym and regularly partake in charity runs around the UK in order to help the community and to stay fit and healthy. I also enjoy keeping up to date with the current affairs, both national and international events, which helps me to get inspiration for the stories that I produce when I am working.
8. Location of the hobbies section on a CV
The interests section should be placed at the end of the second page, just before the CV references section: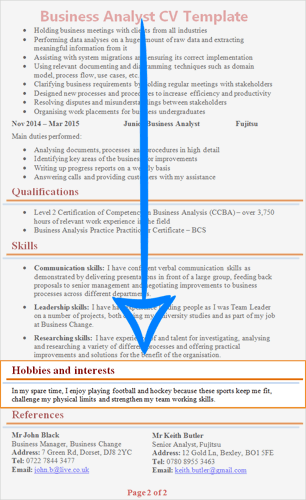 Remember: This section is optional so placing it higher up on your CV will give the prospective employer the impression that you do not understand how to prioritise things. Think about it, how can your personal interests be more important to the employer than you work experience or qualifications?
9. Things to avoid when writing your hobbies section
Avoid falling victim to stereotypes
It is best to avoid putting anything controversial or sensitive on your CV. Humans are by their nature very judgemental, so be wise about what you disclose on your CV. For example, some recruiters may judge you negatively if you included heavy metal as your favourite music genre.
Keep clear of exposing your political, religious or sporting affiliations
Stating that you are an "active member of the local church" may harm your chances of being invited to an interview, especially when the potential employer reading your CV is a strict atheist. Similarly, stating that you "volunteered on a number of Labour election campaigns" or that you are a "huge fan of Manchester United" is also not a very good idea.
Avoid mentioning risky or time-consuming hobbies
It is in the employer's best interest to have you healthy, fit and able to work. Any leisure activities that put your life at risk (or are too time-consuming) will be looked unfavourably upon. Therefore, please remove "regular rock climbing in the Himalayas" as one of your hobbies from your CV. Thanks.
Irrelevant hobbies
Only make mention of your personal interests if they add value to your application. What value does "Stamp and coin collecting" as a hobby to the application of someone who applies for the Logistics Engineering Manager position? The answer: none. However, stamp collecting would be a very valuable hobby to mention when applying for a job as a Stamp Appraiser.
Senior-level CVs
Managers, executives and directors should entirely omit this section of their CVs. Their personal interests should be clear from their achievements and experiences in the workforce.
Including too many hobbies
Adding too many hobbies to your CV fills up valuable space that could be used for more important information. The following is a sample of a CV's Hobbies section with too many hobbies:

At this stage, the prospective employer will most likely be wondering: "Gosh, when will this person have any time to do some work?!"
Lying
Remember that whatever you put on your CV, including your personal interests, may be asked about and scrutinised at the interview stage. Save yourself the embarrassment and do not lie about your hobbies.
Weird interests
Performing witchcraft and frog dissections for fun shouldn't be the hobbies of anyone, let alone mentioning it on your professional CV!
Yes, believe it or not, people have actually used these hobbies on their CVs…
Conclusion
Adding a list of hobbies and interests to your CV is an excellent way of enhancing your CV and improving the chances of being invited to job interviews. Regardless of your job or industry, you should only add hobbies or interests on your CV that are relevant and add value to your application.
Good example list of personal interests and hobbies for a CV that will impress any employer:
Team sports (e.g. football, basketball, tennis, etc.)
Solo sports (swimming, walking, jogging, etc.)
Designing, drawing, and painting
Building things (computers, product prototypes, etc.)
Coaching and mentoring
Volunteering and participating in the community
Organising events or activities
Attending social or business events
Reading and writing
Learning a new skill
Solving puzzles
That is it; we have come to the end of this guide. You should now have written an excellent CV hobbies and interests section – well done!
Do you need any help on other parts of your CV or looking for a template? Check out Download CV templates (Word) and How to write a CV (guide) where you will find more tips, information and examples.
Good luck!