Sobhan Mohmand, Career Expert

17 May 2021
Writing your personal achievements on your CV is a great way to make your CV stand out from the crowd. Your achievements or accomplishments are a testimony of your skills, abilities and commitment to succeed in everything you do.
Example of a CV achievements section:

Most job seekers, unfortunately, simply list down their previous jobs' duties or responsibilities on their CVs without mentioning their valuable accomplishments in those roles. They confuse movement (i.e. actions) with results (i.e. accomplishments). There is a big difference between the two!
As if that wasn't bad enough, many applicants also fail to mention their personal accomplishments in their studies or in extracurricular activities that could further strengthen their job application.
The guide below will show step-by-step you how to boost the performance of your CV by including your personal accomplishments in it.
Let's get started!
1. What are achievements?
Achievement: Any activity, action or task that is accomplished or attained successfully through effort and skill.
Achievements can be divided into two main categories:
1) Personal: received awards, won competitions, achieved high grades in studies, volunteering, participating in sporting events, etc.


2) Professional: saved the company time and money, increased performance, facilitated growth, met and exceeded work targets, etc.
They do not include:
Performing daily tasks and activities
Performing a job's standard duties
Personality traits (e.g. being friendly, helpful, etc.)
2. The benefits of including your achievements on your CV
1 – Past performance can be an indication of future performance
Your personal attainments tell prospective employers a lot about you.
There is a well-known saying which states:
"If you want to predict someone's future, look at their past."
An employer will look at your achievements on your CV and think to themselves, "Here's an individual who has achieved great things in the past; they are obviously capable of accomplishing more great things in the future – for us!"
2 – Employers prefer candidates with accomplishment-based CVs
You are more likely to be invited for a job interview if your CV is focused on your achievements, rather than on your duties or responsibilities.
According to interesting research conducted by the authors of "Brilliant CV: What employers want to see & how to say it", the applicants with achievement-focused CVs were three times more likely to be shortlisted for job interviews compared to candidates with duties-focused CVs!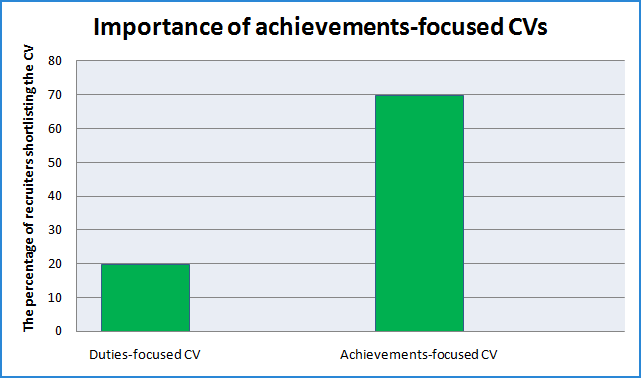 3. List of achievements that you can write in your CV
It is amazing how many times we have heard people say:
"But I haven't really achieved anything…"
This is not true.
Everyone has achieved some things in their lives.
Personal accomplishments do not have to be major in order to be included in your CV. Any accomplishments that portray you in a positive light and add value to your job application are worthy of being mentioned on your CV.
List of CV achievements
Personal accomplishments can be many things, including:
Awards
Promotions
Trained/Educated others
Completed important projects on time and within budget
Increased sales figures (by such-and-such %)
Saved time by coming up with efficient methods and tools
Qualifications gained
Good results in examinations and tests
Elected to do or lead something/someone (committees, charities, etc.)
Leader/captain/manager in some club or organisation
Long-term employment without absence from work
Anticipated in the organisation of funfairs, open days, etc.
4. Examples of key achievements by different jobs
Examples of business achievements
Completed 200 hours of work experience
Three years of previous work experience in the industry
Increased sales by 17% over six months (sales or marketing role)
Collected £20,000 in unpaid debt (credit controller)
Successfully managed and led a team of six members (manager)
Successfully negotiated a 10% discount on all products and goods resulting in total savings of £26,000 per year (stock manager)
Resolved 95% of customer enquiries and complaints (customer service role)
Examples of student achievements
Graduated with a first-class honours degree
Achieved 3 GCSEs at the A* grade
Won an award for punctuality
Won the "Early Submission of Assignment" award
Elected class representative
Elected project manager
Examples of personal accomplishments
Completed a marathon for charity
Learned a new programming language
Elected captain of the local football team
Need more examples? Imperial College London's Guide to CVs contains some excellent examples of interests and achievements on CVs.
5. How to write your personal achievements in your CV
Step 1: Decide on the format
There are two popular formats in which applicants write their achievements:
1. Include it in a separate "Achievements" section
This is the most common way of presenting your attainments and accomplishments on your CV.
Benefits:
It stands out due to its prominent position.
It acts as a quick list of your personal selling points.
It encourages the prospective employer to read your CV in more detail.
We generally recommend following this format.

Your achievements section should be located just before the education section and just after the personal profile statement. Check out CV format and layouts for more information.
2. Include it across different parts of the CV.
In this format, applicants do not have a separate section but mention their accomplishments in the other various sections of their CVs.
For example, educational accomplishments would be added in the education section; professional accomplishments would be added in the employment section, etc. This makes it easier for the employer to quickly identify the area in which this achievement is relevant (e.g. education, employment, etc.)
Which format should you choose? Both are effective, so it's up to you!
Step 2: Make a list of your achievements
The time has come to make a list of your achievements in life, education and employment. Think back on some important moments of your life and find instances which made you proud and happy about your performance.
When listing down your attainments, bear in mind the following:
Do not include irrelevant accomplishments (e.g. mentioning that you "won a ballet dance award" when you are applying for a Business Executive role)
Tailor your attainments to the job you are applying for
Include the most recent events first as they take priority
You should now have a list of key achievements.
TIP: If some of your achievements are irrelevant to the job you're applying for you should simply omit them. Do not fill up valuable space of your CV with unrelated or unimportant information.
Step 3: Prioritise
You should only include up to 3 accomplishments in the achievements section. If you include any more it will take up valuable space and look cluttered. You can include any additional examples as part of the other sections of your CV.
When prioritising, ask yourself the following question:
Which accomplishment is the most significant?
What does this accomplishment say about me? Is it something positive?
Which one is the most relevant to the job I am applying for?
Would I be impressed by this achievement if I was the hiring manager?
TIP: Use a variety of personal accomplishments as that will make you look like an all-rounded person. For example, do not include three examples from employment alone but also include personal and academic achievements.
Step 4: Write it!
The following are the guidelines for writing your attainments in your CV:
Keep it short: Use bullet points instead of big paragraphs.
Be specific: Use actual numbers and figures, where possible. E.g. write "increased sales by 25%" instead of "increased sales."
Describe: Don't write "Finished University" as a single bullet point. What did you study? Which university? Be more descriptive: "Graduated with a 2:1 degree in Mechanical Engineering from the University of Manchester."
Good example:

Conclusion
Writing accomplishments on your CV is a great way to make your CV stand out from a pile of other CVs. Your CV achievements give the employer an overview of your strengths and unique selling points; encouraging them to seriously consider your application and inviting you for a job interview.
Good luck!