Sobhan Mohmand, Career Expert

7 March 2021
Tip: Use the Lunchtime Supervisor CV Template below as an example to help you write your own personal and fully-tailored CV.
Kieran Carroll
29 Trail Street
Rose Ash
EX36 6JG
Mob: 078 3473 3588
Email: [email protected]
Personal Profile Statement / Career Objective
I am a self-motivated, caring and confident School Lunchtime Supervisor, who will ensure that all children have a safe, joyful and pleasant experience while on their lunch break. I always ensure that the tasks I undertake are carried out and completed to the very highest standards, and I firmly believe that I will be an invaluable asset to any School with my proven ability in encouraging children to be respectful towards others, adhere to good table manners and also to enjoy themselves during their playtime.
Achievements
Employee of the Month (March 2012)
11 GCSEs and A-Levels at Grades A-C
Education
| | | | |
| --- | --- | --- | --- |
| 2009 – 2012 | A Levels | The Bridge College | Results: English: B Business: B Mathematics: C |
2002 – 2008
GCSEs
Westminster Academy

English: B
Mathematics: C
Business: B
ICT: C
Graphic Design: C
History: C
Drama: A
Religious Studies: B
Employment and Work Experience
| | |
| --- | --- |
| Apr 2010 – Present | Lunchtime Assistant St. Andrews School |
Main duties performed:
Preparing and cooking a variety of food
Serving food to children
Ensuring Health & Safety is observed at all times
Supervising children on the playground and in the dining area
Encouraging children to eat healthy and balanced meals
Setting up and clearing tables and chairs
Cleaning up any spillages and sweeping the floor afterwards
Organising recreation time, games and activities during the lunchtime period
Providing assistance to younger children when required
Encouraging children to eat and behave in a polite manner
Dealing with any quarrels, fights or incidents
Dealing with minor injuries such as cuts and bruises
Encouraging shy children to play and interact with others
Monitoring and reporting any incidents or breaking of the playground rules
Attending to the care of children when required (i.e. administer basic first aid)
Occasionally helping in the classroom
| | |
| --- | --- |
| Dec 2009 – Apr 2010 | Dinner Lady GCC Secondary School |
Main duties performed:
Collecting children from classrooms
Assisting with setting up the tables for lunch
Ensuring the playground and dining area are safe and tidy for the children
Cooking meals
Emptying bins
Encouraging excellent table manners
Comforting children who are upset
Awarding badges for positive behaviour
Escorting children to and from the dinner hall in an orderly fashion
Ensuring children don't leave the school premises without permission
Cleaning tables, chairs, and mopping the floor before and after lunchtime
Ensuring everyone adheres to the School's hygiene policy and standards
Emptying and putting away food trays
Reporting any concerns to a senior Supervisor or the Head Teacher
Professional Training and Qualifications
First Aid and Paediatric First Aid
"Supervision of Young People" – Training provided by the School
Level 2 Effective Team Member Skills – ILM
Skills
Outstanding communication and interpersonal skills
Great with children and parents
Empathic, professional and understanding
Ability to multi-task and to work in a busy environment
Hobbies and interests
One of my greatest hobbies in life is to be able to work with children; which is why I am a part-time volunteer at a local School. I also enjoy spending time with my family, friends and colleagues and I love reading books and magazines on weekends.
References
Ms Samantha Warren
Senior Dinner Supervisor, St. Andrews School
Address:
78 Front Street, Lair, PH10 8QB
Tel:
0209 0965 3467
Email:
[email protected]
Mrs Alicia Barker
Lunchtime Manager, GCC Secondary School
Address:
91 Rover Terrace, Bradford, EX37 8UB
Tel:
0203 4843 4583
Email:
[email protected]
Please note: the above CV Example is presented in the UK format and layout.
Preview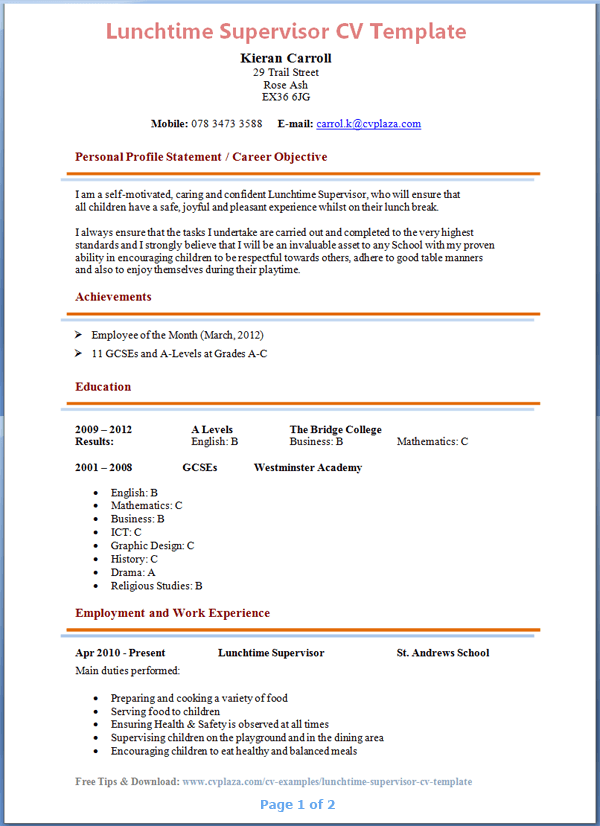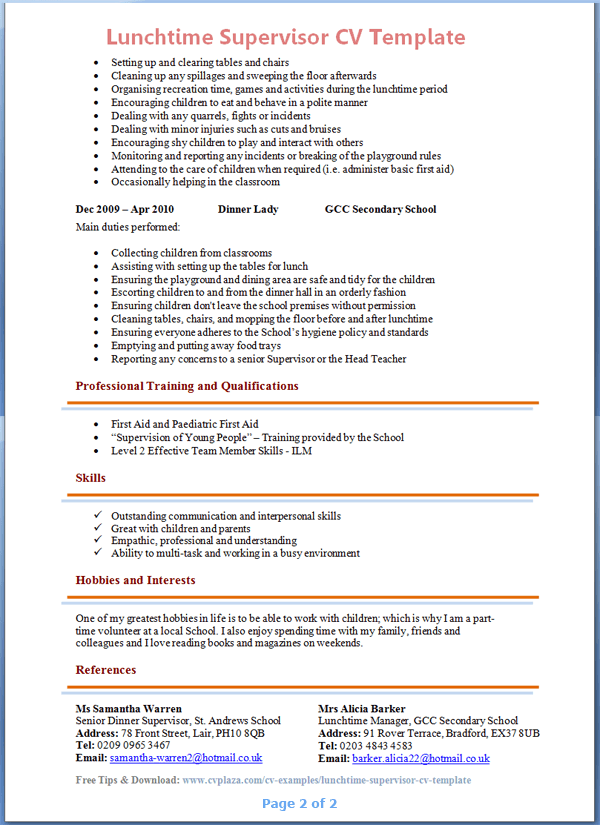 Download
Click here to download the above CV Sample.
COLLECTION: You may also want to browse through our collection of Free CV Templates and download any of the editable CVs to create your own (available in Microsoft Word format and convertible to PDF).
Top CV Tips and Guidelines
The Lunchtime Assistant job requires one to be quite physically active because you will be on your feet (standing, walking) most of the time in all weathers conditions. Tip: maybe you could mention some of your hobbies, such as jogging or walking, under the hobbies and interests section.
Although there are no high academic requirements for this position; you will be expected to have some sort of prior work experience with children. You will need to show some real-world examples of this on your CV.
Being a Lunchtime Supervisor requires a lot of patience, perseverance and courage to deal with children in all circumstances and situations (including fights and emergencies). It is recommended to include some details regarding your personal strengths and attributes which would enable you to the job well.
Good Luck!
Written by Sobhan Mohmand
Sobhan is a qualified Careers Advisor and Professional CV Writer with over 10 years of experience in helping job seekers get a job. He is a Member of the Careers Development Institute (CDI) and is listed on the official UK Register of Career Development Professionals. He holds a Level 6 Diploma in Career Guidance and Development (QCF).