Sobhan Mohmand, Career Expert

8 May 2021
Writing an engaging and well-written cover letter is an important part of your job application; something which can make or break your chances of securing a job interview.
The template below provides a framework or guidelines for writing a well-structured UK cover letter that you can download and use for free: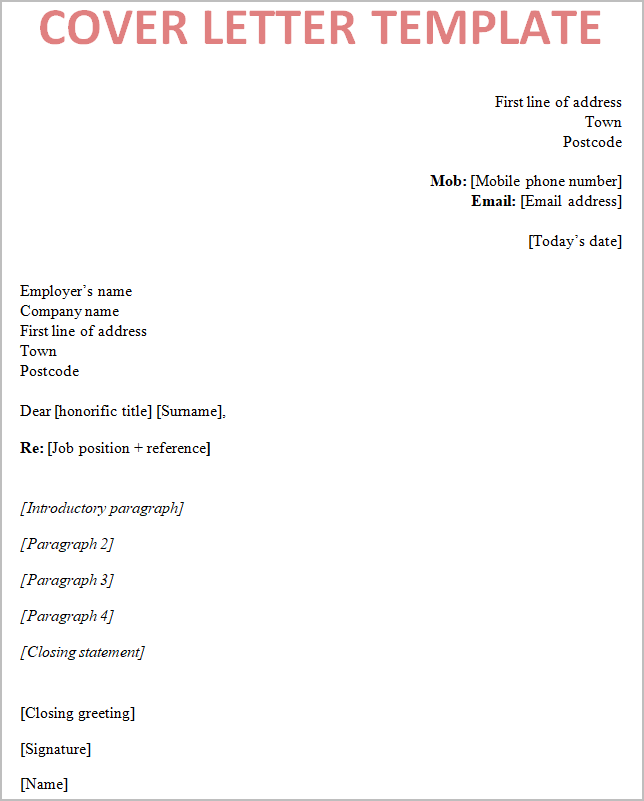 Click here to download this template in Word format.
Structure and content
A conventional cover letter consists of the following elements:
The candidate's personal details and date
Candidate's home address
Town
Postcode
Mobile phone number
Email address
Date of writing the letter
Example:
91 Hockley Hill
Hedge End
HE18 0BL
Tips:
This is the only information that should be aligned to the RIGHT
Use a professional email address (not

[email protected]

).
Write the date in full (not 06/05/17)
Employer's details (aligned to the left)
Employer's name
Company name
Address
Town
Postcode
Example:
Mr Simon Kent
Director
SL Constructions Ltd
99 Howard Street
Gloucestershire
G14 8AA
Opening salutation
"Dear" followed by their honorific title (Mr, Mrs, etc.) and surname.
Examples:
If you know their name:
Dear Mr Kent,
If you don't know their name:
Dear Sir/Madam,
Tips:
It is always a good idea to try to find the employer's name when sending them your covering letter. This makes the letter more personal and convincing. If this is not possible, "Dear Sir/Madam," is the second most conventional opening salutation that you can use.
If you're addressing the employer by name, only include their surname (Dear Mr Kent) and not their full name (Dear Mr Simon Kent).
The letter's subject
Job title + reference
Examples:
Re: Marketing Assistant (VB34)
Re: 1st Line Support (Job ID: A331)
Re: Civil Engineer (Vacancy Ref 20128)
Introductory paragraph
State the reason why you are writing this covering letter.
Examples:
Audiologist:
I became really excited to discover that you had advertised a vacancy for an Audiologist on MyRecruitment.co.uk. I would like to be considered for this role as I meet and exceed all the essential and desirable requirements for this position.
Civil Engineer: I am responding to your job vacancy posting on monster.co.uk for a Civil Engineer, and I wish to be considered for this position.
Economist: I was elated when I found the advertisement for an opening in your company on a local job vacancy website. I firmly believe that I am the ideal candidate for the advertised role and that my previous work experience and education will enable me to be successful in this position.
Tips:
This is the first paragraph of your cover letter and your first chance of grabbing the employer's attention as they are reviewing your covering letter. Explain how you came to know about the position and why you are interested in applying.
Try to keep it short, exciting and to the point – the bulk of your content should be in paragraphs 2-4.
Paragraph 2
State the reasons why you would be a suitable candidate for this job. Make mention of your relevant education, experience, strengths, skills and abilities.
Examples:
Credit controller:
I am currently working as a Credit Controller for SIPO, where I am responsible for collecting debt from other businesses on behalf of our clients. I am regularly dealing with the monitoring and management of debt, payments and invoices of a dozen medium-sized companies, for which I am making more than 50+ phone calls per day.
Editor: For the past year, I have been working for a small online newspaper as a Content Coordinator where I was responsible for assigning reporters to cover the news, checking for accuracy and fairness in the articles, and writing headlines. Additionally, I have a degree in BA Liberal Arts which has made me into an enthusiastic blogger and a passionate writer. My three years of studying at University combined with over one year's of work experience have refined my ability to check written text for accuracy, spelling and grammar.
Product Designer: I am currently working as a Junior Designer at London Furniture Ltd., where I am responsible for designing interior products based on customer specifications. My key duties include; meeting with clients and establishing their requirements, proposing design ideas, producing sketches and prototypes, presenting designs to clients and facilitating the manufacturing and delivery of the final products. I have completed more than 30 projects to the total satisfaction of our customers and company directors.
Tips:
The first thing you would want to mention in this paragraph is your relevant work experience, including any voluntary or part-time experience.
Mention your achievements. For example, 'increased sales by 30%', 'Gained a qualification in IT', 'Completed forty projects in less than two years,' etc.
Paragraph 3:
Expand further on the 2nd paragraph and give more reasons why you would be the ideal candidate for this role.
Examples:
Network Engineer:
I am tech-savvy, and I regularly follow the latest news and developments in the technology industry. I have a keen eye for investigating, diagnosing and resolving IT issues as and when they arise. I have the ability to provide technical support to a broad range of people, including non-technical stakeholders, and I pride myself on providing a high-quality service at all times.
Teaching Assistant: I possess excellent communication skills which enable me to communicate clearly and effectively with people of all ages and different backgrounds. I have a friendly and outgoing personality, and I am exceedingly passionate about encouraging, helping and supporting pupils to realise their full potential and succeed in life.
Tips:
Look at the job specification and try to tailor this paragraph to the requirements of the job. For example, if you are applying for a teaching position and 'excellent communication skills' is a vital requirement in the job specification, you should dedicate part of this paragraph explaining why you possess 'excellent communication skills' and make reference to real-world examples.
Do not copy things from your CV, complement it.
Paragraph 4:
State a little bit more about yourself and, more importantly, why you are interested in working for this particular company.
Examples:
Solicitor:
Matthew and Son is a family-owned company with a team of legal representatives possessing expertise in different areas. They are the first choice for many when requiring legal advice and representation. I am very familiar with your company, and I would love to join your team of solicitors and make a real contribution to your business.
Physiotherapist: I am particularly attracted to work at A&S Surgery due to its excellent reputation in providing the very best physiotherapy care and having excellent customer satisfaction ratings. I am also impressed by the opportunities for young people within the organisation, including traineeships and graduate schemes for junior medical professionals, helping pave the way for the next generation of healthcare professionals.
Tips:
Do your research on the company and based on your findings state the reasons why you would like to join this company in particular.
Remember that this is the last paragraph where you have a chance to convince the employer that you are the right person for the job; don't settle for one or two sentences!

Closing statement

The final paragraph is usually a polite call for action and stating that you are looking forward to meeting them.

Examples:

I have enclosed my CV along with this covering letter, and I would like to take this opportunity to thank you for your time and consideration. Please feel free to contact me if you have any further questions; I am available anytime to meet with you to discuss this role and my application in more detail.

Thank you for taking the time to consider my application for this role, and I look forward to meeting you in the near future.

If you have any questions or require any more information, please do not hesitate to call me on 07677 780 241 at any time of your convenience. Thank you for considering me for this role, and I look forward to meeting you to discuss my application in more depth.

Tips:

Your cover letter shouldn't be longer than 1 A4 page. If necessary, cut down on this final paragraph in order to fit it onto 1 page.

The letter's ending

"Yours sincerely" – if you addressed the employer by their name, otherwise "Yours faithfully", followed by your signature and full name.

Examples:

Yours sincerely,

~ signature here ~

Mark Ogden.

Yours faithfully,
~ signature here ~
Caroline Morrison.

Tips:

Produce a handwritten signature rather than electronic or typed

Preview

Final point

I hope that the above cover letter template + step-by-step guide has been useful for you. Don't forget to check out our accompanying CV templates to help write your perfect CV.

Good luck!