Sobhan Mohmand, Career Expert

24 May 2021
Below you will find more than 100 cover letter examples from 18 different job sectors, including business, retail, healthcare and engineering.
Each letter is accompanied by relevant tips related to the specific job and a right-hand column outlining key facts about the job; entry requirements, salary, working hours and skills/competencies.
You can use this information to help write your own perfect covering letter by using the correct document structure, format and appropriate terminologies for your job and industry.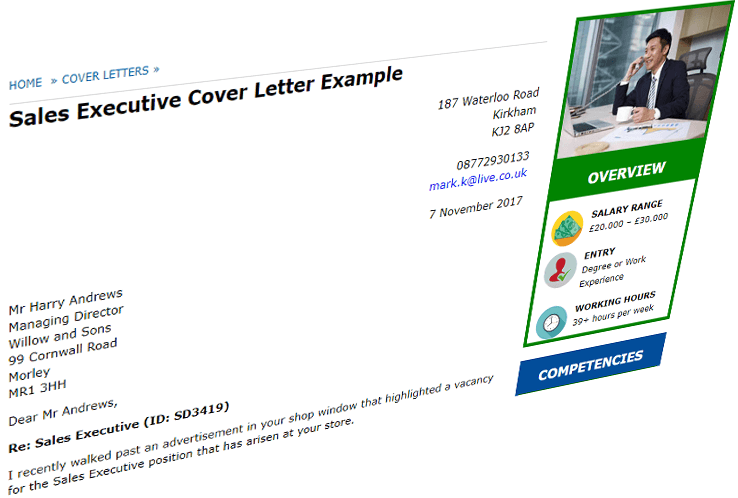 SEARCH TIP: Press CTRL + F or F3 on your keyboard to find a specific word on this page.
Marketing, Selling, PR and Advertising
---
Business, Management, Recruitment and HR
---
Engineering and Manufacturing
---
Education and Training
---
IT and Technology
---
Health and Social Care
---
Arts, Crafts and Design
---
Hospitality and Catering
---
Information and Data Analysis
---
Economics, Finance and Banking
---
Legal Services
---
Transport and Logistics
---
Science and Research
---
Media, Journalism and Publishing
---
Property and Construction
---
Leisure, Sport and Tourism
---
Wildlife, Energy and Environment
---
Public Sector, Politics and Development
---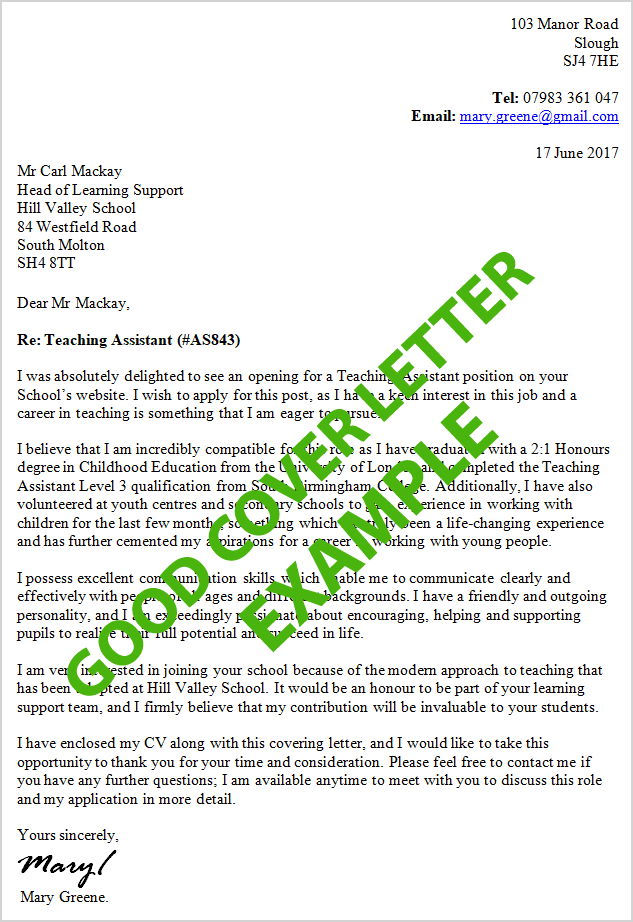 Job: Teaching Assistant
Personal details and date
103 Manor Road
Slough
SJ4 7HE
17 June 2017
Comments
The candidate has included all the relevant personal and contact details and presented it concisely
The email address is professional
The date has been written in full
This section has correctly been aligned to the RIGHT of the letter
Employer's details
Mr Carl Mackay
Head of Learning Support
Hill Valley School
84 Westfield Road
South Molton
SH4 8TT
The candidate has correctly included the four elements required in this section; the employer's name, position, company name and address.
Opening salutation
The opening solution is correctly written: "Dear" followed by the employer's honorific title (Mr) and surname (Mackay).
The letter's subject
Re: Teaching Assistant (#AS843)


The candidate has clearly included the job title and reference in the letter's subject line.
Introductory paragraph
I was absolutely delighted to see an opening for a Teaching Assistant position on your School's website. I wish to apply for this post, as I have a keen interest in this job and a career in teaching is something that I am eager to pursue.
The introductory paragraph clearly demonstrates to the employer the candidate's passion and excitement for the role and why they are making this application.
Paragraph 2
I believe that I am incredibly compatible for this role as I have graduated with a 2:1 Honours degree in Childhood Education from the University of London and completed the Teaching Assistant Level 3 qualification from South Birmingham College. Additionally, I have also volunteered at youth centres and secondary schools to gain experience in working with children for the last few months, something which has truly been a life-changing experience and has further cemented my aspirations for a career in working with young people.
The candidate goes straight into the reasons why they are suitable for the job by mentioning their relevant education and work experience related to the advertised role. They also have kept it brief and concise, making it much easier to read.
Remember, you should not simply copy whatever is written on your CV (such as the list of modules/units you studied) in your cover letter. As long as the information is present in either document, it is fine.
Paragraph 3
I possess excellent communication skills which enable me to communicate clearly and effectively with people of all ages and different backgrounds. I have a friendly and outgoing personality, and I am exceedingly passionate about encouraging, helping and supporting pupils to realise their full potential and succeed in life.
The third paragraph is a logical continuation of the paragraph before it. The candidate has mentioned more reasons, besides their relevant education and work experience, why they would be the ideal candidate for this position.
Paragraph 4
I am very interested in joining your school because of the modern approach to teaching that has been adopted at Hill Valley School. It would be an honour to be part of your learning support team, and I firmly believe that my contribution will be invaluable to your students.
The candidate makes specific mention of the reasons why they want to work for this particular organisation and how they could contribute to the organisation's success.
Closing statement
I have enclosed my CV along with this covering letter, and I would like to take this opportunity to thank you for your time and consideration. Please feel free to contact me if you have any further questions; I am available anytime to meet with you to discuss this role and my application in more detail.
The candidate ends the letter by kindly thanking the employer for their time and consideration, and that they are looking forward to hearing back from them in the near future.
The letter's ending
Yours sincerely,
~ signature here~
Mary Greene.



The candidate has used "Yours sincerely" correctly as they have addressed the employer by name (otherwise it would have been "Yours faithfully"), followed by their signature and their full name.
The covering letter also has the ideal length, fitting it nicely onto 1 A4 page.
TIP: Don't forget to check out our Cover letter template + tips page for more tips and guidelines on writing your perfect cover letter from scratch!
Sometimes it's useful to see a terrible cover letter example to learn from it and avoid making the same mistakes. Without further ado, let's get started…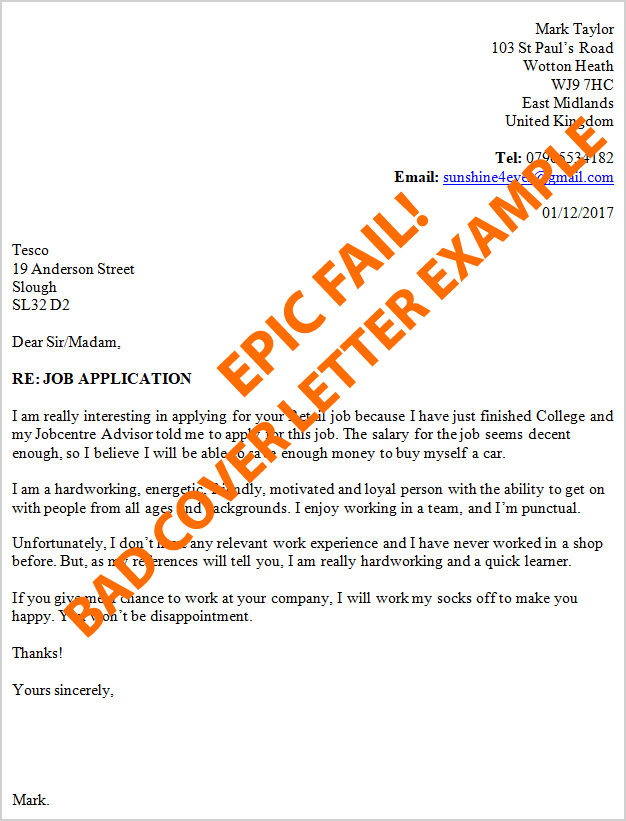 Job: Sales Assistant
Personal details and date
Mark Taylor
103 St Paul's Road
Wotton Heath
WJ9 7HC
East Midlands
United Kingdom
01/12/2017
Comments
It's unnecessary to include one's name in this section; it will be present at the end of the letter anyway.
The address is wordy and takes five lines of precious space!
The candidate's email address is unprofessional
The date has not been written in full (i.e. it should be "1 December 2017").
Employer's details
Tesco
19 Anderson Street
Slough
SL32 D2
The employer's name and job title/position are missing.
Opening salutation
This letter isn't personal or targeted as the candidate hasn't addressed the employer by their name. This makes the letter seem generic and could negatively affect its impact.
The letter's subject
It's advisable not to use uppercase for sentences as it sometimes GIVES THE IMPRESSION THAT YOU'RE SHOUTING.
The candidate hasn't mentioned the particular job they are applying for or its reference number. Remember, hiring managers usually advertise multiple vacancies and receive 100s of job applications each week. How would they know – at a glance – which position this applicant has applied for?
Introductory paragraph
I am really interesting in applying for your Retail job because I have just finished College and my Jobcentre Advisor told me to apply for this job. The salary for the job seems decent enough, so I believe I will be able to save enough money to buy myself a car.




The introductory paragraph is the ideal place to express one's passion and interest for the job. In this case, the applicant is only interested in saving up for a car, and the main reason why they applied for the job is that their Jobcentre Advisor told them to do so.

Notice the spelling mistake "I am really interesting" instead of "I am really interested"?
Paragraph 2
I am a hardworking, energetic, friendly, motivated and loyal person with the ability to get on with people from all ages and backgrounds. I enjoy working in a team, and I'm punctual.


Using a list of adjectives does not mean a lot, especially when not backed up by real-world examples. Furthermore, the applicant doesn't give any examples of teamwork or of being punctual.
Paragraph 3
Unfortunately, I don't have any relevant work experience and I have never worked in a shop before. But, as my references will tell you, I am really hardworking and a quick learner.







The applicant makes the critical mistake of mentioning negative things about themselves (i.e. having no relevant work experience). Instead, they should have put more emphasis on their skills, abilities and interests that would help them in this job rather than stating; "Unfortunately, I don't have any relevant work experience."
Paragraph 4
If you give me a chance to work at your company, I will work my socks off to make you happy. You won't be disappointment.









The candidate uses informal/inappropriate language to express themselves.
"Disappointment" should be "Disappointed"
The candidate doesn't seem to be motivated to make the organisation succeed or making an invaluable contribution to their services. They merely want to 'save up to buy a car' and 'make [the employer] happy' so they won't get fired. It shows the candidate's poor judgement and will undoubtedly land the cover letter in the bin.
Closing statement
The candidate uses a very informal method of closing a professional letter.
The letter's ending
It should be "Yours faithfully" as the letter starts with "Dear Sir/Madam".
There is no signature, and the gap for the signature is disproportionately big.
Finally, do not be tempted to submit the same letter for a variety of jobs! Write a slightly different cover letter for each position that you are applying for; thereby dramatically improving their impact and effectiveness.
Good luck!