I am a committed, self-motivated and hardworking Quality Manager with a keen eye for detail and a strong will to succeed. In my current job, I have over-achieved many targets such as significantly increasing turnover, improving operational efficiency and raising customer service levels. I have the natural ability to react to rapid changes in prioritisation whilst maintaining a clear focus on the company objectives.
| | |
| --- | --- |
| July 2015 – Present | Quality Manager Peter's Pharmacy |
Main duties performed:
Establishing new and improved quality procedures, specifications, policies and standards for the Quality Department
Identifying, investigating and resolving any quality issues that arise
Maintaining the Quality Management System
Leading quality improvement initiatives across the departments and in coordination with other engineering team leaders
Attending various team meetings in order to discuss the organisation's processes
Ensuring that quality control procedures are followed at all times
Identifying Quality control issues and offering permanent solutions
Driving improvements in all areas of Quality Assurance
Ensuring that Health and Safety regulations are adhered to at all times
Responsible for training the management teams
Supervising engineering, manufacturing and warehouse staff and dealing with performance-related issues on a daily basis
Conducting both internal and external quality audits across different sites
Ensuring that issues are escalated in a timely manner to the relevant parties
Maintaining and developing quality processes and procedures
Producing and presenting weekly and monthly quality reports
Revamping the entire stocking and ordering software of the company
Electronically scanning and filing of paperwork
Ensuring that accurate data is recorded
Assisting the Stock Control Manager with counting and processing inventory
Handling customer complaints in a calm and professional manner
Aug 2013 – Aug 2014
Mechanical Engineer A1 Mechanics
Main duties performed:
Designing prototypes of products to be manufactured
Analysing mechanical problems and proposing practical solutions
Performing tests on prototypes and final products before they are signed off
Qualifications
CQI Diploma in Quality Management – Level 5
Microsoft Office Suite Specialist- Expert (2012)
Skills
Organisational skills: Able to organise and prioritise a variety of tasks in accordance with their importance and time limits.
Attention to detail: Adept at dealing with multitudes of information and data, some nearly identical, error-free.
Presentation skills: Acclaimed at delivering engaging presentations to various parties including managers, colleagues and third-party professionals
IT Skills: Accredited with SPSS and MS Office. Also fully conversant with CIN7 and TradeGecko (inventory management software)
Administration: The ability to demonstrate a high level of administration competencies within complex environments.
Hobbies and interests
During my spare time, I go cycling and swimming on a weekly basis and socialising with family and friends. The rest of my free time is spent studying the engineering industry and tweaking the business's modus operandi accordingly.
References
Mr Christian Reed
Quality Manager, 360 Manufacturing
Address:
4 Avenue Rd, Somerset, SO1 7XK
Tel:
0743 4522 5678
Email:
[email protected]
Mrs Michelle Clarkson
Owner, A1 Mechanics
Address:
14 Ave Rd, Leeds, LX2 8YY
Tel:
0782 4542 7977
Email:
[email protected]
Please note: the above CV Example is presented in the UK format and layout.
Preview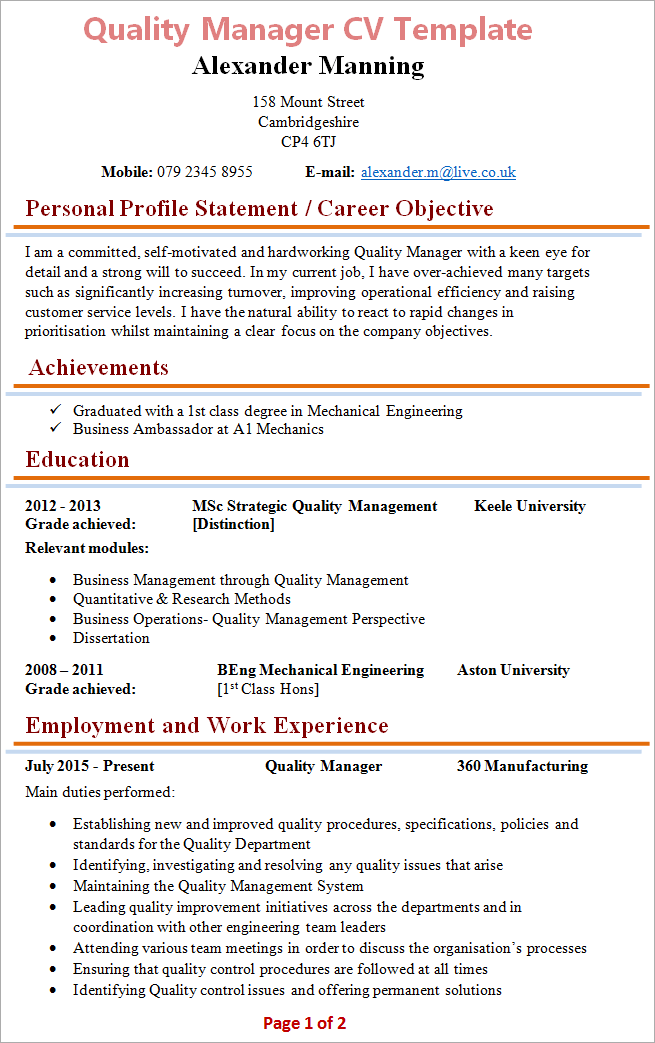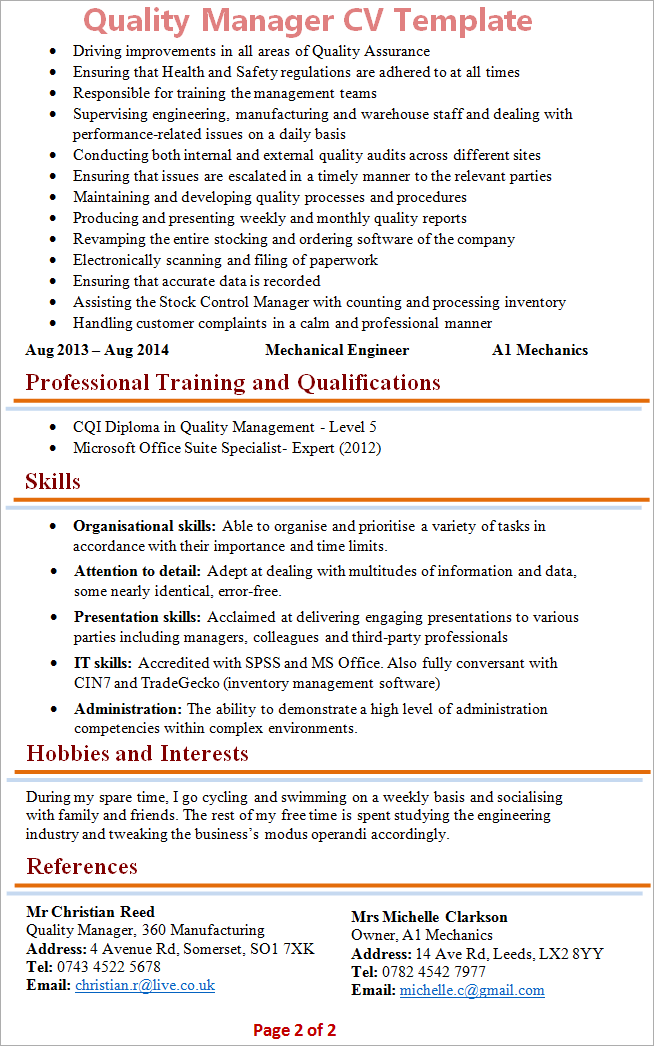 Download
Click here to download the above CV Sample (blank).
COLLECTION: You may also want to browse through our collection of Free CV Templates and download any of the editable CVs to create your own (available in Microsoft Word format and convertible to PDF).
Tips
Working across industries: A Quality Manager has the opportunity to work across different job sectors for a variety of different companies. The key responsibilities will be the same, although certain sectors – such as Engineering and Science – may require industry-specific qualifications in order to be considered for the role. Consequently, your CV should largely focus on your diverse work experiences, transferable skills and your ability to quickly learn new skills and adapt to different work environments.
Good Luck!
Written by Sobhan Mohmand
Sobhan is a qualified Careers Advisor and Professional CV Writer with over 10 years of experience in helping job seekers get a job. He is a Member of the Careers Development Institute (CDI) and is listed on the official UK Register of Career Development Professionals. He holds a Level 6 Diploma in Career Guidance and Development (QCF).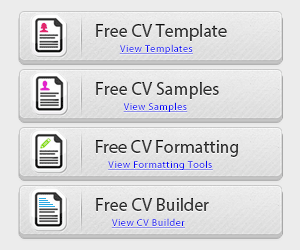 SPONSORED
OVERVIEW
SALARY RANGE
£25.000 – £55.000

ENTRY
Degree and Relevant Work Experience

WORKING HOURS
38+ hours per week
Competencies
Communication Skills
Excellent language skills to interact with colleagues / customers / clients / suppliers

Writing Skills
Excellent writing skills to write clear and concise quality reports

Observation Skills
Paying attention to every aspect of the task or project and ensuring that no "small details" are overlooked

Listening Skills
Excellent listening skills during meetings and other business interactions

Leadership
Leadership skills to implement change within an organisation

Problem Solving
Excellent problem-solving skills to resolve quality assurance issues or processes
Related Resources