Sobhan Mohmand, Career Expert

20 May 2021
Tip: Use the Cleaner CV Template below as an example to help you write your own personal and fully-tailored CV.
Lydia Potter
89 Moulton Road
Golan
EH31 6PF
Mob: 078 4622 4446
Email: [email protected]
Personal Profile Statement / Career Objective
I am a self-motivated, energetic and hardworking Cleaner with extensive experience in the cleaning and hospitality industries. I work effectively both within a team and individually using my own initiative. I believe that I will be an invaluable asset to any organisation giving my experience, dedication and the great pride that I take in my work.
Achievements
Awarded 11 GCSEs at grades A to C
More than five years of experience in the cleaning industry
Education
| | | | |
| --- | --- | --- | --- |
| 2000 – 2008 | GCSEs | West Leeds High School | Results: 11 GCSEs at grades A to C |
Relevant Modules:
English literature: C
English language: B
Mathematics: C
Statistics: C
Biology: C
PE: A
Spanish: B
Science: B
Geography: C
Religious Studies: B
Sociology: C
Employment and Work Experience
| | |
| --- | --- |
| Mar 2010 – Present | Cleaner Supervisor Cornfield Housekeeping Ltd. |
Main duties performed:
Supervising a group of 7 cleaners
Ensuring Health and Safety guidelines are followed at all times
Organising training sessions for staff
Liaising with various stakeholders to organising jobs
Ensuring domestic properties are left in excellent condition after a job
Performing general Admin duties (phoning, filing, printing, etc)
Implementing Health and Safety rules (e.g. display warning signs such as "wet surface" signs when appropriate)
Locking rooms and the property is secure after the completion of the job
| | |
| --- | --- |
| Dec 2008 – Mar 2010 | Cleaning Operative Leeds Cleaning Services Ltd. |
Main duties performed:
Cleaning offices, toilets, kitchens, meeting rooms, main entrance, function hall, corridors and other facilities to a high standard
Ensuring the workplace is clean and tidy for the following working day
Dusting, Damp Wiping, Washing and Polishing of office furniture
Vacuuming floors and carpets
Sweeping and mopping floors
Keeping reception area clean and tidy
Replenishing hand soap, bin bags, toilet paper and tissues.
Cleaning windows and frames
Clearing waste and litter in appropriate bins
Recycling office equipment no longer required
General cleaning of all surfaces and areas
Following health & safety guidelines when handling chemicals
Reporting any issues to the Manager (when appropriate)
Restocking items in vending machines
Emptying bins (at least once every week)
Cleaning the surrounding area of the premises free of litter and chewing gum
Professional Training and Qualifications
Level 2 Certificate in Cleaning and Support Services Skills – City & Guilds
First Aid at Work – HSE
Level 2 Food Safety and Hygiene (Catering)
Skills
Outstanding communication skills
Knowledge of correct cleaning products, equipment and best practices
The ability to use electrical equipment (e.g. vacuums, polishers and steam machines) in a safe and effective manner
Excellent attention to detail
A positive attitude and taking pride in work
The ability to multi-tasks and get work done according to strict deadlines
Hobbies and interests
I enjoy long walks, socialising with my friends and family and gardening. One of my greatest hobbies is also working on DIY projects in my spare time as I like to stay active and improve my physical skills and abilities in the process.
References
Mrs Georgia Kelly
Cleaner Supervisor, Leeds Cleaning Services Ltd.
Address:
34 Crescent Avenues, Drumlin, AB37 8FR
Tel:
0203 3462 8864
Email:
[email protected]
Mr Harry Harper
Office Manager, Northfield Housekeeping Ltd.
Address:
53 South Street, Mitford, NE61 7PE
Tel:
0253 388 4524
Email:
[email protected]
Please note: the above CV Example is presented in the UK format and layout.
Preview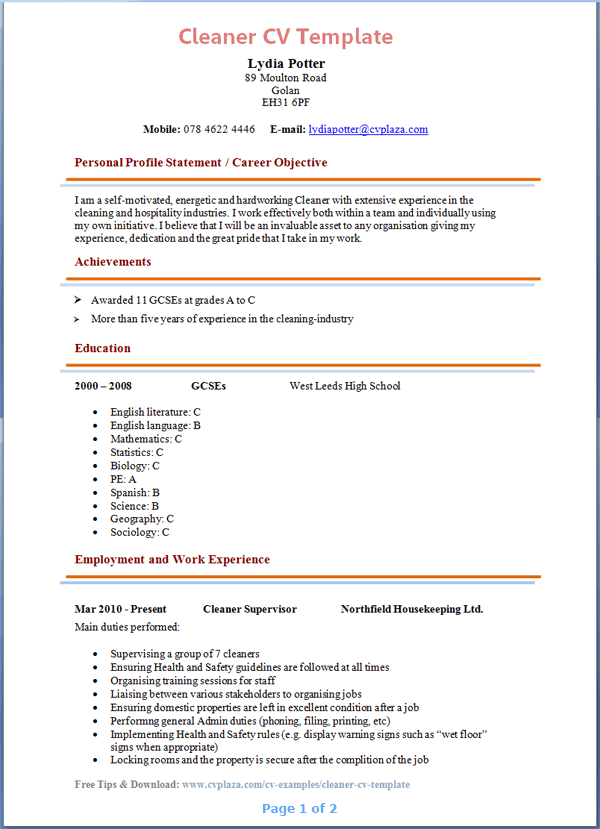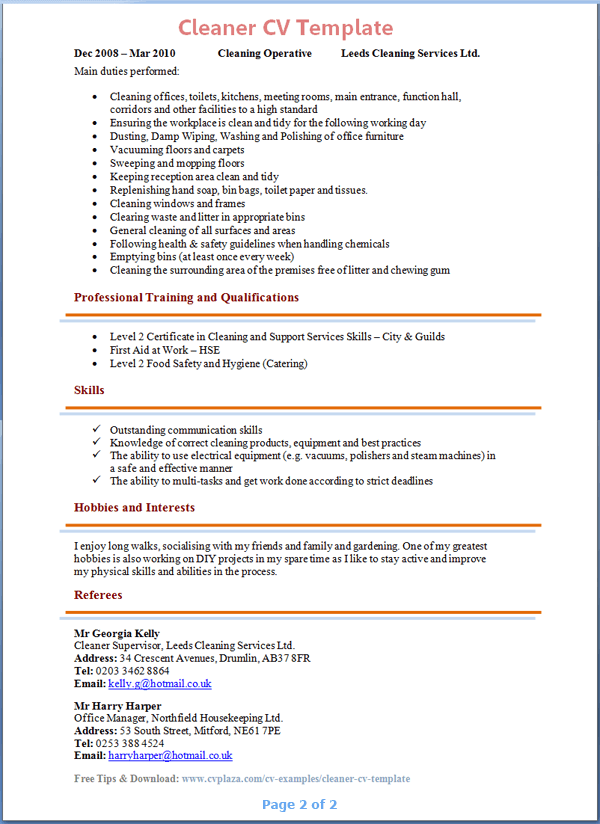 Download
Click here to download the above CV Sample.
COLLECTION: You may also want to browse through our collection of Free CV Templates and download any of the editable CVs to create your own (available in Microsoft Word format and convertible to PDF).
Top CV Tips and Guidelines
If you've got no experience in worker as a Cleaner, it is recommended to include domestic cleaning, relevant skills and other experiences you have to demonstrate that you have the ability to work well in this position. Furthermore, having no prior work experience in the field is not usually a requirement since this is an entry-level job and full training will be provided.
Always ensure that you include positive words such as "pride", "positive attitude", "dedicated" and "enjoy" to demonstrate to the prospective employer that you are really passionate about what you do.
Being knowledgeable about and following Health and Safety regulations is an important aspect of a Cleaner's job, so it is recommended to make mention of this on your CV to indicate that you are aware of this.
Good Luck!
Written by Sobhan Mohmand
Sobhan is a qualified Careers Advisor and Professional CV Writer with over 10 years of experience in helping job seekers get a job. He is a Member of the Careers Development Institute (CDI) and is listed on the official UK Register of Career Development Professionals. He holds a Level 6 Diploma in Career Guidance and Development (QCF).