Sobhan Mohmand, Career Expert

18 March 2021
Tip: Use the Interior Designer CV Template below as an example to help you write your own personal and fully-tailored CV.
Bailey Green
53 Holgate Rd
Roswell
SG7 5QD
Mob: 079 4605 1445
Email: [email protected]
Personal Profile Statement / Career Objective
I am a creative and competent (Graduate) Interior Designer with a three-year track record for delivering exceptional visual designs and client-tailored services. I have a strong talent for identifying customer needs and delivering fascinating interior decoration services to the client satisfaction and requirements.
Achievements
First Class Degree (Hons) in Interior Design from Kingston University
I was able to manage part-time work and full-time studies
Education
| | | | |
| --- | --- | --- | --- |
| 2009 – 2012 | BA (Hons) Interior Design | Kingston University | Classification: [1:1] |
Relevant Modules:
Design Foundations and Theory (83%)
User Requirements Identification (73%)
Materials and Construction (69%)
Design Process (75%)
Professional Practice in the Workplace (67%)
Critical Issues in Interior Design: Research and Practice (73%)>
2007 – 2009
Results: (Distinction, Distinction, Merit)
BTEC National Diploma in 3D Interior Design
SST College
Relevant Modules:
Interior Design Essentials (D)
Materials, techniques and processes in art and design (D)
Ideas and concepts in the design process (M)
Communication through art and design (D)
Employment and Work Experience
| | |
| --- | --- |
| Mar 2013 – Present | Interior Designer Decoration Specialists Ltd. |
Main duties performed:
Managed and supervised other members of the modelling team
Designing kitchens/ bathrooms/ bedrooms
Accurately interpreting and representing clients' ideas by producing freehand sketches, images, worked up designs and samples
Creating proposals based upon sketches, drawings packages and samples
Developing 2D/3D CAD product files for the modelling team
Planning the space and layout of projects
Achieving sales and KPI targets in line with targets and goals
Providing after case for customers
| | |
| --- | --- |
| Nov 2012 – Feb 2013 | Furniture Designer (Freelancer) |
Main duties performed:
Getting customer specification and writing it on paper (ideas, storyboards, etc.)
Delivering design projects under strict deadlines and within the client's budget
Providing customers with detailed furniture specifications and layout schemes
Creating stunning drawings by hand with Google sketch up
Successfully completed interior design projects for houses and hotels.
| | |
| --- | --- |
| Jun 2012 – Nov 2012 | Interior Design Assistant – Internship Avid |
Main duties performed:
Creating 2D and 3D visuals and animations based on customer specs.
Assisting with the planning and design for submission, proposals, etc.
General Admin Duties (answering and making calls, filing, copying, etc.)
Supporting the rendering team with documentation and paperwork.
| | |
| --- | --- |
| Sept 2011 – Jun 2012 | Trainee Kitchen Designer 1&1 Kitchens |
Main duties performed:
Initiate contact with clients and explain what the company can offer them
Showing kitchen styles, appliances, and the best storage solutions to customers.
Site visits to customer's homes to offer advice and guidance
Helping customers to visualise their "dream kitchen" and get it on paper
Dealing with calls from customers, head office, fitters and suppliers.
Professional Training and Qualifications
Level 5 Certificate in Interior Design – KLC
Level 2 Introduction to Technical Drawing – KLC
Skills
Excellent communication, negotiation and presentation skills
Expert 3D modelling, animation and visualisation skills
The ability to work on multiple projects simultaneously and efficiently
Creating realistic interior design sketches by hand
Experienced in a variety of drawing, modelling and editing software: AutoCAD, Autodesk 3ds Max, Vectorworks, Dialux, Adobe InDesign, Adobe Photoshop, and Adobe Illustrator.
Providing exceptional customer service at all times, in all circumstances and to all stakeholders
Hobbies and interests
My greatest hobby is designing which is why I spend at least an hour every day practising and enhancing my skills on my personal computer. I am also a great fan of football, and I enjoy being in the company of my family and associates.
References
Mr Noah Cunningham
Senior Design Manager, Decoration Specialists Ltd.
Address:
16 Uxbridge Road, Tennessee, TS13 6UJ
Tel:
0223 5808 2697
Email:
[email protected]
Mr Louis Lloyd
Interior Designer, Avid.
Address:
99 Henley Road, Basely, HP1 4RW
Tel:
0080 8622 0220
Email:
[email protected]
Please note: the above CV Example is presented in the UK format and layout.
Preview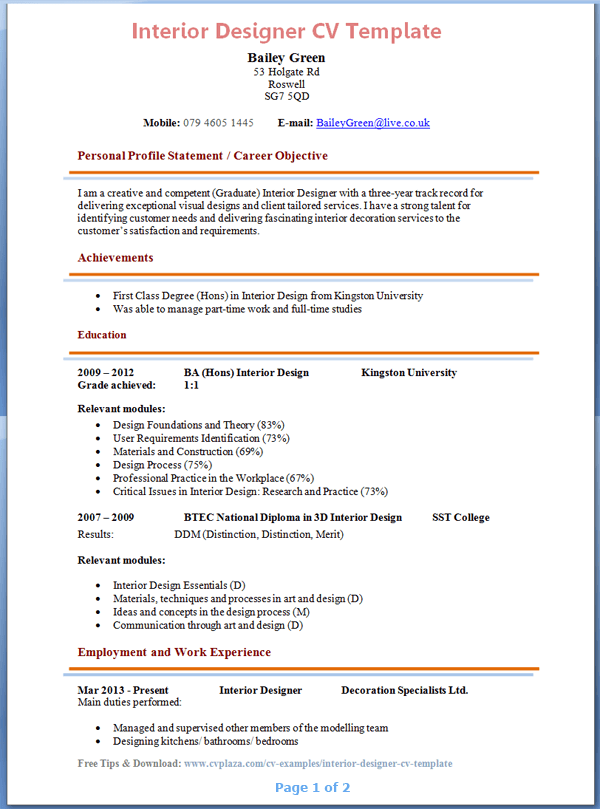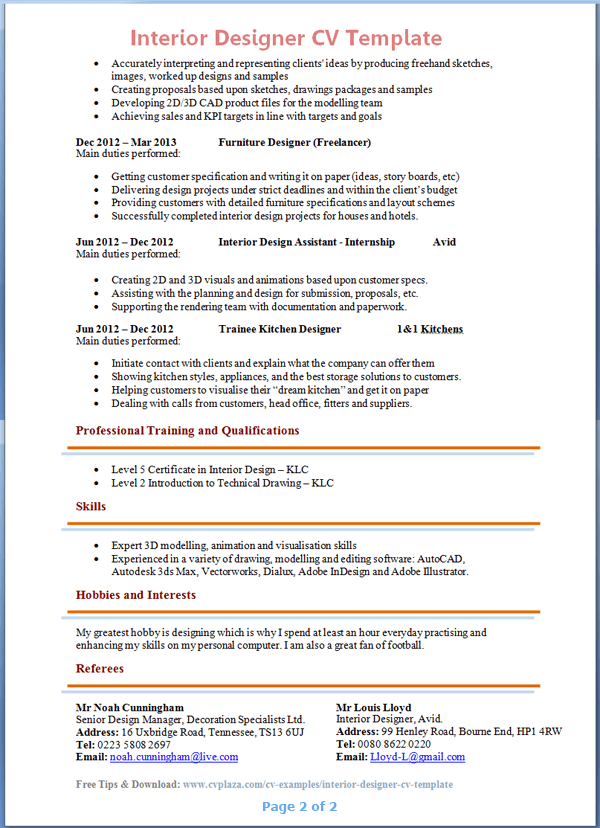 Download
Click here to download the above CV Sample.
COLLECTION: You may also want to browse through our collection of Free CV Templates and download any of the editable CVs to create your own (available in Microsoft Word format and convertible to PDF).
Top CV Tips and Guidelines
Fill your CV up with the appropriate terminologies used by the professionals in the field. Read through the "Interior Design" article to get some ideas.
Ensure that you list all the design skills that you have under the "Skills" section and you could also emphasise your passion for designing under the "Hobbies and Interests" section by stating that you spent your free time doing design work or related projects. This makes you come across as a dedicated individual passionate about your profession.
CV with No Experience? It is an essential requirement that you have some sort of design-related work experience to this job to a satisfactory standard. The first thing you need to consider is whether you can find a place where you can do some voluntary work experience. This will give you vital experience, improve your skills and potentially gain you a good reference. The second thing that you could consider is working on small-sized freelance projects and built your career up from there. Any experience in the field, no matter how small, will make you a stronger candidate for the job.
The ideal candidate for this job will be working in different settings on a variety of different projects. Mention on your CV all the environments you have worked in as an Interior Designer such as private homes, business offices, restaurants or shops.
Good Luck!
Written by Sobhan Mohmand
Sobhan is a qualified Careers Advisor and Professional CV Writer with over 10 years of experience in helping job seekers get a job. He is a Member of the Careers Development Institute (CDI) and is listed on the official UK Register of Career Development Professionals. He holds a Level 6 Diploma in Career Guidance and Development (QCF).