Sobhan Mohmand, Career Expert

18 Apr 2021
Tip: Use the Sales Assistant CV Template below as an example to help you write your own personal and fully-tailored CV.
Amelia James
52 Casper Way
Belford
BH6 1ZT
Mob: 078 0735 0193
Email: [email protected]
Personal Profile Statement / Career Objective
I am seeking a sales-oriented position that enables me to utilise and fortify the attributes, skills and personal qualities I currently have and to make a real, tangible difference in the company that I work for. I have always been an extremely hands-on, practical and energetic worker and am very experienced with providing excellent customer service at all times and in all circumstances. I have a "can-do" attitude, and I enjoy overcoming challenges.
Achievements
Junior Sales Person of the Month (2011, Maplin Electronics)
Raised £485 for Cancer Research UK
Achieved 7 GCSEs at grades A*–C
Education
| | | |
| --- | --- | --- |
| 2006 – 2008 | Level 3 BTEC National Diploma in Business | Leeds College |
Relevant Modules:
The Business Environment (Distinction)
Introduction to Marketing (Distinction)
Product Marketing Research (Merit)
Supporting Business Activities (Distinction)
| | | |
| --- | --- | --- |
| 2004 – 2006 | GCSEs | Harbourne School |
Results:
English Language (A)
Mathematics (C)
Business Studies (B)
Economics (C)
History (A)
Information Technology (B)
Psychology (A)
Employment and Work Experience
| | |
| --- | --- |
| Apr 2010 – Present | Sales Assistant Maplin Electronics |
Main duties performed:
Opening up and closing the shop for two days a week
Assisting with the day-to-day running of the shop
Meeting and greeting customers and tailoring services and selected products to meet their needs and expectations
Handling customer payments, refunds, complaints, compliments, etc.
Meeting sales targets and marketing the company's special offers
Providing training to work experience Sales Assistants from the local schools
Liaising with head office and suppliers regarding stock replenishment
| | |
| --- | --- |
| Feb 2009 – Apr 2010 | Sales and Marketing Assistant Next |
Main duties performed:
Acting as the first point of contact for the shop's existing and new customers
Till operation, serving customers and directing them around the shop
Handling customer queries and complaints on a day to day basis.
Recording and maintaining customer records and sales inquiries
Keeping calm and professional when dealing with aggressive customers
Giving expert advice on product selection to customers
Arranging window displays (and special promotions)
General cleaning and maintenance of the shop.
| | |
| --- | --- |
| Jun 2008 – Feb 2009 | Receptionist Vivic Ltd. |
Main duties performed:
Greeting customers and visitors and acting as the "face of the company"
General Admin duties: phoning, filing, printing, photocopying, etc.
Dealing with customer complaints & compliments in a professional manner
Professional Training and Qualifications
Five-day Sales Bootcamp – Charted Institute of Marketing (CIM)
Level 2 Award in Effective Team Member Skills – ILM
Skills
Excellent Interpersonal and Communication skills
Outstanding Persuasion and Negotiation skills
Being able to relate to and provide service for customers' needs & requirements
Deep knowledge of the selling process and the ability to put it into practice
Hobbies and interests
I have previously been involved in organised charity events as well as completing short runs to help raise money for events. In my spare time, I surf the web and enjoy spending time with my family and friends and also meeting new people from all backgrounds.
References
Ms Lauren Walsh
Sales Manager, Next.
Address:
76 Boat Lane, Randal, RS3 1TY
Tel:
0223 6235 2730
Email:
[email protected]
Mr John Steele
Senior Sales Assistant, Maplin Electronics.
Address:
86 Monks Way, Tonbridge, TN9 3QE
Tel:
0080 6181 2193
Email:
[email protected]
Please note: the above CV Example is presented in the UK format and layout.
Preview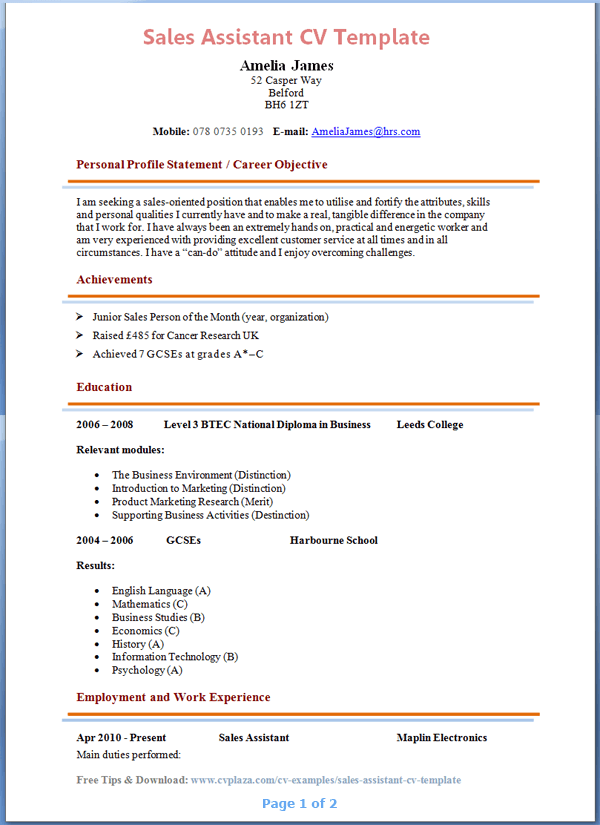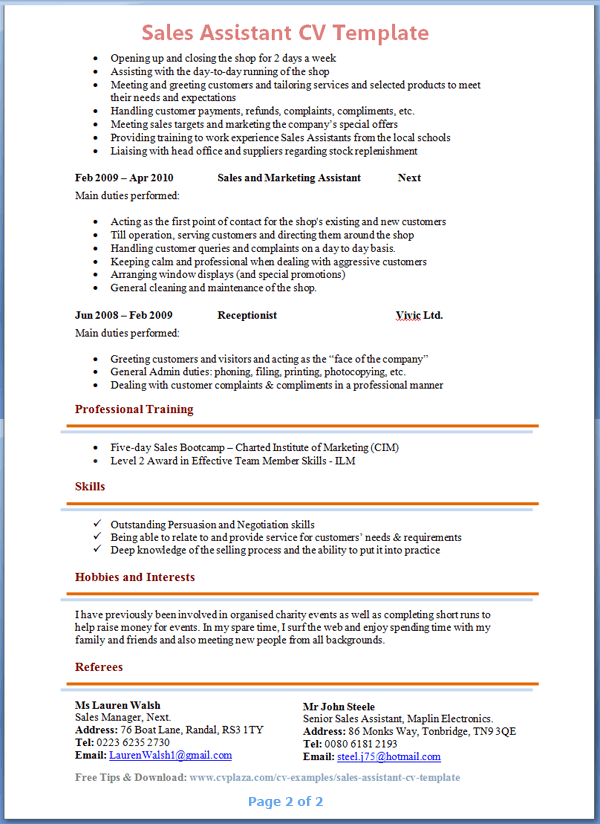 Download
Click here to download the above CV Sample.
COLLECTION: You may also want to browse through our collection of Free CV Templates and download any of the editable CVs to create your own (available in Microsoft Word format and convertible to PDF).
Top CV Tips and Guidelines
Always have some sort of work experience on your CV, even if it is just a voluntary part-time position at your local grocery shop. You CV will look so much better once you have some sort of work experience included and CVs with no experience are hardly ever given any attention.
Ensure that you mention the most important sales skills that a Sales professional requires in order to do their job to a high standard; Communication, Negotiation, Persuasion and Customer-Service skills.
Focus your CV on results rather than on activities. What tangible difference did you make in your previous job? How good of a salesperson were you? Demonstrate that you are excellent at sales by highlighting some of your previous success because that will make the prospective employer think: "s/he has done it before for someone else; s/he can do it again for me."
Final tip: always double/triple check your CV and ask yourself the question: "Would I really give this person [i.e. yourself] such and such salary?" You have to be honest because the first test you will face will not be in the Sales Assistant job, but on how effective you use your CV to sell yourself!
Good Luck!
Written by Sobhan Mohmand
Sobhan is a qualified Careers Advisor and Professional CV Writer with over 10 years of experience in helping job seekers get a job. He is a Member of the Careers Development Institute (CDI) and is listed on the official UK Register of Career Development Professionals. He holds a Level 6 Diploma in Career Guidance and Development (QCF).