Sobhan Mohmand, Career Expert

19 Apr 2021
Tip: Use the Social Worker CV Template below as an example to help you write your own personal and fully-tailored CV.
Maria Smith
68 Oxford Rd
Southampton
NR18 1YP
Mob: 079 3352 3623
Email: [email protected]
Personal Profile Statement / Career Objective
I am an experienced, mature, and caring Graduate Social Worker with a firm commitment to social care. My experience is rooted in a rock-solid background of working with young and vulnerable people from all backgrounds and differing life circumstances. I have dealt with social work in both the public and private sector, and am adaptable in any situation which comes before me. I am comfortable in both solitary and group situations, and have excellent communication skills which are useful in times of contact with external organisations and. I also have excellent observational and listening skills which are highly effective when interacting with vulnerable people, as does my extensive training in "Working with Young People and Families".
Achievements
Local Social Worker of the Year Award (Southampton, 2013)
Graduated with a First Class degree in Sociology & Public Policy
Education
| | | | |
| --- | --- | --- | --- |
| 2009 – 2013 | BSc Sociology & Public Policy | Cardiff University | Grade achieved: [First Class Hons] |
Relevant Modules:
Understanding Cultural Diversity
Exploring Disabilities in Western Societies
The Family as an Agency
Understanding Social Issues and Social Policy
Community Justice and the Police
Understanding Social Inclusion and Social Policy
2007 – 2009
Results: Health Studies: A Sociology: B Psychology: B
A Levels
Newton College
Employment and Work Experience
| | |
| --- | --- |
| Mar 2013 – Present | Social Worker Leeds City Council |
Main duties performed:
Working in partnership with external organisations such as the local hospital, schools and GP surgeries to cross-check and discuss any people of concern who may need monitoring and/or extra supervision from Social Services
Performing routine home visitations in the local communities, particularly to families with vulnerable young children, to ensure the care provided is sufficient and meets Health and Safety standards
Help plan and facilitate discharges
Documenting the progress of the families under my supervision and regularly updating my superiors on any changes which may call for action
Contributing to multidisciplinary team meetings
Handling referrals to counselling
Working with families in crisis situations
Working with children in care who need foster parents or homes for adoption.
Working with the care home staff to increase the chances of the children in their care to get fostered or adopted
| | |
| --- | --- |
| Dec 2012 – Mar 2013 | Community Support Officer Care 1&1 |
Main duties performed:
Regular home visitations and scheduled appointments
Working with the local council and other authorities such as schools and General Practitioners to monitor any people who were in difficult situations
Reaching out to the local area to raise awareness of issues such as domestic violence and child abuse, through carefully constructed community campaigns
Working in conjunction with the local city council to provide support and advice to families in financial, social or emotional difficulties.
| | |
| --- | --- |
| Jun 2011 – Dec 2012 | Assistant Support Care Worker Oasis |
Main duties performed:
Home visits and routine check-ups on vulnerable people in the local community
Offering support and advice in a professional and considerate manner
Physically helping vulnerable people in their daily routines and activities
Providing mental comfort and companionship for the vulnerable people
Keeping the progress and changing circumstances of the people in my care documented physically and electronically, with habitual overviews.
Professional Training and Qualifications
Attended various workshops such as:
Supporting Parents-Supporting Children (2012)
Equality and Justice Training (2012)
Disabilities and Mental Health Training (2011)
Skills
Keen observational and listening skills, which are vital during my regular home visitations and conversations with vulnerable people
Excellent interpersonal skills, which are called upon frequently during liaisons with other authorities to discuss cases of interest/concern
Natural ability to bond with young and vulnerable people, which builds a relationship of trust and disclosure
A logical and analytical mind which harmonises with the demands of my profession (e.g. objectivity, professionalism)
The ability to be friendly and approachable while also maintaining an investigative attitude.
Hobbies and interests
My interests are rooted in the world of social care; I volunteer in the local youth club on irregular weekends to spend time with the children in my community – many of whom I am familiar with from home visits. When I'm not working, I enjoy going out on days out with my family and have fun with friends. I am also a passionate reader, and I look forward to writing a book one day in the future.
References
Mrs Lilly Jones
Care Team Leader, Oasis
Address:
22 Argyll Road, Almonds, LL53 2WJ
Tel:
0223 231 4525
Email:
[email protected]
Mr Oliver Porter
Senior Social Worker, Leeds City Council
Address:
22 Bellwood Rd, Springfield, KY15 1LU
Tel:
0080 3251 3425
Email:
[email protected]
Please note: the above CV Example is presented in the UK format and layout.
Preview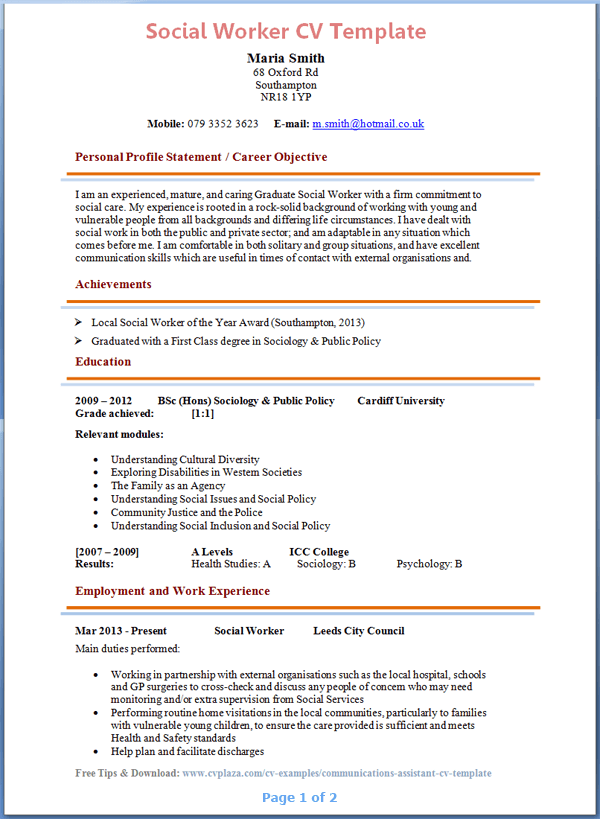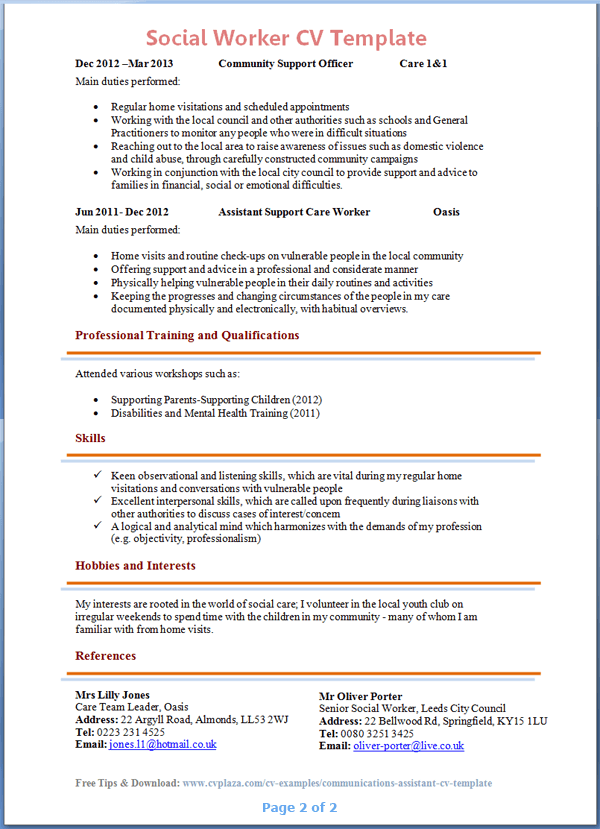 Download
Click here to download the above CV Sample.
COLLECTION: You may also want to browse through our collection of Free CV Templates and download any of the editable CVs to create your own (available in Microsoft Word format and convertible to PDF).
Top CV Tips and Guidelines
Question: if there were TWO words that you had to associate with being a social worker what two words would those be? The answer is: Care and Support. Everything that you mention on your CV, in one way or another, should be supporting the impression of you being a caring and compassionate individual who loves helping those who need your help the most. [see Social Work]
Social Workers are usually specialised in a particular field ranging from Psychology to Education. It is important that your CV is fully-tailored to the type of job you are applying for with clear, real-life examples of your skills, experiences and knowledge in the field.
What to do when you have got no work experience? One thing that you can do is take up a voluntary job position in your local community. Not only will you gain vital work experience in the field, help people with enriching their lives but also potentially gain a good employment reference at the end of it!
Good Luck!
Written by Sobhan Mohmand
Sobhan is a qualified Careers Advisor and Professional CV Writer with over 10 years of experience in helping job seekers get a job. He is a Member of the Careers Development Institute (CDI) and is listed on the official UK Register of Career Development Professionals. He holds a Level 6 Diploma in Career Guidance and Development (QCF).