Sobhan Mohmand, Career Expert

16 March 2021
Tip: Use the Laundry Assistant CV Template below as an example to help you write your own personal and fully-tailored CV.
Emily Wood
96 Downtown Street
Stair
KA5 8SY
Mob: 078 2356 2256
Email: [email protected]
Personal Profile Statement / Career Objective
A hard-working, driven and motivated Laundry Worker with extensive experience in providing hospitality and laundry services in domestic, care and commercial environments. I have the natural ability and the appropriate skills to work in customer-focused organisations with great enthusiasm and dedication. I am patient, understanding and flexible on the hours and shifts I work.
Achievements
100% positive feedback from the customers (visitors book)
Awarded 3 A-Levels at Grades A-C
Education
2007 – 2009
A Levels
Yale College
Results: ABC

Public Services: A
Art and Design: C
Business Studies: B
2001 – 2008
GCSEs
South County School
Results: 13 GCSEs at Grades A*-C.

Business: B
Art and Design: B
English: C
Science: D
Geography: A
Maths: C
German: C
Employment and Work Experience
| | |
| --- | --- |
| Mar 2013 – Present | Laundry Assistant G.S Laundry |
Main duties performed:
Washing, drying and ironing sheets, towels, bedding, and clothes
Loading machines with items
Folding clothes before bagging them
Sorting items according to colour, size, type and fabric
Performing minor repairs of garments (when appropriate)
Labeling items
Thoroughly cleaning the laundry room on a daily basis (e.g. sweeping, washing, wiping, vacuuming, polishing, etc)
Ensuring that the laundry room was tidy and accessible at all times
Checking items for damage, rips or stains
Tidying up the wardrobes and drawers of the customers
Answering customers' queries (face-to-face, over the phone and through e-mail)
Getting the customer's washing returned in a timely manner
Handling Cash
General day-to-day duties of running and maintaining a laundry room
Operating various machines
Marketing the company's services
Building friendly and professional relationships with clients
Providing excellent customer service at all times
| | |
| --- | --- |
| Dec 2012 – Mar 2013 | Laundry Operative Morgan House Ltd. |
Main duties performed:
Primarily responsible for washing, drying and ironing linens and towels
Collecting laundry from clients
Loading items into the machines
Hanging washed items onto drying racks
Separating wash and dry clean items
Replenishing the linen store
Putting items away in customers' rooms in a tidy and professional manner
Using chemicals to remove stains before processing it into the machines
Unloading and reloading laundry deliveries
Cleaning out the washing machines, dryers and iron
Abiding by all health & safety regulations at all times
Completing relevant paperwork and tagging
Reporting any damages to the Laundry Supervisor at the earliest opportunity
Providing customer aftercare
Professional Training and Qualifications
Excellent interpersonal, customer service, and time management skills
The ability to work under pressure and in a fast-paced environment
Dealing with stressful situations and remaining in control at all times
Computer skills (email, word processing, spreadsheets, etc.)
Emergency First Aid
Punctual with excellent attendance record
Skills
Excellent data management and interpretation skills
Outstanding analytic and research skills
The ability to manage time efficiently, multi-task and work to deadlines
Hobbies and interests
Outside of work, I like to spend time with my friends and family. I really enjoy watching movies on weekends, and I also like to keep fit which is why I regularly go to the park for jogging and cycling.
References
Mr Samuel Jackson
Senior Laundry Worker, G.S Laundry
Address:
12 Warren St, West Burton, RH20 9PB
Tel:
0209 4563 8865
Email:
[email protected]
Mrs Samantha Thomas
HR Officer, Morgan House Ltd.
Address:
24 Uxbridge Road, Slough, PH23 5QE
Tel:
0253 3485 3434
Email:
[email protected]
Please note: the above CV Example is presented in the UK format and layout.
Preview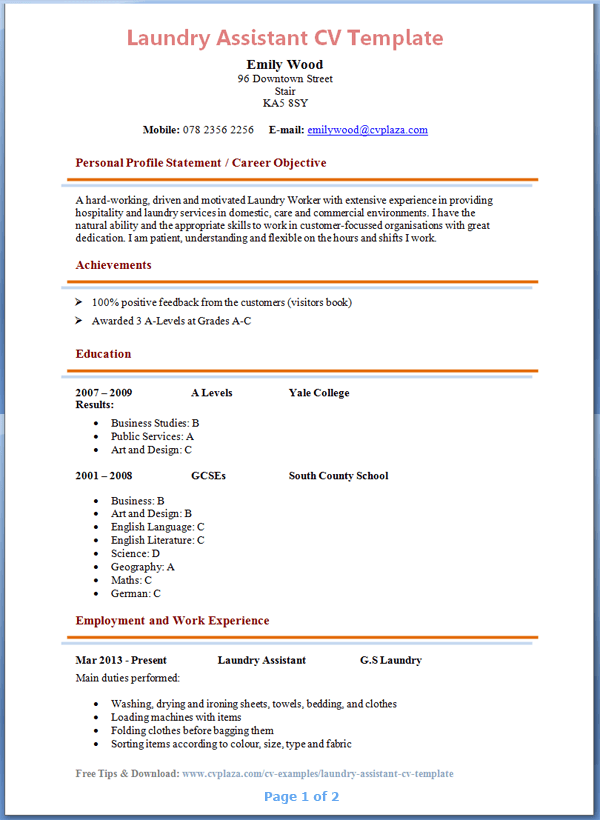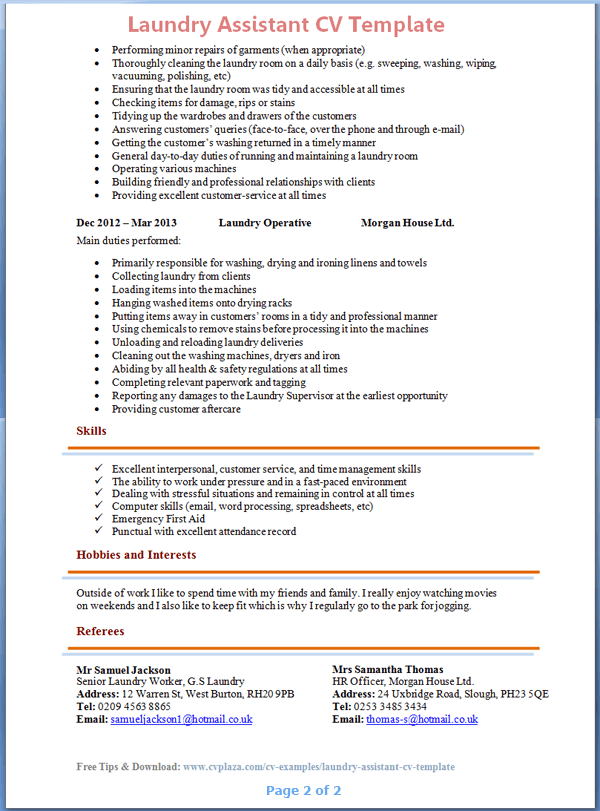 Download
Click here to download the above CV Sample.
COLLECTION: You may also want to browse through our collection of Free CV Templates and download any of the editable CVs to create your own (available in Microsoft Word format and convertible to PDF).
Top CV Tips and Guidelines
Ensure that you mention all the skills that are required to do the job such as communication and customer service skills, multitasking and working under pressure.
You should mention on your CV, or on the accompanied Cover Letter, all the experience you have in the laundry (including the machines and equipment that you have used) whether that was in commercial or domestic environments.
Good Luck!
Written by Sobhan Mohmand
Sobhan is a qualified Careers Advisor and Professional CV Writer with over 10 years of experience in helping job seekers get a job. He is a Member of the Careers Development Institute (CDI) and is listed on the official UK Register of Career Development Professionals. He holds a Level 6 Diploma in Career Guidance and Development (QCF).