I am a confident and articulate Diplomat with over eight years' experience in the public sector. My career in public service started at the Foreign & Commonwealth Service where I became the Operations Manager to lead a team of ten people assigned to process visa applications. I have since been promoted to become a Diplomat based at the British Embassy in Geneva where I am currently promoting UK trade interests across the continent.
| | |
| --- | --- |
| Jan 2012 – Present | Diplomat Foreign & Commonwealth Office- Geneva |
Main duties performed:
Visiting different countries around the world to build friendly relationships with other governments and promoting UK interests
Holding talks with representatives from EU member states regarding Brexit and the future of UK-EU relationships
Being involved in negotiations and brainstorming sessions regarding increasing UK exports to Switzerland
Conducting extensive research on potential business opportunities in Europe
Producing reports on the ways in which British industries could be expanded
Sept 2008 – Dec 2011
Operations Manager FCO, London
Main duties performed:
Managing a team of 10 civil servants in granting (or rejecting) visa extension and conversion applications
Ensuring work is carried out in accordance with strict adherence to governmental directives regarding immigration policy
Writing reports highlighting statistics on the number of successful and unsuccessful visa applications and job market destinations for non-UK nationals
Trained new staff on the use of specialised software currently being used
Education
| | | | |
| --- | --- | --- | --- |
| 2003 – 2007 | BSc Business, Management & Public Policy | Aston University | Grade achieved: 1:1 |
Relevant Modules:
Social Problems and Public Policy A & B
People & Organisations
Business Policy
Modern British Governance
2001 – 2003
Results: English: A Maths: B Economics: B
A Levels
Queen's College
Qualifications
Level 3 Certificate in Communication: Speaking in Public – LAMDA
Attended a 4-day "Presenting Skills" workshop conducted by Body Talk (2008)
Skills
Presentation Skills: Adept at presenting extensive as well as intensive data to various kinds of people from all backgrounds and nationalities.
Time management skills: Skilled at juggling a multitude of tasks and completing them before their deadlines.
Report writing skills: Confident in producing accurate and timely reports written with my audience in mind (who could be foreign nationals)
IT skills: Formally accredited in using the entire Microsoft Office suite and having excellent working knowledge of specialised software used to process passports and visa applications.
Hobbies and interests
In my free time, I enjoy watching the news and documentaries in order to keep myself informed about current affairs and the latest developments on the international market. I also enjoy travelling, reading the Economist and socialising with my family and friends.
References
Mrs Anna Wilders
Senior Civil Servant, FCO (Geneva)
Address:
9 Green Rd, Kent, KE8 2YQ
Tel:
0744 6579 4590
Email:
[email protected]
Mr Ryan Peterson
Manager, FCO (London)
Address:
17 Wild St, Enfield, E19 3QP
Tel:
0793 5682 0893
Email:
[email protected]
Please note: the above CV Example is presented in the UK format and layout.
Preview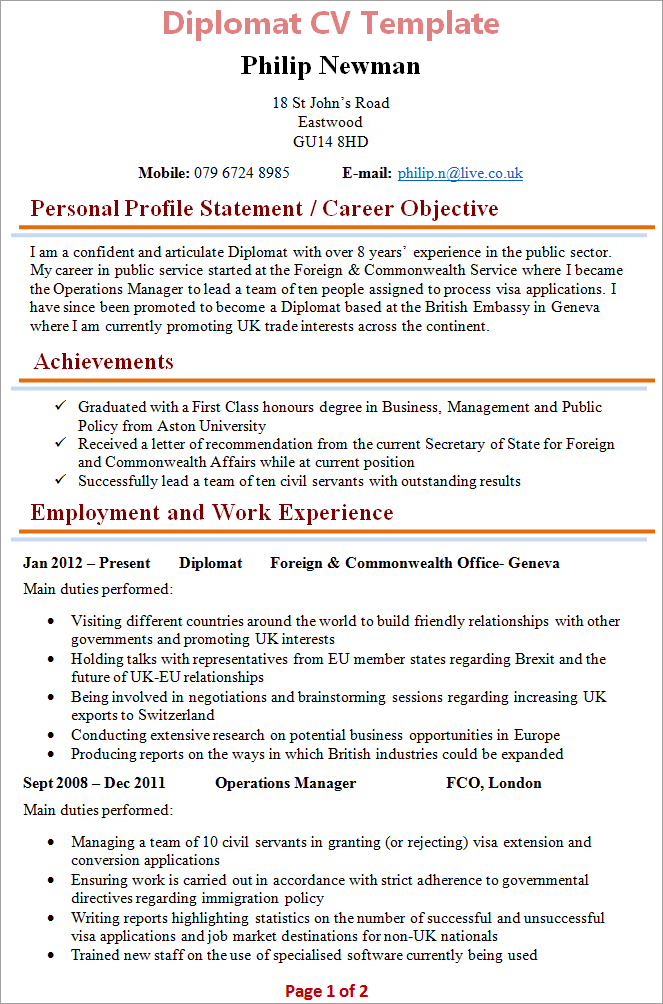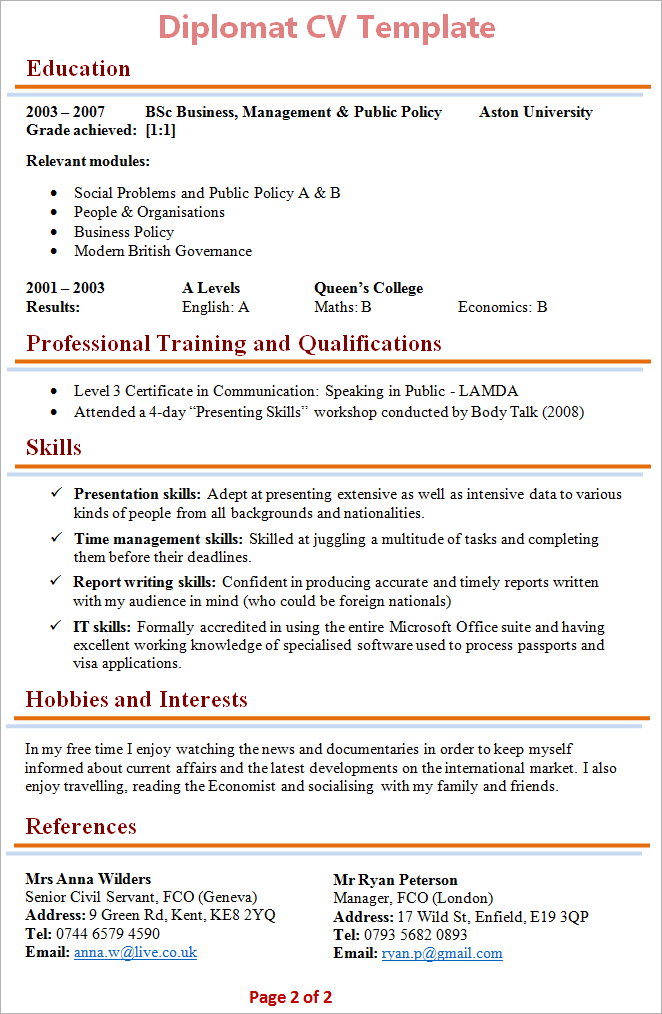 Download
Click here to download the above CV Sample (blank).
COLLECTION: You may also want to browse through our collection of Free CV Templates and download any of the editable CVs to create your own (available in Microsoft Word format and convertible to PDF).
Tips
Travelling: It is very likely that your job as a Diplomat will involve a lot of travelling from one city or country to another in order to attend events or meeting with foreign government officials. Your CV and your Cover Letter are good places to indicate your willingness to travel, meet new people and your flexibility to work across multiple locations both nationally and internationally.
Good Luck!
Written by Sobhan Mohmand
Sobhan is a qualified Careers Advisor and Professional CV Writer with over 10 years of experience in helping job seekers get a job. He is a Member of the Careers Development Institute (CDI) and is listed on the official UK Register of Career Development Professionals. He holds a Level 6 Diploma in Career Guidance and Development (QCF).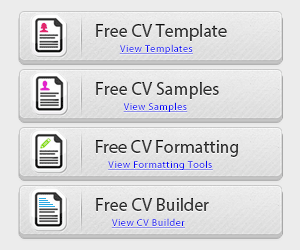 SPONSORED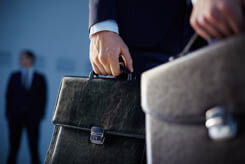 OVERVIEW
SALARY RANGE
£25.000 – £45.000

ENTRY
Degree or Work Experience

WORKING HOURS
37+ hours per week
Competencies
Communication Skills
Ability to communicate ideas and concepts clearly and effectively to a variety of different people from all backgrounds

Diplomacy
Using appropriate techniques to move others to action or to gain agreements

Interpersonal Skills
Excellent interpersonal skills to interact with others and build new relationships

Leadership
Leadership skills to promote policies or implementing change

Writing Skills
Excellent writing skills to write clear and concise reports for government workers

Vision
Having a strong foresight for the direction in which things are going
Related Resources