| | |
| --- | --- |
| Mar 2016 – Present | Member of Parliament (MP) The Workers' Party |
Main duties performed:
Meeting with electorate on a monthly basis to discuss any issues they might have in their constituency
Bringing up constituents issues during board meetings and parliamentary sessions
Campaigning on behalf of my party during election time
Reading and drafting proposed legislation
Conducting research both independently and via researchers on various issues in a bid to better understand the people's needs
Oct 2014 – Feb 2016
Councillor Hackney Council
Main duties performed:
Improve the safety and quality of life of residents in my local constituency
Liaising with local officers to tackle issues affecting the community, such as housing, social services, schools, the environment and transport
Visiting residents, inquiring about their problems and offering solutions
Jan 2011 – Sept 2014
Lecturer Durham University
Main duties performed:
Prepared lecture slides, module description, tutorials, assignment briefs and other course material before the new academic year commences
Delivered exciting and engaging presentations
Graded students' essays, exams and dissertations
Supported students during the course of the module via one-to-one/group consultations, email and/or Skype support
Qualifications
Public Speaking and Communications, College of Public Speaking (2015)
Politics: An Introduction – JKD (2014)
Skills
Presentation skills: Adept at delivering effective and engaging talks and presentations to a broad range of audiences
People skills: I thrive in situations where I can meet people, have informal conversations and offer my assistance to them
Excellent memory: Ability to remember intricate details without having to refer to notes
References
Mr John Kirby
Executive, The Workers' Party
Address:
3 High St, Chester, CKL8 1YT
Tel:
0744 4568 5743
Email:
[email protected]
Mrs Angela Kelly
Senior Academic, Durham University
Address:
7 Almond St, Leeds, LE89 3YX
Tel:
0777 5451 0567
Email:
[email protected]
Please note: the above CV Example is presented in the UK format and layout.
Preview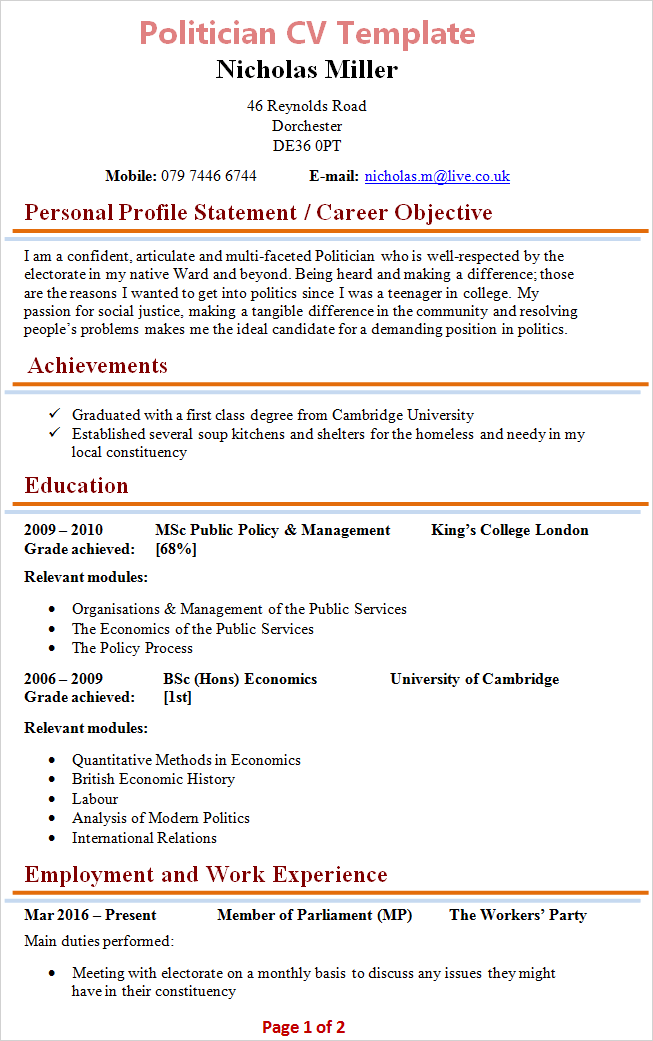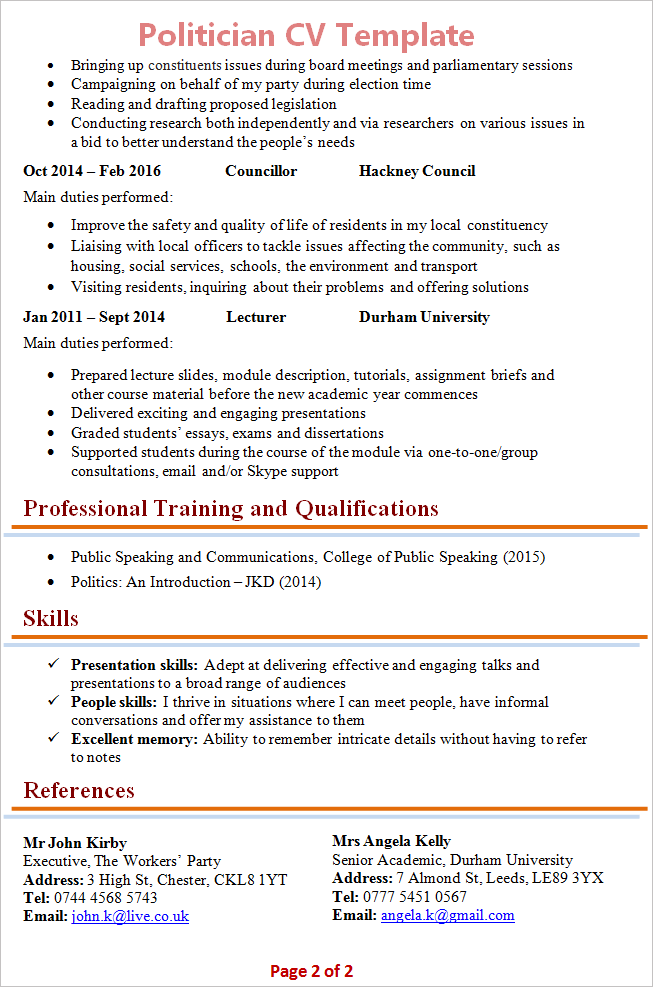 Download
Click here to download the above CV Sample (blank).
COLLECTION: You may also want to browse through our collection of Free CV Templates and download any of the editable CVs to create your own (available in Microsoft Word format and convertible to PDF).
Tips
Making a difference: The key reason why many individuals become Politicians is to make a real difference in the lives of people in their community or country. As a public representative, it is your duty to look after the needs of your constituents and resolve their problems. Your CV should, therefore, mainly focus on the "human side" of politics, including your passion for helping people, getting satisfaction from making a positive difference in the community and proudly representing your local area in national politics.
Good Luck!
Written by Sobhan Mohmand
Sobhan is a qualified Careers Advisor and Professional CV Writer with over 10 years of experience in helping job seekers get a job. He is a Member of the Careers Development Institute (CDI) and is listed on the official UK Register of Career Development Professionals. He holds a Level 6 Diploma in Career Guidance and Development (QCF).
OVERVIEW
SALARY RANGE
Varied

ENTRY
Degree and Work Experience

WORKING HOURS
37+ hours per week
Competencies
Communication Skills
Ability to communicate effectively with a broad range of people, including government officials, council staff, media and the general public

Caring
Being caring for the needs of all the constituents, particularly of the homeless, elderly, sick and vulnerable members of the community

Interpersonal Skills
Excellent interpersonal skills to communicate and interact with others

Organisational Skills
Keeping organised and focus on the important tasks at hand

Problem-solving
To identify and solve social problems in the constituency

Public Speaking
Giving speeches and presentations to a large audience and group of people
Related Resources