Sobhan Mohmand, Career Expert

29 March 2023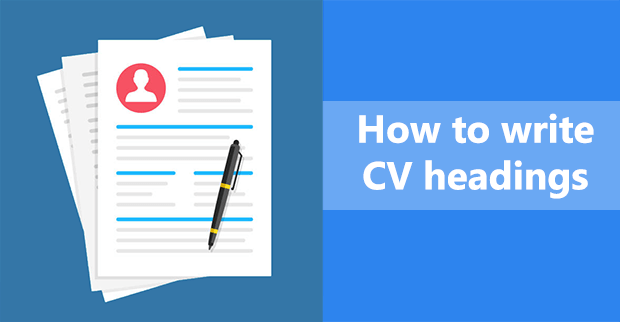 What is a CV heading?
A CV heading is the top part of your CV and it is the first thing that employers will see when they review your document. A good CV heading consists of your name and contact details, without the inclusion of 'Curriculum Vitae' or 'CV' at the top.
One recruiter rightly commented, "Don't state the obvious, we know it's a 'Curriculum Vitae' so you don't need to put it at the top of the document."
Table of contents
---
Does my CV need a heading?
Yes, your CV must have a header.
Just like all books require a title that explains what the book is about, a CV heading should instantly identify the owner of the document and how to contact them.
Headings and subheadings guide the reader through your document and help them find and absorb information effortlessly.
---
Examples of bad CV headings
Let's begin with how not to write a CV heading.
Over the years, applicants have written different things as the headings of their CVs. Some are good, some bad and others are just ugly!
The heading 'Curriculum Vitae' or 'CV' (bad)

This is a popular one.
Traditionally, CVs were always headed 'Curriculum Vitae' or 'CV' but this practice has become out of date in modern times, especially since the turn of the century.
Four reasons not to use 'Curriculum Vitae' as the header of your CV:
1. It's obvious to the reader what the document is – Julie Gray, a professional CV writer, gave the analogy of labelling a shopping list: "Don't put 'Curriculum Vitae' or 'CV' at the top because everyone knows what they're looking at. You don't write 'Shopping List' above a list of bread, milk, beans and toilet roll; your CV does not need to be labelled either." (Get That Job With The Right CV: Teach Yourself, Pg.19).
2. It's a waste of valuable space – Remember, your CV should not be longer than two A4 pages so every bit of space on your CV is precious, especially the upper half, of the first page of your CV. Why waste it on meaningless titles that do not add any value to your application?
3. It makes locating your CV more difficult – If the header does not contain something unique about you (i.e. your name) it will not be easily identifiable and employers have to work extra hard to try to locate your CV in the pile of other generic CVs. Furthermore, research has shown that employers only spend around 30 seconds reviewing each CV so they definitely don't have free time to play hide and seek with CVs!
4. It's old-fashioned – Ever heard of the expression 'move with the times'? It means to change your ideas or behaviour as the world or the situation changes. The 'Curriculum Vitae' heading tells the recruiter that the applicant has not moved with the times and is unaware of the latest trends in the recruitment industry.
Blooper: One candidate couldn't even get the spelling right and actually headed his CV 'Kuriculam Vitay'! Needless to say, they weren't invited for a job interview. (James Innes, The CV book, our definitive guide to writing the perfect CV, Pg.50).
The heading 'Confidential' (ugly)

"Confidential" is another heading that recruiters hate to see on CVs!
Recruiters are aware that a CV by its very nature will contain some sensitive or personal information so they are unlikely to pass on your CV to people not involved in the recruitment or candidate selection process.
Let's face it; your CV probably does not contain top-secret or highly sensitive information about artificial intelligence projects or the Pentagon's secret UFO programs.
It is just one among the many millions of other CVs that are being read and reviewed on a monthly basis during the recruitment process.
It should be assumed that employers treat everyone's personal details with the utmost care, regardless of whether the documents are labelled "confidential" or not.
---
Components of an effective CV heading
Name – written in big, bold letters and centred on the page.
Address – written as concisely as possible, consisting only of your house number, street name, city and postcode.
Telephone number – use your mobile phone so that employers can contact you 24 hours a day, 7 days a week.
Email address – Use your personal e-mail address rather than your work e-mail address and make sure it's professional.
LinkedIn profile(optional).
Link to your personal website or portfolio(optional).
---
How to write a great CV heading
At the top of the first of your CV, put your full name. It should be in bold type, at a larger font size than the rest of the text and centred on the page to increase the impact.
Leave several lines of white space below this heading, before you list your personal details such as your address, telephone number and email address.
Consider below the CV header of Carlos Norris (NOT related to the legendary Chuck Norris):

What makes Carlos's CV heading good?
By writing his name in big bold letters and centred on the page, he has made it easier for employers to instantly identify who the CV belongs to.
He has written his contact details in a concise and short format.
He has not wasted additional valuable space in his CV by writing "Curriculum Vitae", "Confidential" or "Résumé" at the top of the document.
---
Top tips for writing CV headings
1. Do not CAPITALISE the text of your header as it gives the impression that you're shouting which is off-putting and it also makes the text more difficult to read.
2. Use the name that you are known by rather than your full legal name as it appears on your birth certificate. For example, if you're known as Ruby Philips it can be quite confusing for others if your CV is entitled, 'Ruby Karla Sarah Phillips'!
3. Do not use nicknames it makes you look less professional in the later stages of the application process when your actual name is required.
4. Do not use prefixes such as 'Name' or 'Address', as these are obvious. It is fine to put 'Mob:', 'Tel:' or 'Email:' in front of your telephone number and email address.
---
How to format your CV heading
1. Use boldface to emphasise key information (i.e. prefixes)
2. Use a larger font for your name and normal font for your contact details
3. Keep it short and concise; you will secure a job interview based on your qualifications, skills and experience rather than your name or contact details.

---

Best font to use for your CV heading

It's not necessary to use different fonts for the heading and main text of your CV, as long as you use other formatting techniques such as boldface and larger font size to contrast between the heading and main text.

The best fonts to use for your CV include Lucida Sans, Helvetica, Arial, Verdana, Cambria and Times New Roman. They are professional, mainstream and easy to read.

If you do decide to use a different font for your headings, your best bets are Verdana or Tahoma of the sans serif typeface families.

For example:

---

What headings should be on a CV?

Besides the main heading of your CV, it also requires a number of subheadings for the different sections of the document.

A typical CV format consists of the following sections:

1. Personal information (already discussed above)

This section contains your name and contact details.

2. Personal profile

Your personal profile statement is a short statement that outlines your skills, abilities, education and work experience to date. It is an overview of what you can offer to the employer and their organisation.

3. Achievements

The achievements section of your CV contains a list of your most important achievements that are relevant to do the job.

You can include a lot of accomplishments in this section, including awards, promotions, excellent grades, increased sales or productivity, etc.

4. Education

The education section is a summary of your educational background to date. All entries should be in chronological order (i.e. most recent entries first).

You may put this section before or after the work experience section, it depends entirely on where you are in your career for which job you are applying for. As a rule of thumb, place the education section before the employment section if you do not have a lot of relevant work experience.

5. Work experience

The work experience section should contain all the relevant work experience that you have to date. This may include work in full-time, part-time, permanent, temporary, paid, unpaid, placements and internships positions.

You can also label this CV subheading as "Employment" or "Employment history."

6. Qualifications

The qualifications section contains a list of your qualifications, particularly those that are relevant to the job.

The qualifications section is sometimes combined with the education section. There is no right or wrong way of doing this. You may completely remove this subheading and combine it with the education section with the heading:

"Education and qualifications"

7. Skills

The skills and abilities section is located on the second page of your CV and contains a brief list of your key skills, abilities and competencies.

Examples of skills that you can include in this section are:
IT skills
Interpersonal skills
Organisational skills
Problem-solving
Driving
8. Hobbies and interests
You can use the hobbies and interests section of your CV to demonstrate that you're a well-rounded person who is engaged in extracurricular activities and in the community.
9. References
The references section should be the last subheading of your CV.
You can either write the complete contact details of your two referees, or you can simply write: "References are available upon request."
Both methods are acceptable.
---
How to format subheadings of a CV
Use boldface to make the subheadings stand out.
You may use some minimal design features (i.e. thin lines) and colours (black, white, grey and navy blue) to enhance your subheadings and make your CV more visually appealing.
Keep the font size of the subheadings the same as the main text; too many inconsistencies in the font size can make your CV look cluttered and less professional.
---
Summary
A CV heading is the main thing that a recruiter will see when they review your CV. It should consist of your name – written in large, bold letters and centred on the page – followed by your contact details. It should not be headed 'CV', 'Curriculum Vitae', 'résumé or anything else as it's obvious what the document is.
Furthermore, your CV is made up of different sections so you also need to write subheadings for each of them to make it easier for recruiters to find and absorb key information. You may use boldface and other simple design features to enhance the visual presentation of your CV and make it stand out from the crowd.
---
Good luck with your job search!