| | |
| --- | --- |
| Oct 2014 – Present | Production Assistant BBC Academy |
Main duties performed:
Independent and collaborative research on various stories/locations
Liaising with professionals to create and develop media content
Organising and overseeing the smooth running of shoots
Assisting with the capturing of sound and visual footage
Doing post-production work on the recorded footage (editing, mixing, sequencing)
Proofreading, analysing, amending and interpret scripts
Pitching programme ideas to internal colleagues and external marketing companies
Coordinating fundraising events and special occasions
Securing rights and negotiating with writers for new screenplays
Organising meetings and interviews between producers, photographers, models, stylists, artists, actors and other third-party professionals participating in projects
Taking care of the needs of the crew and presenters on the studio floor
Maintaining a professional attitude when dealing with stressful situations
Scheduling room, lab and studio bookings
Processing and hiring out media equipment
Designing and printing labels for equipment
Jan 2012 – Sept 2013
Production Trainee Channel 5 Broadcasting Ltd
Main duties performed:
Coordinating with the producer, director, and departments in planning meetings
Working closely with the editors on footage selection, editing and conversion
Responsible for being present at all production rehearsals
Responsible to schedule time lists and logos for post-production
Preparing and distributing briefing notes
Log Videos/DVDs and maintaining the media library
Maintain the filing systems and office supplies
Brainstorming new ideas for filming
Utilising social media to promote projects
Writing minutes during meetings and conduct regular administrative tasks
Education
| | | | |
| --- | --- | --- | --- |
| 2010 – 2014 | BA (Hons) Film Production | Bournemouth University | Result: 1:1 |
Relevant Modules:
Cinematography
Media Theory and Context
Research Methods and Applications
Applied Production
Professional Development
| | | | |
| --- | --- | --- | --- |
| 2009– 2010 | Diploma in Creative Media Production | South Thames College | Result: Level 4 HNC |
Qualifications
Certificate for a 7-week "Shooting Course" with Film Oxford Digital Media
ECDL (Level 2)
Skills
Excellent experience in sound and video recording
Excellent knowledge of production techniques for studio filming
Intermediate to advanced knowledge of Final Cut Pro, Adobe Premiere, Movie Magic, Adobe After Effects, Photoshop and other post-production editing software
Experience of working in a fast-paced and demanding work environment
Creative skills in animation, design and visualisation
Great level of self-organisation and adaptability
Administrative and IT skills including use of Excel spreadsheets for budgeting
Hobbies and interests
I enjoy spending my free time keeping up-to-date with current affairs via TV and the Newspaper and I also regularly attend theatre performances across the country. I also attend a Zumba class twice a week as I have a passion for socialising, making new friends and keeping fit.
References
Mr Paul Harman
Production Manager, BBC Academy
Address:
14 Floor Rd, Devon, DU1 5DX
Tel:
0743 6573 7895
Email:
[email protected]
Mrs Sandra Cunningham
Supervisor, Channel 5 Broadcasting Ltd
Address:
6 Summer Rd, Leeds, LU0 4LZ
Tel:
0740 7765 0090
Email:
[email protected]
Please note: the above CV Example is presented in the UK format and layout.
Preview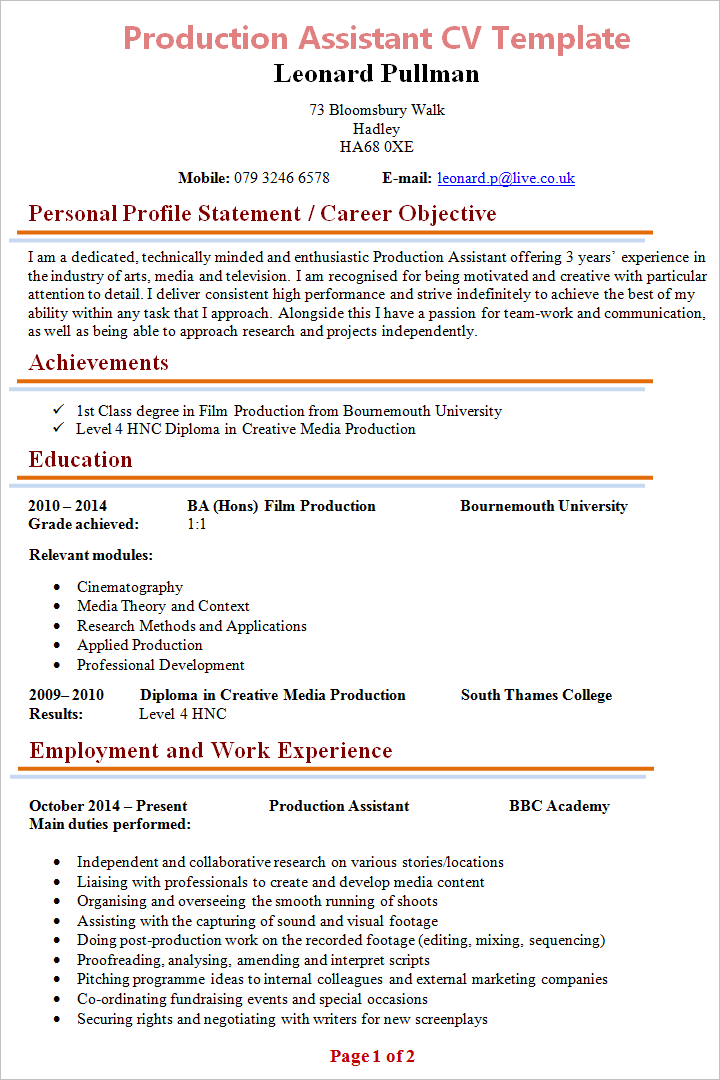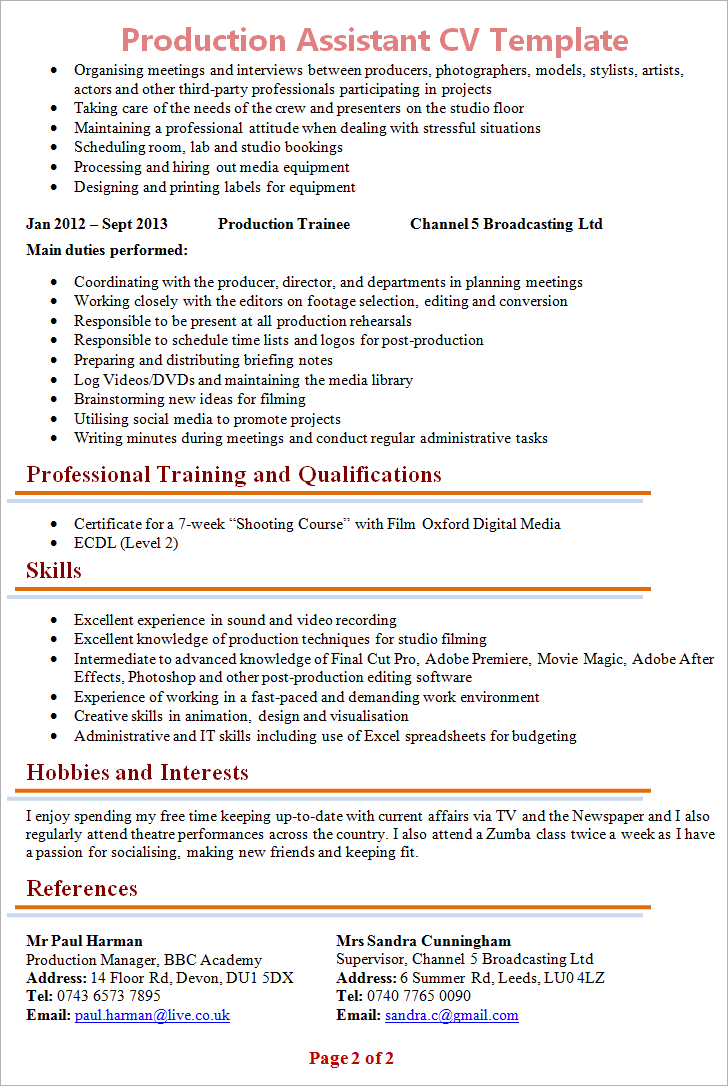 Download
Click here to download the above CV Sample (blank).
COLLECTION: You may also want to browse through our collection of Free CV Templates and download any of the editable CVs to create your own (available in Microsoft Word format and convertible to PDF).
Tips
Passion: The proactive contribution of a Production Assistant is critical to the success of any filming project and it is, therefore, vital that you have a great passion for what you do and you should highlight this on your CV.
Willingness to learn: The Media, Film and TV industry is very broad, and it is unlikely that your new employer will be employing exactly the same software, programs and equipment that you have used before. You should place emphasis on your CV that you are a quick learner and are always willing to learn new things.
Good Luck!
Written by Sobhan Mohmand
Sobhan is a qualified Careers Advisor and Professional CV Writer with over 10 years of experience in helping job seekers get a job. He is a Member of the Careers Development Institute (CDI) and is listed on the official UK Register of Career Development Professionals. He holds a Level 6 Diploma in Career Guidance and Development (QCF).
OVERVIEW
SALARY RANGE
£14.000 – £26.000

ENTRY
Work Experience

WORKING HOURS
38+ hours per week
Competencies
Generating Ideas
Ability to "think outside the box" and come up with novel ideas

Computing Skills
Having in-depth knowledge of computers and editing software

Organisational Skills
Excellent organisation skills to balance a heavy workload

Teamwork
Working with people with diverse skill sets and different backgrounds to achieve a common goal

Writing Skills
Excellent writing skills to write clear and concise briefs, scripts and reports

Technical Knowledge
Possessing sound and specialist knowledge and experience of media production
Related Resources