Sobhan Mohmand, Career Expert

10 May 2021
Tip: Use the Administrative Assistant CV Template below as an example to help you write your own personal and fully-tailored CV.
Joseph Watkins
81 Abingdon Road
Brampton
CA8 5FB
Mob: 079 5347 8161
Email: [email protected]
Personal Profile Statement / Career Objective
I am a hard-working, motivated and enthusiastic Administrative Assistant with a proven track-record in business administration and project management. I always strive to achieve the highest standard possible, at any given task and in any situation. I am accustomed to working in a challenging and fast-paced environment, particularly when dealing with multiple projects and priorities at the same time.
Achievements
Achieved the highest Distinction grade in Business Administration studies
Employee of the Month (February 2011, ICC Accounting)
Education
| | | | |
| --- | --- | --- | --- |
| 2008 – 2010 | Level 4 NVQ Diploma in Business and Administration | The Open University | Grade achieved: Distinction |
Relevant Modules:
Manage own performance in a business environment
Work responsibilities
Events, meetings and activities
Support sustainability in a business environment
Manage information and data
Information technology (IT)
Leadership and management
Handling problems and operational issues
2006 – 2008
Results: English: B Maths: B Business: A
A Levels
South West College
Employment and Work Experience
| | |
| --- | --- |
| Apr 2010 – Present | Administrative Assistant Warwick University |
Main duties performed:
Giving full administrative and secretarial support to the Officer Manager
Drafting formal letters using Microsoft Word
Deal with enquiries from all staff, students and visitors in a courteous and professional manner (face-to-face, over the phone and through email)
Using Microsoft Excel to record student performance in spreadsheets
Proofreading content to be published in publications and online
Printing, photocopying, laminating, binding, labelling and filing of documents
Inviting guests to attend University Open Days and special events
| | |
| --- | --- |
| Dec 2009 – Apr 2010 | Office Admin Assistant ICC Accounting |
Main duties performed:
Ensuring the office is tidy and organised at all times
Handling post and deliveries
Taking messages and dealing with enquiries/concerns at all levels
Ensuring data is backed up at the end of every working day
Liaising with suppliers to order stationary and other office equipment
Provide effective administrative support to the Data Manager
| | |
| --- | --- |
| Sept 2009 – Dec 2009 | Receptionist Corner Stone Ltd. |
Main duties performed:
Act as the first point of contact to all staff, customers and members of the public
General Administrative duties (printing, photocopying, filing, etc)
Arrange meetings between stakeholders
Dealing with telephone calls/queries in a professional manner
Maintaining accurate records of visitors and client activities
Effectively liaising matters with internal and external stakeholders such as staff, clients, suppliers, VIPS, Press, etc.
Professional Training and Qualifications
Level 2 ECDL – BCS
Level 2 First Aid at the Workplace – HSE
Level 2 IT Users Certificate – CLAiT Plus
Level 1 Award in Personal Safety Awareness – NCFE
Skills
Outstanding interpersonal and communication skills at all levels
Professional typing skills (65 words per second with 98% accuracy)
Excellent IT Skills (Microsoft Office package)
Outstanding Telephone manners
The ability to multitask and prioritise/organise work with high efficiency
Hobbies and interests
In my spare time, I enjoy reading and going to the cinema, and I love spending time with family and friends over the weekend. I have a major interest in computing, and I regularly go to the gym to keep myself active and healthy.
References
Mr Jonathan Cooke
Office Manager, ICC Accountings
Address:
97 Park Row, Bolton, SY4 5AB
Tel:
0223 017 7835
Email:
[email protected]
Mr Jake Goddard
Admin Team Leader, Warwick University
Address:
44 Crescent Avenue, Drench, IV47 3RS
Tel:
0080 5432 8745
Email:
[email protected]
Please note: the above CV Example is presented in the UK format and layout.
Preview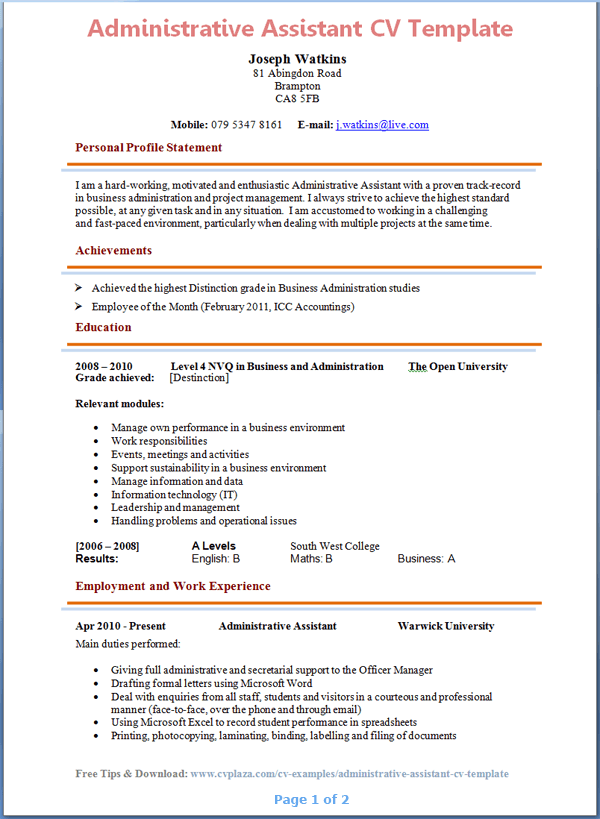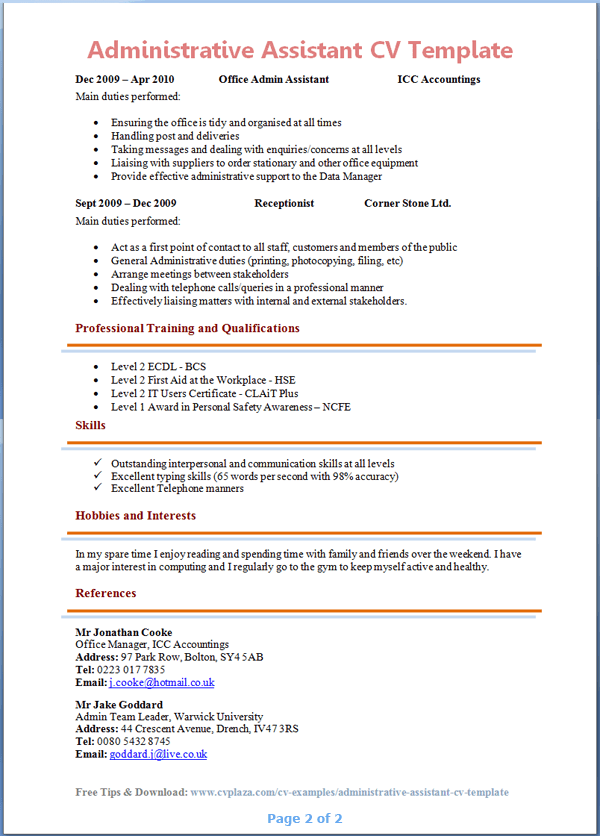 Download
Click here to download the above CV Sample.
COLLECTION: You may also want to browse through our collection of Free CV Templates and download any of the editable CVs to create your own (available in Microsoft Word format and convertible to PDF).
Top CV Tips and Guidelines
Always ensure that your CV is no more than two pages long
A key requirement for this job position is having excellent "organisational skills" therefore ensure you have given real-life examples of your organisational skills.
How to write a CV with no experience? In this case, you would want to put more emphasis on your education, skills, personal qualities and achievements rather than on your work experience. Ideally, try to find a voluntary part-time position in an admin role to gain experience and also potentially attain a good employment reference.
Good Luck!
Written by Sobhan Mohmand
Sobhan is a qualified Careers Advisor and Professional CV Writer with over 10 years of experience in helping job seekers get a job. He is a Member of the Careers Development Institute (CDI) and is listed on the official UK Register of Career Development Professionals. He holds a Level 6 Diploma in Career Guidance and Development (QCF).