Sobhan Mohmand, Career Expert

15 Apr 2021
Tip: Use the Stock Assistant CV Template below as an example to help you write your own personal and fully-tailored CV.
Reece O'Brien
3 David's Lane
Riley
PA27 6PP
Mob: 000 1799 4122
Email: [email protected]
Personal Profile Statement / Career Objective
I am a loyal and hardworking Stock Assistant who enjoys being part of a team but can also work well on his own. After gaining 10 GCSEs, I decided to find a job and work for a living. I have more than two years' of experience in working in shops, and I am looking to work in a place where I can utilise my skills and provide excellent customer service.
Education
2001 – 2008
GCSEs
Brookburn Community School
Results: 10 GCSEs at Grades A*-C.

ICT (B)
Economics (B)
Art and Design (A)
Geography (C)
History (C)
Religious Studies (B)
Design and Technology (C)
Business Studies (C)
Psychology (C)
Journalism (C)
| | | |
| --- | --- | --- |
| 1994 – 2001 | School | Barlow Hall Primary School |
Employment and Work Experience
| | |
| --- | --- |
| Mar 2013 – Present | Stock Assistant 1&1 Shopping |
Main duties performed:
Primarily responsible for stock and filling shelves with new products
Accepting and checking mail and deliveries
Providing excellent customer service at all times
Helping customers and answering customers queries when needed
Flattening unused boxes and packaging and disposing of it correctly
Assisting with promotions in and around the store
Stock replenishment and labelling
Removing excess stock back to the warehouse
Pulling products forward when the products at the front have finished
Displayed goods neatly and tidily
Ensuring the shop is clean and tidy at all times
Loading and unloading trolleys and delivery trucks
Using pallet trucks to move deliveries around
Sweeping and mopping floors (when required)
Helping customers to pack bags at the checkout
Adhered to Health & Safety regulations throughout the day
Organising stock in the store room
Ensuring the shop is presentable and ready to open in the morning
| | |
| --- | --- |
| Sept 2012 – Feb 2013 | Shelf Stacker / Shelf Filler Tesco |
Main duties performed:
Cleaning and stacking shelves with new stock
Pricing, scanning and labelling products
Keeping all the shelves and products in an organised and presentable state
Helping customers to find the products they want
Racking away goods and products in the warehouse
Conducting stock checks and arranging goods for delivery
Rotating the goods depending on the 'sell by' or 'best before' date
Liaising with the rest of the team to ensure shelves are not left empty
Report any issues or problems to the Floor Manager
Skills
Excellent communication skills
The ability to work in a busy environment
Dealing with stressful situations in a polite and professional manner
ICT
Hobbies and interests
My hobbies include playing football, exercising in the gym and swimming.
References
Mr Ali Ahmed
Store Manager, 1&1 Shopping
Address:
86 Prestwick Road, Inshore, PH2 8YL
Tel:
000 2372 4915
Email:
[email protected]
Mr William Swift
Stock Manager, Tesco
Address:
3 Lamprey Road, The Deacon, TN26 8YT
Tel:
000 6641 7581
Email:
[email protected]
Please note: the above CV Example is presented in the UK format and layout.
Preview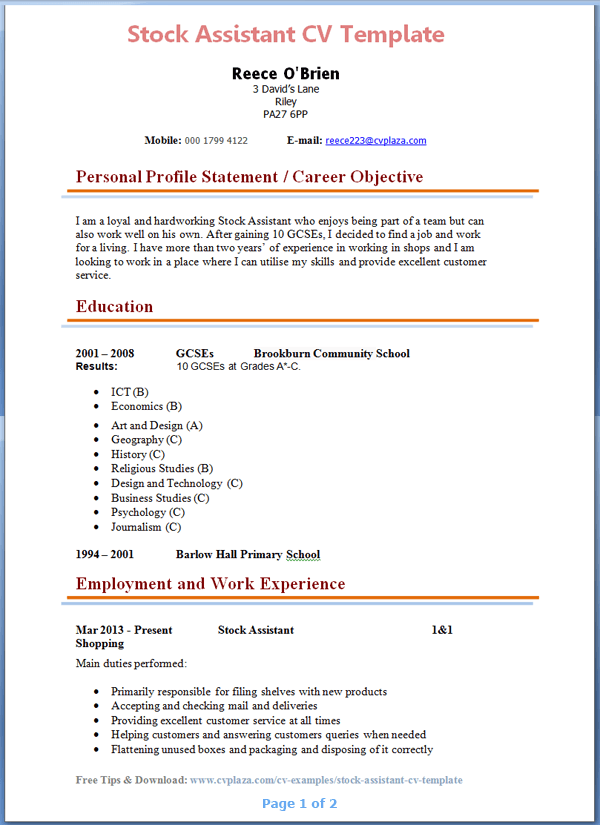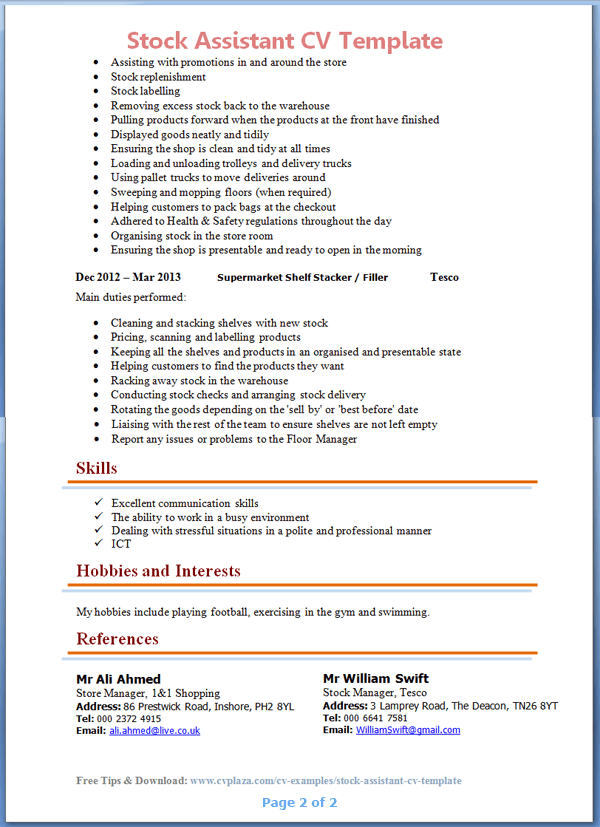 Download
Click here to download the above CV Sample.
COLLECTION: You may also want to browse through our collection of Free CV Templates and download any of the editable CVs to create your own (available in Microsoft Word format and convertible to PDF).
Top CV Tips and Guidelines
If applicable: mention on your CV your ability of "working in a busy environment" and being "able to work under pressure" since these are some critical attributes that are required to do the job well.
You could make a comment about your level of fitness (under the Hobbies and Interests section) as a Stock Assistant will be working long hours standing, walking, lifting, carrying and replenishing stock/goods.
Good Luck!
Written by Sobhan Mohmand
Sobhan is a qualified Careers Advisor and Professional CV Writer with over 10 years of experience in helping job seekers get a job. He is a Member of the Careers Development Institute (CDI) and is listed on the official UK Register of Career Development Professionals. He holds a Level 6 Diploma in Career Guidance and Development (QCF).