Sobhan Mohmand, Career Expert

18 Jan 2021
EXAMPLE 1:
3 Harvest Road
Ramsey
R24 5SB
16 April 2017
Ms Theresa Lee
Director
Matthew and Son
17A North Street
Shrewsbury
SE24 9GL
Dear Ms Lee,
Re: Solicitor (Ref: MN2826)
I was recently looking through the vacancies section of your company newsletter when I came across the full-time Solicitor position at Matthew and Son. I was extremely excited to have seen this post advertised, and I now hope that after reviewing my application you too will consider me a serious candidate for this role.
As can be seen from my CV, I hold all of the academic qualifications that are requested in the job description. Additionally, my previous work experience as an Accounts Clerk at Business Accounts Ltd. has given me additional hands-on experience in working with clients. My excellent organisational skills mean that paperwork is always filed away correctly and that I can make even the largest workloads more manageable. I work well in teams, and my professional demeanour enables me to effectively work with your most valued clients.
I have a great love and passion for my work; hence clients will always receive the best possible service from me. I am comfortable using computer systems and email programs. I am a dedicated worker, and I am always willing to put in extra hours on tasks when needed.
Matthew and Son is a family-owned company with a team of legal representatives possessing expertise in different areas. They are the first choice for many when requiring legal advice and representation. I am very familiar with your company, and I would love to join your team of solicitors and make a real contribution to your business.
I have attached my CV, and I look forward to hearing from you to discuss my qualifications and work experience further.
Yours sincerely,
~ Signature goes here ~
Amelia Paterson.
Preview + comments: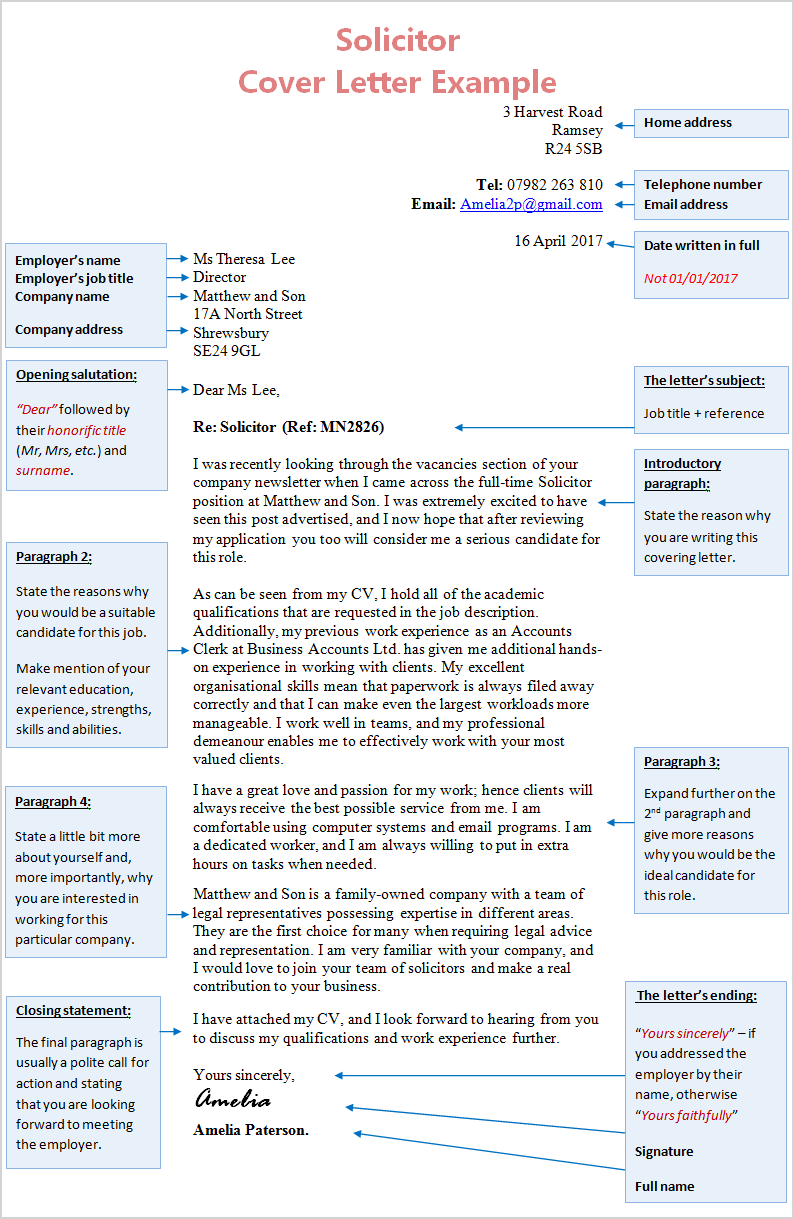 EXAMPLE 2:
26 Manor Road
Nuneaton
NS11 6BA
27 April 2017
Mr Luke MacDonald
Senior Manager
Barnes's Legal Firms
6 Wellington Street
Oldham
OH8 7DE
Dear Mr MacDonald,
Re: Solicitor (JU764)
I was thrilled when a colleague of mine informed me that you had a position opening for a new Solicitor, and I wish to be considered for this post.
I have studied LLB (Hons) Law at the University of London, and I am currently finishing off my two-year training contract with another firm of solicitors. Both my education and practical work experience have given me extensive knowledge around the legal system and how it impacts the society as a whole. I have gained the ability to work under pressure despite having to complete many activities by the same deadline. Additionally, I always keep myself up to date with the latest news and developments in government legislation.
Being a part of the debate society at the University has highly developed my communication skills, enabling me to communicate with a broad range of people effectively. This has given me the confidence to explain complex legal matters to those who are not familiar with them.
I am familiar with Barnes's Legal Firms public image and believe that I have what it takes to uphold your high, prestigious standard. I would become an essential member of your team and would always keep the clients' interests in mind. Being accepted for this job would be a fantastic opportunity for me, and I honestly feel that I will make a significant contribution to your firm.
I would really appreciate the opportunity to schedule a meeting with you to discuss my application and suitability for the job further. Thank you for your consideration; I look forward to speaking to you soon.
Yours sincerely,
~ Signature goes here ~
Liam Coleman.