I am a highly motivated, charismatic and professional Solicitor with over two years of experience in the legal sector dealing with a variety of legal cases related to criminal and commercial law, personal injury, family and civil disputes. I have excellent communication skills both written and oral as well as the ability to work individually and in groups. I have always had a great passion for the Law and I consistently endeavour to provide the best possible advice and support to my clients.
| | |
| --- | --- |
| Mar 2016 – Present | Solicitor Smith & Lawson Ltd |
Main duties performed:
Interviewing and advising clients on the law and legal issues relating to their cases and how to best proceed forward to ensure a successful outcome
Dealing with legal cases related to criminal law, personal injury, family divorce and custody, civil disputes, commercial and financial disagreements
Drafting and producing documents which meet the client's needs including contracts, application forms and letters
Completing naturalisation, immigration visas (student, spouse, fiancé, tourist and visitor) and other legal applications on behalf of the client
Representing the client in legal capacity
Preparing court proceedings and trial bundles
Attending court hearings with counsel and ensuring all documentation is in order
Negotiating with clients and other professionals to come to mutually-beneficial agreements in order to settle cases in the favour of clients
Dealing with insurance companies, law enforcement, legal professionals and other third parties to discuss specific cases when required
Keeping up to date with any changes in the law
Feb 2014 – Feb 2016
Trainee Solicitor Smith & Lawson Ltd
Main duties performed:
Interviewing potential new clients and providing free initial consultation
Dealing with cases involving civil litigation and employment law
Preparing visa and immigration application forms
Liaising with lawyers, barristers and other legal experts on a regular basis
Construction of legal documentation including letters, forms and contracts
Updating diaries and arranging meetings between clients and members of staff
Interviewing and advising clients on a variety of issues
Preparing documentation for court including forms, statements and drafts
Drafting witness statements and preparing grounds of appeal
Attending hearings with clients in an advisory, non-qualified capacity
Answering the telephone and responding to other forms of communication in a professional and timely manner
Keeping clear and concise records of costing and invoices
Ensuring all documentation is stored correctly
Qualifications
Level 3 Professional Diploma in Law and Practice – CILEx
Level 3 Certificate for Legal Secretaries – City & Guilds
Level 2 ITQ – The Chartered Institute for IT
Skills
Extensive experience of conducting internet legal research, including the use of legal databases such Westlaw and PLC
Creating a variety of legal documents and contracts for immigration, family, civil, commercial and corporate cases
Reviewing documents and reports for legal accuracy and providing high quality legal advice on a wide range of matters
Efficient typing speed of 67wpm (words per minute)
Hobbies and interests
I am an active member of my local hockey team, where I have taken an active organisational role within the team; organising events such as matches and team socials. This not only allows me to play the sport that I love but it is also a great way to meet new people and develop my team working and communication skills in the process.
References
Mr John Steward
Senior Solicitor, Smith & Lawson Ltd
Address:
43 Red Rd, Coldfield, CE8 1QT
Tel:
0723 4533 6784
Email:
[email protected]
Mrs Kelly Clark
Lecturer, University of Leeds
Address:
7 Summer Rd, Leeds, L90 3DE
Tel:
0680 3466 7865
Email:
[email protected]
Please note: the above CV Example is presented in the UK format and layout.
Preview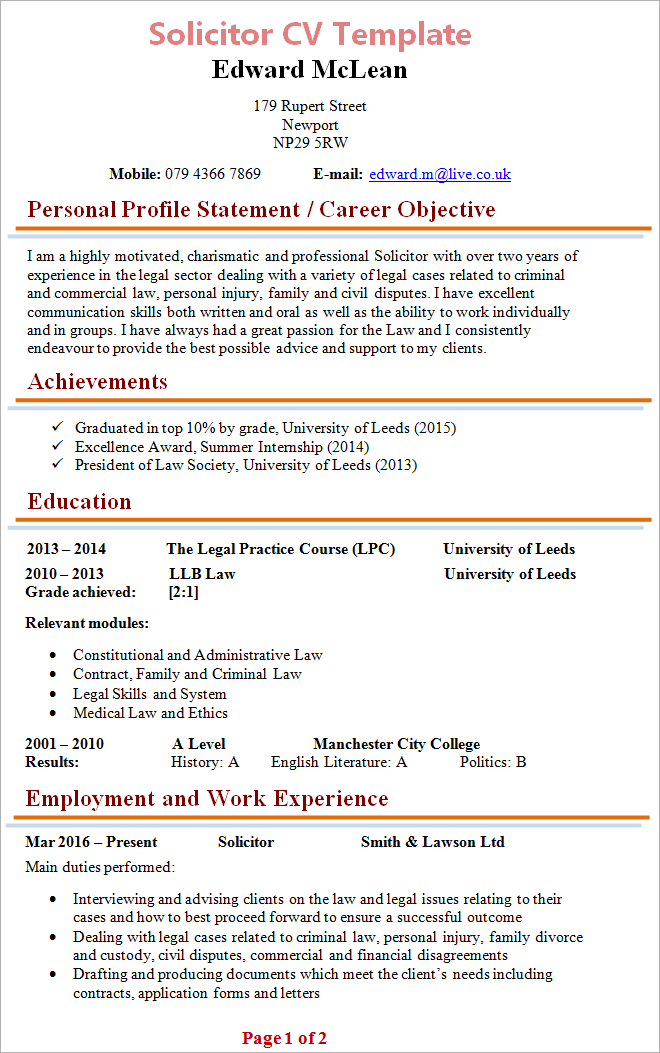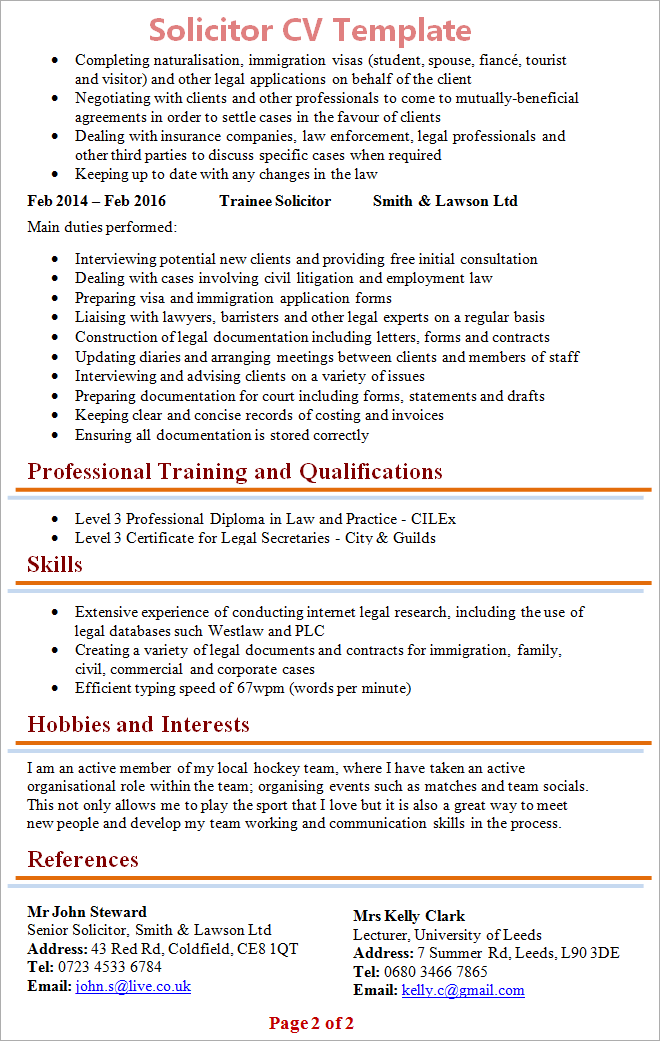 Download
Click here to download the above CV Sample (blank).
COLLECTION: You may also want to browse through our collection of Free CV Templates and download any of the editable CVs to create your own (available in Microsoft Word format and convertible to PDF).
Tips
Volunteer: The competition for Solicitor jobs is rife at the moment and those candidates that demonstrate the most relevant work experience and technical skills have the best chance of securing themselves a job. An effective way of making yourself stand out from the crowd is to volunteer at various law practising firms which will not only give you some relevant work experience in the field but also help you gain employer references and enable you to network with other legal professionals.
Good Luck!
Written by Sobhan Mohmand
Sobhan is a qualified Careers Advisor and Professional CV Writer with over 10 years of experience in helping job seekers get a job. He is a Member of the Careers Development Institute (CDI) and is listed on the official UK Register of Career Development Professionals. He holds a Level 6 Diploma in Career Guidance and Development (QCF).
OVERVIEW
SALARY RANGE
£25.000 – £60.000

ENTRY
Degree and Relevant Work Experience

WORKING HOURS
38+ hours per week
Competencies
Communication Skills
Ability to communicate effectively with clients

Investigation
Researching and examining an issue in a focused manner

Writing Skills
Excellent writing skills to write clear and concise letters, reports and contracts and completing application forms

Organisational Skills
Excellent organisation skills to balance a heavy workload

Listening Skills
Ability to listen to customers and clients and offering solutions to their problems

Caring
Ability to care for and empathise with clients' needs
Related Resources