Sobhan Mohmand, Career Expert

1 Jul 2020
66 Rutherford Road
Berkley
BI9 5DA
27 April 2017
Ms Diane Williams
Director
CJ Textiles
18 Amber Road
Oldham
OA1 6YG
Dear Ms Williams,
Re: Textile Designer (Ref: B35MK)
Thank you for taking the time to answer my questions regarding the above position. I can confirm that I am still very much interested in applying for this position, and I hope that you will find me a credible candidate for this post.
I recently graduated with a 2:1 degree in BA Textiles from the University for the Creative Arts. I completed dozens of practical projects in printed, woven and knitted textiles. Other practical work included drawing and painting of designs on various materials. I also gained an excellent and in-depth understanding and experience of sampling and mixing techniques.
I am currently working voluntarily as a Textile Designer at Vissio Appearances, where I am working with various clients to produce exciting new textile designs and products. My main responsibilities include; using CAD and image manipulation software to create designs, producing sketches and drawings, carrying out market research, designing garments, and overseeing the complete process from design idea to the delivery of the final product.
I hope that my attached CV illustrates to you my huge potential to make a real contribution to your organisation. Please do not hesitate to contact me on 07856 618 681 if you require anything else. Thank you for your consideration.
Yours sincerely,
~ Signature goes here ~
Hannah Wilkins.
Preview + comments: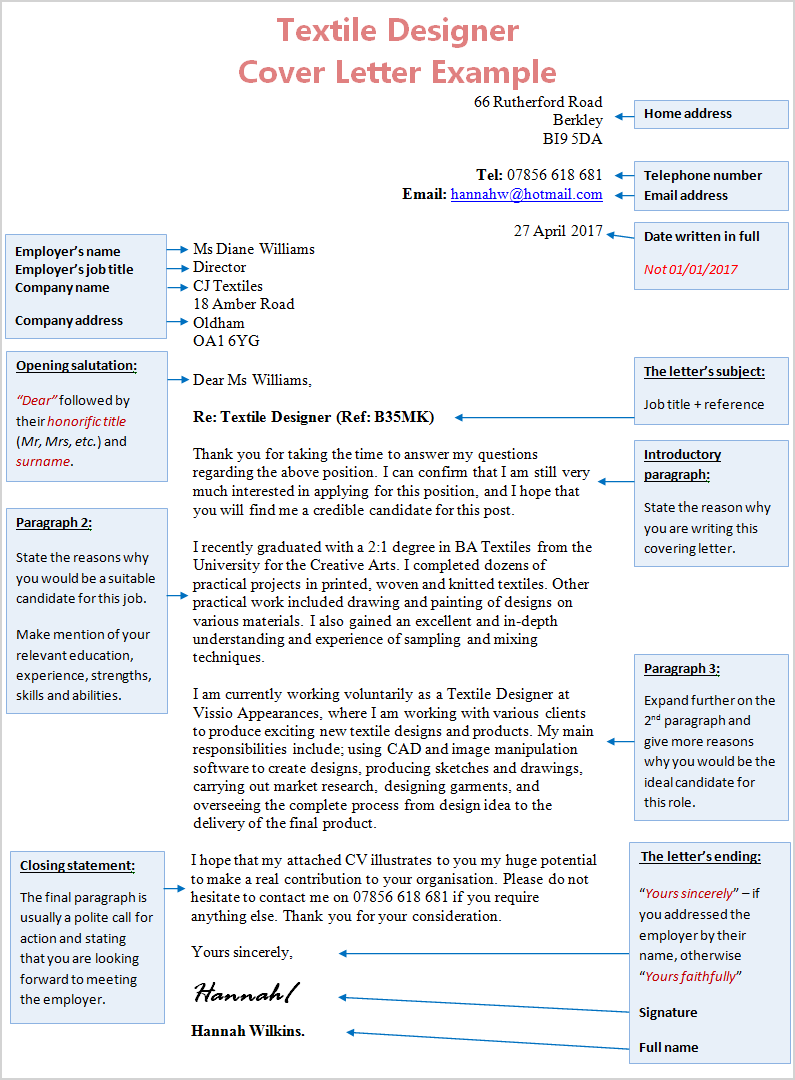 Written by Sobhan Mohmand
Sobhan is a qualified Careers Advisor and Professional CV Writer with over 10 years of experience in helping job seekers get a job. He is a Member of the Careers Development Institute (CDI) and is listed on the official UK Register of Career Development Professionals. He holds a Level 6 Diploma in Career Guidance and Development (QCF).