Sobhan Mohmand, Career Expert

20 May 2021
Tip: Use the Health and Safety CV Template below as an example to help you write your own personal and fully-tailored CV.
Jay Walters
47 Mudstone Road
Woodley Marsh
HR4 7DS
Mob: 000 5021 6693
Email: [email protected]
Personal Profile Statement / Career Objective
I am a motivated, passionate and hard-working Health and Safety Advisor who is NEBOSH qualified and always strives to achieve the best possible. I am well organised, and I embrace new challenges with great enthusiasm. As part of my work, I have travelled to various locations within the UK partaking in numerous projects.
Achievements
More than three years of work experience
Project Manager on numerous occasions
Provided H&S training to a class of 15 people
Education
| | | | |
| --- | --- | --- | --- |
| 2009 – 2012 | BSc Safety, Health & Environmental Management | BCU | Degree: [2:1] |
Relevant Modules:
Environmental Management
Organisation and Health & Safety Law in Practice
Understanding the Research Process
Professional Practice
Food Science and Control
2007 – 2009
Results: English: B Mathematics: B Business: A
A Levels
Kingwood College
Employment and Work Experience
| | |
| --- | --- |
| Feb 2012 – Present | Health and Safety Advisor Kingwood College |
Main duties performed:
Ensuring compliance with health, safety and fire legislation
Identifying HSE hazards and carrying out risk assessments
Performing routine site audits and inspections
Carrying out incident/accident investigations
Supervising contractors while on site
Amending the organisation's safety policies & procedures (when required)
Preparing and presenting reports for senior management
Providing advice and guidance to students and staff alike on a range of safety issues such as fire regulations, hazardous substances and noise
Organising training sessions and tool box talks
Attending daily coordination meetings
Assisting the Health & Safety Manager with day-to-day activities
Dealing with visits from the police and the fire brigade
Supporting office staff with record-keeping and data management
Managing the maintenance of vehicles and plants
| | |
| --- | --- |
| Nov 2011 – Feb 2012 | Health & Safety Officer Selfridges & Co |
Main duties performed:
Ensuring all H&S legislation and policies are adhered to on site
Arranging first-aid training for members of staff
Accidents, incidents and claims management
Managing third-party contractors on site
Carrying out routine workplace inspections
Performing COSHH assessments
Assessing contracts and getting quotes from third-parties
Giving expert safety advice to all stakeholders
Maintaining safety equipment (CCTV, alarms, first aid kit, etc.)
General Admin duties (phoning, printing, photocopying, etc.)
| | |
| --- | --- |
| May 2011 – Nov 2011 | Office Assistant Green Line Ltd |
Main duties performed:
Being the first point of contact for customers
Making and answering phone calls
Printing, photocopying and faxing of documents and letters
Inputting data into electronic information systems
Ensuring the office space is kept clean and tidy at all times
Professional Training and Qualifications
Qualified First Aid Mentor and Life Support trained
NEBOSH National Diploma
Level 3 IT Training
Skills
Excellent communications skills
Staff Training and Development
Full Clean Driving License + the ability to work across multiple sites
Research and report writing
Understanding technical policies, manuals and blueprints
Hobbies and interests
One of my greatest hobbies is keeping fit at the local gym. I also enjoy swimming, hill walking, camping and spending time with my family and friends.
References
Mr Sebastian Connolly
Health and Safety Manager, Kingwood College
Address:
54 Warren St, West Burton, DL8 4ZZ
Tel:
000 1058 0377
Email:
[email protected]
Mr Josh Power
Health and Safety Manager, Selfridges & Co
Address:
88 Cambridge Rd, Bellingham, NR13 7RG
Tel:
000 2639 6450
Email:
[email protected]
Please note: the above CV Example is presented in the UK format and layout.
Preview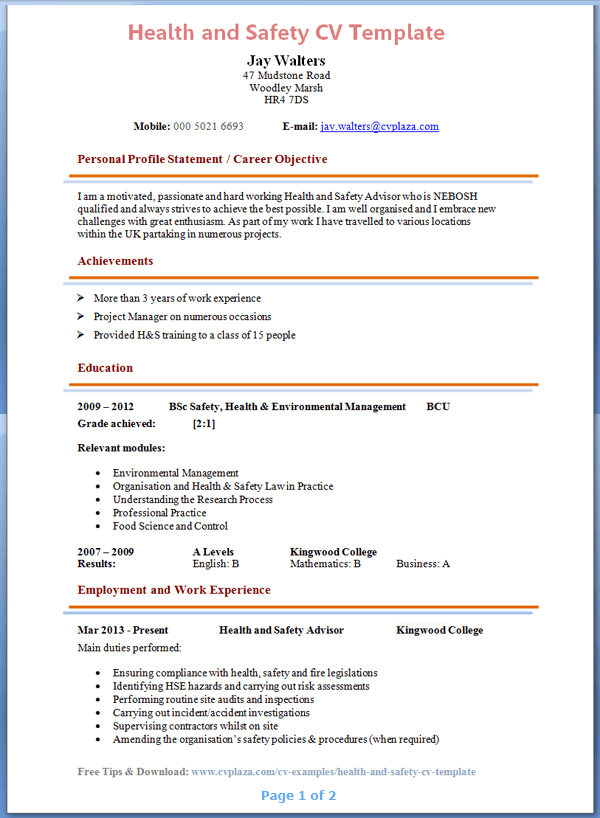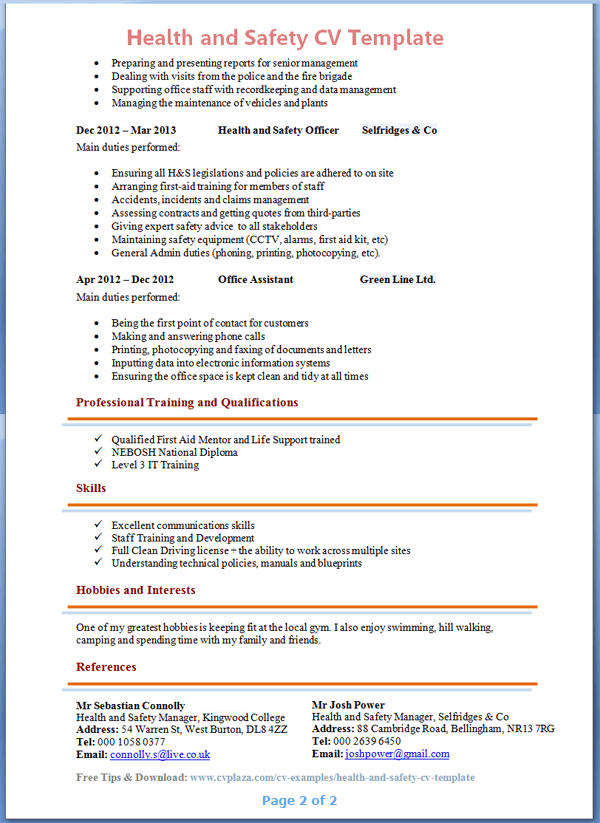 Download
Click here to download the above CV Sample.
COLLECTION: You may also want to browse through our collection of Free CV Templates and download any of the editable CVs to create your own (available in Microsoft Word format and convertible to PDF).
Top CV Tips and Guidelines
Ensure that you have included some experience on your CV because although training may be provided, you are expected to have some prior experience in the field due to the importance of the work you will be doing.
You should mention all the skills that are relevant to the job such as excellent communication (both oral and written), negotiation, a keen eye for detail and being able to work under pressure and on deadlines.
Try to avoid using too much jargon on your CV because the chances are that the person reading your CV will not be familiar with most the terms. Rather, keep the technical terms to the minimum although mentioning some of them does give the impression that you know your profession well.
Good Luck!
Written by Sobhan Mohmand
Sobhan is a qualified Careers Advisor and Professional CV Writer with over 10 years of experience in helping job seekers get a job. He is a Member of the Careers Development Institute (CDI) and is listed on the official UK Register of Career Development Professionals. He holds a Level 6 Diploma in Career Guidance and Development (QCF).