I am a very meticulous, committed and dynamic Forensic Scientist with a keen eye for detail as well as an unquenchable thirst for research and investigations. I have excellent communication skills which I used to good effect in several courtroom appearances as an expert witness. I can confidently undertake joint examinations with other evidence types, and I have a sound understanding of evidence recovery and preservation. This position would maintain my interest in science industry as well as provide me with the opportunity to develop further experiences in the field.
| | |
| --- | --- |
| Jan 2015 – Present | Forensic Scientist Metropolitan Police Service |
Main duties performed:
• Attending and investigating scenes of crimes of varying complexity from burglaries and drugs offences to rapes and murders
Liaising with team members and the police to establish forensic strategies
Recording findings, taking photographs and collecting trace evidence from scenes of crimes and accidents
Determining the best order of examination for the exhibits to obtain biological material for DNA analysis without compromising other evidence types
Screening of blood, semen, saliva, and other biological material for DNA analysis
Performing microscopy and chemical analysis on bodily fluid stains
Presenting complex scientific evidence at court in layman's terms to aid comprehension
Producing accurate and concise notes and reports, suitable for use in court
Providing evidence and testifying in court
Justifying findings under cross-examination in courts of law
Using digital photography, computer systems and scientific equipment on a daily basis
Tracking evidence via the LIMS system
Correctly inputting and extracting data and information from medical databases
Performing fingerprint analysis
Adhering to the health and safety standards and laboratory procedures, including ISO/IEC 17025
Coordinating with outside agencies on a case-by-case basis
Researching and developing new techniques
Performing general quality control duties
Sept 2013 – Dec 2014
Lab Technician National Health Service
Main duties performed:
Setting up all equipment required for forensic investigations
Collecting and analysing samples, including blood and saliva
Ensuring equipment is sterile for use and in a serviceable condition
Monitoring equipment levels and ordered more stock when needed
Presenting findings and reports to supervisors
Writing laboratory reports so that experiments could be replicated by other medical professionals when required
Liaising with NHS staff and private sector companies on a regular basis
Performing general admin duties, including printing and filing documents
Qualifications
Professional Member of the Chartered Society of Forensic Sciences – 2016
Accredited in LabCollector (laboratory management software) – 2014
Emergency First Aid at Work qualification
Skills
Forensic Techniques: I have knowledge and experience of various forensic methods including examination of evidence for hairs, fibres, cellular material and body fluids, including blood, semen and saliva, performing fingerprint analysis, conducting footwear & tire track examination and tracing evidence by performing pattern and fibre analysis.
Problem-solving: I have achieved a high level of proficiency in dealing with a wide range of marks and traces evidence types; glass, paint, fibres, footwear impression evidence and fire scene investigation.
Attention to detail: Adept at seeking out the tiniest of clues during investigations, including in outdoor crime scenes which are the most difficult to investigate.
Organisational skills: Ability to work under pressure, deliver urgent casework on time and prioritise own workload.
Hobbies and interests
In my free time, I enjoy going out and spending time with my family and friends. I also like watching crime investigation TV shows, which have positively contributed to my understanding of investigating crime scenes.
References
Mrs Lauren Tucker
Senior Scientist, Metropolitan Police Service
Address:
7 Green Rd, Halifax, HA4 7DQ
Tel:
0733 8688 5673
Email:
[email protected]
Mr Nathan White
Consultant, National Health Service
Address:
2 Roundabout Rd, Kent, KP10 3FJ
Tel:
0733 5679 9022
Email:
[email protected]
Please note: the above CV Example is presented in the UK format and layout.
Preview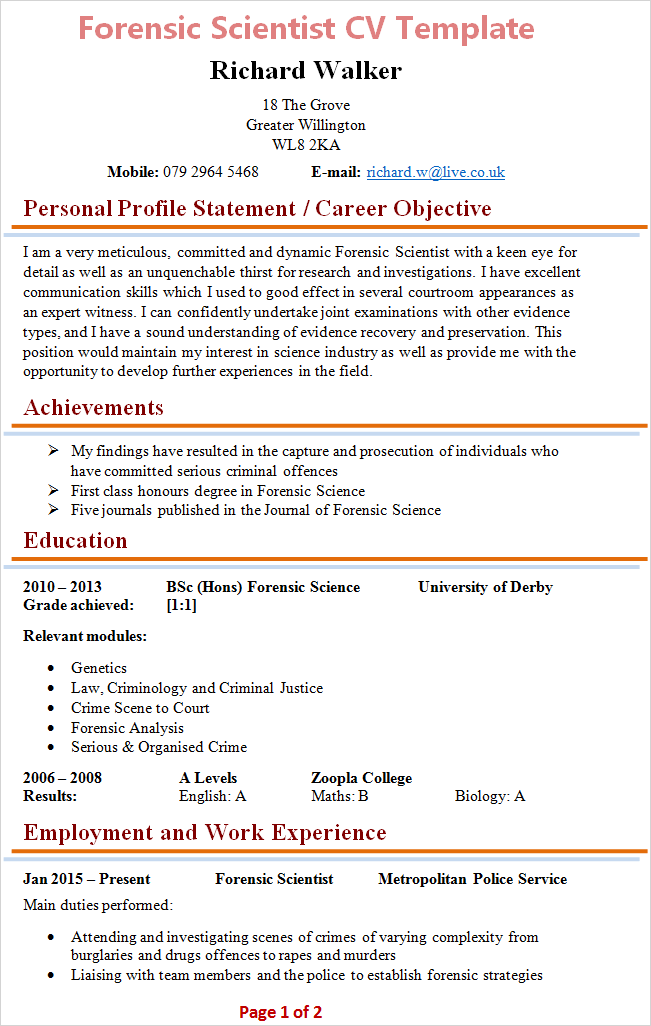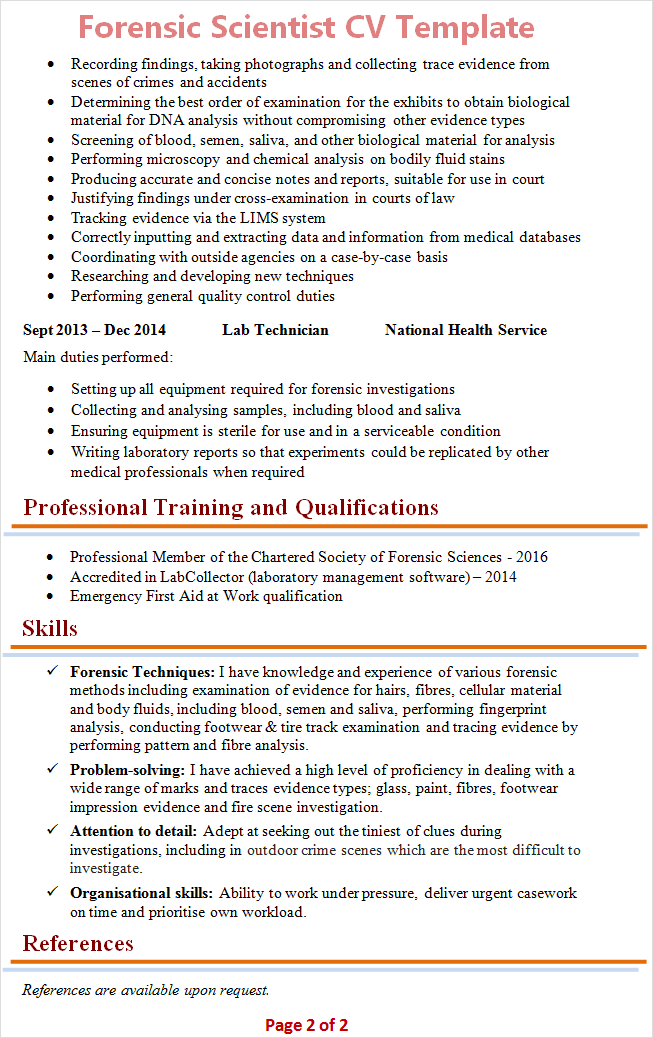 Download
Click here to download the above CV Sample (blank).
COLLECTION: You may also want to browse through our collection of Free CV Templates and download any of the editable CVs to create your own (available in Microsoft Word format and convertible to PDF).
Tips
Knowledge: A Forensic Scientist's job is a high-skilled position which requires one to have specialist skills and knowledge to be able to do the job. Your CV should, therefore, demonstrate to the prospective employer that you are an expert in this field. The most effective way to achieve this is to; a) mention all the forensic techniques and investigation methods that you are familiar with, b) mention any cases where you have contributed to and which were successfully resolved, and c) emphasise your "attention to detail skills", which is a critical requirement for conducting successful investigations.
Good Luck!
Written by Sobhan Mohmand
Sobhan is a qualified Careers Advisor and Professional CV Writer with over 10 years of experience in helping job seekers get a job. He is a Member of the Careers Development Institute (CDI) and is listed on the official UK Register of Career Development Professionals. He holds a Level 6 Diploma in Career Guidance and Development (QCF).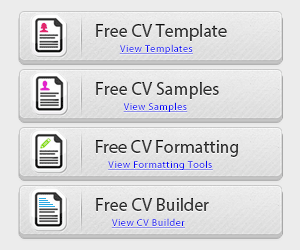 SPONSORED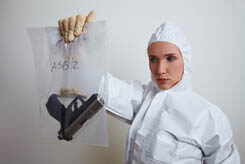 OVERVIEW
SALARY RANGE
£20.000 – £40.000

ENTRY
Degree and Work Experience

WORKING HOURS
37+ hours per week
Competencies
Communication Skills
Ability to effectively communicate complex ideas and concepts to a broad range of audiences

Scientific Method
Ability to use scientific methods to investigate problems and propose solutions

Analytical Skills
Having a logical and analytical approach to investigations

Observation Skills
Paying attention to every aspect of the task or project and ensuring that no "small details" are overlooked

Problem-solving
Excellent problem-solving skills to deal with issues or emergencies when required

Investigation
Ability to search and examine a crime scene in a focused manner
Related Resources