Jul 2012 – June 2013
Research Technician University of Liverpool
Main duties performed:
Assisting the senior lab scientists with their investigations
Using PCR to multiply DNA for testing
Using SSCP to detect mutations
Supervising the work of junior staff members and students
Performing general admin duties for the department
Qualifications
NHS Scientist Training Programme (STP) certified
Skills
Excellent verbal communication skills gained from the delivery of presentations, seminars and tutorials as a part of my course, and excellent writing skills which have developed to a high standard through the rigours of university assignments and research projects in full-time employment.
Experienced in carrying out molecular laboratory work, including DNA extraction, cell membrane extraction, PCR, microsatellite genotyping, direct sequencing (ABI), SDS-PAGE, Western blotting, and cell and viral culture.
Expertise in long and short-term cultures for karyotyping (prenatal, aborted and postnatal tissue samples), and SNP genotyping.
References
Mr Dylan Jones
Senior Geneticist, Green Health NHS Trust
Address:
12 Milk Rd, Essex, EI48 1YT
Tel:
0743 4251 9999
Email:
[email protected]
Mrs Donna King
Researcher, University of Liverpool
Address:
5 North Road, Liverpool, L10 3IE
Tel:
0750 4562 5621
Email:
[email protected]
---
Preview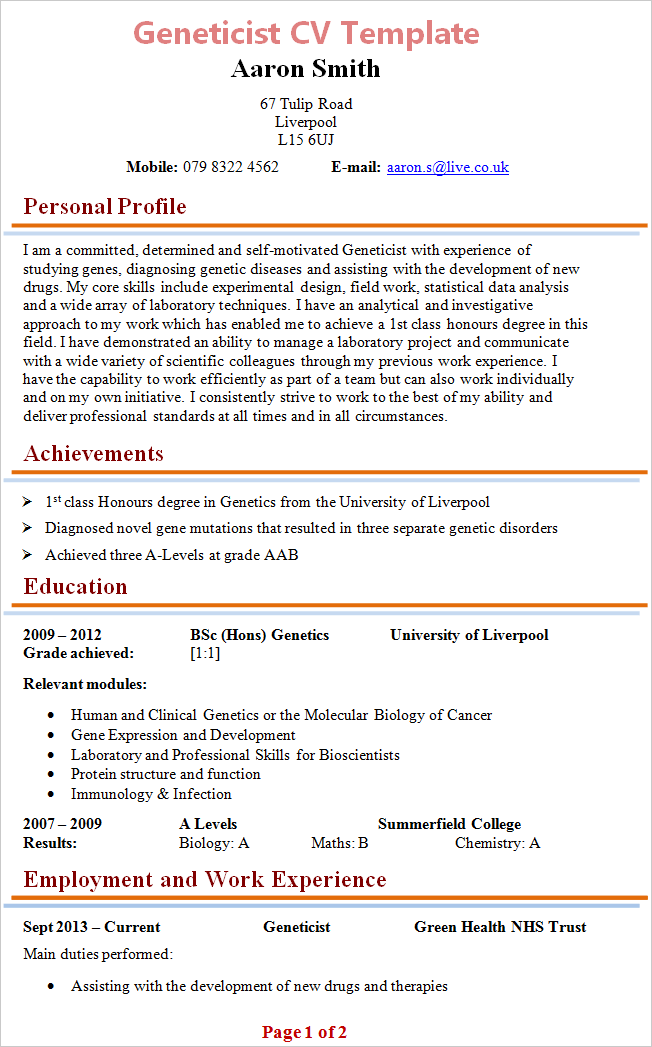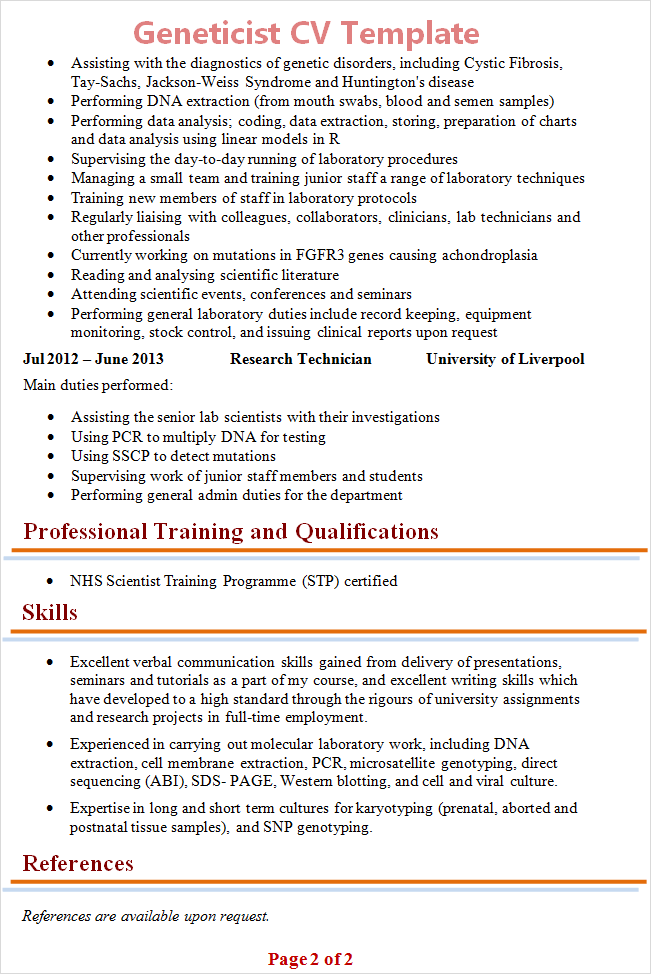 What makes this CV good and effective?
Structure and Format:
The personal details are clear and easy to find at the top of the document.
The CV is well-structured with clear section headings such as "Personal Profile", "Education", "Work Experience" and "Skills."
Bullet points are used consistently, making it easy to skim and find key information.
The font and formatting are professional and consistent throughout the document.
Content and Layout:
The personal profile provides a concise yet compelling overview of the candidate's skills and aspirations.
The candidate has highlighted their educational qualifications, including degree, university and graduation date.
Work experience is listed in reverse chronological order, with a clear description of roles and responsibilities.
The layout allows for quick scanning of relevant information, ensuring the most crucial details are easily accessible.
Achievements and Experience:
The candidate's work experience includes specific achievements and contributions to their previous employers, showcasing their impact.
Length and Key Words:
The CV is a suitable length, providing comprehensive information without being overly lengthy.
Key industry-specific keywords and phrases, such as "molecular genetics," "DNA sequencing", "DNA extraction" and " karyotyping" are strategically included.
---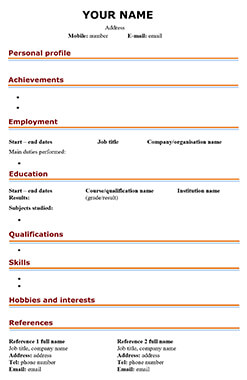 Are you writing your CV from scratch or is your CV template outdated? Download this professional CV template to impress employers!
Free
Save time and effort
Guaranteed correct CV structure
Word document (.docx) format
Fully customisable
How to save your CV as a PDF document:
Click on File > Save As > Select "PDF" from the drop-down menu.
---
Concise personal profile: Start your CV with a concise personal profile that highlights your key skills, aspirations and what you can bring to the role as a geneticist. Keep it focused and relevant to the job.
Utilise a clean and professional format: Opt for a clean and professional layout that ensures your CV looks polished and well-organised. Use a simple, easy-to-read font and maintain consistent formatting throughout. Avoid overly decorative elements that may distract from the content.
Emphasise achievements with action verbs: Sentences that begin with action verbs are much more powerful than regular sentences. Start each bullet point with an action verb to convey your accomplishments effectively. For instance, "Conducted genetic research to identify disease markers" to demonstrate your contributions in previous roles.
Include relevant certifications: List any relevant certifications, licenses or memberships, such as "Certified Genetic Counsellor" or "Member of the Genetics Society," to showcase your commitment to the field.
Proofread for typos, errors and mistakes: Conduct a thorough proofreading of your CV to eliminate any spelling or grammatical errors. These errors can detract from your professionalism so seek feedback from peers or mentors to catch any overlooked mistakes. You can also utilise free online grammar checkers such as Grammarly.
---
Personal details
Your CV's personal details section is where you provide essential information about yourself. It should include your full name, contact information and address.
This section helps potential employers get in touch with you and is typically placed at the top of your CV for easy reference.
Example:
Olivia Walker
30 Elmwood Road, Leeds, LS4 3DE
Mob: 0113 987 6543 Email:

[email protected]
Personal profile
The personal profile on your CV is like a snapshot of your professional identity.
It's crucial because it's the first thing employers read, and it should give them a clear idea of who you are, what you've achieved and what you're aiming for in your career.
Guidelines:
Keep it concise and to the point, with a few lines summarising your skills and career goals.
Showcase your most relevant achievements and experiences that make you a strong fit for the job.
Tailor your personal profile to the specific role you're applying for, emphasising what's most important for that job.
Read more: How to write a compelling personal profile (examples).
Geneticist personal profile example:
As a Geneticist with extensive experience, I have successfully conducted DNA sequencing experiments, identified disease markers through genetic research and published my findings in peer-reviewed journals. My expertise in molecular genetics and genomic analysis has led to improved laboratory efficiency and contributed to advancements in the field. I am dedicated to applying my skills and knowledge to drive innovative research and make a positive impact in the role I am seeking.
Accomplishments
The accomplishments section of your CV showcases your significant achievements and successes in your career, in education, as well as in various aspects of life in general, providing evidence of your capabilities and contributions.
Research has shown that CVs that focus on achievements are not only more engaging but are also more likely to be shortlisted by prospective employers.
This emphasis on tangible successes demonstrates your ability to deliver results and adds weight to your application.
Example:
Secured a First-Class Honours degree in Genetics with a dissertation on "Genetic Markers for Rare Diseases."
Awarded the "Best Presentation" at the International Genetics Conference for research on gene expression in cancer.
Volunteered for genetic counselling sessions, providing valuable support to families dealing with hereditary disorders.
Promoted to Senior Geneticist for consistently achieving timely and accurate results in DNA sequencing.
Employment and work experience
The employment section of your CV is where you showcase your work history and professional experience.
To write it effectively, start with your most recent job and work backwards, listing each role with details about your responsibilities, accomplishments and dates of employment.
Use action verbs to begin bullet points and tailor this section to the job you're applying for, emphasising relevant experiences that align with the job description.
| | |
| --- | --- |
| July 2019 – Present | Geneticist GenoTech Research Institute |
Main duties and responsibilities performed:
Conducted DNA sequencing experiments to analyze genetic mutations.
Collaborated with a team to identify novel genetic markers for rare diseases.
Published research findings in the "Journal of Molecular Genetics," contributing to the field's knowledge.
Published research findings in the "Journal of Molecular Genetics," contributing to the field's knowledge.
Implemented efficient laboratory procedures, resulting in a 15% reduction in analysis time.
Geneticist duties to add to your CV
Conduct genetic research to identify disease markers and genetic variations.
Perform DNA sequencing experiments to analyse genetic data and identify potential genetic disorders.
Collaborate with multidisciplinary teams to design and execute genetic studies and experiments.
Interpret and analyse genomic data, drawing meaningful conclusions from genetic information.
Develop and validate genetic testing protocols and techniques for accurate diagnoses.
Provide genetic counselling to patients and families, explaining the implications of genetic findings and offering support.
Publish research findings in peer-reviewed journals to contribute to the field's knowledge.
Lead or participate in laboratory projects and research studies, coordinating the work of junior staff.
Stay updated with the latest advancements in genetic research and technologies to apply them in your work.
Participate in outreach and educational programmes, such as seminars or workshops, to raise awareness about the importance of genetics in healthcare and research.
Education
The education section of your CV is where you provide details about your academic background and qualifications.
This section highlights your educational achievements and helps employers understand your level of education, the institutions you've attended and the qualifications you've earned.
It typically includes information about your undergraduate and postgraduate degrees, A-Levels, GCSEs, diplomas and any other relevant educational certificates or achievements.
Example:
| | | | |
| --- | --- | --- | --- |
| 2014 – 2018 | BSc in Genetics | University of Oxford | Degree Classification: First-Class Honours. |
Subjects Studied:
Molecular Genetics
Genomic Data Analysis
Genetic Research Methods
Statistics in Genetics
Bioinformatics
2012 – 2014
Results: Biology (A), Chemistry (A), Mathematics (B), Physics (B).
A-Levels
St. Mary's College
Professional training and qualifications
The professional training and qualifications section of your CV is where you detail any specific training, certifications, or qualifications relevant to your field and the job you're applying for.
For a geneticist, this section may include qualifications like "Certified Genetic Counsellor", "Member of the Genetics Society" or specific training in techniques such as DNA sequencing, genomic analysis or genetic counselling.
Example:
Master of Science (MSc) in Genetic Counselling – University of Cambridge
Doctor of Philosophy (PhD) in Molecular Genetics – Imperial College London
Postgraduate Certificate in Clinical Genetics – University of Edinburgh
Membership of the Royal College of Pathologists (MRCPath) – The Royal College of Pathologists
Registered Genetic Counsellor (RGC) – Genetic Counsellor Registration Board
Skills and abilities
The skills section is a crucial part where you highlight your key abilities and competencies relevant to the role.
You should include both technical skills such as laboratory techniques, data analysis and genetics knowledge, as well as transferable skills like communication, problem-solving and teamwork to demonstrate your well-rounded suitability for the role.
For example, you could include skills such as being proficient in PCR and DNA sequencing, having strong analytical and problem-solving abilities and demonstrating effective communication and collaboration within multidisciplinary teams.
Example:
Laboratory techniques: Proficient in a wide range of molecular biology and genetics laboratory techniques, including PCR, DNA sequencing and gel electrophoresis. This proficiency has enabled me to contribute to several research projects, resulting in published studies in prestigious scientific journals.
Data analysis: Skilled in data analysis and interpretation using software such as R, Python, and statistical tools. I've applied these skills to analyse genetic data, identifying patterns and trends critical to research outcomes.
Genetic counselling: Experienced in providing genetic counselling to patients and their families, translating complex genetic information into understandable terms. I've assisted numerous individuals in making informed decisions about their genetic health.
10 useful geneticist skills to add to your CV
Genetic testing: Competence in conducting genetic tests and interpreting the results.
Genome sequencing: Knowledge of genome sequencing technologies and their applications in genetic research.
Genetic counselling: Experienced in providing genetic counselling to patients and their families, translating complex genetic information into understandable terms.
Communication: Strong written and verbal communication skills for presenting research findings and publishing scientific papers.
Bioinformatics: Familiarity with bioinformatics tools and databases for genetic research.
Research methodology: Familiarity with research methodologies and study design specific to genetics research.
Laboratory techniques: Proficiency in various molecular biology and genetics laboratory techniques, such as PCR and DNA sequencing.
Ethical considerations: Understanding of ethical issues in genetics and the ability to apply ethical principles in research and counselling.
Patient empathy: The ability to provide emotional support and empathy to individuals dealing with genetic conditions.
Clinical genetics: Knowledge of clinical genetics principles and practices in healthcare settings.
Hobbies and interests (optional)
Your CV's hobbies and interests section provides a glimpse of your personal interests and activities outside of work.
Including this section allows you to showcase your well-rounded personality and potential compatibility with the team and organisation.
You should list hobbies and interests that reflect your passion, dedication, teamwork or any other qualities that may align with the job.
For example, you might mention interests like "participating in a local genetics outreach program", "contributing to a science-related blog" or "enjoying team sports such as cricket or rowing" to convey your commitment to genetics, communication skills or teamwork.
Example:
Outside the lab, I'm passionate about delving into genetic research literature, keeping up with the latest scientific breakthroughs and attending relevant conferences. This deep-rooted interest not only fuels my professional growth but also demonstrates my unwavering commitment to the field.
Professional references
The professional references section of a CV, often titled "Referees," typically contains the contact information and details of individuals who can vouch for your professional qualifications and character, such as former employers or colleagues.
At this early stage, including the professional references section in your CV is optional.
If you do decide to include this section, ensure that you have obtained the permission of the individuals you plan to list as referees and provide their full contact details, including name, title, company, email address and phone number.
Example:
Dr Wendy Innes
Senior Geneticist, BioTech Solutions
Address:
33 Birch Avenue, Birmingham B4 7QR
Tel:
+44 121 8765 4321
Email:
[email protected]
Dr Lisa White
Lead Scientist, Genome Explorers
Address:
18 Key Road, Glasgow G2 8XY
Tel:
Email:
[email protected]
Note: If you do not wish to disclose your references on your CV, you should write, "References are available upon request."
---
Use clear and unambiguous language: Use precise terminology relevant to genetic research to convey your expertise and achievements clearly. For example, rather than stating "conducted experiments", specify "performed DNA sequencing experiments to identify genetic variations."
Highlight research accomplishments: Showcase your significant research achievements, such as publications in respected scientific journals or successful collaboration on ground-breaking genetic studies, to demonstrate your impact in the field.
Quantify achievements: Where possible, quantify your contributions, like "analysed thousands of genetic samples" or "achieved a 20% increase in DNA sequencing efficiency."
Include professional memberships: If you're a member of genetic research societies or organisations, mention them to demonstrate your active involvement in the field.
---
Conclusion
This is the end of our comprehensive guide on how to write a Geneticist CV.
With the provided examples, expert tips and step-by-step instructions, you now have all the knowledge and tools to craft your perfect CV.
By following the advice outlined in this article, you can confidently showcase your skills, experiences, and achievements to prospective employers, securing more job interviews, and ultimately, a rewarding job in the field of genetics.
Good luck with your job search!
Written by Sobhan Mohmand
Sobhan is a qualified Careers Advisor and Professional CV Writer with over 10 years of experience in helping job seekers get a job. He is a Member of the Careers Development Institute (CDI) and is listed on the official UK Register of Career Development Professionals. He holds a Level 6 Diploma in Career Guidance and Development (QCF).
OVERVIEW
SALARY RANGE
£25.000 – £45.000

ENTRY
Degree and Work Experience

WORKING HOURS
37+ hours per week
Competencies
Scientific Method
Possessing strong knowledge of science and the scientific methods

Investigation
Researching specific genes, diseases, genetic disorders and metabolic conditions

Diagnostics
Diagnosing diseases and offering appropriate medication or therapy

Caring
Ability to care for and empathise with patients' needs

Organisational Skills
Excellent organisation skills to balance a heavy workload

Computing Skills
Having good knowledge of computers, Microsoft Office and scientific computer programs
Related Resources