I am a driven and dedicated Physicist with more than two years of progressive experience in the science and experimental field. I specialise in medical, radiation and nuclear physics, and data analysis. I address challenges by observation and assessing, then designing a solution, then evaluating before tackling the challenge itself. I have also developed a strong personal motivation to be able to work independently to achieve tasks as a result of actively designing experiments over a period of time. I am currently looking for a challenging role within the science sector, and I am able and willing to relocate to anywhere within the UK.
| | |
| --- | --- |
| Apr 2015 – Present | Physicist University of Manchester |
Main duties performed:
Developing ideas with the use of specialist equipment, including computer programming and mathematical modelling
Designing and carrying out controlled experiments to test theories
Producing clear and concise reports which highlight the connection between experiments and theories
Working with a variety of people on a number of different projects, including weather forecasting and satellite technology development
Constructing highly sophisticated computational multiphysics models
Producing models in 2D and 3D using simulation software
Carrying out research in electronic properties of surfaces including metals, semiconductors and thin films
Modelling multiphase flows such as the transport of solid and liquid particles through gas
Producing academic literature to be published or broadcast
Working closely with a broad range of people, including senior management, consultants, engineering and scientific professionals
Assisting the senior scientists with their experiments and research papers
Giving talks and presentations in schools, colleges and universities
Participating in multidisciplinary team meetings to discuss projects
Jul 2014 – Mar 2015
Research Assistant University of Manchester
Main duties performed:
Supporting lecturers and members of staff with a variety of research projects
Offering advice with regards to experiment development
Completing research applications for external and internal support
Helping to carry out controlled experiments
Collecting data and ensuring its stored correctly
Carrying out general admin work, including filing and photocopying
Qualifications
Member of Institute of Physics
Level 3 Award in First Aid at Work – QCF
Level 2 ECDL – BSC
Skills
Broad understanding of fundamental theoretical physics, geoscientific theories and geophysical exploration & modelling techniques
Experienced in the use of statistical software packages such as MiniTab, Origin & Sigmaplot
Teamwork developed through group projects and technical laboratory assessments
Effectively interacting and collaborating with engineers in industry and scientific laboratories
Competent and experienced with Microsoft Office suite
References
Mr Paul Jenson
Senior Scientist, University of Manchester
Address:
4 Norfolk Rd, Kent, KL8 2DX
Tel:
0773 5462 9066
Email:
[email protected]
Mrs Michelle Lewis
Academic Researcher, University of York
Address:
25 Farley Rd, Dorset, DX9 2FL
Tel:
0530 4563 7866
Email:
[email protected]
Please note: the above CV Example is presented in the UK format and layout.
Preview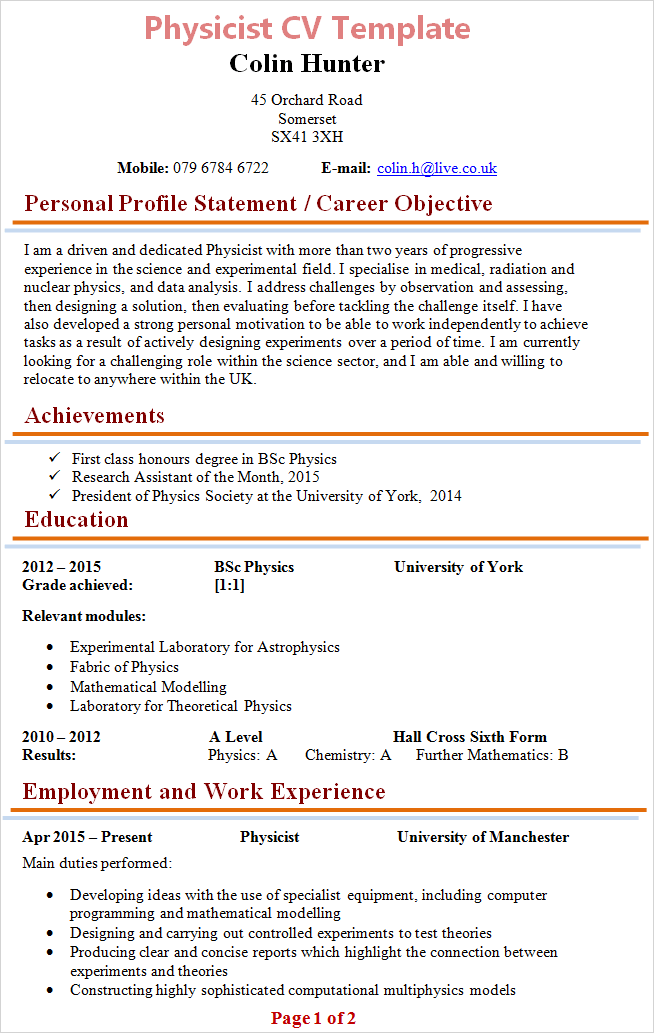 Download
Click here to download the above CV Sample (blank).
COLLECTION: You may also want to browse through our collection of Free CV Templates and download any of the editable CVs to create your own (available in Microsoft Word format and convertible to PDF).
Tips
CV Length: Being an educated, high-skilled Physicist you could be tempted to list all your past projects, studies and experiments on your CV and make it five pages long! However, it is not recommended to increase the length of your CV beyond the two or three A4 pages. Instead, follow these guidelines to cut down the length of your CV; remove irrelevant jobs, qualifications and skills, use short sentences and bullet points instead of paragraphs and cut down on less-essential sections of your CV, including Personal Profile and Hobbies.
Good Luck!
Written by Sobhan Mohmand
Sobhan is a qualified Careers Advisor and Professional CV Writer with over 10 years of experience in helping job seekers get a job. He is a Member of the Careers Development Institute (CDI) and is listed on the official UK Register of Career Development Professionals. He holds a Level 6 Diploma in Career Guidance and Development (QCF).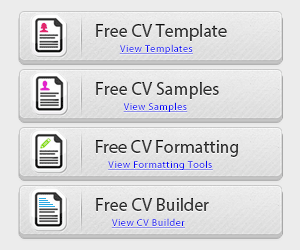 SPONSORED
OVERVIEW
SALARY RANGE
£24.000 – £44.000

ENTRY
Degree and Work Experience

WORKING HOURS
37+ hours per week
Competencies
Scientific Method
Possessing strong knowledge of science and the scientific methods

Investigation
Ability to research and examine a matter in a focused manner

Time Management
Allocating one's own time in a systematic manner to complete work efficiently

Problem-solving
Coming up with effective solutions to critical problems

Creativity
Ability to "think outside the box" and having a fresh perspective to challenge conventional practices

Analytical Skills
Making sense of complex issues and proposing meaningful solutions
Related Resources