I am a dedicated, hardworking and multi-skilled (Graduate) Optical Assistant who is full of energy and always have a big smile on my face. I have an in-depth knowledge of this field as I've done my University studies in this area and my previous work experience is also in-line with my education. This has put me in an excellent position to not only understand the theoretical aspects of Optometry but also to put into practice what I have learned.
| | |
| --- | --- |
| Mar 2013 – Present | Optical Assistant Crayford Eyecare Centre |
Main duties performed:
Dispensing and fitting spectacles, contact lenses and vision aids
Dealing with prescriptions written by GPs and Optometrists
Advising patients on the various types of lenses and spectacle frames (e.g. style, weight, colour, brand, material, durability, etc.)
Conducting full eye health screenings
Selling products and handling cash
General Admin duties (filing, handling post, etc.)
Dealing with customer concerns, complaints and compliments
Maintaining product displays for sales purposes
Utilising the newly-introduced digital retinal screening service
Managing the store in the absence of the Manager
Fitting and adjusting glasses
Updating and cleaning frames
Answering and making phone calls (patients, general public, staff, etc.)
Liaising with the head office team
Making appointments and recording them properly in the diary
Performing simple diagnostic consultations
Sending reminder and recall letters
Taking orders and processing them appropriately
Filling out NHS Forms for patients that are eligible for free services
Providing customer aftercare
Nov 2012 – Jan 2013
Optical Advisor Specsavers Leeds
Main duties performed:
Advising patients and customers on glasses and sunglasses
Dispensing of glasses and contact lenses to customers of all ages
Pre-screening patients before eye examinations
Cleaning and repairing glasses
Opening and closing of the premises in the absence of the Store Supervisor
Stock control and ordering
Dealing with enquiries: face-to-face, over the telephone and through email
Arranging and booking appointments
Checking orders from the delivery
Providing customer aftercare and follow-ups
Ensuring all shelves were clean and filled
Adhering to Health & Safety regulations and company policies at all times
Qualifications
2-weeks training in the use of optometry machines and instruments
Emergency First Aid at Work
Skills
Knowledge of Laser and Intraocular lens (IOL) procedures
Expert in pre-test machinery
Excellent customer service skills
IT Skills (use of spreadsheets, databases, word processing, etc.)
Theoretical and practical knowledge of optometry
Hobbies and interests
I enjoy spending time with my family and socialising with friends. I also attend the gym on a regular basis and love going to the park for cycling. I'm also keeping myself productive by reading self-help books and watching documentaries.
References
Mr Aidan Adams
Store Manager, Specsavers Leeds
Address:
66 New Dover Rd, Walden, DL8 3AU
Tel:
0233 233 6543
Email:
[email protected]
Mr Joe Begum
Senior Optician, Crayford Eyecare Centre
Address:
24 Casper Way, Hurston, KW17 7EZ
Tel:
0253 346 4867
Email:
[email protected]
Please note: the above CV Example is presented in the UK format and layout.
Preview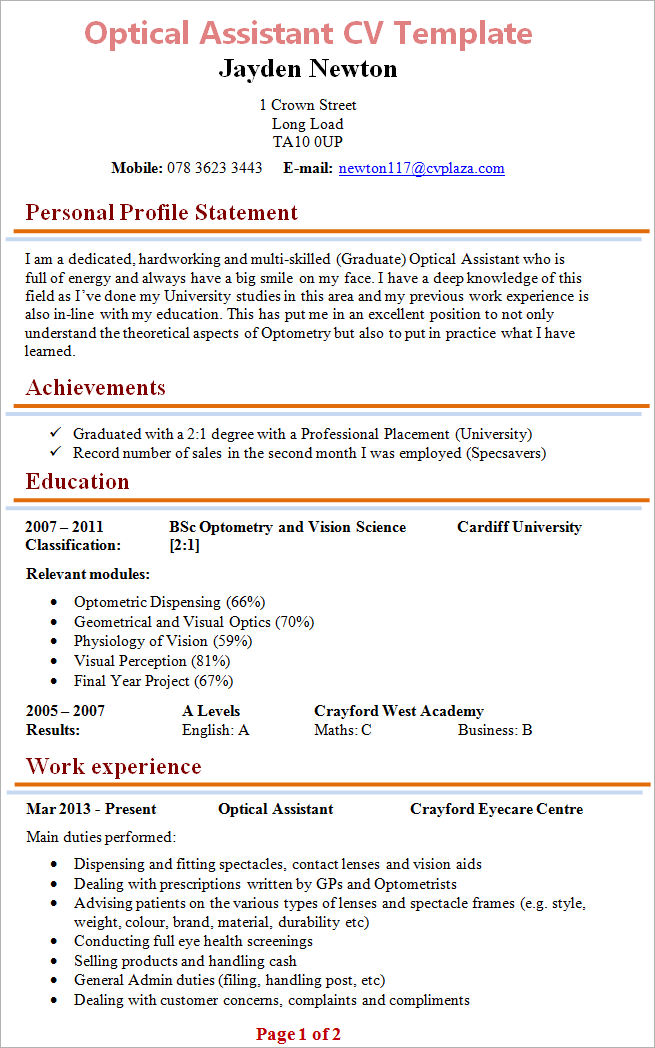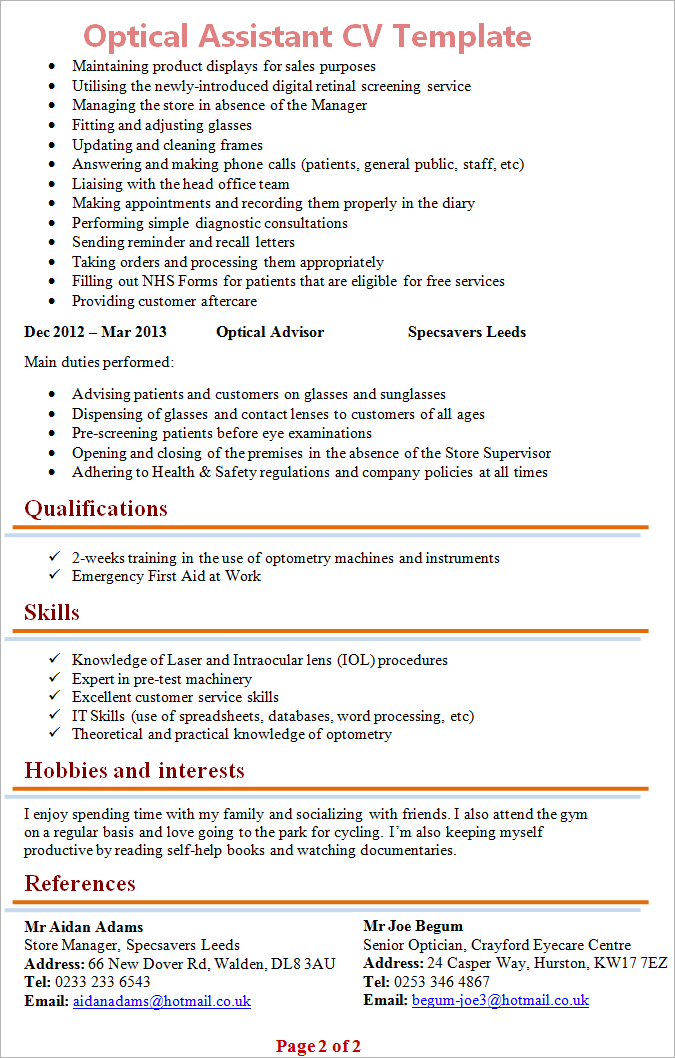 Download
Click here to download the above CV Sample.
COLLECTION: You may also want to browse through our collection of Free CV Templates and download any of the editable CVs to create your own (available in Microsoft Word format and convertible to PDF).
Top CV Tips and Guidelines
What to do if you've got no previous work experience? Well, since this is an entry-level position Optical expertise is not usually an essential requirement – as long as you show that you show enthusiasm and willingness to learn. Nevertheless, it can be a great advantage if you can demonstrate that you have worked, regardless of whether it was paid or voluntary, in an optical store.
You could mention that you have a "keen eye for detail" on your CV (Okay, okay the joke was a bit cheesy, but it's definitely a positive attribute you would want to include on your CV anyway!)
Emphasise your Customer Service skills on your CV with real-life examples because you will frequently be dealing with customers; from welcoming them to helping them with their product selection.
Good Luck!
Written by Sobhan Mohmand
Sobhan is a qualified Careers Advisor and Professional CV Writer with over 10 years of experience in helping job seekers get a job. He is a Member of the Careers Development Institute (CDI) and is listed on the official UK Register of Career Development Professionals. He holds a Level 6 Diploma in Career Guidance and Development (QCF).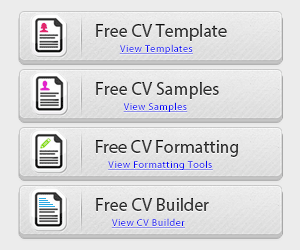 SPONSORED
OVERVIEW
SALARY RANGE
£12.000 – £19.000

ENTRY
Relevant Work Experience

WORKING HOURS
37+ hours per week
Competencies
Communication Skills
Ability to communicate effectively with customers

Writing Skills
Excellent writing skills to write clear and concise medical reports

Observation Skills
Paying attention to every aspect of the job and ensuring that no "small details" are overlooked

Caring
Ability to care for and empathise with patients' needs

Customer Service
Ability to relate to customer's needs and offering appropriate advice and solutions

Admin Skills
Answering the phone, organising folders, photocopying and scanning documents
Related Resources