Mar 2015 – Jul 2015
Student Nurse NHS, Sandwell
Main duties performed:
Managing and completing both practical and theoretical university work
Working and shadowing professionals within a hospital environment
Developing communication, organisational and people skills
Administer routine medicine if and when required
Assessing patient's symptoms and advising accordingly
Conducting medical history check through interviews and research
Carrying out general admin duties (answering calls, sending emails, photocopying and printing, booking appointments, etc)
Qualifications
Level 3 Diploma in Clinical Healthcare Support
Level 2 Certificate and Diploma in Medical Administration
Training in Safeguarding Children and Vulnerable Adults
Skills
Running clinics, antenatal classes and parenting, playing and weaning groups
Fully trained in child accident prevention and dealing with postnatal depression
Excellent communication skills, both written and oral
Expert knowledge in behavioural management techniques
Strong knowledge of Microsoft Office and related computer programs
Hobbies and interests
I am an active member of my local football society and have recently been voted Captain of my team. Not only does this give me the opportunity to keep fit and healthy, but it is also an excellent way to make new friends and develop my communication skills outside of a work environment.
References
Mrs Joanne Randall
Manager, NHS
Address:
2 King Rd, Cornwall, CI48 4UY
Tel:
0873 1157 9268
Email:
[email protected]
Mr Luke Sanderson
Supervisor, NHS
Address:
4 St Pauls Rd, Kent, KU8 3YE
Tel:
0778 7546 9887
Email:
[email protected]
Please note: the above CV Example is presented in the UK format and layout.
---
Preview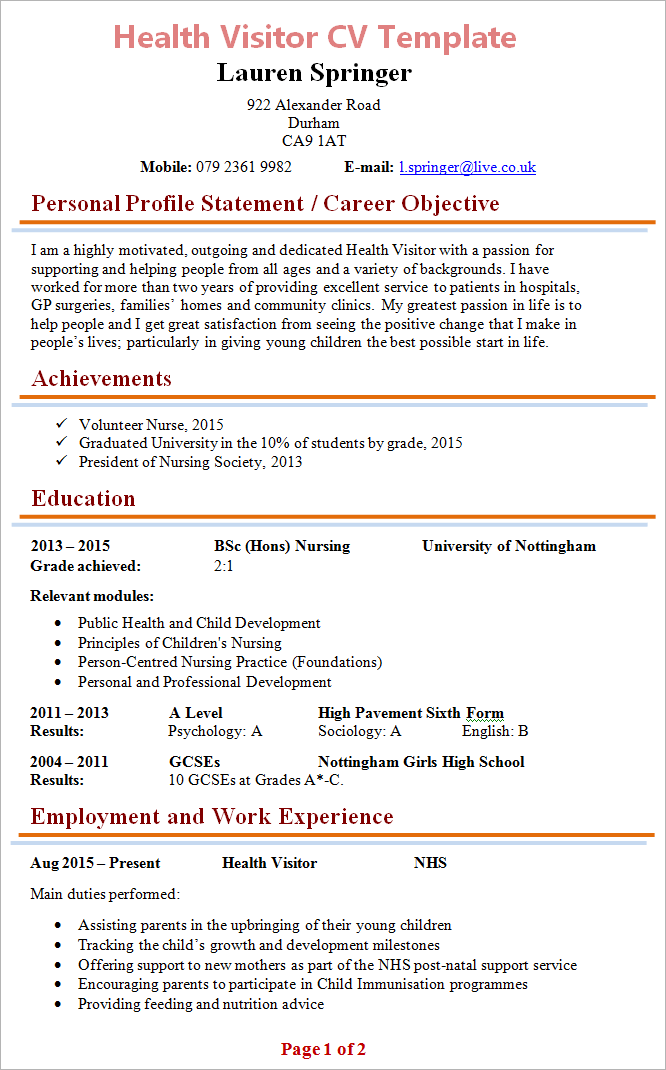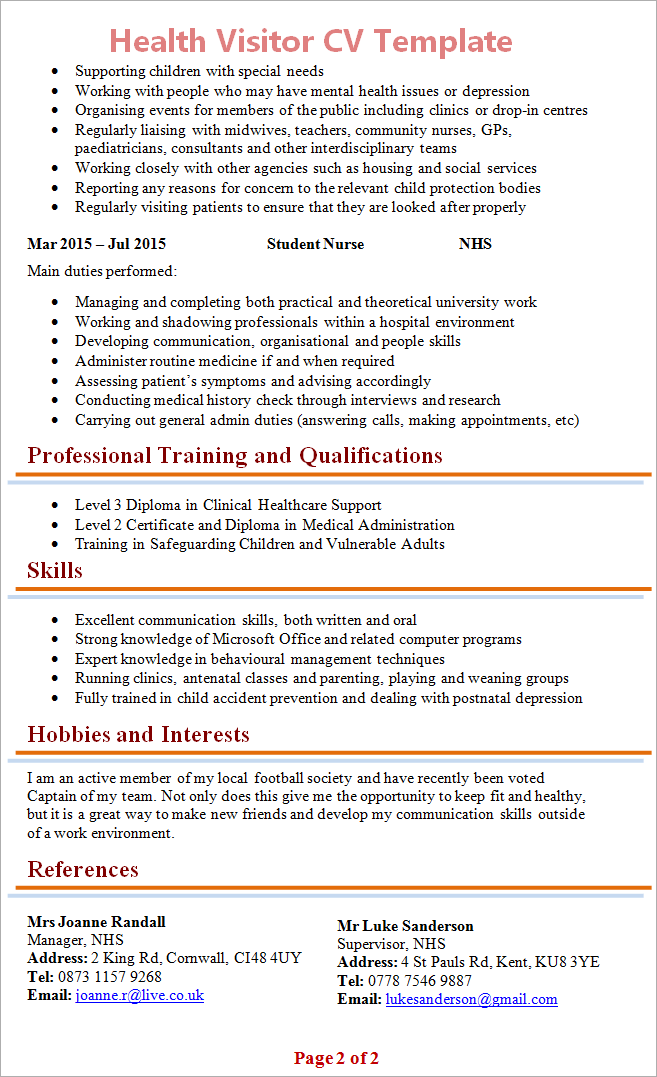 ---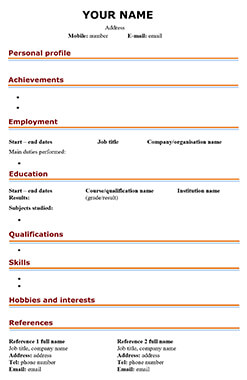 Are you writing your CV from scratch or is your CV template outdated? Download this professional CV template to impress employers!
Free
Save time and effort
Guaranteed correct CV structure
Word document (.docx) format
Fully customisable
How to save your CV as a PDF document:
Click on File > Save As > Select "PDF" from the drop-down menu.
---
---
Personal details


The first part of your CV contains your personal information and contact details.
Details you should include in this section:
Your name
Address (read this if you have concerns about privacy)
Telephone number
Email address
LinkedIn profile (if you have one)
Personal details not to include on your CV:
Date of birth
Age
Gender
Marital status
National insurance number
Nationality
Example:
Ashley Collins
342 Newgate Street, York, Y34 2MD
Mob: 07978377221 Email:

[email protected]
Personal profile


The next part of your CV will contain a short introductory paragraph known as your personal profile statement. It briefly informs the employer about your personal characteristics, experience and abilities.
Studies have shown that employers read an applicant's personal profile in detail before making a decision about their suitability for the job.
Guidelines:
Keep it short and to the point (3-5 sentences are more than enough).
Summarise the reasons that make you a strong candidate for the role.
Back up everything you say with facts and figures.
Health visitor CV personal profile
I am a friendly and methodical health visitor with more than 5 years of experience working in various health-related roles in NHS hospitals. I started my career as a nurse providing direct care to patients and then progressed to complete the Specialist Community Public Health Nursing – Health Visiting (SCPHN – HV) training programme to become a qualified health visitor. I have worked with more than two hundred families and supported them in all aspects of health and well-being. I take great pride in my work and wish to utilise my skills and abilities to better the lives of other people.
Achievements


Your achievements or accomplishments are a testimony of your skills, abilities and commitment to succeed in everything you do.
Examples of achievements to include on your CV:
Awards received
Promotions at work
Trained/Educated others
Completed important projects on time and within budget
Saved time by coming up with efficient methods and tools
Important qualifications gained
Good results in examinations and tests
Elected for leadership roles (project manager, team leader, etc.)
Example:
Over five years of work experience in the healthcare industry
Elected project manager on a number of occasions
Ran the marathon (26.2 miles) for charity
Also check out how to write achievements on a CV (+ best examples).
Employment and work experience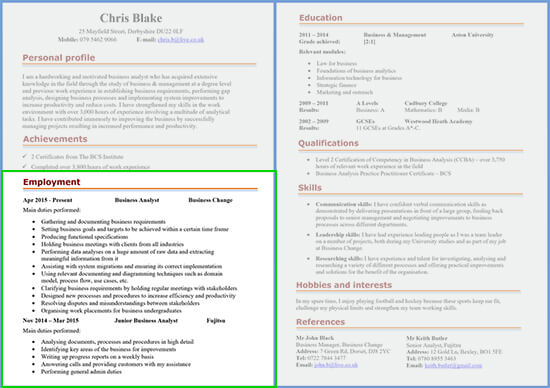 The employment section of your CV should contain details of your previous jobs and work experience, such as full-time jobs, part-time jobs, professional placements and voluntary positions.
Guidelines:
Write in reverse chronological order (most recent job first).
Give details of your key responsibilities, duties and achievements.
If you have a lot of work experience, you should omit mentioning very old, insignificant or irrelevant jobs. Doing so will keep your CV tidy and organised and free up valuable space for other important information.
| | |
| --- | --- |
| January 2021 – Present | Health visitor Birmingham Healthcare Centre |
Main duties and responsibilities performed:
Planned, developed and delivered a range of services for children and their families.
Provided information, advice and guidance to families.
Supported vulnerable or disabled children and their families.
Promoted continued development of the children.
Assessed the complex health needs of children and offered appropriate medical recommendations to promote health and prevent harm.
Worked together with colleagues for the safeguarding of young children.
Health visitor duties to add to your CV
Make home visits.
Advise new parents on taking care of a baby.
Encourage healthy lifestyles, including regular exercise and diet.
Promote immunisation and vaccination campaigns.
Support children with special needs.
Provide emotional support to children, parents and carers.
Protect children from injury, harm or abuse.
Liaise with other healthcare professionals.
Education and training


The education section, as its name suggests, contains details of your formal educational background and professional training qualifications.
What to include in this section:
Undergraduate and postgraduate degrees
College-level courses such as A-levels and BTECs
School-level qualifications such as GCSEs
Professional training qualifications
Example:
| | | |
| --- | --- | --- |
| 2020 – 2021 | Specialist Community Public Health Nursing – Health Visiting (SCPHN – HV) | The University of Birmingham |
Relevant Modules:
Developing professional practice for health visiting
A public health approach to promoting health and well-being
Protecting vulnerable children
Developing leadership and management skills for SCPHN
| | | | |
| --- | --- | --- | --- |
| 2015-2018 | BSc (Hons) Nursing – Child | University of London | Degree classification: 2:1. |
Relevant Modules:
What is nursing?
The Foundations of Nursing Practice
Clinical Skills
Developing Proficiencies for Nursing
2013 – 2015
Results: Biology (A), Chemistry (B) and Maths (B).
A-Levels
Summerfield College
Qualifications
The qualifications section contains details of any other qualifications you hold, such as professional training qualifications.
Example:
Level 2 Certificate in Caring for the Elderly – The Skills College
Skills


The only reason recruiters hire people is because of the skills, abilities and talents they bring to the organisation. The skills section of your CV should contain a list of your key skills, abilities and competencies that demonstrates to the employer that you have all the required skills and abilities to do the job well.
Example:
Excellent interpersonal skills, demonstrated in my ability to work with a variety of people from all age groups and walks of life.
Excellent organisation skills, demonstrated in my ability to manage a heavy workload and meet tight deadlines
Punctuality, demonstrated in attending appointments on time
Good knowledge of healthcare, wellbeing and child development
Useful skills to add to your health visitor CV
Communication and listening skills
The ability to win the trust of people
The ability to motivate people
Time management and organisational skills
The ability to provide information, advice and guidance (IAG) to families
The ability to deal with stressful and challenging situations
Filling in forms and writing reports
Having an interest in children and public health
More examples of skills to put on your CV.
Hobbies and interests (optional)


The hobbies and interests section can add great value to your CV (if used correctly).
For example, mentioning that you enjoy exercising or going to the gym indicates to the employer that you are a fit and healthy individual who takes care of their health and well-being. This fits perfectly with the role of a health visitor as their job is to promote healthy lifestyles to families.
Example:
In my free time, I enjoy going for walks, exercising at the gym and reading non-fiction books to expand my knowledge.
References


The last section of your CV contains details of your two references, people who know you well and can vouch for you to the employer. One of your references must be your current or former employer, the other can be anyone who has worked with you and knows you well, such as your former manager, teacher, coach, etc.
Example:
Ms Claire Summers
Health Visitor Manager, Coventry Hospital
Address:
7 Station Road, Coventry, C2 3GF
Tel:
07663576088
Email:
[email protected]
Mr Kane Eastwood
NHS Health Manager, NHS London
Address:
93 Sunny Street, London, L72 1PQ
Tel:
0787435684203
Email:
[email protected]
Note: You can write "references are available upon request" if you do not wish to write your references on your CV. Check out this article for more information and the pros and cons of writing your references on your CV.
---
Focus on your skills and abilities: Studies have shown that skills-focused CVs are better received by employers than duties-focused CVs. You can include your skills in many parts of your CV such as in the personal profile, employment and skills sections. Always back up your skills with real-life examples and situations.
Working with children: As a health visitor, you will be working with and around young children most of the time. You should make clear on your CV that you love working with children and that you want to make a positive impact on them at these crucial moments of their lives.
Travelling: You will be making daily trips to and from clinics, GPs and community centres to meet families in their homes. Stating that you have a full, clean driving license and your own method of transportation (car) will give a nice boost to your CV.
---
You've now reached the end of this guide.

If you have followed all the guidelines and tips in this guide, you should now have an impressive health visitor CV that will get you job interviews in no time.

Good luck with your job hunt!

Written by Sobhan Mohmand

Sobhan is a qualified Careers Advisor and Professional CV Writer with over 10 years of experience in helping job seekers get a job. He is a Member of the Careers Development Institute (CDI) and is listed on the official UK Register of Career Development Professionals. He holds a Level 6 Diploma in Career Guidance and Development (QCF).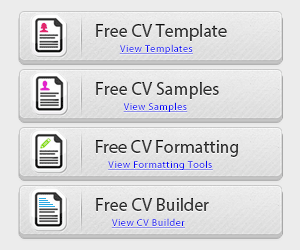 SPONSORED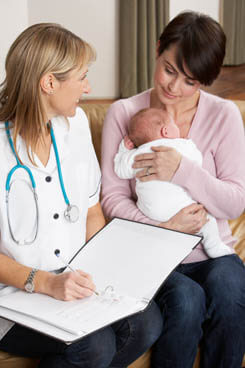 OVERVIEW
SALARY RANGE
£25.000 – £40.000

ENTRY
Degree and Work Experience

WORKING HOURS
37+ hours per week
Competencies
Caring
Ability to care for and empathise with patients' needs

Social Skills
The ability to effectively communicate and interact with professionals, parents and children

Organisational Skills
Excellent organisation skills to balance a heavy workload

Public Speaking
Ability to speak in front of an audience in a clear and audible fashion

Strength
Emotional strength to deal with difficult and stressful situations

Diplomacy
Using appropriate techniques to move patients or their guardians to beneficial action
Related Resources