Feb 2015 – Sept 2015
Nutritionist NHS
Main duties performed:
Providing nutritional counselling, support and advice to adults and children
Evaluating patient's nutritional needs and completing orders for all patients
Monitoring patient's food intake and progress
Explaining a patient's dietary plan and what they are expected to gain from it
Working with parents of disabled children to ensure that their needs are met
Ensuring all data and records are kept up to date and stored correctly in compliance with various hospital policies and the Data Protection Act
Offering support with feeding tubes and other specialist equipment
Effectively communicating with medical, nursing, clinical and non-clinical staff on a daily basis
Assisting with the organisation of the organisation's public events
Regularly attending multi-disciplinary team meetings
Qualifications
Health and Social Care BTEC Extended Diploma Level 3
Health and Social Care NVQ/QCF Certificate Level 2
Skills
Excellent written and verbal communication skills
Strong organisational skills and meeting deadlines in advance
Excellent interpersonal skills and building relations with staff and patients
Ability to work within a care base environment
Specialised in antidepressant medication, chronic diseases & eating disorders
Providing weight loss education with ongoing weekly weight-reducing clinics
Excellent IT skills (Microsoft Office)
Hobbies and interests
I am a very active individual and attend the gym 2-3 times a week as well as being an active member of my local netball society. Staying fit and healthy is something which I take great pride in, and it also allows me to meet new people and build relationships with individuals from all walks of life.
References
Mr Aaron Robertson
Lecturer, King's College London
Address:
6 Sheffield Rd, Chester, CH7 2DT
Tel:
0823 4363 7689
Email:
[email protected]
Mrs Jessica Fuller
Senior Dietitian, NHS
Address:
44 High Street, Leeds, L15 7YY
Tel:
0780 3453 5734
Email:
[email protected]
---
Preview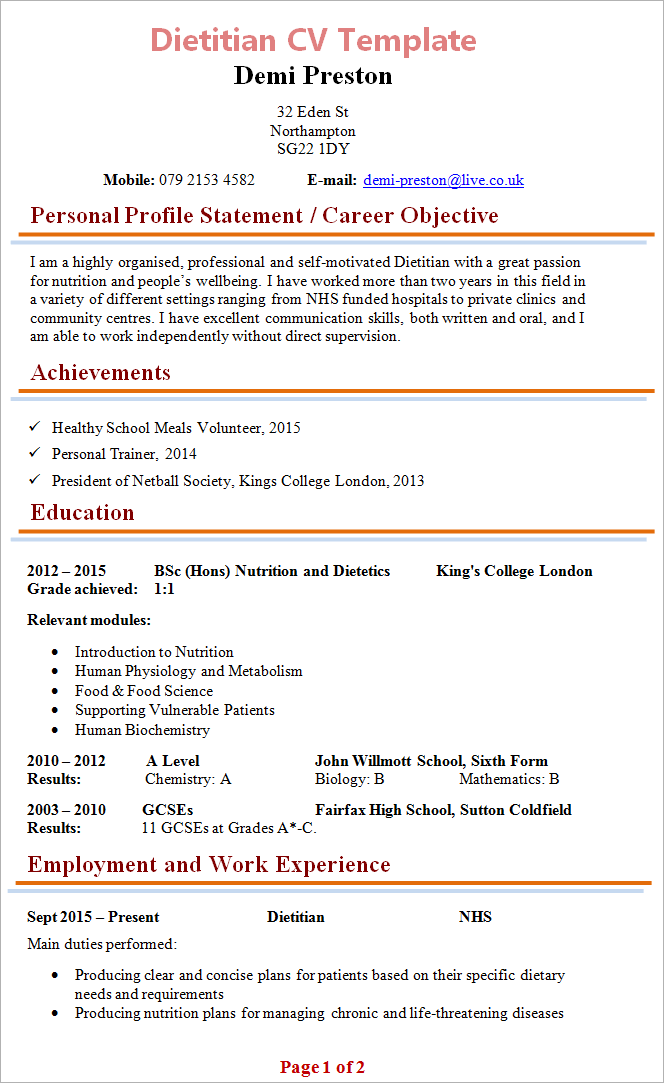 What makes this CV good and effective?
Personal Details: The personal details section is concise and contains essential information, including full name, contact information and location. Crucially, it does not contain any irrelevant or unhelpful information such as age, nationality, gender, date of birth or marital status.
Tailoring to the Job: The CV is tailored to the specific dietitian role, emphasising skills and experiences relevant to the job description.
Keywords: The candidate effectively includes industry-specific keywords relevant to the dietitian profession, which can be essential for Applicant Tracking Systems (ATS).
Easy-to-read bulleted lists: Bullet points are used for lists, making content more scannable and concise.
No Inconsistent Formatting: The candidate ensures that all formatting, such as bolding, italics and underlining, is consistent throughout the CV.
---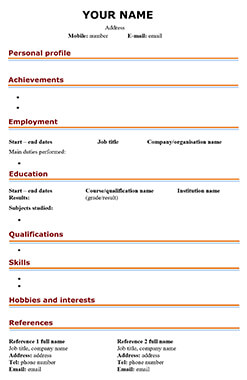 Are you writing your CV from scratch or is your CV template outdated? Download this professional CV template to impress employers!
Free
Save time and effort
Guaranteed correct CV structure
Word document (.docx) format
Fully customisable
How to save your CV as a PDF document:
Click on File > Save As > Select "PDF" from the drop-down menu.
---
Incorporate white space: White space refers to the empty space between and around the text elements. Ensure there's ample white space around text and between sections, preventing a cluttered appearance and improving readability.
Organise in reverse chronological order: Arrange your work experience in reverse chronological order, listing your most recent dietitian roles first, followed by earlier positions. This will ensure that the employer sees the most recent, significant and/or relevant job first. Do the same for the "Education" section of your CV.
Utilise clear headings: Use clear and consistent headings for each section of your CV, such as "Personal Profile", "Education" and "Experience". This makes it easy for employers to navigate your document. Use a larger font size and bold formatting to make the section headings stand out.
Consistent formatting: Maintain consistent formatting throughout your CV, using the same font size, style and formatting for section headings and text. You can use a different typeface for the headings and the main text, as long as consistency is maintained.
Include clear dates: Be explicit with dates for each job and educational qualification. For example, "Dietitian at Healthy Living Clinic, July 2018 – Present."
---
Personal information
The personal details section of your CV contains essential information about you, including your full name, contact details (phone, email and address), and sometimes, relevant web links like your LinkedIn profile.
Example:
Profile statement
The profile statement section of your CV is a brief, introductory statement about you, summarising your key qualifications, career goals and what you can bring to the job. It's the first thing that the employer will read so make sure it's well-written and powerful.
Dietitian personal profile example:
As a Dietitian with a proven track record, I've empowered clients to achieve their health and wellness goals. Through personalised meal plans and nutritional guidance, I've successfully helped individuals reduce cholesterol levels by up to 20% and assisted athletes in optimising their performance nutrition for peak results. With a commitment to evidence-based practice, I bring a wealth of experience to support my clients in achieving their well-being goals.
Achievements and awards
The achievements and awards section of your CV is where you highlight specific accomplishments, contributions or milestones from your career, education and personal life.
Include impressive academic results, awards, successful projects, unique skills, leadership examples, problem-solving instances, innovations and client successes to demonstrate your value to employers.
Example:
Received the "Dietitian of the Year" award in 2020.
Successfully implemented a nutrition education program for 60+ students.
Led a local health and wellness club as the President.
Employment history
The employment history section of your CV outlines your work experience, including previous positions, employers, dates of employment and key responsibilities and achievements in each role.
You can include a wide range of jobs in your CV, especially if they are relevant to the position you're applying for, such as full-time, part-time, temporary, internships, volunteer work and freelance or self-employed roles that demonstrate relevant skills and experience.

| | |
| --- | --- |
| August 2018 – Present | Clinical Dietitian HealthFirst Hospital |
Main duties and responsibilities performed:
Implemented a new dietary assessment protocol, resulting in a 20% improvement in patient dietary compliance and health outcomes.
Conducted individual and group counselling sessions, helping over 500 patients achieve their nutritional goals.
Collaborated with the medical team to develop specialised meal plans for patients with complex medical conditions.
Organised and led nutrition workshops for staff and patients, increasing nutrition knowledge and awareness within the hospital.
Dietitian duties to add to your CV
Conduct individual dietary assessments to develop personalised nutrition plans.
Educate and counsel patients on nutritional principles and dietary modifications.
Monitor and track patients' progress, making adjustments to nutrition plans as needed.
Collaborate with healthcare teams to provide comprehensive patient care.
Create and deliver nutrition presentations and workshops.
Interpret lab results and medical history to inform dietary recommendations.
Manage and maintain accurate patient records and documentation.
Promote healthy eating habits and provide support for individuals with dietary restrictions or medical conditions.
Educational background
The educational background section of your CV provides a comprehensive list of your academic qualifications, including degrees, diplomas, certificates, and other relevant credentials, along with essential details such as the institutions or universities attended and the dates of completion, typically presented in reverse chronological order.
This section gives employers an overview of your formal qualifications and how they could benefit you in the role you're applying for.
Read more: How to write your education on your CV.
Example:
| | | | |
| --- | --- | --- | --- |
| September 2015 – July 2019 | Bachelor of Science in Dietetics | Nutrition University | Degree Classification: First Class Honours. |
Subjects studied:
Clinical Nutrition
Food Science
Nutritional Biochemistry
Medical Nutrition Therapy
Research Methods in Dietetics
September 2013 – June 2015
Results: Biology: A, Chemistry: B, Mathematics: B
A-Levels
College of Science and Health
Qualifications & training
This section of your CV contains a comprehensive list of your relevant professional certifications, licenses and specialised training, highlighting your professional credentials. This is in addition to your formal education you outlined in the "Educational background" section.
Example:
Registered Dietitian (RD) – British Dietetic Association (BDA)
Level 3 NVQ Diploma in Customer Service – The Open University
Advanced Diploma in Sports Nutrition – Nutrition and Fitness Academy
Food Hygiene Certificate (Level 2) – Food Safety Training Institute
Skills and competencies
The skills and competencies section is a crucial area where you can highlight your unique abilities and competencies.
You should showcase both technical and soft skills that make you a well-rounded and effective dietitian. Include hard skills such as dietary assessment, nutrition planning, counselling and medical nutrition therapy to demonstrate your expertise in the field. Additionally, emphasise soft skills like communication, empathy and the ability to work as part of a healthcare team, as they are essential for effective patient care and collaboration in the medical setting.
By providing a balanced mix of these skills, you'll show potential employers that you have the comprehensive skill set required to excel in your role as a dietitian.
Example:
Dietary assessment: Proficient in conducting thorough dietary assessments to create tailored nutrition plans; consistently achieved a 90% patient satisfaction rate.
Effective communication: Strong communication skills, fostering trust and rapport with patients and colleagues for optimal patient care.
Data management: Accurate and organised data management skills, maintaining detailed and up-to-date patient records for the best continuity of care.
Useful dietitian skills to add to your CV
Dietary assessment: Proficient in evaluating individuals' dietary habits and nutritional needs to create tailored meal plans.
Nutritional counselling: Skilled in providing guidance and support to help clients make healthier food choices.
Medical nutrition therapy: Experienced in developing specialised nutrition plans for various medical conditions.
Menu planning: Capable of designing balanced and nutritious meal plans for individuals or institutions.
Clinical nutrition: Knowledgeable about the role of nutrition in managing and preventing diseases.
Weight management: Competent in helping clients achieve their weight-related goals.
Sports nutrition: Expertise in optimising nutrition for athletes to enhance performance.
Hobbies & interests
The hobbies & interests section of your CV provides a glimpse into your personal passions, extracurricular activities and non-professional pursuits, helping employers understand you as a well-rounded individual beyond your professional qualifications.
Example:
I maintain an active lifestyle with a strong passion for cooking and experimenting with nutritious recipes. This personal interest not only fuels my dedication to promoting healthier eating but also ensures I stay well-informed about the latest culinary trends and their impact on dietary choices. Additionally, I enjoy hiking and exploring the outdoors, which complements my commitment to an overall healthy and balanced lifestyle.
Referees
The referees section is where you can choose to include contact information for individuals who can vouch for your qualifications and character, or you may simply state "Available upon request" if you prefer not to disclose this information initially.
Example:
Dr Ian Harper
Senior Dietitian, Wellness Hospital
Address:
87 Willow Drive, Newcastle, NE1 9AB
Tel:
+44 191 765 4321
Email:
[email protected]
Ms. Emily Watson
Dietetics Manager, Healthy Living Clinic
Address:
567 Birch Avenue, Liverpool, L4 8XY
Tel:
+44 151 876 4321
Email:
[email protected]
Note: If you do not wish to disclose your references on your CV, you should write, "References are available upon request."
---
Tailor your CV: Customise your CV for each job application, highlighting relevant skills and experience based on the specific requirements of the role. For example, emphasise your experience in clinical nutrition for a clinical dietitian position. Tip: Use keywords and phrases from the job's personal specification to tailor your CV.
Highlight certifications: Clearly list your relevant certifications and licenses, such as Registered Dietitian (RD), as these are essential for the role.
Professional memberships: Include memberships in relevant professional organisations like the British Dietetic Association (BDA) to demonstrate your commitment to the field and stand out from the other candidates.
Patient outcomes: Discuss how your dietary interventions positively impacted patient health outcomes, such as improved blood sugar control for diabetic patients. Share examples of how you've empowered patients to take control of their nutritional choices and make positive lifestyle changes.
Clinical experience: Highlight your experience in clinical settings, detailing the types of cases you've managed, like cardiovascular disease or renal nutrition.
Wellness promotion: Highlight your involvement in wellness programs and initiatives, especially if you've led workshops or classes on healthy eating.
---
Conclusion
This is the end of our comprehensive guide on how to write a Dietitian CV, complete with an example and valuable tips.
By following the steps outlined here, you should now have the tools and knowledge to create a compelling CV that showcases your skills and experience in the field of dietetics.
Remember to tailor your CV for each specific job application to maximise your chances of securing interviews and advancing your career.
Best of luck in your job search!
Written by Sobhan Mohmand
Sobhan is a qualified Careers Advisor and Professional CV Writer with over 10 years of experience in helping job seekers get a job. He is a Member of the Careers Development Institute (CDI) and is listed on the official UK Register of Career Development Professionals. He holds a Level 6 Diploma in Career Guidance and Development (QCF).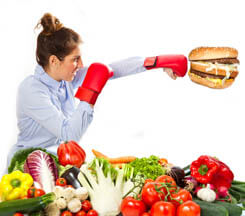 OVERVIEW
SALARY RANGE
£21.000 – £35.000

ENTRY
Degree and Work Experience

WORKING HOURS
37+ hours per week
Competencies
Communication Skills
Excellent language skills to interact with patients, medical staff and third-party professionals

Caring
Ability to care for and empathise with patients' needs

Time Management
Allocating one's own time in a systematic manner to complete work efficiently

Listening Skills
Ability to listen to customer's concerns and complaints

Computing Skills
Using the computer effectively to log data, research, write reports and send emails

Healthy
The condition of being physically fit and healthy
Related Resources