Mar 2007 – May 2007
Apprentice Plumber Ripon Hardware Centre
Main duties performed:
Familiarising with all aspects of the job
Detecting and fixing leaking taps
Assist senior members of the team with the complete installation of kitchens
Carrying out basic diagnostic tests on domestic hot and cold systems
Qualifications
Level 2 Diploma in Access to Building Services Engineering (QCF)
Basic Plumbing Levels 2 (City & Guilds)
Level 1 Certificate Introduction to Plumbing
Skills
Excellent communications skills
The ability to be skilful and quick with hands (manual dexterity)
Physically flexible to reach the most difficult/isolated parts of a system
Outstanding analytical and problem-solving skills
Good understanding of blueprints and the ability to read instruction manuals
Emergency repair work
Clean UK Driving License
Hobbies and interests
My hobbies include socialising with family and friends, playing snooker and supporting my local football team. In my spare time, I also enjoy doing small DIY projects on the side in order to improve my practical skills and abilities.
References
Mr Leo Parry
Store Manager, Ripon Hardware Centre
Address:
95 Shire Oak Road, Ripon, YO25 7DE
Tel:
0223 322 2412
Email:
[email protected]
Mr Robert Vaughan
Senior Plumber, Plumbing Solutions Ltd.
Address:
9 Fore St, Trench, FY5 2FQ
Tel:
0280 2354 3423
Email:
[email protected]
Please note: the above CV Example is presented in the UK format and layout.
---
Preview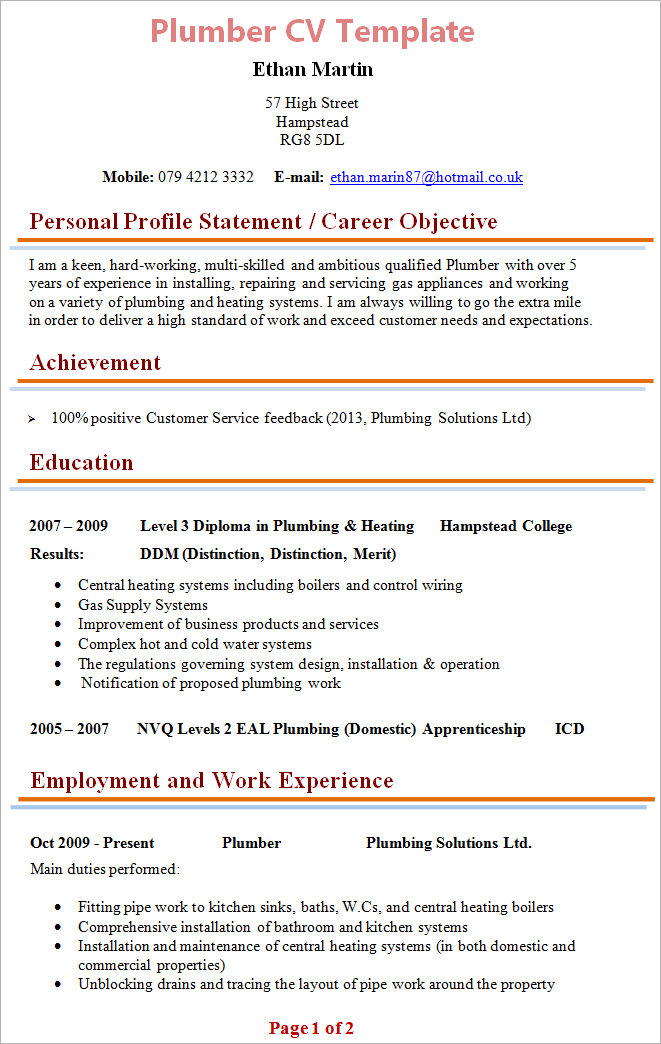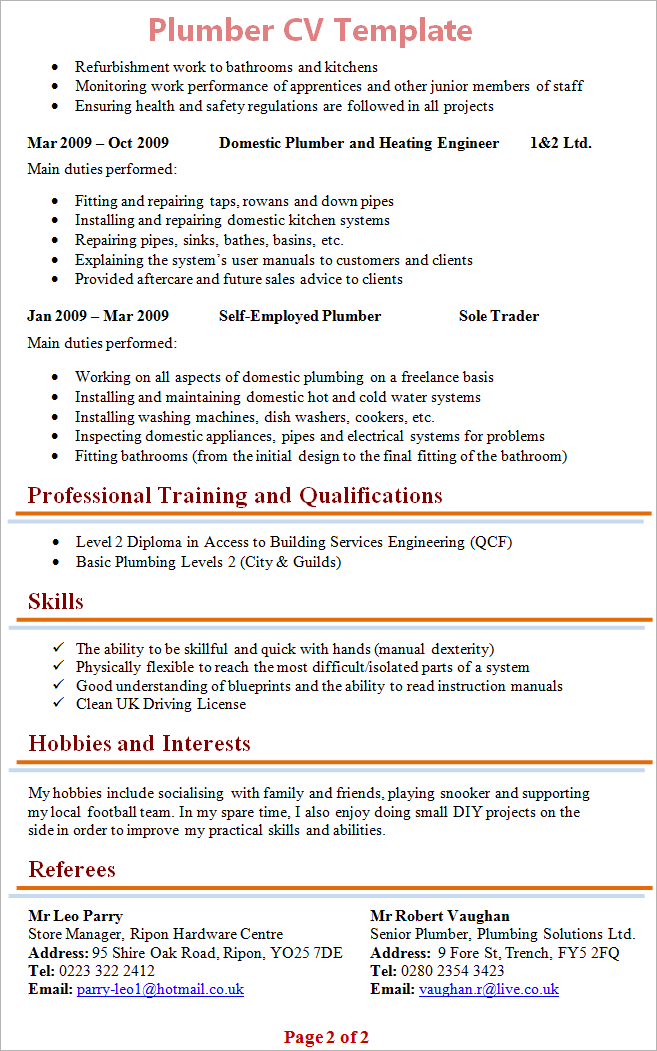 ---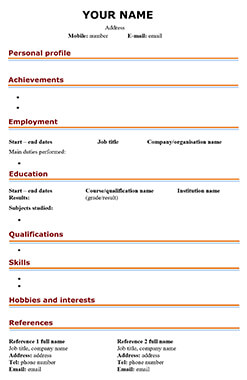 Are you writing your CV from scratch or is your CV template outdated? Download this professional CV template to impress employers!
Free
Save time and effort
Guaranteed correct CV structure
Word document (.docx) format
Fully customisable
How to save your CV as a PDF document:
Click on File > Save As > Select "PDF" from the drop-down menu.
---
Follow a standard CV format: It's true that there is not a single "correct way" of writing a CV. However, employers are accustomed to certain formats and if you deviate too much from that your CV will stand out for the wrong reasons! A typical CV contains the following sections in order: personal details, personal profile, achievements, education, employment, skills, hobbies and references. This format works well because ensures that the most important information is presented first. You can swap the education and employment sections depending on your preference and circumstances.
Use short sentences, bullet points and subheadings.
Effectively use white space: White space, in graphics design, refer to the area without any text, graphics or elements. Using a good amount of white space on your CV gives it a clear structure and improves its legibility.
The ideal length of your CV: Long CVs that contain a lot of information are usually rejected by employers. The maximum length of your CV should be 2 A4 pages.

---

Personal details



The first part of your CV consists of your personal details such as name, address, phone number and email address.

Tips:

Make your name the main heading of your CV
Use a professional email address (not [email protected]!)

Example:

Personal profile



Next, you need to write a powerful personal profile.

A personal profile is a short statement, consisting of 3-4 sentences, that gives a brief overview of your personal characteristics, experience and abilities. Consider it as an introduction to your CV. Studies have shown that employers value the inclusion of personal profiles on CVs and use them to make their final judgement on candidates.

Plumber CV personal profile statement:

I am a punctual, hardworking and motivated plumber with over two years of experience in the industry. My extensive knowledge of plumbing systems has enabled me to work in a variety of settings including domestic homes, commercial sites and educational facilities. I have experience in installing and maintaining pipework for sinks, baths, toilets, taps, washing machines, dishwashers and central heating systems.

Achievements



Next, list down some of your key accomplishments and achievements.

You can mention examples from your studies, work or life in general. Your achievements could be many things, including awards received, promotions, good grades, good performance at work, excellent customer feedback, etc.

Example:

Proven track record of completing jobs to a high and professional standard
Excellent customer service, evident from the high number of repeat customers

Employment and work experience



The employment and work experience section is the part that employers are the most interested in so you need to spend more time perfecting it.

Give details about your previous jobs, employment and work experience. Types of jobs you can include in this section include full-time, part-time and voluntary positions.

| | |
| --- | --- |
| March 2021 – Present | Plumber C.H Plumbing Services |

Main duties and responsibilities performed:

Measured, installed and maintained pipework for plumbing systems
Planned and installed new bathroom and kitchen units
Installed electric showers, washing machines and dishwashers
Installed, cleaned and unblocked drains
Installed new WC pans and repaired existing toilets
Fitted new taps, sinks and basins
Provided excellent customer service
Adhered to strict health and safety regulations at all times

Plumber duties to add to your CV

Maintain and repair plumbing systems (such as water/heating systems and drainage networks) to facilitate the distribution of water and gas through pipes, fittings and fixtures.
Install and repair kitchens, bathrooms, showers, flooring and windows.
Plan and install new pipework.
Cut and join pipes and fittings.
Fault finding – diagnose and fix leaks and faults in plumbing systems.
Respond to emergency call-outs.
Perform minor electrical works, ground maintenance and decoration.

Education and training



Now, write down the details of your education and qualifications.

What to include in this section:

Undergraduate and postgraduate degrees
College-level courses such as A-Levels and BTECs
Technical and professional qualifications
Work and vocational training received
GCSEs or equivalent qualifications

Don't worry if you don't have an impressive degree to list here. Being a plumber is a hands-on job and experience is far more important than formal education. In fact, employers prefer professional training qualifications over a degree in this role.

Example:

| | | | |
| --- | --- | --- | --- |
| 2019-2021 | NVQ in Plumbing and Domestic Heating (Level 2) | Stafford College | Grade achieved: Distinction. |

Relevant Modules:

Domestic hot and cold water systems
Central heating systems
Environmental technologies
Gas safety

2017 – 2019
Results: 8 GCSEs at Grades A*-C, including Maths and English.
GCSEs
Windsor School

Qualifications




The qualifications section of your CV should contain a list of additional qualifications that you have gained on top of the education that you have listed in the previous section. Mostly, these are professional training qualifications.

Example:

Level 1 in Plumbing – Shrewsbury College
NCFE Level 1 Award in Health and Safety Awareness

Skills



Next, list down some of your key skills and strengths that are relevant to the job.

Skills are your expertise and talents to do a job or task well.

Skills are divided into two categories:
Soft skills: These skills relate to your personality and character. For example, communication skills, interpersonal skills and time management skills.
Hard skills: These are technical, quantifiable skills that have been developed through learning or experience. For example, programming, building a shed or designing a product prototype.
You should include a mixture of both soft and hard skills because both types are required to be a successful plumber.
Example:
Comprehensive knowledge of buildings, construction and plumbing systems.
Ability to work under pressure in a fast-paced work environment, demonstrated in completed jobs in emergency situations or under tight deadlines.
Excellent customer service skills, demonstrated in completed jobs to the complete satisfaction of clients.
Good knowledge of health and safety standards and regulations.
Useful skills to add to your plumber CV
Plumbing and piping
Using hand and power tools
Excellent communication skills
Knowledge of construction and buildings
Diagnostic and problem-solving skills
The ability to work quickly and efficiently
The ability to work outdoors in all weather conditions
Full driving licence
Hobbies and interests (optional)


Mentioning some of your relevant hobbies and interests can add value to your CV.
For example, mentioning that you enjoy playing tennis as a hobby indicates to the employer that you are athletic, fit and healthy. This will work in your favour as a plumber's job is very laborious and hands-on and requires a good level of fitness.
Guidelines:
Only mention interests that are relevant to the job
Don't mention more than 3-4 hobbies or interests.
Keep it short and concise
Example:
In my free time, I enjoy watching documentary programs on TV, spending time with my family and exercising twice a week at my local gym.
References


The last section of your CV contains details of your references.
Your references are people whose details you give to the employer so that they can vouch for your character, skills and abilities. They should be people who know you well and must have worked with you in the past.
Your references could be many people including your former employer, manager, teacher, coach, etc. They cannot be a friend or family member.
Example:
Mr Edward Morrison
Managing Director, 360 Heating Co. Ltd.
Address:
6 North Road, Lot, L83 1BN
Tel:
07663578393
Email:
[email protected]
Mrs Beth Fisher
Plumber and Heating Engineer, Plumbing 21
Address:
19 Salmon Rd, Deer, D22 4PQ
Tel:
078743563111
Email:
[email protected]
Note: If you do not wish to disclose your references on your CV, you should write, "References are available upon request."
Focus on your skills and abilities: Being a plumber is not an easy job. It requires a lot of skill, effort and know-how to do your job well. Your CV should mainly revolve around your skills and abilities, such as your ability to design plumbing systems, diagnose and repair faults in a timely manner, be punctual and provide excellent customer service at all times. Studies have shown that applicants with skills-focused CVs are three times more likely to be shortlisted for an interview than applicants with duties-focused CVs.
Include a cover letter with your CV: To improve the chances of securing a job interview, you should write a tailored cover letter for each job application. A cover letter is a 1-page letter that tells the employer who you are, why you are making this application and why they should consider you as a candidate for the advertised role.
Proofread your CV: Before sending your CV to employers, you should double-check it for any spelling or grammar mistakes. You can do this yourself or ask a friend, family member or career advisor to do it for you.
---
You've now reached the end of this guide.

If you have followed all the guidelines and tips in this guide, you should now have an impressive plumber CV that will get you job interviews in no time.

Good luck with your job hunt!

Written by Sobhan Mohmand

Sobhan is a qualified Careers Advisor and Professional CV Writer with over 10 years of experience in helping job seekers get a job. He is a Member of the Careers Development Institute (CDI) and is listed on the official UK Register of Career Development Professionals. He holds a Level 6 Diploma in Career Guidance and Development (QCF).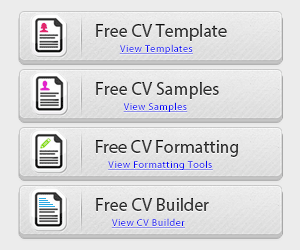 SPONSORED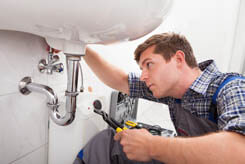 OVERVIEW
SALARY RANGE
£18.000 – £35.000

ENTRY
Work Experience

WORKING HOURS
40+ hours per week
Competencies
Practical Skills
Having hands-on experience with using tools and equipment

Planning
Working in an organised and systematic manner to accomplish a variety of jobs

Observation Skills
Paying close attention to every aspect of the task or project

Problem Solving
Excellent problem-solving skills to deal with issues or emergencies when required

Customer Service
Ensuring the customer's needs, expectations and requirements are met

Precision
The ability to work with  exact and accurate measurements
Related Resources