I am a keen, hard-working, multi-skilled and ambitious qualified Plumber with over five years of experience in installing, repairing and servicing gas appliances and working on a variety of plumbing and heating systems. I am always willing to go the extra mile to deliver a high standard of work and exceed customer needs and expectations.
| | |
| --- | --- |
| Oct 2009 – Present | Plumber Plumbing Solutions Ltd. |
Main duties performed:
Fitting pipework to kitchen sinks, baths, W.Cs, and central heating boilers
Comprehensive installation of bathroom and kitchen systems
Installation and maintenance of central heating systems (in both domestic and commercial properties)
Unblocking drains and tracing the layout of pipework around the property
Refurbishment work to bathrooms and kitchens
Working on internal and external doors and frames
Monitoring work performance of apprentices and other junior members of staff
Ensuring health and safety regulations are followed in all projects
Mar 2009 – Oct 2009
Domestic Plumber and Heating Engineer 1&2 Ltd.
Main duties performed:
Fitting and repairing taps, rowans and down pipes
Installing and repairing domestic kitchen systems
Installing heating and solar panel systems
Repairing pipes, sinks, baths, basins, etc.
Explaining the system's user manuals to customers and clients
Advising clients on the best products to suit their needs
Provided aftercare and future sales advice to clients
Jan 2009 – Mar 2009
Self-Employed Sole Trader
Main duties performed:
Working on all aspects of domestic plumbing on a freelance basis
Installing and maintaining domestic hot and cold water systems
Installing washing machines, dishwashers, cookers, etc.
Servicing gas boilers (including aftercare and follow-on appointments)
Detecting and locating leaks in pipework and carrying out repairs
Inspecting domestic appliances, pipes and electrical systems for problems
Fitting bathrooms (from the initial design to the final fitting of the bathroom)
Mar 2007 – May 2007
Apprentice Plumber Ripon Hardware Centre
Main duties performed:
Familiarising with all aspects of the job
Detecting and fixing leaking taps
Assist senior members of the team with the complete installation of kitchens
Carrying out basic diagnostic tests on domestic hot and cold systems
Qualifications
Level 2 Diploma in Access to Building Services Engineering (QCF)
Basic Plumbing Levels 2 (City & Guilds)
Level 1 Certificate Introduction to Plumbing
Skills
Excellent communications skills
The ability to be skilful and quick with hands (manual dexterity)
Physically flexible to reach the most difficult/isolated parts of a system
Outstanding analytical and problem-solving skills
Good understanding of blueprints and the ability to read instruction manuals
Emergency repair work
Clean UK Driving License
Hobbies and interests
My hobbies include socialising with family and friends, playing snooker and supporting my local football team. In my spare time, I also enjoy doing small DIY projects on the side in order to improve my practical skills and abilities.
References
Mr Leo Parry
Store Manager, Ripon Hardware Centre
Address:
95 Shire Oak Road, Ripon, YO25 7DE
Tel:
0223 322 2412
Email:
[email protected]
Mr Robert Vaughan
Senior Plumber, Plumbing Solutions Ltd.
Address:
9 Fore St, Trench, FY5 2FQ
Tel:
0280 2354 3423
Email:
[email protected]
Please note: the above CV Example is presented in the UK format and layout.
Preview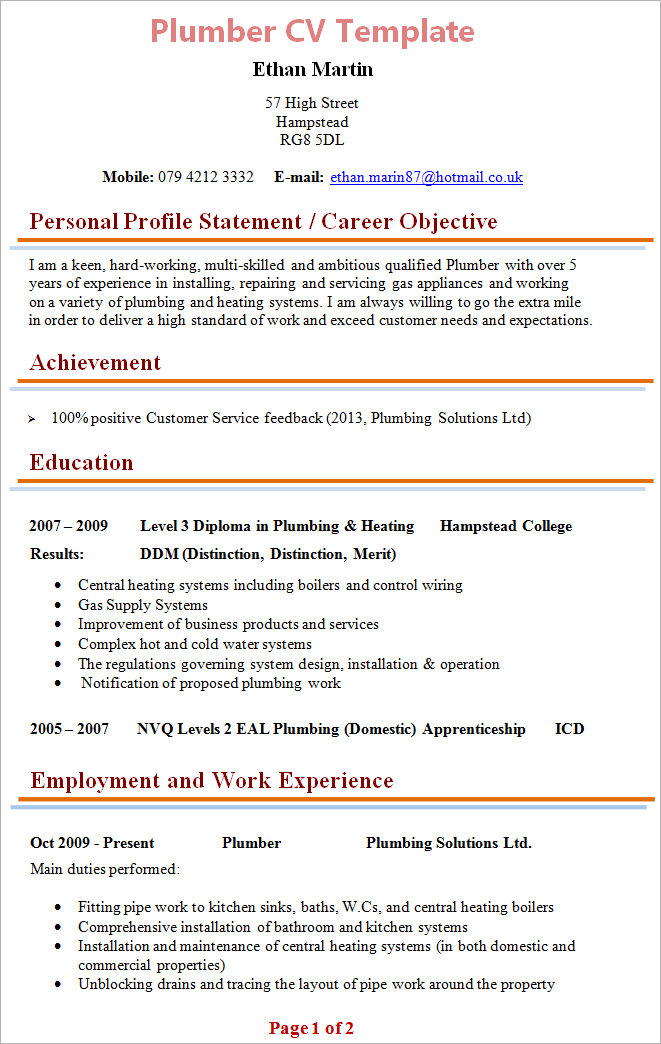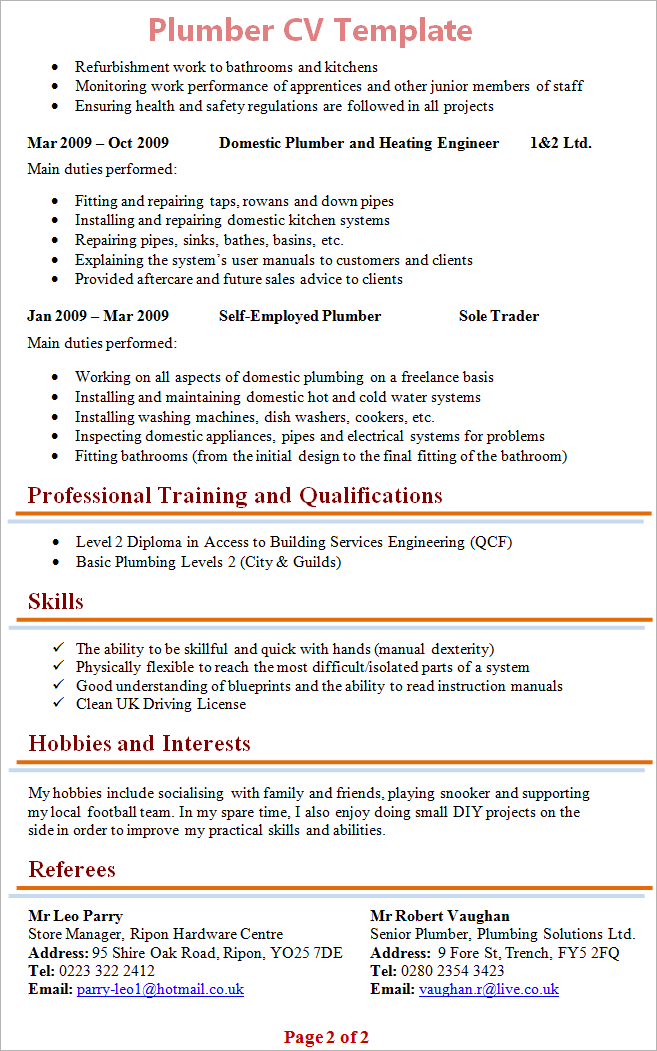 Download
Click here to download the above CV Sample (blank).
COLLECTION: You may also want to browse through our collection of Free CV Templates and download any of the editable CVs to create your own (available in Microsoft Word format and convertible to PDF).
Tips
A Plumber's job is very much practical, hands-on and does not require a high-level of education in order to excel in it. For this reason, the majority of your CV should clearly focus on your previous work experience, practical skills and personal drive to succeed.
Good Luck!
Written by Sobhan Mohmand
Sobhan is a qualified Careers Advisor and Professional CV Writer with over 10 years of experience in helping job seekers get a job. He is a Member of the Careers Development Institute (CDI) and is listed on the official UK Register of Career Development Professionals. He holds a Level 6 Diploma in Career Guidance and Development (QCF).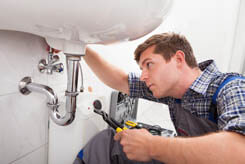 OVERVIEW
SALARY RANGE
£18.000 – £35.000

ENTRY
Work Experience

WORKING HOURS
40+ hours per week
Competencies
Practical Skills
Having hands-on experience with using tools and equipment

Planning
Working in an organised and systematic manner to accomplish a variety of jobs

Observation Skills
Paying close attention to every aspect of the task or project

Problem Solving
Excellent problem-solving skills to deal with issues or emergencies when required

Customer Service
Ensuring the customer's needs, expectations and requirements are met

Precision
The ability to work with  exact and accurate measurements
Related Resources