I am a capable, hands-on and experienced Construction Worker with excellent practical skills and personal drive to complete tasks. I have gained substantial experience of working in the construction industry and I am currently looking for an opportunity that would allow me to develop my skills further and make a real difference in the building sector. I am an excellent team player, and I have the ability to complete any given jobs – supervised or unsupervised – to a very high standard.
| | |
| --- | --- |
| Sept 2015 – Present | Construction Operative Site Labour Ltd |
Main duties performed:
Digging and marking shallow trenches for foundations and drains
Putting up and dismantling the shuttering that holds setting concrete in place
Bending and fixing the metal bars to reinforce concrete
Fixing steel sheets together (steel piling)
Mixing up cement and other building materials
Digging holes, ditches, paths and trenches
Doing basic concreting, such as for foundations, floors and beams
Bricklaying throughout the project
Laying kerbs and re-surfacing for roads
Removing excess debris and waste (such as barbed wire and pieces or plastic)
Utilising and looking after specialist construction machinery
Following instructions from managers and other members of the team
Following health and safety regulations at all times
Feb 2014 – Sept 2015
General Labourer Multi-Services Ltd
Main duties performed:
Explaining the required work to be carried out to the customer
Fitting and preparing skirting boards
Installing new kitchen and storage units
Painting and decorating walls and ceilings
Stripping walls ready for prepping
Preparing walls for plastering
Stripping and installing flooring
Advising on general plumbing and carpentering issues
Sept 2012- Feb 2014
Freelance Handyman Oakfield Chapman
Main duties performed:
Assisting with remodelling projects such as roofing, bricklaying and tile work
Removing site waste before and after work
Cleaning and sweeping workspaces
Lifting heavy materials and equipment
Protecting surfaces before main construction work
Qualifications
CSCS Labourer Card for health and safety competence
Level 2 (NVQ) in Construction and Civil Engineering Services
Clean driving license and experience driving vans
Skills
Excellent knowledge about building methods and materials
Outstanding practical and DIY skills to solve any issues
Good level of fitness as I regularly go to the Gym
Able to follow instructions and having strong communication skills
Able to work in all weather conditions
Hobbies and interests
On the weekends I play football for my local football club, and I also compete in their matches on a national level. I regularly visit the gym to keep physically fit, and I enjoy meeting new people and spending time with my family and friends.
References
Mr Dave Anderson
Construction Manager, Site Labour Ltd
Address:
9 Shaun St, Chester, CP8 7DQ
Tel:
0785 6783 6113
Email:
[email protected]
Mr Omar Khaleel
Supervisor, Multi-Services Ltd
Address:
4 Clock Ln, Leeds, L90 3FY
Tel:
0720 4568 0533
Email:
[email protected]
Please note: the above CV Example is presented in the UK format and layout.
Preview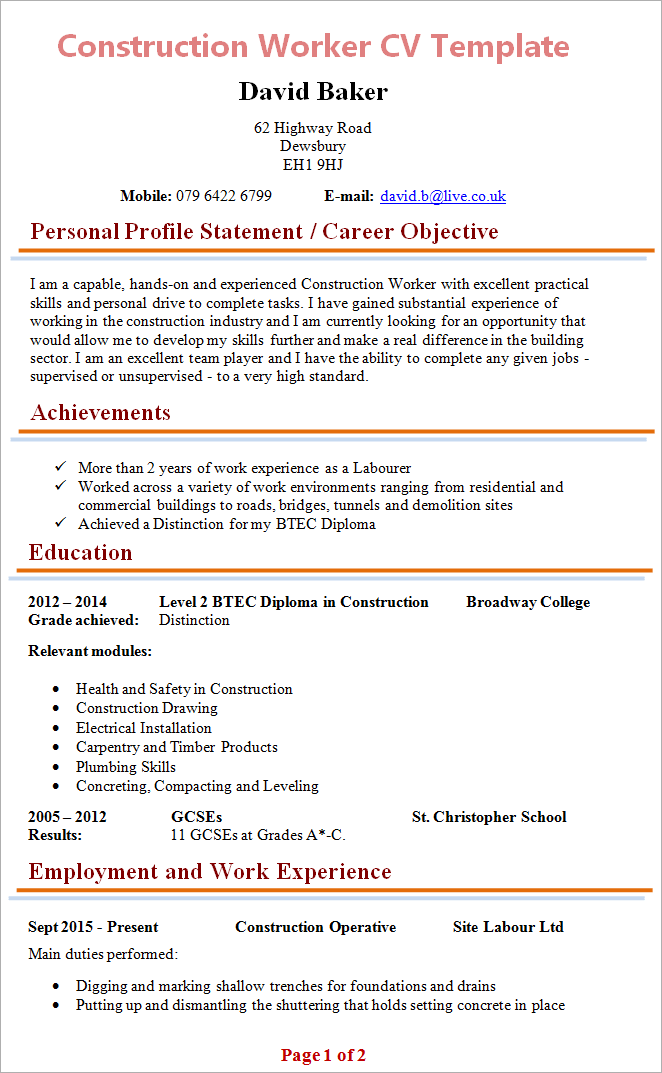 Download
Click here to download the above CV Sample (blank).
COLLECTION: You may also want to browse through our collection of Free CV Templates and download any of the editable CVs to create your own (available in Microsoft Word format and convertible to PDF).
Tips
State on your CV that you can and are willing to work in all weather conditions.
Focus a lot of your CV's attention on your practical skills, experiences and abilities because working as a Construction Worker means that you will constantly be on your feet; lifting, digging, assembling and building things on a daily basis.
Good Luck!
Written by Sobhan Mohmand
Sobhan is a qualified Careers Advisor and Professional CV Writer with over 10 years of experience in helping job seekers get a job. He is a Member of the Careers Development Institute (CDI) and is listed on the official UK Register of Career Development Professionals. He holds a Level 6 Diploma in Career Guidance and Development (QCF).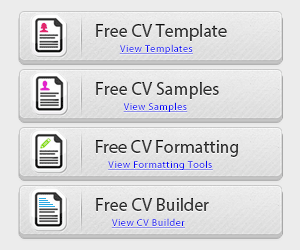 SPONSORED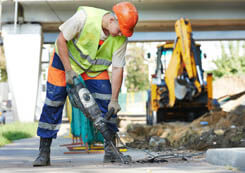 OVERVIEW
SALARY RANGE
£14.000 – £21.000

ENTRY
Work Experience

WORKING HOURS
38+ hours per week
Competencies
Hands-on
Ability to use tools and equipment in a challenging environment

Precision
Being able to identify and specify precise measurements and working with them accordingly

Attention to Detail
Paying attention to every aspect of the task or project to ensure that no mistakes are made

Problem Solving
Excellent problem-solving skills to deal with issues or emergencies when required

Teamwork
Working with others in a supportive and constructive manner

Strength
Physical strength for lifting and handling goods and equipment
Related Resources