I am a practical, creative and hardworking Kitchen Fitter with excellent carpentry and joinery skills. I have previous experience in fitting and installing beautiful rigid kitchens across the country. According to my work ethics, merely "Good enough" isn't good enough at all; everything has to be completed to the highest standard possible in order to provide the best customer service that the customers expect and deserve.
| | |
| --- | --- |
| Jan 2014 – Present | Kitchen Fitter Creative Kitchens Ltd |
Main duties performed:
Disassembly and safe disposal of existing kitchen fittings and appliances
Taking measurements of kitchen areas so that the appropriate-sized appliances can be ordered and fitted in accordingly
Installation of appliances according to customers' needs and blueprints
Carrying out Kitchen Makeovers and Facelifts
Completing basic plumbing functions (pipe fitting, wiring, etc.)
Replacing doors and worktops
Altering the size of bespoke appliances when necessary
Tiling, painting and decorating of kitchen walls and flooring
Maintaining work tools (cleaning, replacing blades, etc.)
Tidying up of workspaces upon completion
Providing product after-care and repairs
Jan 2012 – Dec 2013
Kitchen & Bathroom Fitter Fabulous Furnishings
Main duties performed:
Recording customers' orders and requests
Supporting my upper-study in the fitting of kitchen and bathroom appliances
Measuring customers' kitchens and bathrooms prior to the fitting process
Measuring and cutting worktops to suit specifications
Solving minor plumbing and rewiring problems
Paying close attention to every aspect of the job, small or big
Education
2011 (5 Days)
Results: [PASS]
Introduction to Kitchen Fitting
City & Guilds
Main topics:
Selecting the right appliances suitable for a kitchen
Reading and understanding manufacturers' drawings and specifications
Marking, cutting and fixing of cornice and other materials
Professional development and work ethics
2007 – 2011
Results: 7 GCSEs at Grades A-B, including English and Maths
GCSEs
Long Bridge School
Qualifications
Level 3 Advanced Apprenticeship in Kitchen and Bathroom Fitting
Completed the "Sales and Customer Care" course run by the Kitchens Bedrooms Bathrooms National Training Group (KBBNTG)
Currently undergoing CAD training on a part-time basis
Skills
Customer service skills: Excellent at putting customers' needs first by going all out to exceed expectations on any project I am assigned
Time management skills: Able to complete multiple projects concurrently without compromising safety, quality and while adhering to deadlines
Creative Skills: Adept at thinking "out-of-the-box" to make the best use of tight spaces and coming up with novel solutions
Travelling: Clean UK Driving Licence with own transportation (van) and willing to travel long distances to complete work
Hobbies and interests
During my spare time, I enjoy working on my vintage Mazda MX5 and going for long drives in it with my friends. In addition, I also visit kitchen and bathroom expositions and conventions to observe first-hand and study new trends and appliances launched within the industry.
References
Mrs Olivia Young
Director, Creative Kitchens Ltd
Address:
9 Ferry St, Cornwall, CE12 2KK
Tel:
0733 3412 4513
Email:
[email protected]
Mr Shaun Peters
Supervisor, Fabulous Furnishings
Address:
88 Left Rd, Leeds, EO10 5CC
Tel:
0750 2342 8934
Email:
[email protected]
Please note: the above CV Example is presented in the UK format and layout.
Preview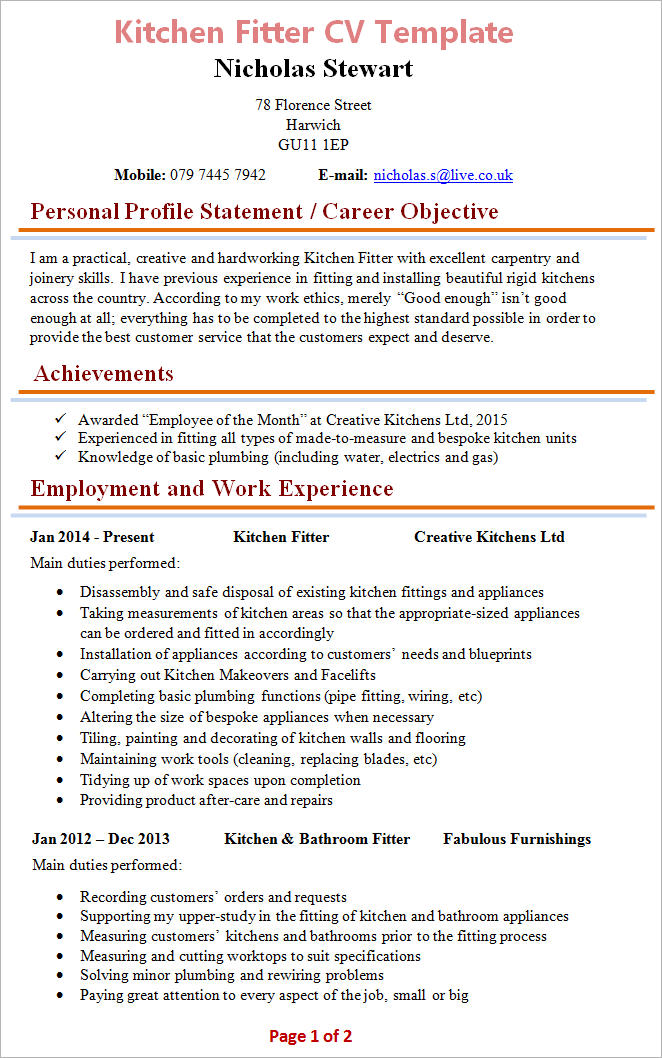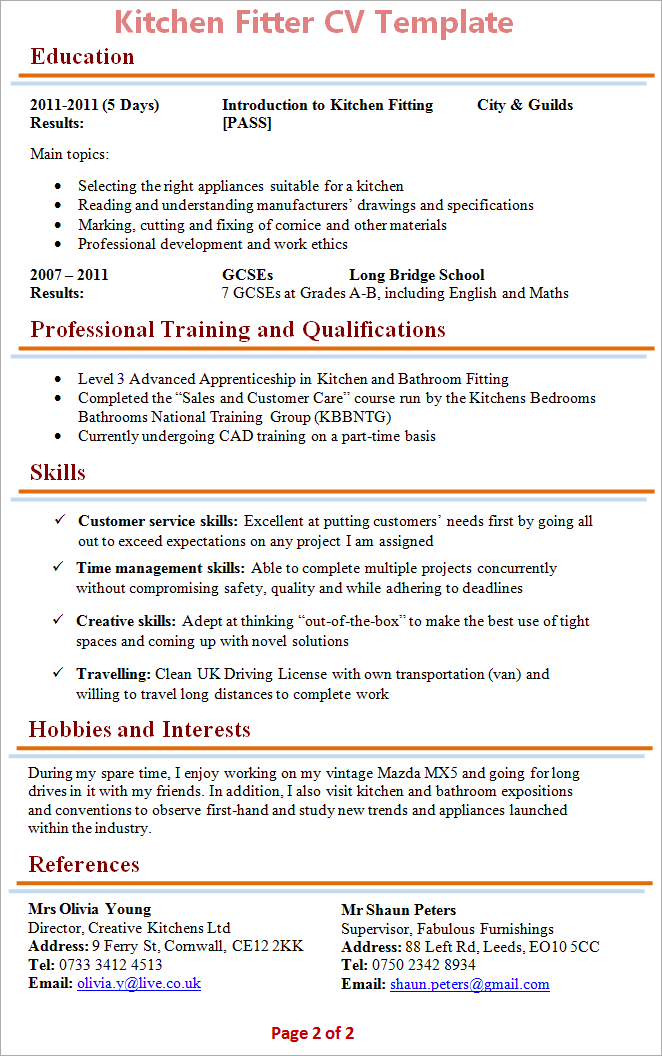 Download
Click here to download the above CV Sample (blank).
COLLECTION: You may also want to browse through our collection of Free CV Templates and download any of the editable CVs to create your own (available in Microsoft Word format and convertible to PDF).
Tips
Work experience: Having previous work experience is essential to working as a Kitchen Fitter and as such you should consider doing voluntary work if you haven't got any previous employment in this area or or related areas such as plumbing, electrical wiring and interior design.
Good Luck!
Written by Sobhan Mohmand
Sobhan is a qualified Careers Advisor and Professional CV Writer with over 10 years of experience in helping job seekers get a job. He is a Member of the Careers Development Institute (CDI) and is listed on the official UK Register of Career Development Professionals. He holds a Level 6 Diploma in Career Guidance and Development (QCF).
OVERVIEW
SALARY RANGE
£15,000 – £35,000

ENTRY
Work Experience

WORKING HOURS
39+ hours per week
Competencies
Practical Skills
The ability to use a variety of different tools and equipment to get the job done

Precision
The ability to take  exact and accurate measurements and working with it accordingly

Multitasking
The flexibility to handle different jobs, tasks and projects when required

Customer Service
Ensuring the customer's needs, expectations and requirements are met

Strength
Physical strength for lifting and handling goods and equipment

Observation Skills
Ensuring that no "small details" are overlooked
Related Resources