Sobhan Mohmand, Career Expert

8 Sept 2023
Are you looking to write your perfect Anesthesiologist Assistant CV? An anesthesiologist assistant/associate is a skilled healthcare professional who works under the supervision of a licensed Anesthesiologist to implement anesthesia care plans.
Your CV is your first opportunity to make a lasting impression on potential employers in this highly specialised field. It should effectively showcase your qualifications, relevant experience and notable achievements.
This article contains a complete step-by-step guide, useful tips and examples to help you write your perfect anesthesiologist assistant CV.
Let's get started!
Table of contents
---
Use the CV template below as an example to help you write your own personal and fully-tailored CV.
Christopher Smith
456 Oak Avenue, Manchester, M2 2BB
Personal profile
With a strong background as an anesthesiologist assistant, I have consistently provided exceptional patient care in high-pressure surgical settings. My expertise in administering and monitoring anesthesia has contributed to a 15% decrease in surgery-related complications, enhancing patient recovery. I thrive in fast-paced environments, ensuring seamless anesthesia management for diverse surgical procedures.
Achievements
Promoted to Senior Anesthesiologist Assistant for outstanding performance.
Trained and supervised junior assistants, improving team efficiency by 15%.
Successfully managed complex anesthesia cases, consistently meeting surgical schedules.
Implemented a patient feedback system, resulting in a 95% satisfaction rate with anesthesia services.
Education
2015 – 2019
Bachelor of Science in Anesthesia
St. Mary's Medical School
Degree Classification: First Class Honours
Subjects Studied:

Principles of Anesthesia
Pharmacology for Anesthetists
Surgical Anatomy
Perioperative Care
Anesthesia Equipment and Technology
Employment
2019 – Present
Anesthesiologist Assistant
St. John's Hospital

Responsibilities:

Collaborate with anesthesiologists to develop patient-specific anesthesia plans.
Administer and monitor anesthesia during surgical procedures.
Ensure patient safety and comfort throughout the perioperative period.
Maintain accurate patient records and documentation.
Train and supervise junior anesthesiologist assistants.

Achievements:

Successfully managed over 500 complex anesthesia cases without any complications.
Implemented a streamlined documentation system, reducing paperwork errors by 20%.
Qualifications
Advanced Cardiac Life Support (ACLS) Certification – British Association of Anaesthetists
Pediatric Advanced Life Support (PALS) Certification – British Paediatric Association
Skills
Anesthesia administration: Skilled in administering various anesthesia techniques, including general, regional, and local anesthesia. Successfully managed anesthesia for 120+ surgeries, tailoring each plan to patient needs.
Team collaboration: Effective collaboration with surgical teams, anesthesiologists, and healthcare professionals to ensure smooth perioperative care.
Emergency response: Competent in managing anesthesia-related emergencies, including airway obstruction and cardiac arrest. Maintained composure during high-stress situations.
Hobbies and Interests
I am an avid practitioner of yoga, which helps me maintain focus, composure, and stress management skills crucial in the high-pressure environment of anesthesia care. Additionally, I enjoy volunteering at local medical outreach programs, contributing to my commitment to patient well-being and community health.
References
Mrs Claire Evans
Senior Anesthesiologist,
St. James Hospital
Address: 7 Willowbrook Road, Birmingham, B2 8CD
Tel: 0121 789 1234
Email:

[email protected]

Mr Quentin Turner
Consultant Anesthesiologist,
Oakfield Medical Centre
Address: 15 Parkview Street, Glasgow, G3 7FG
Tel: 0141 345 6789
Email:

[email protected]
What makes this CV effective?
The CV has a professional appearance, with a clear and well-organised layout and structure. The use of a conventional font, clear headings and easy-to-read formatting makes the information presented in the CV easy to understand and follow. Overall, it does an excellent job of showcasing the candidate's skills, experience and abilities.
The personal details section in this example presents the candidate's essential contact information, including name, address, telephone number and email address, in a clear and well-organised manner.
The personal profile presents the applicant's expertise and accomplishments as an anesthesiologist assistant in an effective manner. It effectively communicates their value by showcasing specific achievements, such as reducing complications and contributing to patient recovery, directly relevant to the job they are seeking.
The candidate's achievements, such as their promotion for outstanding performance and the 15% improvement in team efficiency through training and supervision, showcase their strong leadership skills and ability to positively impact their work environment.
The skills section provides real-world examples of the skills
listed, such as successfully managing anesthesia for numerous surgeries, being recognised for outstanding teamwork and maintaining composure during high-stress emergencies. Employers love to see evidence-backed claims on CVs!
---
Writing a CV without relevant work experience can seem like a daunting task, but fear not, there is a solution.
In this section, we'll explore how you can highlight your transferable skills, relevant hobbies, abilities and achievements to grab the attention of potential employers even if you don't have any previous work experience.
Personal profile
Example:
Highly organised and driven individual with a strong academic background in science and medical knowledge. Demonstrated ability to work effectively in a team, manage time efficiently and adapt to new situations quickly. Passionate about learning and growing in the field of anesthesiology. Excited to bring these transferable skills to a role as an anesthesiologist assistant.
The personal profile effectively highlights the applicant's relevant educational background and transferable skills, showcasing their suitability for the role despite their lack of work experience.
Achievements
Example:
Graduated with honours in Bachelor of Science (BSc) in Healthcare Studies.
Awarded the "Medical Student of the Year (2022)" at university.
Volunteered at a local healthcare clinic, assisting with patient care and administrative tasks.
Organised health education workshops and events in the community.
The candidate's achievements demonstrate their dedication, motivation and drive to succeed in all aspects of their life. They show evidence of their interest in the medical field and their desire to pursue a career in it.
Skills
Example:
Research skills: Conducted independent research projects during university studies, demonstrating the ability to gather and analyse information.
Adaptability: Successfully balanced part-time work with academic responsibilities, showcasing excellent time management and adaptability.
IT skills: Proficient in Microsoft Office Suite, including Word, Excel, and PowerPoint.
The candidate's skills demonstrate certain abilities that are required for the job, for example effectively gathering and analysing information, managing tasks and utilising essential software tools.
Hobbies
Example:
I enjoy volunteering at a local charity, where I assist in organising healthcare awareness events and campaigns. This experience has strengthened my interpersonal skills and community engagement, helping me connect with and support patients effectively. Additionally, my interest in reading medical journals and staying updated on healthcare advancements showcases my genuine passion for the field and my commitment to ongoing learning in support of my future role as an anesthesiologist assistant.
The hobbies mentioned in the CV not only demonstrate the candidate's dedication, interpersonal skills and community engagement but also highlight their passion for healthcare-related activities, compensating for their lack of prior work experience in the field.
---
Structuring Your CV:
Adopt a conventional structure: Begin your CV with essential sections like Contact Information, Personal Statement, Work Experience, Education, Skills, and References. This conventional format helps recruiters quickly locate key information.
Formatting Tips:
Utilise clear headings: Use bold and appropriately sized headings for each section to make your CV easy to navigate. This ensures that recruiters can find the information they need quickly.
Keep it short: Be concise in your descriptions and opt for short sentences instead of long paragraphs. Your CV can only be a maximum of two A4 pages. Employers are busy people and don't have time to read long essays!
Use bulleted lists: Present information in bullet points under each section to enhance readability. This format is easier to scan, making your CV more accessible to busy recruiters.
Highlight achievements: Emphasise your accomplishments and contributions in each role. Quantify your achievements when possible to demonstrate your impact.
Utilise white space: Don't overcrowd your CV with text. Leave ample white space to create a visually appealing and well-organised document.
Proofread for errors: Carefully proofread your CV to eliminate spelling and grammatical errors. Mistakes can create a negative impression, so take the time to review your document.
Save in PDF format: Save your CV as a PDF to preserve its formatting across different devices and systems. This ensures that your document looks the same to all recruiters.
---
Personal details
Your CV's personal details section is where you provide essential information about yourself to potential employers. It should contain your full name and contact details including address, phone number and email address, as well as other relevant details like your LinkedIn profile if applicable.
Example:
Emma Brown
456 Oak Avenue, Manchester, M2 2BB
Phone: 02345 678901 Email:

[email protected]
Personal profile
Your CV's personal profile is a short statement where you tell employers who you are, what you're good at and why you're the ideal choice for the job. It's the first thing employers read and it helps them see how you fit the role. Mention your key skills, relevant experience and why you would be the perfect candidate for the role.
Anesthesiologist assistant CV personal profile statement:
Experienced anesthesiologist assistant with a strong background in administering anesthesia to patients undergoing surgical procedures. I have a proven ability to work effectively within the anaesthetic team under the supervision of a consultant anesthesiologist. I am passionate about providing quality care and continuously learning new skills in the field of anesthesiology.
Achievements
This section of your CV consists of a list of bullet points that showcase some of your key successes and impressive accomplishments. You should include things like awards you've won, promotions you've earned, impressive grades or qualifications and any other remarkable things you've achieved in your life.
Julia Gardner, an experienced career coach, said: "Candidates who include achievements in their CV are much more likely to be seen as dynamic, business-aware, high performers and to be viewed as a potential asset rather than a cost." (You're Hired, How to Write a Brilliant CV, Mills, C., pg. 36).
Remember, your achievements don't have to be work-related!
As long as they add value to your application you can include them.
Example:
Earned a Bachelor's Degree in Anesthesiology with First-Class Honours.
Successfully trained two junior assistants in anesthesia equipment maintenance.
Received "Outstanding Team Player" award for collaborative work in surgical procedures.
Completed many complex surgeries with excellence.
Employment and work experience
When crafting the employment section of your CV, start with your most recent job and work backwards. For each entry, include your job title, the employer's name and the start and end dates. Use bullet points to describe your key responsibilities and achievements in each role, focusing on specific results and contributions that showcase your skills and value to potential employers.
Example:
| | |
| --- | --- |
| March 2021 – Present | Anesthesiologist Assistant London General Hospital |
Main duties and responsibilities performed:
Administer anesthesia under the guidance of senior medical staff, monitoring patients' vital signs and adjusting dosage as necessary.
Assist in intubating and extubating patients as part of the anesthesia induction and emergence processes.
Manage and maintain anesthesia equipment, ensuring it is in proper working order.
Provide post-operative care to patients in the recovery room, monitoring their recovery and addressing any complications.

Achievements:

Implemented a streamlined patient monitoring system, reducing the incidence of anesthesia-related complications by 12%.
Anesthesiologist assistant duties to add to your CV

Anesthesia equipment setup: Preparing and setting up anesthesia equipment, including monitors, ventilators and drug delivery systems.
Patient monitoring: Monitoring patients' vital signs during surgery, such as heart rate, blood pressure, oxygen saturation and end-tidal CO2 levels.
Medication administration: Administering anesthesia medications, including induction and maintenance drugs. Under the direction of the anesthesiologist.
Airway management: Managing the patient's airway throughout the surgery.
Fluid management: Maintaining and adjusting intravenous fluids to ensure appropriate hydration and balance.
Record-keeping: Accurately documenting all aspects of the anesthesia process, including medication doses, vital signs and any complications or interventions.
Emergency response: Responding to any anesthesia-related emergencies, such as allergic reactions or cardiac arrest and assisting in resuscitation efforts.
Communication: Effectively communicating with the surgical team, anesthesiologist and nursing staff to ensure the patient's safety and well-being throughout the procedure.
Education and training
The education section of your CV should be presented in reverse chronological order, meaning you start with your most recent qualifications and work backwards. Include your university degrees, A-levels, GCSEs, diplomas and any other relevant qualifications you've achieved. Make sure to mention the institution, the qualification obtained and the date of completion for each entry.
Example:
| | | | |
| --- | --- | --- | --- |
| 2019 – 2023 | Bachelor of Science in Anesthesia | University of York | Degree classification: First Class Honours. |
Subjects studied:
Anatomy and Physiology
Pharmacology
Medical Ethics
Anesthesia Techniques

2017 – 2019
Results: A* in Biology, A in Chemistry, B in Mathematics
A-Levels
Walsall College
Qualifications
In this section, you should highlight any professional qualifications and vocational training you received. This part of your CV is optional.
Example:
Level 7 Diploma in Anesthesiology – London School of Medicine
Advanced Cardiac Life Support (ACLS) Certification – British Association of Anaesthetists
Level 5 Certificate in Surgical Patient Care – Royal College of Surgeons
Skills
The skills section of your CV should highlight the following types of skills:
Technical skills: Proficiency in anesthesia administration, patient monitoring and medical equipment operation.
Soft skills: Effective communication, teamwork, attention to detail, adaptability, problem-solving and critical thinking.
Ensure your skills align with the job requirements for a concise and impactful CV.
Example:
Anesthesia administration: Proficient in administering various types of anesthesia, including general, regional, and local, ensuring patient comfort and safety. Supported over 100 surgeries with successful anesthesia delivery.
Team collaboration: Collaborated seamlessly with surgical teams, nurses and other healthcare professionals to ensure patient safety and optimal surgical outcomes.
Pain management: Expertise in postoperative pain management, tailoring pain relief strategies to individual patient needs, resulting in reduced post-op discomfort and shorter recovery times.
Useful skills to add to your anesthesiologist assistant CV
Attention to detail – the ability to meticulously monitor patient vital signs.
Anaesthesia knowledge – proficiency in understanding anaesthesia techniques and practices.
Patient assessment – skill in assessing patients' medical history and conditions.
Drug administration – competence in administering anaesthetics and medications accurately.
Airway management – expertise in securing and managing a patient's airway during procedures.
Emergency response – the capability to calmly and effectively handle anaesthesia-related emergencies.
Team collaboration – strong teamwork and communication skills when working with healthcare professionals.
Infection control – adherence to strict hygiene and infection control protocols.
Patient care – compassion and attentiveness to patient needs throughout the care process.
Record keeping – accuracy in maintaining detailed patient records and anaesthesia logs.
Pain management – knowledge of postoperative pain management techniques.
Equipment maintenance – skill in maintaining and calibrating anaesthesia equipment.
Hobbies and interests (optional)
The hobbies and interests section of your CV is an opportunity for you to showcase your personality and interests outside of work. This section should demonstrate that you have a well-rounded character whose personal interests align with the needs of the job.
Example:
In my free time, I enjoy volunteering at local hospitals and clinics, which allows me to gain valuable experience and give back to my community. I also regularly follow medical journals to enrich my understanding of the field and stay up-to-date with the latest developments in the field.
References
The references section of your CV is where you list individuals who can vouch for your professional qualifications and character. Typically, referees are former employers, managers, or colleagues who know you well. Include their full name, job title, company, email address and phone number. Don't forget to ask for their consent before sharing their contact details with employers.
Example:
Professor Emily Wright
Anesthesiology Department Chair, University College London
Address:
333 Burnley Road, London, WC1A 1AA
Tel:
03456 789 012
Email:
[email protected]
Dr Ian Wright
Medical Director, Oxford General Hospital
Address:
456 Park Avenue, Manchester, M2 2AA
Tel:
02345 678 901
Email:
[email protected]
Note: If you do not wish to disclose your references on your CV, you should write, "References are available upon request."
Preview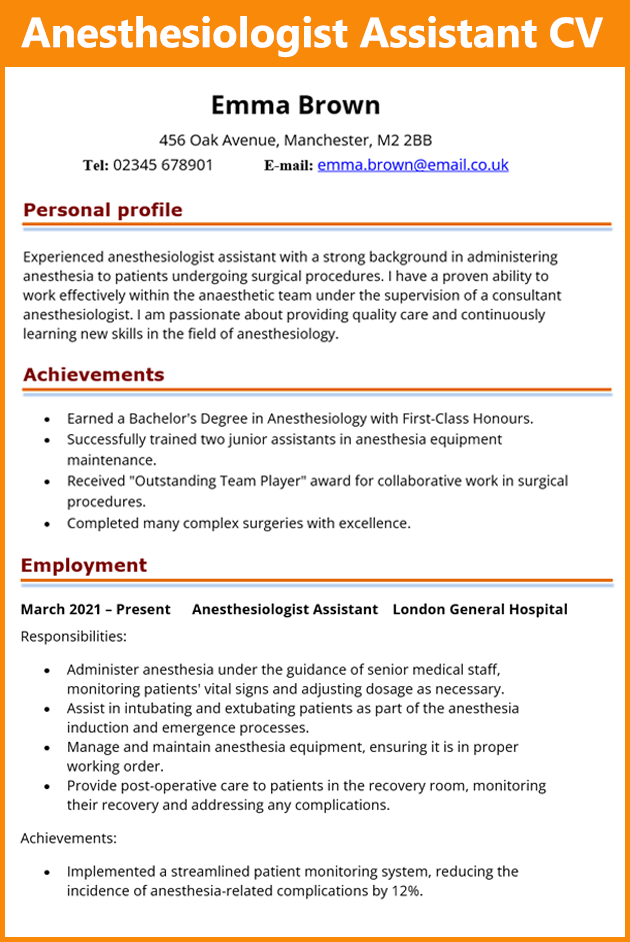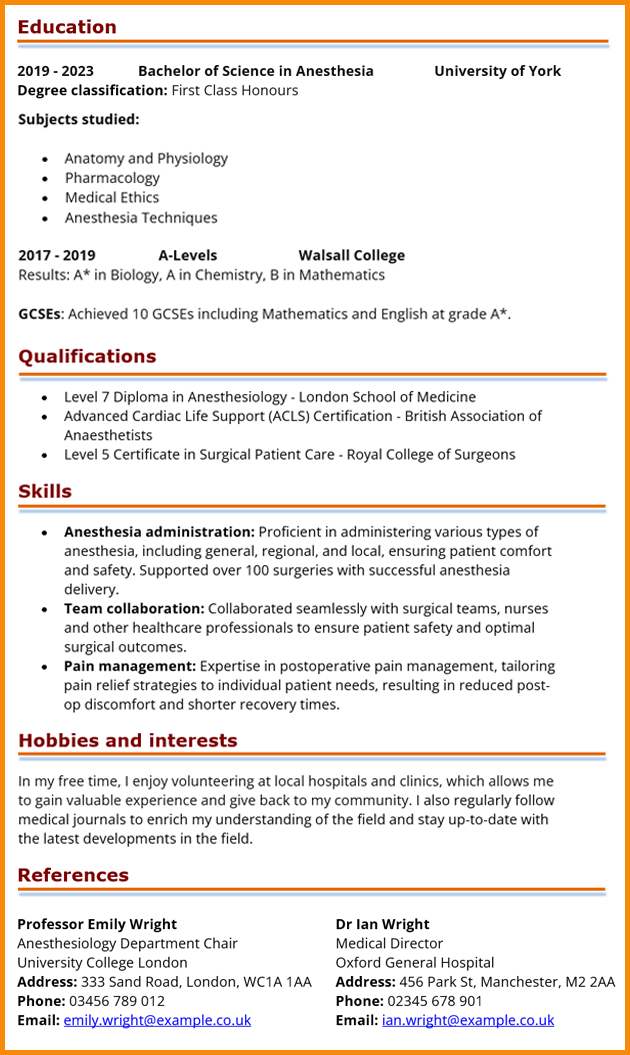 ---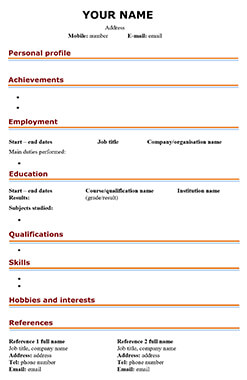 Are you writing your CV from scratch or is your CV template outdated? Download this professional CV template to impress employers!
Free
Save time and effort
Guaranteed correct CV structure
Word document (.docx) format
Fully customizable
How to save your CV as a PDF document:
Click on File > Save As > Select "PDF" from the drop-down menu.
---
Include a cover letter: Start your CV with a well-written cover letter that highlights your enthusiasm for the position and briefly summarises your key qualifications.
Highlight relevant experience: Tailor your CV to the specific role of an anesthesiologist assistant. Emphasise relevant work experience, clinical skills, and certifications.
Use action verbs: When describing your responsibilities and achievements, use strong action verbs to make your accomplishments stand out.
Proofread thoroughly: Spelling and grammar errors can make a negative impression. Proofread your CV carefully and consider asking a colleague, friend or family member to review it for you.
---
Conclusion
This is the end of our comprehensive guide on crafting the perfect anesthesiologist assistant CV. This guide has provided you with valuable insights examples and essential tips to help you showcase your qualifications, skills, and experiences in a way that stands out to prospective employers.
We hope that it has given you the edge over the competition to secure a rewarding career in anesthesiology.
Good luck with your job hunt!